Microsoft rolls out Fall Creators Update fixes with new cumulative update
Microsoft is rolling out yet another cumulative update for the Windows 10 Fall Creators Update.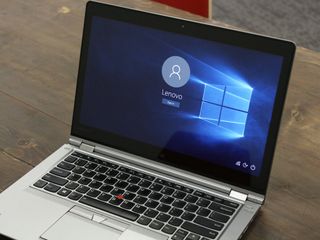 Coming outside of the standard Patch Tuesday schedule, the latest cumulative update adds another batch of fixes for PCs running the Fall Creators Update (via OnMSFT). As is typical for cumulative updates, this one doesn't pack in any new features, but it does tick the build number up to 16299.98.
Here's a look at what's new (opens in new tab) in KB4051963:
Addressed a script-related issue that caused Internet Explorer to stop working in some cases.
Addressed issue with the Input Method Editor's (IME) text input window for Internet Explorer.
Addressed issue with rendering a graphics element in Internet Explorer.
Addressed issue with form submissions in Internet Explorer.
Addressed issue where the Location-hash is lost when navigating back if you previously navigated to an invalid URL.
Addressed issue where applications may stop responding for customers who have internet or web proxies enabled using PAC script configurations. This is a result of a reentrancy deadlock in WinHTTP.dll. This can result in the following:

Microsoft Outlook cannot connect to Microsoft Office365.
Internet Explorer and Microsoft Edge cannot successfully render any content (including local computer content, local network content, or web content).
Cisco Jabber stops responding, which blocks messaging and telephony features.
Any application or service that relies on WinHTTP is impacted.

Addressed a performance regression when users run full-screen Microsoft DirectX 9 games and applications.
Addressed issue that prevents Forza Motorsport 7 and Forza Horizon 3 from running on some high-end gaming laptop configurations.
Addressed issue where user selections for Feedback Frequency in Settings > Privacy > Feedback & diagnostics aren't saved.
Addressed issue where RNDIS5 networking devices don't get a valid IP address or don't show network connectivity. If the issue continues after installing the update, you may need to uninstall and reinstall your Remote NDIS network adapter using Device Manager.
Addressed issue where if a user manually changes the system's time zone and doesn't log off or restart, the new time doesn't display on the Lockscreen clock.
Addressed issue that impacted some Epson SIDM (Dot Matrix) and TM (POS) printers, which were failing to print on x86 and x64-based systems. This issue affects KB4048955.
There's also a single known issue in this build for Internet Explorer 11 users who use SQL Server Reporting Services. You can see the full workaround in Microsoft's detailed release notes (opens in new tab).
This is the second cumulative update to release in November outside of the normal Patch Tuesday cycle, following up on a similar update pushed out to Anniversary Update PCs this week. If you're running the Fall Creators Update, you should be able to grab it from Windows Update now.
Windows Central Newsletter
Get the best of Windows Central in in your inbox, every day!
Dan Thorp-Lancaster is the former Editor-in-Chief of Windows Central. He began working with Windows Central, Android Central, and iMore as a news writer in 2014 and is obsessed with tech of all sorts. You can follow Dan on Twitter @DthorpL and Instagram @heyitsdtl.
Apparently someone is still running a dot matrix printer on a Win10 machine. Neat!

It is quite common for businesses. Here in my office we print invoices and delivery orders on carbon-copy papers. Hence why we need dot-matrix.

For invoices you don't really need a laser printer either.

They need to fix edge first. It's been trash ever since Fall Creators Update dropped.

Hope it adds an option to put the keyboard behaviour back to normal. On my Surface I hate the way the keyboard pops up every time I press the home button and who thought that changing the way shift key works? Just stay switched on until I press the shift key again, it is impossible to select things now.

I agree, the new soft-keyboard is terrible. before numbers defaulted up on a press-hold, now its some weird sideways hunt for numbers

I just hope they fixed the bug where using a machine with a different keyboard language causes it to show up on machine it isn't even installed on.

No fix for my frequent blue screen of death?

Still no fix for the huge bug which impact every MFC applications causing big lag while loading MFC resources...

So far this update KB4051963 has failed to install 5 times cumulatively. Also 4048963 has failed over 7 times so far, each times after completing a 1.5Gb download. Thank god I am on an unlimited capacity internet plan. so far I have used over 200Gb keeping just 8 computers up to date this month alone! All the machines that are failing are running 1607. My toshibeC50-A when you try to update to 1703 loses all networking and USB capability. I am going to keep it until 1607 is off extended support then replace it in a few years. I am tired of MS and Intel forcing hardware upgrades because they want to sell us stuff. My solution to this debacle is to buy an iPAD that should do me for the next several years..

I still cannot upgrade to the Fall yet. Every apttempts it reverts to the "previous version of Windows" and some errors with messages like "SAFE_OS" and "PREPARE_FIRST_BOOT".

Tried using the ISO image?

If you have several other disks (internal or external) disconnect them all, this is often the reason for this error. Once the update is done, you can reconnect them.

U better off on CU, cause FCU is really bad, especially for devices that rely on touch.

It still hasn't fixed the problem on Edge where when on a full screen video, you see a white vertical line on the right edge of the screen. Any help would be appreciated.

Well, I found a temporary fix. I changed the display scaling from the recommended 125% to 126% custom scaling.

The scrolling bug is fixed :) whoa

Is the issue of the installed date of 64-bit software getting reset fixed now?

I've noticed Cortana seems to behave a little differently now. Instead of showing the news feed by default Cortana now displays a search and tips section with an "I've got more for you..." button at the bottom. I've even got the ugly white search box now as well.

yeah they change it to match your theme color of FCU

Yes but that's not what I'm on about, Cortana doesn't display the News Feed by default now.

the new look was A/B test on CU. but you can scroll down to see it all like before.

I'm not complaining, I actually think it's better as it exposes more things Cortana is capable of than just a news feed. I just wasn't prepared for the change, that's all.

I think the search box only turns white when it has focus.

No, this is a constant white search box. I just have the Cortana button there now, means I have more room on the taskbar anyway.

So onscreen keyboard is still broken? I think I'll stay on CU until msft wakes the f up and adresses basic functionality.

I've noticed two issues with the CU:
1) My settings for the keyboard to beep when the Caps Lock or Num Lock keys are pressed no longer work.
2) Sounds set for error or dialogue boxes no longer work. For example, when trying to close an unsaved draft email in Outlook, settings are no longer respecting the choice to play a sound. Anyone have any ideas how to workaround or re-enable these?

Still missing Performance slider in Battery pop-up on my Surface Book with Performance Base. Still can't use pen to easily select text on a webpage. Still pen behave starnge in Adobe Illustrator. Still sometimes see some glitches on the screen. Have they decided to cut costs on testing with Nadella beeing in charge? So many people were saying that Windows 8 was a total failure, but i don't rememenber so many issues in the release builds.

Win 8 broke most of what people expected in Windoze. The issues were not about reliability but rather some schmu-k at Microsloth forcing his insane nightmares on an unsuspecting public. The GUI was destroyed for no reason.

The issues with Adobe Illustrator are likely to be bugs in the software rather than Windows, so unfortunately it's out of Microsoft's control.

under your battery power options, Is yours set to high performance? set it to balanced and see if you can see the performance slider then.

Anyone know when Fall bug release will be fairly safe to install? I can tell you the installer is broken - big surprise. Fun part is that it kicked off with no warning, and then seemed to go in circles getting ready and making no progress. When will MS get the point that we don't need so many major bug releases, and that anyone smart and not desparate for new features should - and should be able to put off the upgrade for a year without hassle? One would hope that within a year the major problems would be done with.

Is it a roll up so maybe it will actually install ?

Does it have a fix for the broken thumbnails?

I sure wish I was a Fall Creator. Maybe then these "updates" would be useful for me.

So what about the screen flickering and the ghosting? Microsoft isn't going to acknowledge that this is a problem? wj
Windows Central Newsletter
Thank you for signing up to Windows Central. You will receive a verification email shortly.
There was a problem. Please refresh the page and try again.