Microsoft rolling out beta invites for Skype on the web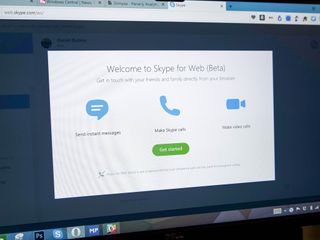 Enjoy using Skype on your PC, Xbox and phone? Microsoft is providing yet another way to keep in contact with friends and family by releasing a bunch more invites for the "Skype for Web" beta. It's a fully featured Skype experience but is instead powered by your favorite web browser.
Not only are basic text conversations supported, but both video and regular voice calls too. For the time being, the beta program appears to be open to those who have received invitations from Microsoft to try out Skype for Web. You may need to install the plug-in.
There's no word as to when we can expect to see Skype for Web released to the masses, but for now it's looking as though Microsoft will provide a solution to those who don't have access to one of many Skype apps available.
Source: Skype for Web (opens in new tab), via: Neowin
Windows Central Newsletter
Get the best of Windows Central in in your inbox, every day!
Rich Edmonds was formerly a Senior Editor of PC hardware at Windows Central, covering everything related to PC components and NAS. He's been involved in technology for more than a decade and knows a thing or two about the magic inside a PC chassis. You can follow him on Twitter at @RichEdmonds.
This has been in beta since November... Did I miss something?

Yes you did and I don't know what you missed so ask Bing

Bing will not tell you a lot but google will!

Bunch more invites are going out it seems. I couldn't get in before today.

Are you in the UK? I feel like the beta has only been there until now, and this is for the US even though they don't say it.

I am. Maybe it's finally breaking out of Murica.

Good idea, I'll just try to sign up because I use Skype everyday so if I'm without my phone, I can still call her

Maybe you shouldn't call her so often. Let her breathe

Priorities Microsoft. Who needs this?

For guest PC's where you can't install Skype.

I'd say if you're on a PC that doesn't allow Skype to be installed then you probably shouldn't be using Skype.

So... corporate computers that restrict program installations?

Thats nonsens, on schools You cant install anything, but if You want to talk or discuss with your project group youll need it

Who cares about needs? We WANT this... @-@

For people who dislike the Skype tab running in the background, with the little tab still open. Why can't it just run like Steam in the background??

It can. Go to advanced settings and uncheck 'Keep skype in the taskbar while I'm signed in.

Dang...if only I had known this all these years, lol.

Chromebooks ;). Take that Google!

Similar plugin is(was) integrated with Facebook on the web I guess.

The aim is for this to run without requiring a plugin, although the beta does currently require a plugin the end product wont.

This will be great for Chromebooks, although you can get the Android Skype app installed with a little fiddling.

Why would I use this if I already have the application installed on my PC?

Couldn't I just use my phone instead?

Hopefully this web version isn't as slow as the app.

Why would you ask questions to which you already know the answers..?

It's called a rhetorical question.

I don't really see what's the benefit of this over outlook.com? I guess for the people that use Skype but no Outlook :-)

I wish they could do it all html5 with no plugins

That is the goal, I know the web beta still requires a plugin but the finished product wont.

I wish MS would make the existing Skype apps less bad first. If you run Skype on multiple devices at once, messages pop up days after they were sent or are never delivered at all on some of them. Sometimes you get notifications with sound and blink, sometimes the messages are received in complete silence. Files are automatically accepted by default. It hides the chat window behind a retarded + button. If two people talk at the same time it chokes. The metro version is crippled. The Windows Phone one, you can't trust to be running. The existing apps are broken in so many places, and they are working on a web version while the others rot. :(

Good. This should do well to combat the use of Hangouts for Chrome as the primary web based messaging/video call client for smaller companies.

Cool, the skype client on Outlook.com is not that great

Plz just make the current apps more stabil in notifications instead. More options to choose. Then continue your expansion. How I hate to have skype groups and not have a single notification.

This beta can't be used with mobile web?...anyone have clues

The beta still requires a plugin.

They should be working on be working on the ability to use one's phone # to access Skype. Access to phones is.......

Fix skype on the windows phone 1st please, its one step behind the others -_- , anyone realise that?
Windows Central Newsletter
Thank you for signing up to Windows Central. You will receive a verification email shortly.
There was a problem. Please refresh the page and try again.