Microsoft software developer job posting hints at Cortana on Windows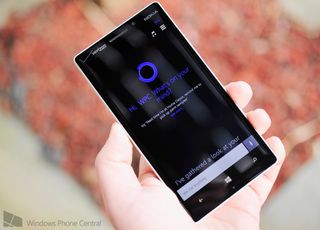 Cortana has been a major hit with Windows Phone with consumers switching region and language settings to take full advantage of the personal assistant from Microsoft. Unfortunately, there's no similar experience on Windows 8, but that could change if a recent job posting is anything to go by. Microsoft is looking to merge all experiences together, so it's certainly plausible the company would look to bring Cortana to Windows.
But why halt things at Windows? Microsoft could also bring Cortana to Xbox, enabling consumers who reside within a Microsoft ecosystem to enjoy a complete experience. Back to the job posting in question, which is seeking a software development engineer to "build the next generation of Cortana". What's interesting about the posting is how 'Windows' is used and not strictly Windows Phone.
Functionality is already in place regarding Cortana, which could make it easier to migrate data across platforms, including the Notebook which stores personalized information and Bing integration. Features such as this could be synchronized across a Microsoft Account to Windows, Windows Phone and the Xbox One. The Xbox already has some focus on speech recognition and commands input, which could be amplified with the addition of Cortana. Think more recommendations and options from the virtual assistant.
For now, we're still waiting for Microsoft to further develop Cortana and introduce the assistant to more regions outside the US. Would you like to see Cortana on both Windows and Xbox One? Sound off in the comments. Remember to post your suggestions for Cortana over on the official User Voice page.
Source: Microsoft (opens in new tab), via: LiveSide
Further reading:
What else would you want Cortana to help with?
Rich Edmonds is Senior Editor of PC hardware at Windows Central, covering everything related to PC components and NAS. He's been involved in technology for more than a decade and knows a thing or two about the magic inside a PC chassis. You can follow him over on Twitter at @RichEdmonds.
Can't wait until Cortana is everywhere. It will be glorious!

I want her everywhere! That feels so right :D

She will be also in my bed?

It will be glorious. I already use the RTS Alarm on my BIOS to turn on my computer before I'm coming home. It'd be awesome to be able to, while undressing, say "Cortana, put on some Kanye West please" and enjoy some sweet tune while going around in my appartment or say "Cortana, read me the news" , without even needing to touch my mouse and keyboard. The current voice recognition system on Windows already allows that kind of interraction since you can do stuff without touching your computer (not like Cortana that needs a press of a button), but it's very very limited and the voice recognition is clumsy.

Kanye West..? Sweet tune..?

Could have said any artist and got the same answer =P

Kanye West, while shoving Mike Myers to the side, "Wael Hasno doesn't care about black people." I kid, I kid. But seriously, Kanye would be on my list of musicians I dislike if I had such a list.

I only hate his bloated ego. But... appart from that, we were talking about Cortana.

Personally I love his older works. http://deejaymikerizzy.podbean.com/e/rizzys-mix-of-kanye-hits/

After college drop out Kanye dropped out..the yeezus album is rubbish

Please vote here. https://xboxmusic.uservoice.com/forums/209733-xbox-music-suggestion-box/...

Thanks for providing the link...
Off subject, but you're right, this is still top priority... This week we should see another update to XBM.. Hopefully we won't have to wait until Friday this time, and hopefully it will bring more features...
...............................
Anyways, I would like to see Cortana brought to a WP smartwatch platform... The reason I say platform is because I think MS should make their smartwatch OS free, literally free, for other manufacturers to use... That would further Cortana's reach into the market, give consumers more options... I hope MS is thinking ahead on this one...

Hey rodneyej, i got a great suggestion for windows phone, which can be implemented in the grd1 late autumn. Can i send you a pm regarding that ? Could you do something about it if you find it super cool and productive ? If i remember right, you work in MS.. (i hate posting on the user voice now, I'd never get the votes this late, and i dont have time to post the link everywhere for people) i can assure you it'd be GREAT for user convenience and productivity !!

Sounds cool, but although I've been made fun of before for working at MS,,,, I don't.. But, I'd be glad to see what you have... Message me through WPC❕❕

Lol ! I remember you were once saying to Paul avecado that you'd get MS to send him some MS goodies, and later some time people saying that you work at MS.. :))
Anyway, I'll pm you when i can, maybe get an idea on the user voice and promote it if you want, or maybe send it to some MS employee you know (someone senior than a janitor preferably :)) just kidding :))) i haven't got the time yet :-))
Have a nice day ! :)

Yeah, and I haven't forgotten about that... I have a letter typed up.. I just need to send it in, but I'm trying to think of somthing special..

Something special ? Maybe geofencing was special enough ? :) anyway, lets hope to see it being acknowledged my MS sometime, really want to see it in GDR 1 ❕❕

For some reason my personal messages won't send... I saw your idea, and its perfect!! We seriously need this, like yesterday❕❕❕❕ .. That would be as big as the Action center, or Cortana... WP simply must have that❕❕❕❕❕

Yeah ! Maybe not as big as cortana, but definitely as big (or bigger) as action centre !!!
Hey another thing, also send a PM to Daniel rubino, he might like to put an article about it, telling people to vote. After all, who wouldn't want such a functionality ? (except people who're still confused with wp8.0 maybe ? :)))

Man!, that's awesome. GeoF. Would make that even better. Ok

Well, if you liked my idea then please share this. :)

Pretty soon, Cortana will be regularly spewing social security numbers so that Jim Caviezel could go and prevent crimes from happening.

Cortana should've been on the Xbox One first. These teams don't really seem to working together despite what Microsoft is telling us.

The First good thing would be that Microsoft s services are available everywhere in the world.

So, Microsoft finally listened to my request??? Seems Faster

Remember the days when you could ask a real human being a question and they wouldn't know the answer?

I see what you did there.. Lol!

So does it mean it will come to Xbox too??

Most likely.... I would bet yes.

Cortana came here in Pakistan

Officially?
I'm waiting for its Indian version...

Waiting for Pakistani version too love it

Cortana, make a sandwich for me.

Technically if u have an automated sandwich maker in ur house and you enabled that command in ur app cortana will do it

I love ❤ Cortana and Modi won election,, no offence guys

LOL! Agree... Although both are different world topics

Great show by bjp ! (or should i say modi ? He was the one holding the campaign together, along with Amit shah)

I want modi to bring Cortana in India :p

We'd be tired from all the testing and I think the potato would rot after a while. :)

I think it was a MJF interview with Steve Ballmer where he said imagine you can use your voice to open certain files on windows and something like that. With the addition of Cortana to Windows Phone, it makes sense they'll add that to Windows too! Would definetly be interesting to see what happens and how fast can they deliver this. They need to keep up the updates pace. And like everything that has been going on for the past couple of months, Satya is going to take all the credit XD

Finding very little use for it, really. Mostly use it to check headlines and turn WiFi on and off, doesn't seem to offer any real benefit to the way I use my phone.

Indeed. "oh she [aaarrgghj!!!] is so funny, look what she [arrrrghhh!!] says when is ask about her [aaarrrgghhh!!!!)] butt! Tihihihihii...". :P ;) It does have some limited real use but I am sure it will get better over time. I must say I am impressed how well its voice recognition works even for someone like me.

Her ability to take reminders, and record notes on those reminders has been terrific. I'm in the legal field and use her 100s of times a week for court specific recommendations.

Ever since Cortana came, I never type text messages. She does the job faster for me. I must say her voice recognition is amazing too like 90% of the time

I don't use reminders as much as you but it sure is nice. No need to fill in a stupid calendar alarm every time. Just tell her and it's done.

Hey is there any way yet to make her add a to do entry to a specific note of mine ? I have a note in my quick notes notebook where i make to-dos of all my doubts. And being on 8.0, the tellme cant add to any note and voice note taking is useless for me. (as if its voice recognition was any good) Any way to add to a note directly ?

More languages for Cortana,like Spanish.

That will be just fantastic in an open office setting.. :P

Cortana coming to the One could spike Kinect interest to push the bundle, stand alone, and existing development.. Its useful, I love her, but she's also a tremendous marketing gimmick and her ability to pick you up ANYWHERE would be great. I would love to see her recognize anyone on your Live account via camera recognition on any device.

if they are hiring now, it means they are just starting. if they are just starting they are already behind.

No. Cortana is already in beta. Compared to what's done, porting to Windows is nothing.

so if it is nothing, why isn't it here?

To give the negative people something to comment about. Microsoft thanks you.

This is the part that cracks me up about MSFT. They create this amazing thig which obviously would work great on tablets, in fact it is so obvious today, it should have been obvious before because every cortana review brings up the fact it isn't on windows. So why wasn't this job created when they were creating the WP client? I swear, cortana is heading for iOS and it will be here before windows 8...because that's never happened before.

Did someone say it was nothing? I must have missed that. Or you took me out of context.

"Fear leads to anger; anger leads to hate; hate leads to suffering."

Please bring corrana in indi

We've already had confirmation in the forums from someone who works at Microsoft that Cortana was coming to Windows.

Imagine Cortana on my phone, Surface 2 and my Xbox. It'll be the better than JARVIS!

All we need now is the Iron Man suit and the arc reactor.

Can it make you suits? I guess not. :p jk. Offcourse it'll be awesome to have the lady talk to you everywhere. :3

They need a unified experience. Plus I want to make phone calls and texts from my computer, using a connection to my mobile phone. My phone alerts, I would like on my windows devices, including xbox. Acknowledge on one device and cleared on all, though they can't get this working on Skype yet, I had multiple devices ringing after i picked up on another device. They have a long way to go!

I want Cortana in Italian!!

Wen its cortona coming everywhere?

I really hope they get the guy who does the voice of Jarvis to be the male voice. PLEASE PLEASE PLEASE.

http://en.wikipedia.org/wiki/Paul_Bettany

I want cortana in Romania !!! Nokiaa 925 !!!


Cortana for everyone on every device! :D

Cortana is awesome. There is no doubt in that. The only thing i want is, Cortana should recognize my voice commands without opening the Search or pressing any key. It will be cool, right? I know it will consume a lot of battery! But, still possible right?

Yes, it's possible, but require new hardware, none Lumia, nowadays, can do that. Probably in a near future this will be happen.

I want cortana male version too with voice of courage the cowardly dog's pc's voiceover artist

Hate to say it but this should already be present on windows 8.

Cortana coming to every regaion will be like Mr. NARENDRA MODI winning the elections in India. Lol...
I personally feel the followings::
1.Contana should land to each and every regaion. Speaking at least commonly used or standard or universally known Languages like English, Hindi, franch, Spanish, german.
2. Cortana should in future, will like a physical presence felt where it will enable to control our home, car, vehicles, nevigations, appliances and other luxury ness. Take care of our belongings and house in our absence!
3. Cortana will have power to absorb the environment sensations, where it will enable safery for ladies/girls to save from stranges, can escape the traps and save themselves from any harsh circumstance and land them the support as needed based on regional barriers to communicate.
4. Cortana has capablity to surpass our presence every where we will in future will not stand in ques for buing tickets, transfering money, paying bills, or buying groceries or stationary.
In this, internet is the main steam and of course WiFi. So, where there's internet, there's CORTANA.
Let Cortana shines with such dynamic assistance personally..
This is nothing, infact she can do many things which even we might not know. That's because man has heart and soul to live and survive, like wise CORTANA has internet as soul and notebook as heart.
Think over it!!!

I stongly feel, let Cortana shines bases on skills based on devices and its functionality. It will be great if Cortana avaialabe to every Microsoft's products.
I am damn sure that people across the globe will say, if you don't know anything just ask Cortana insted of searching in google.

+1 Cortana on Windows. It makes sense. Cortana on Xbox, I would love it, but it would be limited as it isn't connected to your email, calendar, etc. Still, with there announcement yesterday, the Xbox could be the center if a home automation system.

I tried to get her to give me directions to my next appointment. No dice. ☹

Talderon already gave a heads up that Cortana is coming to all other window platforms... So what's new about the job posting ??

This would be awesome, i wish she was on my Surface 2 w/LTE already. I come across times all of the time when it would be very beneficial!

Yeahh!! Cortana everywhere?Finally Cortana for WP7! Can't wait!

Cortana would be amazing on the Xbox, phone in all regions, computer as an integrated experience, smartwatch, tablet, and especially in a vehicle

Cortana, I want her in PC, then Xbox, then everything else, and seeing as people are using her to turn on their lamps, maybe she will end up in our homes one day.

Here's a fun test. Try telling Cortana something that involves the word "inventory". I could only get her to type it correctly while saying it with a British accent. See if you can get her to type it without having a Cortantrum like I did. :)
Windows Central Newsletter
Get the best of Windows Central in in your inbox, every day!
Thank you for signing up to Windows Central. You will receive a verification email shortly.
There was a problem. Please refresh the page and try again.