Microsoft to stop accepting new Windows 8, Windows Phone 8 app submissions soon
October is the cutoff for new apps, while update distributions will taper off over the next few years.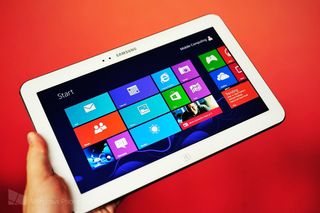 Microsoft has been gradually winding things down for Windows 8 and 8.1, along with Windows Phone 8, for some time. But today, the company announced a set of important cutoff dates for developers who distribute their apps through the Microsoft Store.
Most importantly, developers will no longer be able to submit new apps targeting Windows Phone 8.x or earlier or Windows 8/8.1 as of October 31. Existing apps will still be able to roll out updates as necessary, but the distribution of app updates will be slowly winding down over the next several years, starting with Windows Phone 8.x apps next year.
Here's the breakdown from Microsoft:
October 31st, 2018 – Microsoft will stop accepting new app submissions with Windows Phone 8.x or earlier or Windows 8/8.1 packages (XAP or APPX)
July 1st, 2019 – Microsoft will stop distributing app updates to Windows Phone 8.x or earlier devices.
July 1st, 2023 – Microsoft will stop distributing app updates to Windows 8/8.1 devices.
Crucially, while updates will no longer be distributed to older devices after the above dates, developers for these apps can still publish updates. The only difference is that they'll only be distributed to Windows 10 and Windows 10 Mobile devices after the cutoff.
For more, including tips on porting your app over to the Universal Windows Platform (UWP), you can check out Microsoft's full blog post.
Dan Thorp-Lancaster is the Editor in Chief for Windows Central. He began working with Windows Central as a news writer in 2014 and is obsessed with tech of all sorts. You can follow Dan on Twitter @DthorpL and Instagram @heyitsdtl. Got a hot tip? Send it to daniel.thorp-lancaster@futurenet.com.
What about freakin WhatsApp on Windows Phone ? My Hp Elite is still my daily driver.

Just reread the last part, and understood it now. They still can apply updates, but they just will be published on newer devices.

Your HP Elite also runs Windows 10 Mobile, not Windows 8 Phone, so this doesn't apply to you on that device.

Yes, in an Appx container with silverlight issues.

Microsoft should have stopped the app submissions last year and the app updates this year so that everyone is forced to use Windows 10 whether they like it or not.

That could have possibly made a difference early in the day's Windows 10 mobile to try to increase market share. Now that Microsoft no longer promotes Windows 10 on mobile, I think they were just trying to make as many people content as possible

It's not gonna succeed no matter how much you promote it. Bringing full win10 to every possible HW, devices and machines is the smarter move. Benefits Windows and developers.

Yeah, would have ceartainly be a clever move, especially in regards that most of the devices don't support Windows 10 Mobile. I'm sure those would have been changed to Windows 10 Mobile supporting devices rather than Android or iOS.

What about win 10 mobile app submission?

This does not affect Windows 10 mobile
or apps/game UWP or 8.1 apps

So, Win10 mobile is still alive and breathing! Yeah!

All Windows 10 apps and devices are unaffected by this decision. This includes PC, Surface, Mobile, HoloLens/ WMR, and Xbox.

Well the countdown begins. I'll still rock with my 8.1 Nokia 830 and Windows 8.1 on my desktop and SP3 no matter what they do. It's simply the best!

I dual boot Win8.1 pro and Win10 pro on my desktop, but I spend the majority of time on Win8.1. I feel more secure being on 8.1....

This is great to know that my dad has a lot of time.

For the longest time after Windows 10 was released, and certainly up to the last set of market share figures I saw, of those users still using a "Windows on mobile" device the greatest share by far were on Windows Phone 8.1. If a developer was committed to a Windows mobile experience, it simply made sense to target both Windows Phone 8.1 and Windows 10 Mobile to reach the greatest potential audience. I wouldn't be surprised if it remains the case that a majority of those still using a Windows handset are holding on to a Windows Phone 8.1 device. Of course it would be unreasonable to expect Microsoft to keep the Store going indefinitely for these devices, but Windows Phone 8.1 only fell out of support a year ago. To give just two months notice of a milestone such as this just over a year on from the end of support, without a clear upgrade path for existing users wanting to stick with the Windows platform (given that Windows 10 Mobile devices are no longer made), makes it difficult for developers to support existing and new users with an app strategy that includes both mobile and Windows users. Why couldn't Microsoft have waited to do this until next year when it is widely expected that there will be an upgrade path for existing Windows mobile users to stay on the Windows platform, or is this yet another deliberate move by Microsoft to make mobile someone else's problem?

Simple, because MS doesn't know yet if they are going to release anything mobile pc related next year. They didn't announce anything yet for a reason. Meanwhile they are shifting their mobile focus towards Android and iOS as the new Your Phone experience clearly indicates. Sometimes I wonder how many hints, actions, announcements, books and tweets it will take before ex-WP/WM users see and aknowledge that windows on mobile is no longer a focus for Microsoft for the past 1.5 year.

Actually, Windows is on mobile is coming and is already a part of Windows 10. The mobile code is part of the o/s and has been for sometime. The biggest evidence is the Surface Hub app selection UX is the same as the app selection on WM 10/Wp8.x and Wp7.x. You can see that in action during the build 2018 Surface Hub demo.

People hate on Windows Phone so much, what are they afraid of? They show up just to give you grief. My brother hated my Lumia so much he brought me a new Android phone, so now I have Windows 10 and a share in my pocket. I love my brother and Cargo Pants.

So all the fine windows Phone 8 apps are usable on my Lumia 950 XL. Win 10 mobile until 2023... Damn this is awesome man! Glad I.came back after a short flirt with the Samsung Galaxy S8 phone. Windows Phone is simply just more productive and nothing beats the screen or the camera on the Lumia 950 XL.phones
Windows Central Newsletter
Get the best of Windows Central in in your inbox, every day!
Thank you for signing up to Windows Central. You will receive a verification email shortly.
There was a problem. Please refresh the page and try again.