Microsoft Store sites in UK and Italy are taking pre-orders for Lumia 950 and 950 XL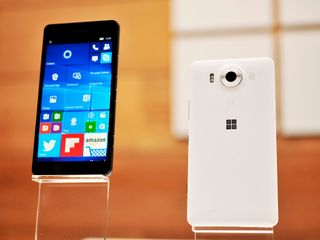 While US residents can't currently pre-order the upcoming Lumia 950 and Lumia 950 XL smartphones from Microsoft, the company's store sites in the UK and Italy are now allowing customers to order the no-contract versions of both phones.
In the UK, the site currently shows that the phones will start shipping on December 3, with the Lumia 950 priced at £449.99 and the Lumia 950 XL at £529.99.
The Microsoft Store Italy site shows the phones will ship to customers a few days earlier on November 27. The Lumia 950 is priced at €599 and the Lumia 950 XL at €699.
Thanks to Marcello and James for the tips!
Windows Central Newsletter
Get the best of Windows Central in your inbox, every day!
Sell them first where they buy

Correct! Next flagship in Milano!!

Man, when they meant November, they meant the very last day LOL. Microsoft never ceases to amaze me! I hope the US is sooner. Can't wait anymore!

Same. Too long, I want a Lumia 950 XL so bad!

So do i want one now ..but hey i have just ordered..:)

the US store demo had the dual sim phones. I hope thats the phone they sell unlocked. if not I will be ordering from expansys as I am willing to wait longer if I can get a dual sim XL

Pretty much the same MO for anything phone related, be it OS, new devices or even accessories.

Great news. Hope they'll be available in more markets. Same for Cortana.

Woah they are pretty in the process... :(

Pre-orders is live for sweden too! already ordered the 950 xl :) ships early December!

How they can the phones with incomplete OS very less time is left for the release of their much awaited release and OS needed the much polishing before final touch.. I'm scared for this!!

Considering how massive the strides have been in the Windows Insider builds lately, I'm honestly not incredibly worried. Especially since we're at least another few weeks from launch (It seems).

Yeah up until Build 10572 it seemed like they were behind but once that build came out it was a huge jump in performance and stability. We also learned that they are always 2 or 3 build flights ahead and we may get a build for Insiders that isn't the latest one the OSG team is testing. I think we'll have the RTM build right before Thanksgiving.

Just ordered the 950XL. Two in fact... :-)

Just over a month. I can handle that. I can handle that right?

Well, sorry to be a Debbie Downer but.. I am not sure you can. :P

Come on EE or even Carphone Warehouse, sort it! Hoping for a decent bundle.

Quite...throw in a free qi charger and some nice headphones...would be wonderful

I'd take a Continuum dock, or a decent speaker. I expect them to have headphones in the box, but I expect you want something better. Some nice Bluetooth ones would be nice. My 930 had a wireless charging plate and Bluetooth speaker, the Nokia one.

No headphones in the box, afaik...

Yeah, apparently Nokia stopped shipping devices with headphones after they did research and found no one uses them. If you want headphones you'd have to contact them. Not sure if MS will continue that trend(hoping not). But enough of that talk, I don't really care which carrier has it, I just want UK based announcement for the 950XL, my 1020 is starting to give in(hoping new build will revitalise it)

Carphone Warehouse said 1st week of December when I asked them.

Windows 10 mobile not quite ready then

If people's accounts in the forums are anything to go by the most recent build is a massive improvement from 10565. It's fast, stable and feels very polished.

They're not wrong. Fast and fluid. Really pleased with it on my 640. I'm just assuming that the hardware is ready to go and that is what they are waiting on. However they could be putting finishing touches on windows hello.

and that is with old firmware. thats one thing people forget is the firmware is still for 8.1

I wonder if 950s will sell out preorders...

I don't think they will produce many of these devices so a sell out is likely. People always want what they can't have so might drive up demand lol

Pre-Orders also live for the Netherlands, send before november 30 https://www.windowscentral.com/e?link=https2F%2Fclick.linksynergy.co...

My birthday is on the 29th, maybe it's a sign?

YES! FINALLY! I'm guessing well see pre-orders kick off for other territories in a couple days. Makes sense that they'd start in Europe where Lumias sell quite well. :)

I'm gonna have to write a webripper to monitor changes to the US site if I want any shot at a pre-order. These things will be gone in minutes.

Is that how people notice web page changes so quick?

It's one way. You can also hire an intern to stare at a monitor pressing f5 all day.

Offbeatbop, you've got me cracking

I'm in the US and I've ordered it at the Microsoft store. I have the receipt somewhere if you want evidence, Dan.

If you're talking about a brick and mortar store then that's not really a pre-order it's more like a "we know you want one and eventually you'll get one". They don't even charge your card and they've been accepting those kind of pre-orders for the XL for weeks. The website actually charges your card and gives you a shipping window. That's what everyone's waiting for.

No, they charged me. I know I got no date, but they charged me a deposit, to be subtracted from the total cost later, and it means I have one reserved.

Haha, also have an order confirmation email of last Wednesday, already at the £529 tag

need this soon my wifes 1020 is done, power button barely works, I am stting here with a hold over 640xl because my 1520's screen deceided to not want to be a touch screen 24 7. hurry up MS we need new real phones

November....December...whatever. I'm just happy knowing that the 950XL and Windows 10 mobile are going to be here soon and my unbelievably trustworthy 1520's will get to retire to the mobile front porch. I'll never forget them for being amazing devices from the first second I opened the box. MORE than 2 years ago now. Traveled the world and they never ceased to amaze me. I was wondering how long it would be before a phone that could match it would be created. 2 years is a loooooong time to be the best. :)

Same here. I feel like a device like 1520 is hard to forget it. It has been more like a brother to me...an incredible good device ...only a bit fragile on the screen. Cracked twice...but it is not his fault but mine of course

I am finally going to leave Verizon after spending most of my adult life with them going way back. At&t here I come and get the 950XL ready. Sick of the HTC!

I am doing the same but going to TMo. I will be able to get a brand new Surface Book i7 with 1TB each year from what ill be saving from leaving Verizon. I was going to go ATT but after a very long phone call with Microsoft they claim the 950 and XL will work with TMo Wi-Fi calling

Hate to burst your bubble but I can almost guarantee wifi calling won't work unless tmobile actually sells the phone. I am using a 640xl on tmobile, no wifi calling and band 12 is blocked by tmobile.....

I think it might be because att will have Wi-Fi calling too. So it would be enabled on the devices by default... Just guessing why the might be a change.

T-Mobile also said yes to the 950 so I checked back with Microsoft and the 640 doesn't come standard unless the provider turns it on in firmware but the 950 will be on with the unlocked version. This isn't from just the person that picks up the phone. First call was over 3 hours long.

Blast the Verizon forums/Twitter/Facebook pages.

In Germany, pre-orders are possible too. According to the MS-Store, shipping date is November 27

Ready to pre-order in Denmark too; four links on the MS page: https://www.windowscentral.com/e?link=https2F%2Fclick.linksynergy.co... Estimated November 26th...

Seems to be December 3rd like the rest of the Nordics. Elgiganten are expecting stock the 26th of November, but the release is still December 3rd.

I wish I could justify £549 for a new phone right now!

"I want it". There. You welcome.

Make sure you buy through www.quidco.com : you get a 5% cashback!

Would that work for a preorder ?

it does, mine has tracked but 5% excluding vat, so around £18 back

It does work. Mines tracked at £22:)

No special promo to add in display adapter for continuum?

XL in white ordered. I was told by the sales agent that I was the 2nd person in UK to place an order :)

OMG, W10M is dead, only two ordered in 6 days between my order last Wednesday and yours. Maybe that rep is a smooth talker, more orders must have happened in a week

Omg your comment was helpful. The rep certainly wasn't a smooth talker that's for sure. Didn't know UK could pre order before today; they must have u on their VIP list. Lol.

Ordered, cancelled my exspanys order. Managed to get 5% cashback from Ms using quidco here in the UK. So £22.50 back!

Nice one. I should've done that!

December! Seems so far away. My 1020 just needs to hang on a little more!

Netherlands 30 november...

Pre order is in for a 950.

I'm going to wait out for better deal/bundle. If anyone can find one in UK,let me know.

They should concentrate their sales in Europe where there is the biggest demand and recognition of their best fans.

True. Last weekend in train Milano to Rome I had 5 out of 6 people around me with lumia in hands. But those people were Nokia fans. I wonder if they will update it to Microsoft devices...

Where can I get dual SIM version?? Anyone??

Curious about that too. Asked a rep online and was told the pre-orders in the UK are just the single sim right now. The dual sim version will be our a bit later. Should have more info closer to release date.

Ah I didn't realise- I'm going to have to clarify this tomorrow and may have to cancel my pre order, for I am after the dual sim.

Does it exist a 950XL cyan like the 640?

No. 3rd party cover is your best bet, down the line.

Is it possible to get education discount on this?

Should open a flagship store in Kenya too.

Wow! I see a lot of countries here who have preorder. Congratulations! In Ukraine we still have Expected, but I hope that it will be here soon. I'm really waiting for Dual sim version and Continuum doc xD

Mh...going ti preorder it here in italy...my beloved lumia 1520 has screen broken it is time to change it...but I am still confused about it

Amazon.it too is accepting pre orders... What would you go for? Microsoft store or Amazon?

Well I was looking forward to replacing my 1520 but I don't really like the 950xl design and £550 for a better camera doesn't make sense to me..regrettably not impressed enough to change...sad but honest..sorry Microsoft not this one..

I am looking forward for USB on the go... the Lumia 1520 will get it once w10 for mobile rtm will be available?

The sales rep I spoke with said she would pass feedback on to her bosses that a deal with continuum accessories included foc with pre order is a must.

WHY ARE THEY FOR SALE IN THE U.S.?!!! WHY?!!!!!!!

Looks like UK pre-order allocation of both 950 and 950XL has gone! Button is back to "Email me when available" :-(

UK Store, sold out of both.

Microsoft store UK last night confirmed December 3rd as shipping date for my Lumia 950 (Black) when I went through checkout.