Microsoft Stores for Education and Business will be retired in 2023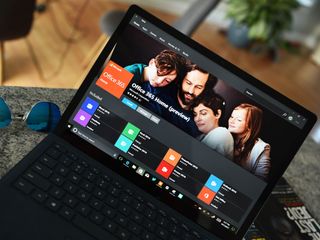 (Image credit: Windows Central)
What you need to know
Microsoft Stores for Education and Business are going away.
They will be retired in the first quarter of 2023 for Windows 10 users.
They will not be supported at all on Windows 11.
The party's over for fans of the Microsoft Store for Education and Microsoft Store for Business. If you liked these things, stay on Windows 10 and enjoy them until they're forcibly retired in the first quarter of 2023. And if you make the jump to Windows 11 before then, know that these two Microsoft Stores aren't supported on the new operating system at all.
The point of these stores was to allow for specific apps to be distributed within organizations outside of the standard Microsoft Store. However, Microsoft's not simply abandoning the features of the stores. The tech giant comes bearing gifts in exchange for what it's taking away from users.
"You can still centrally manage apps and deploy them to your Windows 10—and, later this year, Windows 11—endpoints," reads Microsoft's blog post (opens in new tab) on the subject. Windows Package Manager will facilitate these operations.
Public apps (apps publicly available from an independent software vendor): Use Windows Package Manager via the winget command-line tool to query the single catalog of public apps, through the new Microsoft Store, for apps built by third-party ISV developers regardless of app framework and packaging technology – including Win32, .NET, UWP, Xamarin, Electron, Reactive Native, Java, and PWAs.
Private apps (internal line-of-business apps): Use Windows Package Manager via the winget command-line tool to query your private app repository.
These capabilities are set to arrive in a preview capacity during the first half of 2022, with a standard release set for the second half of the year. All dates are subject to change.
Windows Central Newsletter
Get the best of Windows Central in in your inbox, every day!
Robert Carnevale is the News Editor for Windows Central. He's a big fan of Kinect (it lives on in his heart), Sonic the Hedgehog, and the legendary intersection of those two titans, Sonic Free Riders. He is the author of Cold War 2395. Have a useful tip? Send it to robert.carnevale@futurenet.com.
Errm.... this make no sense... doesn't Microsoft want users to use the store more? You can only do that by building up familiarity through exposure in education and business environments. For instance, when education orgs issue laptops to students and staff... they can have a dedicated store front for all the "certified" apps that students and staff can install. This helps for overloaded or short staffed IT departments and plus it reduces the number of interactions IT has with a laptop. Therefore reducing the amount of disinfectant wipes used to clean the laptop after software has been set up / loaded / tested. Putting Covid-19 aside, a dedicated store front is much easier to use, navigate and train users with then a software package manager. As the latter are always never user friendly for folks who are not proficient with IT.

Yeah, and especially if they really want to compete and control the growth of ChromeOS on education market (yes this is mainly on US, but it is also growing on other countries as well). Microsoft Store should be essential to be as part of the Education market that Windows 11 will be going for. It is on the best interest for Microsoft to have these kids get used to Microsoft Store. On more of management side. Yeah it reduced the load from their own internal IT department which is usually small if not almost a one-man job on smaller schools and campuses. Having them to relagated on using command-line tool doesn't help. It seems like Microsoft is still unsure what to do with Microsoft Store. I though they finally nailing this with Windows 11, but here we are.

Microsoft is really turning into a 2 steps forward and one giant leap backwards of a company lol.... In regards to Chromebooks, during the previous lock downs due to lack of supply of Windows Laptops. People have bought chromebooks, ipads and in some cases Macs. I work in Quality and Compliance in the education sector now and I've been asked to troubleshoot IT issues learners are having with many disjointed systems in use. As IT are just overloaded at the moment. A good portion of them bought chromebooks last year - it's simple to confirm: Q1) What device are you using to access the portal The answer ranges from iphone, ipad, samsung, chromebook and laptop - in that order. Q2)How old is it? For all chromebook users it's "I bought during the lock down" or "bought it March last year". This also applies to most of the ipad users too. No one I spoke to had an android tablet or a kindle fire hd - though I doubt many can tell the difference between a bog standard and a ipad to be honest. As most of the issues was that the learner had added the incorrect password and it's saved so when they load the login page.... they are not removing the incorrect password lol.... But yeah Chromebooks have distinctively increased market share in the UK and I imagine elsewhere too. What also doesn't help.... is some numpty has set Chrome as the default browser for the entire organisation. As far I can gather, it's because when project was rolled out, the people running that project were more comfortable with chrome... 🥴. The amount of issues we have is mind numbing especially some components still use active x and silverlight 🤦‍♂️. Furthermore it's a office 365 org.... yet the default search engine is Google... not Bing... 🤦‍♂️🤦‍♂️. That's again down to familiarity. Before people knock Bing - Bing has discoverability built-in for recently used files and applications. You can launch a dedicated "Team" in Microsoft Teams. Load recently accessed files and what not - as long you are signed in with office 365 / active directory. IT are going through another bout of system consolidation. I'm going to push so that they consider Edgeium and Bing for productivty workflows lol.

I didn't know they had an education store and business store. Maybe if you tell people about your products you don't have to cancel them Satya. Just another failure on his watch.

It only appears if you're logged in with an education or business account, and if your IT admin actually use it.

I need the article here to point out that effectively no one has lost anything

Not yet, but the decision make zero sense. Then again "Microsoft" and "common sense" can only be used in this context - where Microsoft makes a bone headed decision... again.

How does this make "zero sense". What was dumb was trying to create separate and confusing versions of the Microsoft store, instead of just allows IT admins to control what can be installed from the regular store, which they could do before... and can still do. This was an unnecessary solution in search of a problem

Your claim that it makes zero sense says more about you than it does about them. You may disagree with the decision but if it makes zero sense to you then you just have actually considered all the relevant factors. Whether that's because you won't or can't, I'm not sure.

Because this isn't a consumer/regular people thing. It is for Education and Enterprise segment use of MS Store. But instead of persisting and keep improving it for IT so they can use it with their organizations better, especially with the new Microsoft Store backend that can even allow unpackaged apps. This should be their future but now they are killing it so far on these markets. I guess many big corporations will keep using Software Center and Education will just have to find some way and keep their very small IT if there is to manage and support their apps on their Windows machines. Why is why Chromebooks is growing due to simplicity of IT management and support, especially on many schools that may not have a huge budget for IT. Microsoft at least with this news, keeping Chromebooks has its own way to slowly gaining in this market, and the future generation will be more comfortable to Google services.

Microsoft has Intune... which makes this unnecessary. You can literally control how images are deployed and what's installed on the desktop from the M365 portal, furthermore, you can control what apps can be installed from Intune as well
Windows Central Newsletter
Thank you for signing up to Windows Central. You will receive a verification email shortly.
There was a problem. Please refresh the page and try again.