Microsoft Store developers say they're suffering — and Microsoft isn't helping
From wonky analytics to bad support, developers are reporting major issues.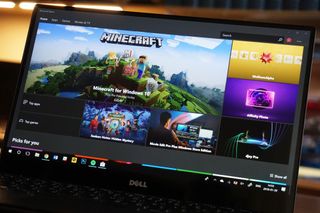 (Image credit: Matt Brown | Windows Central)
The Microsoft Store provides great utility to consumers and developers, though consumers only ever see the tip of the iceberg. For them, it's usually as simple as hitting the buy button. For developers, it's a maze of analytics, metrics, and support tickets — the innards of which are apparently harder than ever to maneuver, according to developers who spoke with Windows Central.
A lot of developers aren't sure what to do. Their analytics no longer make sense and their results seem to change at random, app update certifications fail for ill-defined reasons, and custom campaign traffic data disappears without warning. The list of issues goes on and on, but the constant is that all these problems affect developers' abilities to keep apps in good shape, earn money, and make the most of Microsoft's platform.
We reached out to Microsoft about the issues and complaints, but the company declined to comment. Here's an inside look at why many developers feel disheartened by the Microsoft Store and want to see the tech giant clean up its developer-facing backend content.
Analytics implosions, missing data, and subpar support
One independent developer we spoke with was Mark Turnbull, the UK-based founder of XtremeDevelopments.com. He'd been experiencing serious backend data issues for well over a month with his apps, which include PDF Binder, PDF Binder Pro, PDF Joiner, and PDF MarkUp. "Traffic data is under-reporting by thousands of rows," Turnbull said, stating that PDF Binder Pro typically received 20,000 app listing page views per month, though as of May 27, traffic reports in the Dev Center only showed it as having six page visits. There didn't appear to be a clear reason for this gargantuan drop-off.
Turnbull also cited the issue of custom campaign traffic data going missing. "If a user clicks a custom link to my app listing page it should be measured within the custom campaign data so I can check the effectiveness of my marketing," he said, explaining that none of these clicks had been visible to him for weeks as of May 27.
These were serious enough problems on their own, but their consequences were even more dire. Though the developer support personnel handling Turnbull's Microsoft Store issues couched their replies in words such as "could be" and "may," their responses painted a worrisome picture for the developer. They admitted his rankings were possibly being impacted by errors on their end and that analytics data, from traffic to acquisitions, could be incorrect.
Couple that revelation with the fact that Turnbull's acquisitions had dropped in half from March to April and his May results were just a quarter of March, and it became clear why he was eager to find a resolution to the surge of technical issues. They were crippling his Microsoft Store presence practically overnight. As a developer with over 30,000 paid app sales and an average Microsoft Store rating of 4.5, he took his standing there seriously.
Turnbull talked to support for weeks, hoping to get — at the very least — the bare minimum of concrete assistance with resolving his analytics issues. In response, they sent him emails that ranged from deflecting the problems to trying to close his ticket.
Only after much prodding did Turnbull receive admissions of potential culpability from Microsoft. And on June 11, Turnbull said support closed his ticket without resolution.
Isolated incident, or growing flood?
Turnbull is far from the only developer to suffer issues such as the above. An independent developer from Serbia, Ivan Ičin, whose company is Labsii, also cited serious analytics issues with his app Speech Central (Windows Central reviewed Speech Central in 2017). He said that, as of June 3, his stats for the previous 30 days showed him as having 182.6% more item sales than page views (a number that, on its surface, certainly appears to be an analytics error vastly underreporting page views), and that these seemingly flawed figures were still well below his normal results.
Ičin stated that these issues began for him many months ago, between September and October of 2020. He added that the aforementioned 30-day window's sales were roughly two-thirds less than they were before analytics went haywire, implying that he was another developer suffering material consequences from apparent backend issues.
He reported his problems to Microsoft but had his cases closed without resolution.
The independent Finnish developer behind Karelia Studio, Mika Valkealahti, shared similar issues with us, citing that the acquisition funnel was, as of our June 3 exchange, "completely broken." The acquisitions being reported versus how many sales Valkealahti had actually achieved via his Universal Writer app were vastly different numbers. Increasingly odd was that refreshing graph results would change them in seemingly random ways, showing sales then snapping them out of existence all within the time span of a few quick refreshes, Valkealahti said.
Valkealahti didn't report the issues because a Microsoft notification informed him that the company was aware of Dev Center problems and was working to fix them.
This echoes what Turnbull had to say about a banner in the Dev Center's acquisitions page that stated funnel data was inaccurate. The problem with that banner was, Turnbull said, twofold: Not only was it a vague understatement of the real issues, but it disappeared around the end of May — even though problems hadn't been resolved. This alarmed Turnbull since the banner itself mentioned it would only be removed once a resolution had been found.
As it turned out, the banner's own notice was not entirely truthful. "Note that the banner can be intermittent, so even if it is not displayed, we confirmed that the issue is still active," Microsoft support told Turnbull, letting the developer know that he was right to worry about troubles persisting regardless of what the banner said.
Another process, another problem
Including Turnbull, Ičin, and Valkealahti, Windows Central spoke with six developers who had encountered Dev Center analytics issues and problems related to those mentioned above. One of the developers flagged an additional difficulty they'd had to deal with on the subject of app update certification.
The developer, who asked to remain anonymous due to an ongoing relationship with Microsoft, discussed issues they'd had trying to publish an app update. Usually, updating their app was a straightforward affair, but this time around, it was complicated by a certification failure accompanied by a vague explanation. "All I got was a generic message with a link to a documentation page that has not been updated since 2018," they said. Then the problems escalated. "I opened a ticket with the support team and after a couple days of emailing back and forth, they told me they were the wrong team for this issue ... and they had me open a new ticket and start all over again."
They opened a new ticket, as instructed, and followed support's advice. Certification still failed. They then waited a week for a response, and then a few more days for an explanation, at which point they were told, in their own words, that "the reason the submission was failing was because my app wouldn't work on Xbox since it uses a FullTrustProcess."
Here's the definition of a FullTrustProcess as stated by the developer. "A FullTrustProcess is a method to get around the limitations of a regular UWP app by bundling a Win32 process with more access to system capabilities together with a UWP application. Because of the extra capabilities, applications that use a FullTrustProcess require extra verification in order to be allowed in the Microsoft Store."
However, FullTrustProcess incompatibility with Xbox shouldn't have been a factor, since the developer's app wasn't available on Xbox in the first place. "After explaining to them that my app wasn't available on Xbox, they changed their original reason on why the submission is failing," the developer said, mentioning that they explained themselves as requested and still received a certification failure for their minor update. "I am currently looking at alternatives to the Microsoft Store because even when this issue is resolved, I need to have an additional way to distribute my app in case this happens again."
When will the issues end?
Based on the aforementioned reports, it looks like technical headaches, both big and small, are affecting a number of people providing content to the Microsoft Store. Effective, transparent support is vital for developers' wellbeing, and such opacity from Microsoft impacts every affected individual's livelihood and ability to earn income. So even if these issues only disrupt a small pool of creators in an ocean of developers, they're issues that need addressing.
At Build 2021, in a teaser for the next big Windows release (presumed to be Windows 11), Microsoft's CEO Satya Nadella stated "soon we will share one of the most significant updates to Windows of the past decade to unlock greater economic opportunity for developers and creators." That hints at some major overhauls coming for those developing for the Microsoft Store, but that's little comfort for developers currently experiencing backend issues.
Get the Windows Central Newsletter
All the latest news, reviews, and guides for Windows and Xbox diehards.
Robert Carnevale is the News Editor for Windows Central. He's a big fan of Kinect (it lives on in his heart), Sonic the Hedgehog, and the legendary intersection of those two titans, Sonic Free Riders. He is the author of Cold War 2395. Have a useful tip? Send it to robert.carnevale@futurenet.com.