Easily convert written words to audio with Speech Central for Windows 10
Speech Central: Text to Speech and MP3 is a feature-rich, text-to-speech Windows 10 app that lets you listen to web pages, RSS feeds, word documents, books and emails.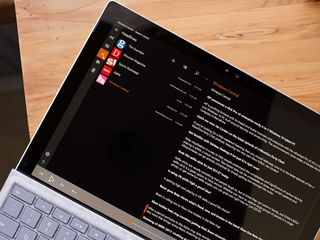 Available for Windows 10 PC and Mobile, Speech Central is an easy way to catch up on written material while keeping your hands and eyes free for other tasks such as driving, typing or eating pizza. Speech Central can also create MP3 files from web articles, documents and more, via the Windows 10 PC version. Navigating around Speech Central takes a little time to get used to, but overall, it can be a handy app for those times you need to hear what is written instead of reading it.
Speech Central: Text to Speech and MP3 greets you with a blank slate where you can add written material for speech conversion. The layout of Speech Central is fairly universal between the Windows 10 PC and Mobile versions. However, the Windows 10 PC version has more screen real estate and is easier to navigate.
Both versions have a menu button nestled in the upper-left corner of the display that reveals options to view your Now Speaking, Headlines and Library lists, and it gives you access to the app's settings and About screen. The Windows 10 PC version also has the MP3 option on its menu. Settings for both versions include options for voice type, language support, display and read back. But not all gender voice options are supported in all languages.
The Now Speaking list displays individual documents that are to be read aloud. The feature is like a playlist for your audible materials. You can add content through the Windows 10 share picker, open locally stored documents, paste material, type documents or use the camera to capture documents for audible translation.
The Headlines list displays RSS feeds, and it only recites the headlines and summaries from your feeds. Feeds can be created by using the Windows 10 share picker, by opening a locally-stored URL, pasted or typed. You can add individual stories from the headlines by tapping or holding the header (right click on the PC), and then choosing the Add to Now Speaking option.
The Library is more or less a repository for the material you would like to save for a longer term. Describing it as a favorites list might be more accurate. Tapping and holding (right click on the PC) on a Headline feed or Now Speaking article generates a pop-up menu that includes an option to move the material to the Library.
The MP3 option with the Windows 10 PC version is a nifty tool when you need to create and share audio files. The process is simple, requiring you to move the material you need to be recorded to the MP3 list. Once the audio file is created, you can export it to a local file for playback and sharing.
Speech Central supports access to your OneDrive account to load documents, and when sharing an item to Speech Central the app offers you the options to Speak Now (listen to the material now), add the content to the Now Speaking list or add the material to your Headlines list.
Overall, Speech Central: Text to Speech and MP3 is a feature-rich, capable Windows 10 app for listening to written material. I like the Now Speaking feature, which lets you create a playlist of articles to listen to on road trips or when you need a break from jamming to Groove Music. For the most part, the audio conversion is spot on. Converting the written document did take a few seconds but not painfully long. The only trouble I experienced was in adding documents for conversion by using the camera. It's a neat feature, but the material needs to be laid flat to improve the conversion accuracy. I also found that Speech Central has trouble dealing with converting double column documents, such as newspaper articles, when photographed.
The Windows 10 PC version of Speech Central works like a charm and is easy to pick up and use. The Windows 10 Mobile version needs a little work with the layout to make it more user-friendly. For example, the navigation menu should appear throughout the Windows 10 Mobile version to make bouncing around the app easier. The Mobile version isn't a wash, it just requires a little patience.
Speech Central: Text to Speech and MP3 currently costs $6.99. The app could use a little polishing up on the Windows 10 Mobile side, but all in all, it's a nifty app to have around when audible playback fits your needs better than reading.
Download Speech Central: Text to Speech and MP3 from the Windows Store (opens in new tab)
George is the Reviews Editor at Windows Central, concentrating on Windows 10 PC and Mobile apps. He's been a supporter of the platform since the days of Windows CE and uses his current Windows 10 Mobile phone daily to keep up with life and enjoy a game during down time.
Thanks. I was looking for this kind of app (Poki is not working so well this days).

This is a very unique and useful app.

Especially in Russia and the CIS, as 100% I can say that the program does not know Russian. Or knows?

Hi, I am a developer. The app has built-in support for Russian meaning that it can recognize that the language is Russian has support for something that is usually used only on Russian services etc. However, whether there is the text to speech support for Russian is entirely OS dependent, I can confirm that the PC has the support. On Mobile it seems that there is no support (unless there is some specific flavor of Mobile OS for Russia). I haven't checked on Xbox, Hololens, Surface Hub, but you can always check by using the system Settings app and trying to find the speech support for the Russian language.

Used to be called share to speech. It's such a great app and works on Xbox and phone too

Easily one of my favorite apps. Works well with almost every type of txt/article and is very easy to use.

Nice UWP app, do similar with TextAloud on my Surface Pro 2...
Windows Central Newsletter
Get the best of Windows Central in in your inbox, every day!
Thank you for signing up to Windows Central. You will receive a verification email shortly.
There was a problem. Please refresh the page and try again.