Microsoft Studios brings classic Bingo to Windows 8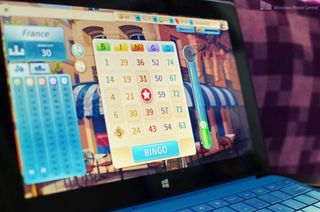 Few weeks back, Microsoft Studios released yet another casual, and free, Xbox game for Windows 8 devices. Microsoft Bingo is a fun, travel-themed take on the classic game of chance. In the game, you travel the globe playing your way through a variety of exotic locales and extraordinary settings as you fill your card.
As you go along, you earn Flight Points to level up and unlock exciting new locations to visit. Also, by playing in different locations, you can collect an array of souvenirs, earning you special awards as you complete your souvenir collections. With every feat you accomplish in the game, from calling a Bingo to making a winning bet on a Power Card, you'll earn special prizes in the form of Luggage.
The game has a great community feel to it making it even more engaging. When you place bets on specific numbers on the Power Card prior to matches, match your daubs to your Power Card picks during a round to get a Power Bingo.
With each Power Bingo awarded, the community comes one step closer to its weekly goal. Helping your fellow players in hitting the weekly goal also gets you special rewards.
Download Microsoft Bingo for free from the Windows Store (opens in new tab). If you are a fan of Bingo (or variants of the game like Lotto or Tombola) like me, its great fun and very addictive. It's available for free, so there's no reason you shouldn't give it a whirl. Let us know how you like it.
Windows Central Newsletter
Get the best of Windows Central in in your inbox, every day!
Is it releasing for wp8???

How do you know that? And Taptiles?

Its ms they will definitely launch this game for all devcies

Taptiles! I hope they bring it to WP8.

Hopefully will comes to.windwos phone 8 in a few months. Can imagine it being difficult to play 12 cards at a time though on a tiny screen. Also, the community aspect of the game is beat. You can click a button to see who is calling bongos each round. Basically in any given fame, there is like you and two other people playing. And then like 200 AI bots. Pretty lame.IMO. They also keep.updating the game to increase the amount of annoying freemium features....

I've been playing this on my Surface RT for months now. It's ok, but if you have over 4 cards you have to scroll up and down to daub your numbers, which is unbelieveably annoying. They could spread the cards out horizontally but then there wouldn't be room for the ads for Microsoft Solitaire and Mahjong. /s

Yes, I was wondering if we were talking about a new Bingo game. I like it myself.

"Few days back, Microsoft Studios released yet another causal, and free, Xbox game for Windows 8 devices" Sorry but this game is on the store for several weeks AFAIK.

well from your comment, all I get is you dont know exactly what sarcasm is. but nice try, and I find the game fine... you are just lazy, thats all, you cant even try to move your finger to play a game, yeah how annoying is that... rightt

Solitarie and mahjong, those perfectly written games that drain you battery in 30 mins....i can't wait to try another shitty game from microsoft

I can't wait to get this in wp8

Errm... Hasn't this been out for weeks?

Yeah! At least here in the UK

Yeah, it came out in the Swedish store a few weeks ago, but it has been out for months.

Opening sentence- causal or casual?

Thanks for pointing out the typo. My bad.

I already have it. It's fun.

i had this weeks ago. fun, but requires internet. :(

They need this for WP8, and also needs more achievements and enhancement on multiplayer

@Abhishek Baxi you have a Surface/Surface Pro in India? How?

Surface RT. Got it from US.

...are you sure this game is new? ...i have it on my computer for at least 3 weeks or so...

I have had this game on my computer over 1 month now. Its old news

Its a decent time waster. Anything more than 4 cards is crazy though, lol. Unless you can afford automatic on all of them.

Had this for a few days, it is a bit challenging with several cards at once. I wish you had more info on who you were playing against than just seeing a countdown as people get Bingo.

Well I didn't know it was out yet... So thank you for the post...

Not very Metro looking...Well I'm sure it's great anyway

This isn't exactly new i had this game end of january...
Windows Central Newsletter
Thank you for signing up to Windows Central. You will receive a verification email shortly.
There was a problem. Please refresh the page and try again.