Microsoft: Surface 3 and Surface Pro 3 will be available running Windows 10 'soon'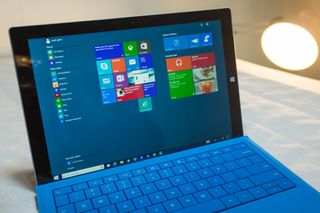 While Microsoft is now saying that some PC OEMs will have products running Windows 10 out of the box for its July 29 launch date, it is not committing to a specific date for when the operating system will become available on its own Surface 3 and Surface Pro 3 tablets without having to upgrade from Windows 8.1.
In a statement sent to Windows Central, a Microsoft representative told us:
The good news is that if you go to a Microsoft Store in North America on July 29, the chances are good you can walk out with a Surface 3 or Surface Pro 3 with Windows 10 installed with that "on site" upgrade. However, we still don't have a firm date for when customers can simply purchase one of those tablets with Windows 10 out of the box. We will stay on top of this and will post an update when we get a specific date for when the Surface tablets can be purchased with Windows 10.
Windows Central Newsletter
Get the best of Windows Central in in your inbox, every day!
Yeah, hope they fix the firmware issue when doing updates. When I did a freash install of 10165 (or whatever was right before 10166) on my SP3 that already had the June firmware installed, after installing it then insisted on trying to reinstall the May firmware. It failed then windows update stopped trying. But then when it updated to 10166, it did the same bloody thing. Aside from that tho, it runs GREAT on my SP3! Even the miniDP works great, even better than with Windows 8.1.1 which would always dick with my moving my desktop icons, W10 doesn't!

There will be no Surface pro 4 this year.

That's a total non sequitur...

Mind telling us how you know there will be no surface 4 this year oh wise one?

Cause they said so, they will be re-releasing surface pro 3 to more retailers, surface pro 4 will feather usb-c and a full overhaul, so its likely not happening this year.

They also said that all Surface Pro 3 accessories will work with the Surface Pro 4. So how will they "feature USB-C and a full overhaul?" Probably waiting for Skylake processors.

I personally don't believe that for a second given the fact that no company would be stupid enough to just skip a year when competitors are constantly changing. However, if that did happen, they sure as hell better publicize it asap so that people who skipped the SP3 (like myself) and stuck with their SP2 can go ahead and buy something else (possibly an SP3) instead of waiting around with our thumbs up our...

Sure it will. Those rumors about the Samsung SSD makes no sense. Why delay the Surface Pro 4 just because a new SSD isnt available from Samsung until second half of 2016? They can just as easily use that hardware for next years version of Surface Pro 5. They won't miss this opportunity to launch a new Surface Pro with Windows 10, that would be a silly business move and a very bad one.

Same firmware issue with S3 and so many more bugs. Not sure they'll make it for the end of the month. There is still a huuuuge gap between the experience they sell and the one I live

Soon™... after all other brands get windows 10...

Waiting for Surface Pro 4

Feel free to wait in your timeout closet.

Waiting for Surface Phone 1

Me too, I really want the biometric login thing.

I read this as "S3 and SP3 will always have 8.1 in the box. Wait for the 4s for 10 out of the box."

I thought the 4s was an a**le product?! ;)

Oh, I meant plural 4, haha. Surface 4 and Surface Pro 4.

No need to update my SP3. It's perfect with 8.1. IMHO.

8.1's store is going to be like wp 7's store soon. All the new apps will be universal w10 apps.

What's going to happen in India, at least here in Assam?
A person will go to a retailor to buy a laptop/PC, the seller will tell the person that Windows 10 is not free, charge him/her a huge sum of money, and then sell the buyer the laptop/PC.

That's why I won't go to India to buy my next computer.

Yes the Windows OS Coming with PC is Not free even if its Windows 10, only the the upgrade to Windows 10 from Windows 7, Windows 8.1 is free if it already has Windows 7 or Windows 8.1 OS installed whose cost is already included in that of PC

That's not how I meant it: Someone will go to buy a Windows 7 PC/laptop, the retailor will inform him/her about the existence of Windows 10, and then tell him/her that he can upgrade the newly bought laptop but will ask money to do so. Now you understand it?

He can upgrade the OS by himself so he wont be charged.

only the upgrade to Windows 10 is free if u do it in first year

While I'm itching to upgrade my SP3, my job pretty much demands that certain programs (Office, Final Draft, AdobeCC) and features (wifi, printing, external monitors, etc.) work as perfectly as possible. The only thing I'm a bit worried about is upgrading mid-week and having issues, no matter how small. Windows 8.1 works so well on it, I'm thinking about waiting until the weekend, perhaps. I doubt MS would allow their flagship computer line to have any big issues, but there are bound to be a few hiccups with such a massive upgrade campaign, right?

Anyone know if the SP3 will support "Windows Hello"?

I'm unsure, but the menu section did exist in the control panel on my SP3 whereas it didn't on my PC. It didn't have any menu items however so I don't know.

It won't.. Windows hello either needs 3d+infrared+common camera.. Or fingerprint scanner.. Sp3 have none

Idk, plug n play real sense cameras will be available soon maybe?

In that sense.. Yeah, sp3s will support windows hello - provided you buy one of those camera for 120$ from intel.. They are already available ..( saw a demo video in winsupersite and they used the same plug and play 3d camera from intel )

That's a solution for a desktop, but for an SP3 just typing in a pin is going to be a lot easier than carrying around a camera and connecting it everytime you get out your tablet.

Just announce the SP4 already ;)

I would be suprised if there was no new flagship for win 10. No SP4 will be a disappointment.

Agreed. Kind of holding out for one, myself.

You will see Dell flagship though..

Same here, up for a new laptop at work! I want to hear some news about the Surface Pro 4!

No surprise considering there really wont be a upgrade in the eyes of the consumer. The processor this year from Intel, the Intel M is considered a step back in the steps of performance compared to the Haswell of last year. This may make Windows 10 look bad if one was to just look at performance. Nevermind that the Intel M is a engineering feat of getting the processor smaller with little to no cooling.

Hello support is the main upgrade I'd expect. That's big enough to make me hold off on an SP3.

Before you upgrade, I'd strongly suggest you read about certain issues some of us have with Windows 10 -- particularly when using tablet mode. http://answers.microsoft.com/en-us/insider/forum/insider_wintp-insider_d...

Has there been any progress on this front? I'm extremely concerned about it.

Nope, tablet mode is still terrible compared to 8.1. It's very clear that Microsoft doesn't care about users' feedback on these issues. Ever since Continuum was first made available users have said that it was a step backward (all of the top feedback in the Continuum category, with thousands of people voting for it, says that people don't like it), and Microsoft has continued to only make minor tweaks and adjustments.

Yes, there has been a lot of progress. In the last couple builds the app menus are no longer absurdly hard to get to since they restored swiping from the top. The main issue now is the lack of touch gestures in Edge.

Agreed... I voted on this page months ago. Good Stuff. I added this today. In most Business classes I took the Professors talked about setting things up within the Natural Order of the Human Body, with the Start Menu we are talking about the EYES. The EYES like to hover between 20-80% of the page/screen. When you go outside this range your eyes fatigue/strain much easier. Don;t believe me, ask your Eye Doctor. The Win8/8.1 Start Screen was Perfect for this. Along with the Bing Apps, the HORIZONTAL Scrolling made things easy on the Eyes. The New Vertical Alignment is horrible. Giving me the Option to Switch to Horizontal would be Awesome. Also I need to be able to access Volume and other setting on the Second Screen. This was sadly removed.

Microsoft just increased their channel distribution from 100 resellers to >1000 resellers, how do you think their OEM partners feel about this? Free WIn 10 upgrades available to 1.1B WIn 7/8/8.1 users means less opportunity for OEMs to sell new pcs. Microsoft is not going to stomp all over their OEMs with the Surface Pro 4 near launch before their partners even have a chance to showcase their new WIn 10 devices.

My surface 3 is almost unusable on build 166. Edge browser causes surface display drivers and explorer.exe to crash and hang. Every 5 min i have to open task manager, kill explorer.exe and restart it. And this was after a factory reset with windows 10.

S3 will not be ready I think. However there are only a few minor annoyances on the SP3 10166. Yes the firmware thing and some issues with waking and tablet mode hamburger menu not working till I toggle desktop and tablet mode. Still SP3 is light years ahead of S3 in terms of stability on w10. I had the S3 but took it back based on w10 performance. That was last week fyi

After testing Windows 10 on a tablet I would greatly prefer Windows 8.1. Lots of bugs and lag using build 10166 on tablet. The UI is a total mess as well. Honestly don't understand why any tablet buyer would want Windows 10 instead of 8.1.

Totally correct, I do prefer the 8.1 start menu and app list on my SP3, The 8.1 is more easily accessible than the 10.

I prefer 10 now based on my experience with the SP2, but touch mode in Edge and non-stupid OneDrive (i.e. with placeholders) are important things they need to get soon.

SP4 will probably happen in September then. And new lumias then as well.

This pretty much implies that there will be no Surface Pro 4 this year. Otherwise, why bother shipping more Surface Pro 3's with Windows 10 pre-installed?

S3 needs some firmware love or something. cortana mic input needs love. onenote universal is screwed up right now saying it cant login although it did fine last week and you can't simply reinstall it. ALOT of crap needs to come together in 15 days....

What about Surface Pro 1 and 2?

Those aren't sold now anyway, but you can upgrade them yourself.

I am really hoping my Surface RT Complete warranty will let me trade up to a Surface 3.

I went to my local my local MS store to trade in my RT for a credit towards a Surface 3, they only gave me $45 towards the purchase (and they won't take it if you forget the charger, had to go back for that). I went through with it anyway, my RT was pretty sluggish and I'm really happy with the S3, I will probably wait a few weeks or longer to upgrade it to Win10, as others have said, for a pure tablet 8.1 is a pretty good OS.

lol I just got my get windows 10 app/notification two days ago :)

Hopefully we get a whole image that we can restore to the SP3, rather than first going to 8.1 and then Windows Update to 10.

I had 10 on my Surface 3 for a few weeks then went back to 8.1. 10 feels like a great upgrade on my desktop but feels like a substantial downgrade on my Surface.

It's getting better, although some things are still worse than 8.1, like the browser. But swiping to get app menus fixed most of the major headaches of 10 for me.

Go in, buy it. Tell them you want the upgrade, go shopping/have a bite to eat, and then go get your Surface with 10 on it 'out of the box.' =p

I know there are different takes on when or if Microsoft will be rolling out the SP4. I'm hoping shortly after the July 29 Windows 10 roll out. But regardless I just wish Microsoft would announce one way or the other announce what their intentions are. I sold my Surface Pro 2 several months ago to get top dollar for it in anticipation of the SP4. If the SP4 is going to be delayed until 2016 tell me so I can purchase a SP3. But I'm gonna be pissed if I buy the SP3 in the next couple of weeks and then the SP4 is announced shortly after. C'mon Microsoft, let the cat out of the bag.
Windows Central Newsletter
Thank you for signing up to Windows Central. You will receive a verification email shortly.
There was a problem. Please refresh the page and try again.