Microsoft teases extended battery for Surface Pro, more accessories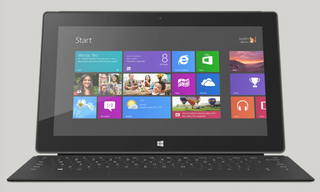 The Surface Pro doesn't go on sale for another three days, but reviews hit the airwaves last night. If want check out this post from earlier today summing up what the web is saying. Or I'll just spoil it for you – the Surface Pro is a kick ass device that is really only slowed down by battery life.
Wouldn't that be great if there was an accessory that could help push the device past the 4 ½ hour average? There may be.
Right now Panos Panoy and the Surface Engineering Team are holding an AMA on Reddit. You'll find the team fielding questions and answers on a variety of topics related to the Surface Pro. Some interesting stuff in there that the Verge picked up on, I'll highlight two of the biggest.
One complaint among early reviews is the inability to run independent scaling between the Surface Pro and an external monitor. The Surface Pro powers a 1080p display on a 10.6" screen, so most reviewers have set the scaling to 150% to get a better experience. But when they connect to an external monitor, scaling is still at 150% and can't be put to something independent of the Surface Pro, something more reasonable like 100%. Which is a bit of a letdown seeing as the Surface Pro has the moxie to handle an external monitor all the way up to 2560x1600p!
Don't fret, a solution may be on the horizon. Responding to the Reddit user, Panoy says that "The Windows team is aggressively working on this feature to fix this for all high resolution Windows devices. We don't have a date yet to share, so sorry." While we don't have a date for a solution, it is nice to know that at some point you'll be able to set scaling in Windows 8 independently for different displays.
The second biggest complaint (and probably biggest complaint) has been battery life. The Surface Team has promised battery to be half that of Surface RT, and that seems about right. Averaging out all the different reviews on the web will give you about 4 to 5 hours of battery, depending on usage of course. In the AMA, the Surface Team talks about using a smaller battery to achieve a lighter weight and smaller physical device size. So any hope for longer battery life with the Surface Pro? Probably, maybe, yes?
One eagle-eyed Redditor asked about the new connectors on the bottom of the Surface Pro. Panoy was enthusiast and sly in his reply:
Look around the rest of the AMA and you'll find a user asking if Microsoft has plans for an external battery or thicker keyboard cover that has an external battery inside. And Panoy responded with:
While he and the Surface Team don't come right out and say, it is really hard to not see a Type or Touch Cover in the future that has an extra battery in it. That could help alleviate most complaints of battery life and put potential buyers in a better position if they're considering picking up the Surface Pro this Friday.
Take that as you will, but I choose to believe we'll see an accessory in the near future that gives you a few more hours of use out of your Surface Pro.
Don't forget to hit up the AMA on Reddit.
Source: Reddit AMA, Display, Battery 1, Battery 2, Via: The Verge
Get the Windows Central Newsletter
All the latest news, reviews, and guides for Windows and Xbox diehards.