Microsoft to unify OneNote apps on Windows into single experience
Microsoft is moving to a single OneNote app on Windows, but the move won't happen until next year.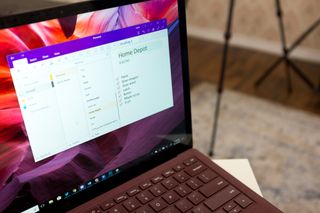 (Image credit: Windows Central)
What you need to know
Microsoft will unify the OneNote for Windows 10 and OneNote apps.
The updated OneNote app will be free, just like the standalone version that's available now.
People using OneNote for Windows 10 should receive an in-app invitation to update to the OneNote app in the second half of 2022.
Right now, there are two versions of OneNote available for Windows 10, the OneNote app that comes with Office and OneNote for Windows 10. Microsoft will unify these apps into a single OneNote experience. Microsoft explains in a Tech Community post (opens in new tab) that it is able to combine the apps thanks to improvements in Windows and Office.
The unification won't happen right away. Microsoft will ship a series of updates for OneNote over the next 12 months, including a visual refresh, a new navigational UI layout option, and improvements to inking.
In the future, people using the OneNote for Windows 10 app will receive an in-app invitation to update to the OneNote app. Microsoft anticipates that these invitations will start rolling out in the second half of 2022.
Microsoft's Tech Community post announcing the change has a section answering frequently asked questions. It clarifies that there isn't a third OneNote app coming. Instead, the current OneNote app is "evolving to include new features and key existing features from OneNote for Windows 10." Once that work is completed, people on OneNote for Windows 10 will receive an invitation to switch to the OneNote app.
The updated OneNote app will be free, just like the standalone version of OneNote currently available.
Even after people receive an invitation to move from OneNote for Windows 10, they'll have some time to transition. Like Windows 10 the operating system, OneNote for Windows 10 will reach its end of support in October 2025.
Windows Central Newsletter
Get the best of Windows Central in in your inbox, every day!
News Writer and apps editor
Sean Endicott brings nearly a decade of experience covering Microsoft and Windows news to Windows Central. He joined our team in 2017 as an app reviewer and now heads up our day-to-day news coverage. If you have a news tip or an app to review, hit him up at sean.endicott@futurenet.com (opens in new tab).
Excellent! As long as it's as stable as the Store app, has as good inking and synching, and has the more intuitive interface (which is better for touch) then I'm pretty pumped for this. I'd love to have some of those power features from the "desktop" version again.

Very conflicted about this. I like the simplified ribbon of the Windows 10 app, but I like the robustness of the "desktop" version. I'm hoping they'll add a toggle to switch between the two interfaces, but I have a feeling only the desktop ribbon will survive this merger.

I'd rather have the robustness of the desktop version if only one is to survive.
But I think they'll have some kind of toggle for 'lite mode'. It's going to be a long and challenging project for sure!

Long term the Office ribbon is being removed for a unified toolbar anyway. But yes in the short term we can expect OneNote to be like the Desktop app.

What evidence is there for that? After the OneNote UWP is scuttled, the ONLY office desktop app with a single line ribbon is Outlook. If anything, MS is doubling down on the ribbon here. Its hilarious that MS ever thought they were going to make Windows a touch OS when they refused to end the File/Home/View/Help interface paradigm.

I have been trying to find some decent software like Onenote, but don't use the cloud, found nothing yet.
So I still use note pad and save the files to a folder.

One of the major advantages of EverNote, OneNote and Google Keep are they're cloud based. Your emails are cloud based, what's the difference? To answer your question though OneNote is a free download an can be used offline.

You call it an advantage, but surely that depends on if you want them to be cloud based. I don't see why they can't have an option to save locally, ok Google keep is a different thing as it is not an app. not on Windows anyway, I have never used it, so I am not sure if it is a app on Android.
.
My emails are cloud based yes, but we do have the choice of moving them, if pop3 is used, also setting up a email server is a pain in the neck, a little different to having documents in the cloud. One note is cloud only, I think the one that comes with Office can be used locally, but the one that is in windows or in the Windows store is cloud based, you can't even start it up without it asking you to set up a MSN account.

What makes you think you can't save locally? It asks you where you want your Notebook when you create one.

I presume that is back up only, just in case you are not online for any amount of time, then it will sync when you get connected. It also need an MS account.
Why is it so difficult to get anything that doesn't access the cloud or need an account?

Why would you not want it to sync automatically though?

Why don't they completely remove OneNote from Office ? At some point they did it but later they just added it again. Insted of doing this they should have focused on the standalone app.

You can still get it individually, for free.

No you cannot. Not if you want all the features of OneNote. The free "OneNote for Windows 10" version is basically just a Demo/Trial version.
There is a reason why MS still bundles OneNote 2016 in Office 365 and Office Pro-Plus 2019 which are paid software. They KNOW that the 2016 version is significantly better.

Please don't. The Windows 10 version is awful in comparison to the Office version. If they want to simplify the versions of OneNote, just kill the Windows 10 version. Bringing the Office version to the same level as the Windows 10 version will just kill any usefulness of OneNote

That's what they are doing. Win10 version goes away. I had to read it twice myself. Case in point for why they need to eliminate one. It's confusing!

It means the OneNote Desktop app is being updated to use the superior OneDrive cloud syncing found in the OneNote for Windows 10 app. Then the Windows 10 UWP app is being killed. That's what "unified" means. One app that works on Windows 7 to Windows 11. Which mean the UWP app is being killed because Windows 7 and Windows 8.1 don't support UWP. It's following the Skype team that did the same last year.

"The Windows 10 version is awful in comparison to the Office version." That is definitely, definitely not the case. And as I read it, while they are making the "desktop" version the new default, they are incorporating the parts of the Windows 10 version into the desktop version, so who knows what "awful" parts they'll keep!

I agree. The Win 10 version is fine. It just never achieved feature parity with the desktop version, before they quite prioritizing it. They did have a plan to do that at one point and were moving in that direction. They intent was to deprecate the desktop once the Win 10 got everything they felt was needed. Glad it's going back the other way.

I prefer OneNote UWP. It's a shining example of MS believing in their own eco system.
So I guess they really don't.
Or Office Division have stamped their feet and got their way.
I really dislike Microsoft's mixed messaging on what dev tooling to use. Seems like they are rowing back in UWP and just allowing the store to fill up with junk. They'll never be able to get back into the mobile space unless they commit internally to a new dev paradigm. Ugh. So back to the 1970s with ugly Win32 apps we go. Argh.

As far as I know, there are 4 versions of OneNote - Office 2016 Professional OneNote
- OneNote Office 365
- OneNote for Windows 10
- OneNote Web App Am I correct in understanding MS is integrating everything into "OneNote Office 365" and making it free of subscription for full features? Because currently the 3/4 apps apart from "OneNote for Windows 10" are NOT free, you either need 365 subscription or Office Suite one-time purchase to use them And what will happen to "OneNote Professional 2016"? I prefer to use it because of indispensable features including being able to set paper sizes, adjust stylus pressures, and seamless integration with other office apps. Will those features be transferred to this new OneNote Office?

OneNote 2016 is old. That's not a distinct version. OneNote 365 is a free download. There are three and then there will be two. Loads of platforms maintain a web app too. Office 2016 is End of Life in October 2025. That's your answer on what it's happening to the old OneNote 2016. Which has already been replaced by OneNote in Office 2019.

I love OneNote but it's been a shitshow. In 2016 an amazing version was released. Then they spent the next 4 years developing the UWP app to catch up with the features of the 2016 version, now they are going to spend the next 4 years merging the two versions, and basically losing YEARS they could have spent on developing new features. It's so Microsoft.

No. It mean the OneNote Desktop app is being updated to use the superior OneDrive cloud syncing found in the OneNote for Windows 10 app. Then the UWP is being killed. That's what "unified" means. One app that works on Windows 7 to Windows 11. Which mean the UWP app is being killed. It's following the Skype team that did the same last year.

All of which makes sense. Having multiple app versions for multiple OS versions is stupid. It also means - as I have said many times - Win32 IS the Universal Windows Platform.

For now, Windows 7 and 8.x are being phased out albeit extremely slowly.

Only makes sense if you think going back to Win32 is a good idea. I don't.
MS should have remade Office in UWP. But it shows either Off Div are incapable, or MS just don't care about UWP. They've spent years trying to get devs to UWP. Completely missing the fact that XAML UIs don't have good enough tools to make decent UIs. It's almost a complete specialisation in itself. So not only do you need to know a language like c#, you also then need to know XAML. And the UI widgets MS make are bad (yes I'm looking at you data table). So you rely on 3rd parties controls. Yet another thing to learn.
Overly complicated. But the answer isn't going backwards to Win32 or Winforms. MS so frustrating

this. it's beyond frustrating. yeah... call me a loser programmer because I lament losing the wysiwyg capabilities in my dev enviroment... i don't care. the number of paradigm shifts we all do every time ms wonders off in a new direction.... it's beyond frustrating.

Check back here in a year. There will actually be more versions of OneNote than there are now.

The Skype team did the same last year. It went from a modern UWP which was 64-Bit an ARM64 to a Win32 32-Bit app. So again it'll be a 32-Bit only app. This is progress? And again I bet Windows on ARM will have to make do with an emulated 32-Bit app :(. Skype now lags when it didn't before.

Yes, it is progress. It is Microsoft Progress. Which means taking care of business customers, who are all using the Office version of OneNote. Business users can't even get to the store, even if they wanted to. Because they don't login to Windows with MS accounts. They login to their business domain. As for Skype, no one is using that now anyway. Businesses are using MS Teams or WebEx Teams or Zoom. Consumers moved away from Skype years ago.

Yeah... Skype regressed tremendously when they did that. Thankfully I only use Skype on Android because the Windows app is terrible now compared to what it used to be. This is such a shame, really :/

I've always been using the Office version. I didn't even know there was UWP version in the store, mainly because I never check the store for anything. Is there anyone who still believes that UWP has a future?

Just because you want to be entrenched in the past of win32 legacy. It doesn't mean you have drag every one else there too. Careful now, you're treading on the boundaries of being called a luddite lol. If Microsoft can get containerisation of legacy win32 working on ARM64 without any performance penalties then yeah win32 will be around a long while. You're missing out on decent experiences Mytube! Is a infinitely better experience than the browser - as long Google stops messing around with the backend. Then there's Prime Video, spotify, deezer etc - all better app app experiences than a browser.

Completely agree. At this point on my Windows PCs, I mix and match any apps - Win32, UWP, PWA, Browser - whatever gets the job done is welcome!

Everyone knows the "UWP" version of OneNote is a total joke. You can't set paper size, you can't set margins, you can't control stylus pressure or turn it off, there is not much you can actually do on it for real work. Business consumers and school systems are all using the 2016 OneNote because there is NO viable alternative like it from a 3rd party. There is a good reason the Majority if windows developers are unanimously against UWP. And MS has done absolutely nothing to address any of those issues since the Windows 11 launch. They should kill the MS Store now and remake it, while they still can.

"Everyone knows the "UWP" version of OneNote is a total joke" That's perfectly untrue. I put myself through grad school using the UWP/Microsoft Store version of OneNote. I did that after having so many syncing fails and inking problems (the inking experience is stuck in 2010) and crashes with the desktop version. I still use UWP OneNote every day.

In college, I had to write hand-written lab reports and submit various problem-solving quiz sorta thing showing my work according to strict paper formatting. Couldn't do that on the UWP OneNote. Even basic things like taking notes was practically impossible due to being unable to disable stylus sensitivity in the settings. The handwriting on UWP with the pressure would get all jagged up close and hard to read as I have bad handwriting. Years later I still use 2016 OneNote for work every day. MS kind of let it go at one point, then decided to give it a shot and deliver the same quality of updates as UWP. The syncing and crashing I've experienced as well, but they are much better now than before. I don't exactly know what you mean by inking. Honestly neither UWP nor 2016 look particularly good when it comes to inking itself, OneNote's inking API is terribly outdated compared to iPadapps like Goodnotes and Notability.

The UWP version is superior in smooth panning/scrolling and zoom though. Far superior to the Win32 version. If they can integrate this part of the UWP version into the final version, then the resulting OneNote is golden!

Whatever version they end up with needs to have all the features of the 2016 Desktop application. Long as it does its all good..

With UWP not supporting WinUI3 and now Microsoft killing the UWP version of OneNote, this doesn't look good for UWP. Does anyone have any definitive insight into the future of UWP?

At the moment they cannot even manage to unify facilities or enable them for their own devices. On the Android and ios versions I can use the camera to insert a picture. On the Microsoft 365 version that cannot be done despite my Surface having a front and back camera. How unimpressive is that?

Why can't Microsoft stick to UWP on their own apps? I find this to be so frustrating 😞
Windows Central Newsletter
Thank you for signing up to Windows Central. You will receive a verification email shortly.
There was a problem. Please refresh the page and try again.