Microsoft unveils Hotmail successor Outlook.com for all your email needs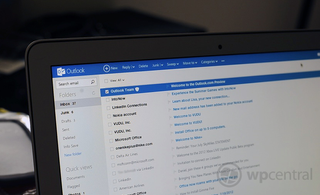 Microsoft has today unveiled the Outlook.com preview to the public, which is essentially a Hotmail upgrade. The successor is completely metrofied, and is feature rich taking elements and functionality from both Hotmail and Exchange. Outlook.com is integrated into Windows and Office, while being able to connect to social networks including Twitter, Facebook, Gmail and LinkedIn for contact synchronisation.
Microsoft is offering 7GB of free storage through SkyDrive for those signing up to the new email service, and is attempting to turn users away from email attachements to cloud storage. Outlook.com will become a supported option when setting up email on Windows 8, Windows Phone (as well as other smartphones that support Exchange ActiveSync). From the video below, we can see Skype integration being present for video calls to be made without launching the app. Exciting stuff.
A tiny peek at the new Outlook...
Check out a quick introduction video below for more information on how Microsoft has reinvented webmail in Outlook.com.
Be sure to head on over to the new Outlook website to check out what' new and register your @outlook.com email alias!
Rich Edmonds is Senior Editor of PC hardware at Windows Central, covering everything related to PC components and NAS. He's been involved in technology for more than a decade and knows a thing or two about the magic inside a PC chassis. You can follow him over on Twitter at @RichEdmonds.
Clicking on a contacts name in the messaging hub led me to a fancy online People Hub. I love it!

Careful about renaming your account: http://www.zdnet.com/windows-phone-users-do-not-rename-your-email-to-outlook-com-7000001906/ . You could be hard-resetting your phone. @p.jgordon - sorry about hijacking your thread.

I already converted, what can I do to reverse back?

Thank Goodness!!! I hate Hotmail. I love this!

Will there be a way to formally convert my hotmail account to the outlook account? So that i would sign in with my outlook account and have all my contacts from my old hotmail account transferred? in addition, to still have my 25gb skydrive?

Hope so.

Go under settings. There's an area called "rename your email address" to see if you can with old Hotmail accounts. Just note that if it's tied to your Windows Phone or Xbox, you'll break that connection.

Ya, my hotmail account is connected with my WP and Xbox, buti can change the xbox though.

I just want to switch to the outlook email, but still keep my 25 gb skydrive and have a easy contacts transfer.

You should have just been able to sign in with the hotmail account you used with your phone and all your contacts would show up.. I did and all my contacts, facebook contacts etc where there including the folders i had setup for my email.

I think if i change, i would lose all my app purchases, skydrive 25gb storage space and if i cant change my xbox live email, then all my achievements.

This seems to be a little tricky now.

Just found out it will not get rid of your old hotmail address it makes it a alias however to correct your phone you have to hard reset your phone but your apps and things will still be tied to the new outlook address just have to start using the new address."Warning: You might not want to change this email address if you've used it to set up a Windows Phone. On your phone, features that use this address will stop working, including Marketplace, Xbox LIVE, SkyDrive, email, and others. To use these features again on your phone, you'd need to restore it to factory settings, which erases all personal content."

Ya, it sucks, i am hoping for a complete merge with my original hotmail address going away, but nothing is never that simple...

Just need to find a way to transfer my xbox live account/app purchases and skydrive to an outlook address.

or you can just do the alias way and keep the hotmail address then no need to reset your phone..
Rename your account: http://mail.live.com/?rru=renameaccount
Create an Alias: http://mail.live.com/?rru=createalias

Ya, i did that just in case.

Just go into your account and add an alias. That will keep your xbox live from breaking.

Another way to convert your current account. Sign in to your current hotmail; it should have the old look. Now click the address bar and go to outlook.com. Your current hotmail address will be converted into the new look.

Is there any way to email from an alias from our WPs?

No, that is what I want also.

Perhaps. I tried the following, but not from a Windows Phone.

If, for example, xyz (at hotmaildotcom) is your primary, and your create an alias of xyz (at outlookdotcom), when you start a new email, your primary email will show as the 'From'; however, there should be an down arrow next to that name. Click the arrow and it will show the alias. Select the alias and continue with sending the email.

.



Do not change it to @outlook yet you will have to hard reset ur phone

I want to change and don't mind resetting my phone. But it doesn't seem you can change. I went to the Change Your E-mail Address page in Account Settings but outlook.com is not an option in the drop down. I checked with some family members and it isn't for them either. Does anyone see this option?

Mimics the new Office 365 look which is a nice job, calender and skydrive yet to change but that will come in time.

Wow....I just love the Metro UI

Don't see what's wrong with hotmail. I use it everyday and its tied to my WP, Xbox and my Zune account.

Nothing about that will change, just the web apps are getting a refresh/update and the new outlook.com domain name will be an option for new accounts. Not sure if you can port an existing hotmail/live.com address to the new domain yet, but we'll see.

You've nothing to do with your Hotmail account. Though Microsoft changed Hotmail to Outlook, you can still have access to old Hotmail acount and its stuffs. But remember that you will no more can create Hotmail account. Now you've to register Outlook account. WP, Xox and zune account will not be affected with this change.

Well. I didn't see the option to rename my @live.com address to an @outlook.com address like Daniel mentioned above. So I went ahead and just registered a new @outlook.com account to ensure I got my name.
So now I'm stuck with two disparate accounts. Anyone know of a way to merge them?

I'm having the same problem. I don't think there's a solution right now.

I just did this so it's
Click your name - Account Settings - Permissions - Switch between Microsoft accounts quickly on the web.
Now on this screen if it has no link it will just ask for a Microsoft Account to link to then you can eaisly switch between multiple ID's
I now have 3 differnt accounts linked as I've just been playing with it to see how it works =P

Thanks.
I tried that and it says "There's a temporary problem with the service. Please try again. If you continue to get this message, try again later."

It's still a preview, so not sure if they will have all that sorted out yet.

You should've created it as an alias to your existing account... details further in these comments

"Well. I didn't see the option to rename my @live.com address to an @outlook.com address like Daniel mentioned above."

I did the same thing. You can close the new outlook.com account, but MS will keep the name reserved for 270 days. After then, you can reclaim the name. If you log in within the 270 day period, you'll reactivate that account.

Might just transfer my Gmail account to this.

Same here looks exciting! Like how Gmail was back then

I just moved all my contacts to "Outlook.com" good bye Gmail.

Nice. Calendar and Skydrive are still the older Live.com format, but I'm sure that's all changing soon as well.

Outlook is Hotmail's successor? I always thought people (including Microsoft) preferred hotmail over outlook.
Edit: oh, this must be a new Outlook. I was thinking of the Office client.

I like the look and seems pretty fast. Will I still be able to use my current hotmail user ID? I know that they say that this is an upgrade so will hotmail transition to outlook mail or is this something new you have to sign up for?

I'm sure the existing email addresses (hotmail/live.com) will not change. You will get the new web apps regardless.

i signed in with my live account without upgrade
you can sign with your live/hotmail account
or you can sign up for new email address

TO EVERYONE WANTING TO CONVERT THEIR HOTMAIL TO OUTLOOK: ok so when I went to outlook.com, I was already signed into my Hotmail account. It automatically signed me into the new Outlook mail under my @live.com email address. So, you could try that.

I just posted that I was automatically connected to Outlook. Thanks.

Yes it does but what people are asking is having their old @hotmail/live email switched to @outlook.com. Somehow I dont see that happening since it would require your current chosen name to be available and that's likely to not be the case. Also the fact that MS themselves would have to figure out how to transfer your old live profile is probably work they won't want to do. May not happen, I think.

See my post below about creating an outlook.com alias linked to the existing account.

This would obviously be the best way as any emails to your old address will still come through. Does this work though to sign into a WP or Xbox live? Probably wont need to change the Xbox but when signing into a new WP8 phone I will want to change then.

No you cannot use an alias address to sign in, you would still use whatever your current primary email address is (hotmail.com or live.com), but any email sent to the outlook.com address alias would go to the same box as the current one.

Ok people, not sure why I didn't think of this right away, but it's very simple.

If you already have a hotmail.com or live.com and want an outlook.com domain going to the same acccount, simple go to the options button in the upper right, then go to 'More mail settings' then 'Create an Outlook alias'. Then tell it to sync to a new folsder or the existing inbox. Bam, done. You now have that email address going to the same account as your current one.

Yes, but you still have to login with your original hotmail account address

That's correct. It's an alias to your existing account, not an account unto itself. This is the simplest way to link both domains with the same address other than the domain for email purposes. If youwant an outlook.com address as your primary login, you would have to create a new one and then import your contacts and such over. Not sure if they will have any tool to migrate everything seamlessly or what-not.

So, what's wrong with that? @dkp23

Crap. Created a new account with the name I wanted, but now I can't convert it to an alias. Didn't realize alias was an option.

I went to outlook.com and both of my live email address were already connected. My contacts were present too. I didn't do anything. Anyone else experience this?

Yes, that triggers your participation into the preview. Notice the URL is still live.com.

By the way Daniel, what's the diference between Hotmail account and Ouutlook account? It's is necessary to rename your account?

Is the site not loading or repeatedly logging anyone else out?

I'm curious if it will affect my Windows 8 login (in addition to WP)... I posted in the forums about all this at: http://forums.wpcentral.com/general-discussion/195595.htm#post1685997

Being a compulsive early adopter, I've already registered two @outlook.com addresses as well as creating the matching @outlook.com alias for my @hotmail.com address...but I'm still unsure how it all works. I really don't want to inadvertently lose my settings and purchased content. When you try to change your ID to @outlook, you get this warning:

"Warning: You might not want to change this email address if you've used it to set up a Windows Phone. On your phone, features that use this address will stop working, including Marketplace, Xbox LIVE, SkyDrive, email, and others. To use these features again on your phone, you'd need to restore it to factory settings, which erases all personal content."

...kinda scary=/

Darn you Microsoft. @hotmail, @live and @outlook and no way to move history (app purchases) from one account to another?? Outlook.com looks nice but is a bit of a cluster f#$k for those of us who want the new email address but keep the history of ID's

Just add an @outlook.com alias to your existing account

A bit of a messy work around, especially if the alias is already taken or you created the new account separately (then no way to connect the alias). They really need a mechanism that lets you transfer the entire history from one account to another

You could always link the accounts. You can import all of your contacts and email if you really want it in that account. I think you need to do the rename option if you want to retain purchase history on the new account, or speak with Microsoft.

I'll look into that option. Thanks. This seems to be a confusing topic judging by the comments to this article. Perhaps WPCentral can write a follow up article on all the questions.

I created a separate Outlook.com account from my main Microsoft account because I'm dumb. Now I'm trying to "send mail as" the new account from my existing account. It can get as far as sending the confirmation email to my new account, but when I click it it asks me to log in to Hotmail and my login credentials don't work....

There's a 'reply to' option, or you can just set it up as a linked account

Just go to outlook.com and log-in with your hotmail acct. and there you go. I don't think you need to change anything.

I think people want the new @outlook email address... if you sign in with your normal account you won't automatically get it. You have to add it as an alias, or sign up for a new account

I LOVE THIS UI!!!!!!
You are doing it right Microsoft!

Wow! This interface is grand!!

I like using alias but on WP you can't send an email as your alias...it will send as your main email account...so now i just use whole different accounts and not alias.

Just adjust your "reply to" settings

"reply to" setting on windows phone? There is none.

I'm talking options on outlook.com website... not sure if WP uses the 'reply to' once it's been setup there though

yea, I was talking about on the phone. on the site i'm good but if you wanted to use it on your phone...it's a no go.

Any Windows Phone user took it for the team and renamed their account to outlook.com? Does factory resetting the phone make everything normal again?

That's what I'm wondering (in addition to Windows 8 login). I started a thread in the forums about it...if anyone has taken one for the team, please let us know! Here's the forum thread:
http://forums.wpcentral.com/general-discussion/195595.htm#post1685997


Pretty sure you cannot rename ot and keep everything intact at this point. I would wait for Microsoft to give more information on what a possible solution to that is. Remember this is still a 'Preview' so it's not official yet.

When is my account Outlook will have to change everything? Xbox, wp7.5 and Windows 8.

I have a question. Anyone knows whether Microsoft reorganized the web-mail service from the Windows Live, which is part of Sinofsky's Windows team, to the Office team, which is under Bussiness Division?

Do not rename your @live/hotmail.com to outlook.com! Your WP will basically refuse to work if you do.

Even when doing the suggested factory reset?

ZDNet post from Matt Miller on the topic: http://www.zdnet.com/windows-phone-users-do-not-rename-your-email-to-outlook-com-7000001906/

The article itself and the title don't quite agree. Windows Phone users can apparently rename their hotmail/live account to an outlook account without losing anything. You just have to hard-reset and set everything up again from scratch. For some users, this is probably more effort than it's worth, and that is essentially what the article says. Do so at your own risk, but it should work fine.

The Outlook team just posted this on reddit. Short version: it should be safe to rename your ID and keep using your Windows Phone after doing a factory reset. :D
"You will not have to re-purchase anything. For WP7 you will need to reset your phone, and signin with the new account. You will need to reinstall all apps, but won't have to re-purchase any of them. You'll also need to go to sync settings and make sure mail is enabled. For W8, you need to disconnect your account and then reconnect your new one, but then everything is preserved."

Somebody from the Verge also confirmed that you would be able to keep the 25gb skydrive, but do at your own risk

Damn...I really don't want to do that lol. CRAP!

Sync Settings to make sure email is enabled? Where is that?

Settings > Email & Accounts > Windows Live

Anybody know if the xbox trick to transfer all your apps to another email still works? Is there an easier way?

I dont want to lose all my app purchases considering i didnt pay for them :o, MS and Nokia did :)



Hmm so wait do I now need another new email address or is my *@live.com gonna work there?

Any Microsoft account will work in Outlook

Existing @live and @hotmail accounts work fine. If you want the same email @outlook then you will need to add it as an alias, or signup for a new account (and link it if you want)

I sure hope they allow us to take an account and change it to an alias once the preview is over.

This is amazing. I have been using it since 2 hours ago. The integration is excellent. Good work MSFT! Now you just need to bring a WP8 with Nokia and make me happy again

All converted. Love the new interface!!

My bad if I'm asking a question that's been answered already. But if you change your hotmail name over to outlook, then have to reset your phone and everything, will you still get to keep you 25gb of skydrive space? It's one thing to have to factory reset your phone go through the time of setting it all up again, but if I lost my 25gb of skydrive space just to change my outlook name, I won't be happy. So far I just created an outlook alias.

You will keep your Skydrive Space, at least I did so far.

when does the skype intergration start???? They show it in the video.

got an alias on my old live account and created a new email@outlook
freaking great, beautiful and fast
love the new features

Can anyone help out with adding this account to Office 2010?
I would have thought that Microsoft would make it all ready to go, but I keep encountering problems when I try to add my new @outlook.com to Outlook :p

I ran into an issue with this also - an encryption server issue? Nonetheless, no biggie for me (for now). I just assume that it is because it is in preview.

Microsoft outlook powered by Nokia. That would give our Nokia fanboys such a hard-on.

You can easily use an Xbox to transfer windows phone apps and subscriptions to a new live ID (or outlook.com) but remember that your new email must be active for 30 days before MS will allow the transfer :'(

There is one thing left to do before Outlook.com becomes cool: add the metro style to the pages which are shared by hotmail and outlook like some of the setting pages because it ruins the flow to go from beautiful metro to the old hotmail style.

Somebody pleeaase help me! I'm so confused... Is this outlook.com replacing hotmail or it's the outlook they use at the office

But you still can register for hotmail. http://hotmail.logins.help/hotmail-register-or-hotmail-sign-up/
Windows Central Newsletter
Thank you for signing up to Windows Central. You will receive a verification email shortly.
There was a problem. Please refresh the page and try again.