Microsoft unveils Windows 10 powered wearable wrist device by Trekstor
The Microsoft Band may be dead, but it appears Windows 10 on wearables certainly is not.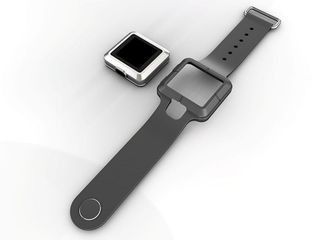 Microsoft has today unveiled (via MSPU) a new Windows 10 powered wearable device by Trekstor, described as a "B2B commercial-grade wearable for the Industry". The device has no name, but closely resembles that of a smartwatch, with a 1.54 inch screen, and powered by Windows 10 IoT Core.
Although not built by Microsoft, it appears the company is very excited about this product. Microsoft says the unnamed wearable can run Universal Windows Applications and is secure and manageable like any other Windows device and leverages Microsoft Azure Cloud services like Microsoft Cognitive Services.
What's more, Microsoft also says that a device like this can replace something like a smartphone in multiple lines of business and scenarios, such as:
Inventory management in retail
Building automation for guest services in hospitality
Industrial automation in manufacturing
Patient care in healthcare
And several cross-industry scenarios like asset management, fleet management, and others.
It's clear that Microsoft isn't calling this device a smartwatch, and probably for good reason. Although closely resembling such a product, it appears the Trekstor wearable will be more of a utility for inventory management or other similar scenarios, rather than a personal smartwatch like the Apple Watch or even Microsoft Band.
Still, it proves that a smartwatch-type device powered by Windows 10 IoT Core is a possibility. Perhaps we'll see something from Microsoft in the future, once Windows 10 is optimized well enough to run on a device as small as a watch.
Microsoft says we'll be hearing more about this Windows 10 powered wearable by Trekstore in the coming months. In the meantime, are you interested in such a device?
Windows Central Newsletter
Get the best of Windows Central in in your inbox, every day!
Zac Bowden is a Senior Editor at Windows Central. Bringing you exclusive coverage into the world of Windows on PCs, tablets, phones, and more. Also an avid collector of rare Microsoft prototype devices! Keep in touch on Twitter: @zacbowden.
Yess!! Finally a good one

How can one NOT be interested to see where this goes !!!

Agreed, but I must say I don't like the design. I really hope it takes off into a better looking design, and with Windows, likely very well functional.

Now there I am torn (excuse the pun) looks are important, but more importantly for me is I just want it to last longer than my Bands :( - not that this appears to be a fitness band replacement

It looks just like a FitBit Blaze. Maybe a little too much.... I do own a Blaze so I don't necessarily dislike the look.

The screen needs to be bigger and about 2.5" and thin/bendable to wrap around the wrist in my opinion. You really can't do data on a nostalgic watch that's designed to tell time and short messages.

It's for inventory tracking in warehouses and such, it's designed to be ugly so employees don't steal them.

It's not being built for consumers, so design took a backseat to functionality.

And that, as a design language, is very appealing. Functional design, like the raw sex appeal of my Fiat Panda, is both attractive and extremely manly. Loving the look, myself.

That's easy enough to answer. I've not been interested in the Android or Apple smartwatches, nor did the Band ever interest me. I wear a dive watch. It perfectly does it's primary purpose for being on my wrist: telling time. It has the added benefit of doing so while I'm diving, which is frequently. Any other function that's important to me is easily covered by my Windows phone, which goes with me everywhere except the water, or my Surface Pro 3, witch goes with me nearly everywhere my phone does.

For a moment I thought you're referring to sky or cave diving!

TBH I was not a massive fan of smart watches. I got a ms band and enjoyed it but it split. It then jumped ship to Android and the lg g4 and for the 1st lg watch to try and it was ok for want it did and it was only £50 when I got it. Out came the Lumia 950xl and I was back over to wimo again and got a band 2. But it the lack of apps on wino and losing PayPal I moved over to Android again and got a g5 and use my band 2 for fitness but my Mrs got me a Moto 360 for Xmas and I have to say I've been very impressed with it. Looks amazing but it's also handy when out and about when you get a message/WhatsApp,email,call ect I don't have to pull my phone out of my pockey/bag I can look at my watch and see who it is. I also use it to follow the football and ice hockey scores. For me I don't think they are worth the £100s that they are on sale for but the price my other half got my Moto 360 for it's worth looking into.

this is not for the people on the streets, it could be good for measuring basic health functions for medical purposes in health care or even a more sofisticated device for advanced monitoring

As someone who works in healthcare, that's a long, long ways away from happening

I don't think it's as long away as you think. Activity tracking is already being added to patient portals so you can share all your steps and heartrate and such with your Dr. I haven't seen any of the regulations on it but I'm assuming currently it's to be taken with a grain of salt since none of them are currently perfect.

It would have to be classified as a medical device and FDA approved. There are also a host of legal and liability factors to consider. Also, there's no real need for a device like that in any hospital I've worked in. Monitored patients require a 12 lead ekg, you're not going to get that with a wristband. A pulse ox monitor can get O2 sats and HR already and it fits on a finger....

Well, some of us don't wear anything on our wrists, though the technology is good. Can't wait till the device itself isnt needed.

intertesting, hopefully more devices will come including consumer devices that we actually would want to buy. My hope is that the reason Microsoft canceled the band 3 was exactly because it was gearing up to have devices like this running windows 10 Iot. Fingers Crossed

I believe your assumption about running Windows 10 is correct. I remember reading one of these Windows Central articles that talked about MS trying to get some form of Windows 10/Mobile to run on the Band 3, but was unsuccessful at doing so, which lead to them canceling the Band 3. I wish they had just released it anyway and worked on something better that runs Windows 10 to succeed it at a later point. The Band, despite it's obvious quality flaws was still a great wearable and it worked with Android or iOS. Satya, should have allowed MS to manufacture a few thousand Band 3 for initial launch. If sales didn't show promise, then just don't make anymore. Continue to support that current one, until they has a better replacement.

Looks good. Depends of Its price I would buy it if its possible cause they note on the internet that this device is not for consumers. Right now I have a Q18 smartwatch which is good enough but it supports only android for notifications. You can only respond on calls and sms with it and change music via Bluetooth. I would surely like to see a good priced watch working 100% with Windows 10 mobile

Vector was before creators update sadly

Yeap. But their watches was a bit expensive (at least what I saw was over 150€)

I would buy it too if it can measure blood pressure, blood sugar, heart beat, etc. Price not important...

Blood sugar?
Lol Really... You do know to measure blood sugar... You need to draw blood? A tiny pin prick of blood is all that is needed but still need to draw blood or have some sort of implant inside your body. The latter is far too invasive.... Plus it is a decade or so away, not that I would want an internet connected implant.... Think of the ramifications if someone managed to hack them?...

nice! Good discovery...So where is Trekstor's phone to accompany this?

It's a standalone device. Centrally managed, but it is intended to replace the use of phones in certain industries like health care. Ever been in a hospital and noticed the plethora of Windows CE devices on nurses and doctors being used to log information and get alerts? That's the kind of thing where this will break into the market.

I understand what it is, capable of or otherise capable of and what it will do. I only knew Trekstor as on the list to bring a mobile phone of sorts. I would not say it could replace a phone, unless like you said centrally managed via Wi-Fi. Unless they got the 7nm LTE chip in that one. :)

Although this device seems to be aimed at business and such, I do hope it has Microsoft Health integration amd can double as an exercise band. It would be awesome to have another Windows powered wearable other than the now defunct Windows Band (Which I miss :'( ) Hope this one really sticks or at least pans out into another dedicated wearable from Microsoft.

Event if there are no info about its fitness capabilities - I doubt that it has sensors like MS Band or iWatch. Even with "Patient care in healthcare" is in scenarios, it is unlikely that Band's sensors can be used to track patient state(only roughly).
But I still hope that W10IoT will appear on "fitness oriented" devices or this one will be able to handle that.

Microsoft Band, not Windows :P it was running firmware not Windows. The MS team couldn't get Windows to run on it and subsequently got disbanded apparently....

Not even remotely interesting. A smartwatch is a hard enough sell as it is, given it's very limited usability. While I understand that this is much more focused on businesses, it gives me zero anticipation of a consumer focused product. Windows 10 IoT? Big freaking whoop. Any sort of additional cross compatibility features with other Windows 10 devices is meaningless without a mobile platform that isn't being abandoned by its users. I'm primarily using an Android phone right now, so if I wanted a useless smartwatch I'd go get one built for OS on my phone.

Because the market is determined by one person...

Who wants a boring old touch phone? I want a watchphone I can talk to via cortana bots. Forget the brick. This gives me hope they might make one after cortana bot intergration happens this year. It's nice to see MS's plans slowly bubbling out. Next two years really interesting times! PS albizzia is a really useful herb for depression.

Does it run Visual Studio 2017?

Does it run Crysis, "UWP Edition"?

not going to buy as i'm scared anytime they will drop support and kill it with out telling.

after discontinued Band. I dont know if I would go with any Microsoft wearable. Whats your recommendation?

I would take the "wait and see" approach. If it comes out and we get to see good things from it, then go right ahead and but it, if not, then you didn't lose anything. I myself would most likely buy it if it does come to fruition, just because I'm looking for a new band replacement (not that it will be) from Microsoft.

After my Band 2's strap started splitting I was ready to go back to my old crusty Polar. It does little more than tell me heart rate and time in each heart rate zone. And while the straps on my Polar eventually break, at least I can get replacements. But a week ago with a weekend bike trip coming up I decided to take another look at the alternatives. What can I say, I liked having GPS mapping of where I pedaled. In the end I went for a Garmin Vivoactive HR and very happy with my choice. In a nutshell, I traded reliable phone notifications and less accurate sleep tracking for a slightly more accurate GPS, vastly better water resistance (can swim with the Vivoactive HR), much better battery life, and more durable straps that are user-swappable. The corresponding app has a lot more features than Microsoft Health, especially when reviewing activity data as charts. So far, Garmin has continued to update the app on for W10 and W10M. There is also a good selection of third-party apps in the Connect IQ Store, because many apps work on multiple Garmin products. I kind of wish Microsoft would have partnered with Garmin to build the Band. Some kind of "Vivoactive Band" would have been one awesome wearable.

Well, it's not really a MS wearable. It is a wearable that runs Windows IoT, by someone other than MS. I think that is were MS wanted to go with the Band, but for whatever reason, didn't. I don't think Windows IoT is going to go away. The question would be, does this product do what you, or others, need it to do? It would probably suit me fine. I am not terribly interested in the fitness aspect that everything on the market seems to be wanting to cash in on. (Oddly the Band was one of the most sensor laden devices out there, and cross platform. Bizarre it didn't catch on. Might have been the marketing, or lack thereof). In any case, a watch/wearable that runs UWP, would likely serve my desire for notifications, and even better my desire for interaction. Would need to either have LTE, or BT to my phone for continuous connectivity.

No, I don't need devices like that. But I'm curious where it goes....

Nowhere... It's gonna follow band and phone - discontinued and support dropped.

Hate to be on the side of the Negative Nellies here, but have to agree. On my 7th Band 2 already, which I had to buy on eBay. If MS doesn't show long term commitment to a new product, we're just acting as their Fanboy Guinea Pigs. How long should we continue to put up with this abuse?

Personally, I have had 3 MS Band V2. All died, now warranty is out. MS band 1 still going strong. Dubious about this incarnation.

You went through as many as I did. I have tried Vivoactive Hr and currently using the Blaze nothing works like the Band imho. My manager sent his in for repair and MS gave him a check for the difference.... I almost grabbed one off ebay just for guided workouts wish someone else supported that. (and alerts are horrid elsewhere). Keep up the good fight or you will be fighting trying to get Band functionality back if your using a windows device.

Ugly af. Nobody will buy this.

That's the point, ugly so employees don't steal them.

This is a discussion about the wearable above, not about your profile on Match.com

Is this the thing crazycat or whatever his name was working on. He was making sensors or something for it.??

Mr Catfish? Good question ... I'm not seeing his 2 cents worth here anywhere ...

Are you a business if the answer is no then goodluck finding someone to take your money for this device.

It looks like a Fitbit Blaze. If they are targeting the consumer market in any way they are going to have to step up the design. Those bezels are far too large. The Blaze has large bezels too but isn't known for it's looks but the software and the company behind it. This device wouldn't have that making it more of a challenge. Still good to see someone trying.

I'm looking at my Blaze right now, and failing to see the large bezels of which you speak. Maybe 2mm when viewed from the front?

It should be called SmartWrist or SmartBand.

Had to be coming. When cortana has her bots, and they have one that makes phone calls (cooler looking, obvs), I'm totes ditching my glass slab ball and chain. Freedom!

I see what you did there...

Finally. Now I can pester my clients to pay their invoices all at the convenience of a watch...

Since its IOT it'll only be a manner of time before someone will come up with a consumer friendly interface for smart watch stuff.

I would love one of these to compliment my Windows phone

So they can be discontinued and die together? Aaaaw, how cute.

There are no plans on discontinuing Windows phones. Troll somewhere else.

"The Microsoft Band may be dead, but it appears Windows 10 on wearables certainly is not." - give it half a year...

Btw, Windows Central, replying on Edge is broken... Had to use IE to reply.

I just want the Band 3 to be released. My current Band finally died last week and I WANT MY BAND

Nice! Can't wait to get more details.

No interest, was waiting for somebody to take the development of BAND3

It looks like a really cheap Casio ... Sorry Casio, just a comparison of your first production watch. Maybe by Microsoft not actually creating the watch, they will support it longer. I really loved my Band 2 before they bought it back from me at full price. Microsoft is so disappointing on so many fronts. Take this venture with a grain of salt.

Sounds great but I won't touch it after being burned by MS after I bought a Lumia Win 10 only to find MS was probably planning all the time to abandon both.

Pfft, Zune HD, Band 2. AMAZING Decvices that MS let slip by the wayside. It's tough to be a MS fan and not worry about them dropping the device.

Microsoft has no plans on abandoning Win10, why would they?

MS Just give me a band 3. :( Same exact interface, updated wrist straps. Please?

Once again, the consumer not in the game. I have sort of waited for a MS smart watch, but as the Windows Phone is on its last gasp, and I will need go to Android, an Android device will be what I get.

Yeah great Idea... useful device

I'm gonna need a new smart watch soon, but with a Windows phone, what are my options? My Band 2 is still ticking but I had to use Gorilla tape on the strap. So sad. My Lumia 950 XL is also starting to give me some problems, and I see no Windows phone option, and no windows compatible smart watch option. This at least gives me hope but man I really like the Huawei Watch 2. Am I really gonna have to go Android?
Windows Central Newsletter
Thank you for signing up to Windows Central. You will receive a verification email shortly.
There was a problem. Please refresh the page and try again.