Microsoft unveils Windows 10 powered wearable wrist device by Trekstor
The Microsoft Band may be dead, but it appears Windows 10 on wearables certainly is not.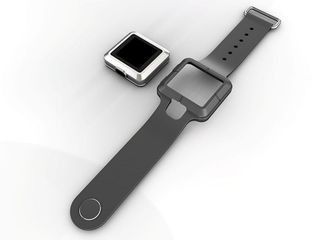 Microsoft has today unveiled (via MSPU) a new Windows 10 powered wearable device by Trekstor, described as a "B2B commercial-grade wearable for the Industry". The device has no name, but closely resembles that of a smartwatch, with a 1.54 inch screen, and powered by Windows 10 IoT Core.
Although not built by Microsoft, it appears the company is very excited about this product. Microsoft says the unnamed wearable can run Universal Windows Applications and is secure and manageable like any other Windows device and leverages Microsoft Azure Cloud services like Microsoft Cognitive Services.
What's more, Microsoft also says that a device like this can replace something like a smartphone in multiple lines of business and scenarios, such as:
Inventory management in retail
Building automation for guest services in hospitality
Industrial automation in manufacturing
Patient care in healthcare
And several cross-industry scenarios like asset management, fleet management, and others.
It's clear that Microsoft isn't calling this device a smartwatch, and probably for good reason. Although closely resembling such a product, it appears the Trekstor wearable will be more of a utility for inventory management or other similar scenarios, rather than a personal smartwatch like the Apple Watch or even Microsoft Band.
Still, it proves that a smartwatch-type device powered by Windows 10 IoT Core is a possibility. Perhaps we'll see something from Microsoft in the future, once Windows 10 is optimized well enough to run on a device as small as a watch.
Microsoft says we'll be hearing more about this Windows 10 powered wearable by Trekstore in the coming months. In the meantime, are you interested in such a device?
Get the Windows Central Newsletter
All the latest news, reviews, and guides for Windows and Xbox diehards.