Microsoft updates Bing Translator for Windows Phone with lamp mode and more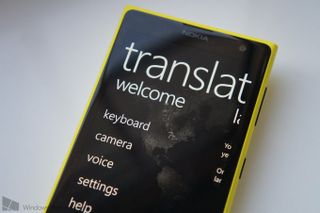 Bing Translator is the official Windows Phone app from Microsoft, which enables you to connect to and utilise the online translation service. Originally released for Windows Phone 7, the app has been continuously bumped to new versions and now we're looking at version 2.7. This is a sizeable update, so let's see what's new after the break.
If you're an avid user of Bing Translator for Windows Phone, here's what you'll have once updated:
Camera translation for Danish, Dutch, Finnish, Norwegian, Russian and Swedish
Offline translation for Dutch, Norwegian, Russian and Swedish
Lamp in camera mode
Remove history items one by one
The camera translation will be welcomed by those who are at locations that use those languages, while offline translation is perfect should you not currently have data connectivity. The lamp in camera mode is essentially an option to toggle the device LED lights for low-light translation. Finally, history items can now be removed one by one.
Oh, and did we mention you can also translate Klingon? You can download Bing Translator from the Windows Phone Store.
Rich Edmonds is Senior Editor of PC hardware at Windows Central, covering everything related to PC components and NAS. He's been involved in technology for more than a decade and knows a thing or two about the magic inside a PC chassis. You can follow him over on Twitter at @RichEdmonds.
What I would find useful is a way to translate websites, seems like core functionality that should be included.

I personly don't use it on my phone, but new feauters are allways welcome

Yes! Finally camera translation for Russian! And offline translation!

+1 I'll be using that one a lot!

YES FOR NORDIC LANGUAGES!! I just recently moved to Sweden and that will be a life saver!

Also great for SoN members who like beer. Jeg vil gjerne ha et glass øl.

Lol I don't think you get it..

To clarify, this is what I was referencing ;)
http://www.youtube.com/watch?v=gId6nrMDmUU

Good we gonna see Dutch aswell!
Only the program itself in Dutch now!

I didn't know it can translate Klingon. It will be helpful incase I meet a Klingon. Hahaha

I want to see Aurabesh aswell ;)

Boo, still no offline Japanese support. Seems like MS really doesn't care about the Japanese market - maps there are embarassingly sparse. Unfortunately for me, my work takes me there more than any other country.

Yeah, I've been frustrated with their lack of Japanese support as well. It is embarrasing that there is still no camera translation from Japanese or offline support but that there is Klingon support. I think the Japanese speaking market is probably larger than the Klingon market. There is no excuse to work on a fake language before a major, and real, language like Japanese.
Along with that is the lack of apps for the Japanese market, which I presume is the result of the fact that they haven't even launched Windows Phone 8 in Japan yet. That's a tough market to crack, but WP7 over there seemed to have a niche appeal and it is disappointing that they are not trying to get back into it.

For the record, the Klingon was launched previously when Star Trek: Into Darkness, hit theaters. I doubt it took them long to work on it.

And herein lies the folly of supporting fake languages like Klingon. People who don't know how things work behind the scenes make stupid assumptions about allocation of resources and impact of one product feature on another.

Couldn't agree with this more. I've closed FAR more business deals with people that speak Japanese than I ever will with anyone that speaks Klinkon.

MS has said on their blogs in the past that Japanese camera/offline support is planned, so it only stands to reason that adding support to a fake language only took away resources from something actually useful. Even if it didn't it certainly gives that impression.

Yes but the Klingons are better looking.

Klingon was done as a side project on an employee fan's own time. The addition of Klingon had absolutely no impact on the when or the whether of any other language's addition to Translator.

+925 for more Japanese support.

I must add my voice to this: still no Japanese support – simply embarrassing.

Offline and camera translation for Swedish are great, since I'm there on holidays!

good timing BING, just two weeks to fly to Guangzhou again....

Not support Hindi Language. We need all Language support.

Now it is also possible to use the camera for language Portuguese Brazil

It still doesn't speak Thai. Until then, T-translator works better for me. Also looks like camera mode doesn't support Thai, Korean, or Japanese yet.

Yeah, I'd like that too as I often holiday in Thailand

I wish the app would auto select the language it was translating from so you did not have to do it manually while using the camera.

I think that's almost impossible with today's technology. It uses the language you've chosen to make the OCR more accurate, without it the app doesn't really have a clue what it's trying to detect.

It doesn't even do this for pasted text (auto-detect language), which both google translate and Bing translator do on their websites. This has been the only feature keeping me away from this app.

Does it do offline Klingon as well? This is essential in our universal translators in case we lose communications with the Enterprise.

No more upcoming WP features leaks from so many days. No leaks are making me restless. I am tired of delayed or no notifications. Bring the notification centre fast, MS. I don't want to go back to Android.

Is there anywhere I can find a list of supported offline translation languages? Or is this the first update that inroduces them, with Dutch, Norwegian, Russian and Swedish being the first languages supported?

Really would like English -> Chinese (Simplified) with PINYIN, Chinese characters are very difficult to sound out ;-).
(....~like google translate has had forever~...)

Other than that it's a great translation app, just would like to not have to go to a third party app for the pinyin. (My Chinese Friend).

For the record, the entire Klingon language was invented by linguist Dr. Marc Okrand. Not just words here & there, but the complete language. Also, Bing isn't alone, Google has had Klingon as a language option for years. It's not available in Google Translate, but they have the ability to translate their entire website into Klingon.

Not using it that often, but I like the live tile Word of the Day.

Me too But for no iam using Nice translator called Double Translator Combine Google&Bing In one With just single click you can get text translated from those two http://www.dutranslation.com/

I'm using T-Translator and I think that's the best translator from the market, really usefull.

So you can translate klingon, but no latin. Someone tell microsoft to add latin to the translator.

I can't see an update for WP7.8 on India :(

I need Japanese and Korean Canada support, this update does nothing for me

this is very good apps
very useful
hope Microsoft will continue Bing Translate for WindowsPhone

Where's traditional Chinese? :(

There's no update in India still in 2.2 version

Hopefully they get Japanese support for the camera up and running soon. It would be nice to use my phone to do a rough translation of manga pages/series that I know won't get translated over

Hi Rich, the bing translator really has some of the awesome features. Really liked the features. SpeecTrans also provides awesome translation app for your windows phone.
Windows Central Newsletter
Get the best of Windows Central in in your inbox, every day!
Thank you for signing up to Windows Central. You will receive a verification email shortly.
There was a problem. Please refresh the page and try again.