Microsoft updates its Lumia Moments app with bug fixes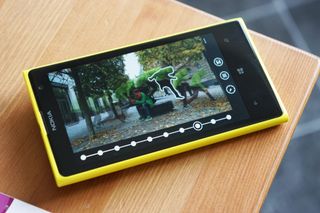 Microsoft has updated its Lumia Moments app, which allows users to extract still images from any recorded videos. The app was first launched in December and is only available for a select few Lumia smartphones that have the Denim firmware update installed.
The change notes for the new version only state that it contains "bug fixes". However, it's still a pretty cool app to check out if your device supports it. Just as a reminder, here's what it can do:
The app only works with Lumia Denim installed on the Lumia 830, Lumia 930, Lumia Icon or Lumia 1520, and only supports full HD shots from the Lumia 830. Let us know if you notice any improvements in the comments!
Thanks to everyone who tipped us!
Download Lumia Moments from the Windows Phone Store (Free)
Windows Central Newsletter
Get the best of Windows Central in your inbox, every day!
what bugs were fixed ? another article just to flood windowscentral

Another troll to flood the comments section?

most of John Callahm articles are troll ... looks like he just writes to increase his article count

It's just a typical app update article, which I often find useful. Blame Microsoft for not being specific about what was updated.

well then 100s of apps get updated everyday ... he can keep writing about app ... I saw update too I know it was updated. I want to know more what was fixed

Actually his article was helpful. First I want you to know that I don't take sides but here you are blatantly wrong.
Even though I am a very interested user in Windows sometimes I don't find the patience to find out what an app is doing, therefore I don't install it. Articles like these spark my interest in installing them, because besides that update notice the editor also explained what the app is for.
This is also welcoming for new users.
If you are a troll or frustrated in life pls go somewhere else before Daniel sees you and expels you :))

am I afriad of rubino ? lol

I'll tell you at least one bug that is fixed for me. I have an SD card in my1520 and it is the default location for all my pics and vids. I was unable to save any moment captures unless I first went and changed my default location to the phone instead of SD. I even purchased a new 90 Mb/sec card just to make sure and it still fails. Well, now after this update it is working.

I've noticed that as well.

this one is a good info. thanks mate

I find john Callaham one of the best. Every article of his, whether about something small or something big, always explains what its about. Its very useful.
For eg. The articles regarding updates... He not only tells what is the update about, but also gives a detail about the app which is updated. I find it useful everytime. And I am pretty sure, new users should be finding his articles even more useful.

So I would just suggest you to show him some respect. :)
No offense, but if you don't like him, then don't read the article and don't comment in it. Thank you. :)

I'm not sure about bugs, but the app... Seems faster.

Awesome! Great app to play around with, but eventually it always failed to save the 'moments' I'd chosen. Now it's fully functional on my Lumia 830. Thanks Microsoft!

Still my lumia1020 shows cyan even after update from cyan to denim but shows cyan with hardware no.of drnim.

Do you have PfD opt in? I have the same issue. To get denim FW in extras&info I have to opt out of PfD.

Living images is so useless

I thought so too, but with having a young toddler I really like this feature.

what about Lumia 730 with denim???

Who is the loser in this war? Nokia or Microsoft

If you don't have the latest WP, you welcome to try my app moments capture :)
http://www.windowsphone.com/s?appid=e82ce21b-8c1c-4904-8735-45dffca922d7

They need to pit face swap in to bring it up to par with the old camera smart shot.

That's a 1020 right, and is it running the Moment app or.....I don't use too many lumia apps. Just trying to understand what app it is showing in the photo. sorry for the noob question

That is the 1020 but that app doesn't download unto my device even though I have denim? Not sure how the article image was generated.

I am on WP8.1 GDR1 pdf but not denim and i can still use the app I guess denim is not needed.

Is it like Nokia smart cam?looks the same!then y won't it work on my 520?

I really want to get a unlocked 1520.3 to use on t-mobile

Works great on my 830. Oh wait, actually, no, because NO DENIM FOR YOU AMERICAS. Will the real Denim please stand up?

I have the 1020 on denim but doesn't improve anything that I'm aware of.

Yay! I haven't been able to save to camera roll. It gets stuck and need to restart the app.

How about making it available for all lumias with windows 10

What kind of bug fix, don't simply said so.