Microsoft updates Mail & Calendar for Windows 10 and Mobile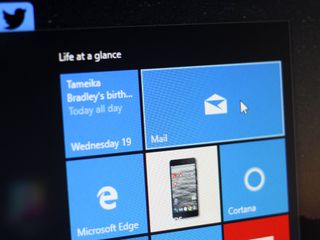 Microsoft has rolled out an update for Mail & Calendar for both Windows 10 and Windows 10 Mobile. Unfortunately, as is becoming the norm these days when it comes to updates on the platform, we're missing a changelog to see exactly what has changed in the latest release.
The apps have been bumped from version 17.6403 to 17.6409, and while they have not been accompanied by changelogs, we have noticed this preview feature which could be considered new.
That said, the increment is so small it could simply be a handful of bug fixes and performance improvements. If you've noticed anything, be sure to shout out in the comments!
Download Mail & Calendar for Windows 10 (opens in new tab)
Windows Central Newsletter
Get the best of Windows Central in your inbox, every day!
Rich Edmonds was formerly a Senior Editor of PC hardware at Windows Central, covering everything related to PC components and NAS. He's been involved in technology for more than a decade and knows a thing or two about the magic inside a PC chassis. You can follow him on Twitter at @RichEdmonds.
My calendar tile is not showing the date. Updates come but its not fixed yet. Build 581

Working properly for all others.. Resize the tile,restart or repin

Ohhh...i can't install anything from store...Hats offfff 581

My Calendar never alerts me on mobile. 5 builds and no solution... I hope this one coem with a solution :)

Never have had that problem myself. Sorry you're having it have you used the feedback to alert MS.

Same. Tried everything. Doesn't work. :/

The only workaround is to shedule an appointment 3 days after the present date. It will show you the date in the tile but only for this 3 days, if you want to make the date appear again, you have to do the same every 3 days! There have been more than 6 updates from the time it first appeared, with countless uservoices (the majority with over 100 votes) around this issue and still looks like it may persist even after RTM (from what the desktop RTM has shown us already)

Yes thats my concern If it persists even after RTM I am leaving this OS :/

My calendar tile doesn't show day before but after I set my outlook syncing from "based on my usage" to "as items arrives" , it shows up with date and event . Hope it helps

That preview isn't new, it has been there for a month or so already.

Just a question... On the video from Microsoft they are calling the mobile version of Windows just Windows 10. Also, the Email and Calendar apps are universal apps, thus when updated they automatically apply for both the desktop and the mobile versions. Therefore, does it make sense to still differentiate between Windows 10 and Windows 10 Mobile? It's like saying that an app has been updated for the iPhone and the iPad as opposed to saying that it was updated for iOS.

They can release universal apps to different target devices at different times, a change to desktop UI for instance doesn't need the update to be released for phones, it would just be a waste of bandwidth.

You're right they can release code at different times but the desktop UI is available on mobile when using continuum.

So true, that's what I love about Windows 10, bad example xD

On mobile, now notifications work again... On previous builds new mails were notified only on the live tile, no notification center or sounds :)

Notifications on mail and calender have been working fine for me for the last few builds and updates (Lumia 930)

Well not for all of us. Work again for me as well

Same thing happen with me, I use to get notification for Yahoo Mail but not for Outlook Mail

I get Mail notifications on the lock screen and the tile but not in the Notifications pull down. Still on 50681 build and hoping they have ditched that horrible black circle notification on the tile - again, it's a circle when everything else is square and it looks really ugly compared to the theme colour number on the tile!

Do you have tile pinned to start? Funny enough, i had the same issues as you, all i did to fix it was unpin the tile and then go into the app and pin it to start again. All works as expected now

Thanks - did this and the email now appears in the notifications centre but now not showing on the lock screen lol. Well it is beta and I'm not on the latest release so perfection is unexpected. Waiting fir the RTM release then I'm opting out as this is my daily driver. But looking forward to 10 RTM :)

Did you turn on notifications in settings? Show in action center, play a sound, and show a notification banner are all selections.

And photo and clocks. One article per app ? :D

You're right got them too.

alarms / worldwide clock / timer app

I can't add favorites folder in Mail since the last 2 builds of Windows 10 Mobile. Hoped that is a bug of Mail & Calendar... hoped that a future update of the app will fix this... this one did not! Anyone else with this bug?

They have changed the name to Outlook Mail and Outlook Calendar from Outlook Mail and Calendar.

It's been like that for at least a couple of builds as far as I know. Lumia 625.

In the online version I am able to set "For this sender". I think this is not possible with these versions. I really miss this feature because it makes managing you inbox so much easier. I might be mistaken though. It might have already been implemented.

My mail notifications work again.. so this is fixed

Mine hasn't synchronised for over a month.

Mine never has. Sigh. I don't use it but check once in a while to see if it's fixed.

Outlook apps work great.. The only thing left is adding new calendar and mail icons which i dont know we they will implement.. :/ photos app still takes time to loads new images.. Hope rtm fixes all of these

Yeah they've fixed the notifications for new mail. In thy last build I could only see them in the live tile but right now I get a notification in the notification center for new mails. And also it seems to be smoother and faster.

BTW Get started, Photos and Alarm and clocks are updated too. ;-)

Update for alarm and Microsoft photos also. Finally they add " vibrate only "

Good, but when you pin your current time zone, the Live Tile is horrible.

I guess the last major update brought option for archiving to gmail by swiping gesture.. Lets see whats new in this..

The update isn't for Windows 10 Mobile, it's for Windows 10 Mobile Insider the OS isn't officially launched yet.
However, it was officially announced that the big Mail & Calendar app update (the official one) is coming next month along with the release of Windows 10 Mobile.

Mail notifications in the pull-down notification center now work. Great but still no shared Google calendar support on Outlook Calendar.

I powered off my Lumia 625 overnight and when I powered it back on this morning there were 23 updates waiting to download. Of course, Display, Audio, Network+ and Here Drive+ are still giving me the 0x803F8006 error code.

While all the core MS apps are UWP why Onenote app alone is not a universal app in w10m yet? any rumours it will be an UWP at the time of W10M release? http://forums.windowscentral.com/microsoft-office/392813-why-onenote-alo...

These tradedoubler ad links is killing the WP app. Forced to View in Browser to follow app/game download links is a crappy experience. Improve the app or get rid of that link shit.

If you mean the ads at the bottom of the screen, why not pay for the app and support WC?

No, Izaacj is referring to the link the author embedded to download mail and calendar. It redirects through tradedoubler which is blocked if you use any of the popular ad-blocking hosts files.

Hopefully it fixes the conversation view toggle. That's been broken for a number of builds now.

Why they fixing these small thing instead really big issues... Drag and drop!!! Downloading attachments all at once!!!

I agree, but I welcome all updates

Does automatic update of apps work for any of you?

As I'm still on version 17.6310 and there seems no updates available or pending for my desktop, laptop and tablet I guess this update is only targeted for the current Insider builds and the soon the come Wave 2 update?!? It would be great if reports on Windows Central were relevant to all the world unless a smaller audience is explicitly indicated.

Same here. My mobile updated as it's on Windows insider. But nothing for pc, which is non insider. Although the article doesn't say it's for Insider builds. It doesn't matter. Because we'll be on the threshold two update in a few days.

Still waiting for task synching in calendar. Have tasks in Outlook 2016 desktop but not on the mobile version.

Since a couple of W10M builds back my calendar doesn't show the colored numbers in the calendar itself where I have appointments. Does anyone have the same problem or know how to fix it?

I just want to know that when windows 10 update will hit Lumia in PAKISTAN.?

Mail and calendar spend more time getting updated than actually syncing my mails. Baaaad.

Btw they updated the Microsoft solitaire collection on mobile, it used to have the old wp8.1 style, now it looks just like the windows 10 app. Happened yesterday if I recall correctly

Hopefully the update will stop the mail app from constantly crashing on my surface book

I've been waiting for that fix for my SP3 as well. 5 seconds into the app and it just closes.

Did they reduce free storage for emails?

They also updated the clocks and alarms app with vibrate only option

Don't see where they did that. When I create an alarm, I only see Default or Music.

Where is the print function? i have been waiting for this to return. It was on earlier builds!

Off the topic.. Please someone tell me a good photo editing app to remove red eyes.

Well...before I had a problem not getting action center notifications (with everything properly set to). Now, it works!!!

Would love to see actual exchange connectivity with the mail app. On the ios version, you can't add shared calendars.

Ummm... There is no iOS version. I assume you mean the Outlook app on iOS which is NOT the same as the Windows 10 Mail app. From what I have heard, the iOS and Android Outlook apps are waaaayyyy better than the Windows 10 Mail apps.

Email notifications now show up in the action centre!

Had problems with notifications and sounds in calendar anyone know to fix it

Mail, Calendar and People didn't start anymore, after my Insider update to TH2. Now they work again after this update.

Obligatory "Seems faster" post?

It now finally obeys the Do Not Mark as Read option. So now you can read an email without always being marked as Read. Some of us like to manually mark emails as read once dealt with.

No update here, still on version 17.6310

That's because Windows Central is doing a shoddy job reporting on Insider builds of apps versus generally available builds. This seems to be insider only.

I hope they fix MOBILE, I have 3 email accounts with short cuts on the home page, I can click on one of them and it opens another email account at random. Really freaking annoying...

If they could fix the people app on PC build to allow proper address field entries that would be great. Some of my contacts seem to be missing. And sometimes when they do exist they will not be available when entering the address field. Odd problem

My phone actually notified me of a new email today, which is the first time it has worked, so I am guessing it is related to the update. Previously it would just show up on glance screen but no sound or action centre notification.

Please indicate if these articles are only relevant to insiders only!

+1 Posted via the Windows Central App for Android

Everything working fine on my 730 except the storage n swiping the navigation bar in some apps

Can you add videos or documents in a reply email now?

Hey Windows Central crew. Maybe you should note when these updates are only for Insiders and when they are GA updates. This is NOT a GA build. Of course, reading Windows Central I wouldn't know that now would I? You guys are getting super lazy in your reporting.

Umm... The article says 'for Windows 10', implying it is for everyone that is running Windows 10 - a whopping 120 million PC's are running this OS outside of the preview. It does not say 'if you are on the Insider preview', so there's the distinguishing feature; if was for Insiders, it would have been mentioned. To be honest, creating an article out of nothing but a new 'Preview' bit under settings is actually a good demonstration of effort in itself, so I do not see how the WC guys are getting 'lazy'.

It implys that doesn't it. But it's not for everyone. Yes, some day MS will release it to all. Right now you have to be on the Insider Preview to get this. I checked my version number in the Mail app and I am not on either of the versions they list in this article nor is there an update available. From this, I can use logic to deduce that it is Insider's only. See also the other commenters making the same point.

Does this app atleast now support outlook.com aliases?