Microsoft updates Movies & TV with new dark mode option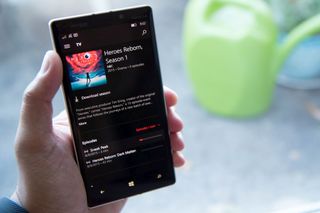 Microsoft is pushing out some updates to a few of its core apps on Windows 10 Mobile and Windows 10 this evening, bringing changes both big and small. On the docket are fresh versions of Outlook Mail and Calendar, Messaging + Skype, and Movies & TV.
First up is a big addition to Movies & TV on both mobile and desktop, heralding the arrival of dark mode. Here's the breakdown of what's new in Movies & TV version 3.6.1536:
Now you can choose to use the new "dark" mode in the app, or stick with the current "light" mode, in settings.
We've added additional keyboard shortcuts to make your playback experience even better.
It's important to note that, in order for the changes to take effect, it looks like you need to restart Movies & TV after applying the theme change in the settings menu.
Moving onto Messaging + Skype, the update oddly doesn't bring a new version number, with the previous 1.11.13005 still sticking around. However, the app looks to have picked up a couple of new menu settings: Add Friends on Skype, and Skype Settings. Both settings options essentially act as a deep link to the Skype Video app.
On the other end of the spectrum, the update to Outlook Mail and Calendar doesn't appear to contain much worth noting, though the last update did finally bring linked inboxes. For version numbers you're looking at a bump from 6413 to 6417. And finally, there's also a new version of Alarms and Clock rolling out, but there's nothing worth noting there, either.
If you happen to spot anything noteworthy that we missed, be sure to shout out in the comments below!
Thanks for the tips!
Windows Central Newsletter
Get the best of Windows Central in in your inbox, every day!
Dan Thorp-Lancaster is the former Editor-in-Chief of Windows Central. He began working with Windows Central, Android Central, and iMore as a news writer in 2014 and is obsessed with tech of all sorts. You can follow Dan on Twitter @DthorpL and Instagram @heyitsdtl.
I hope I can now see and send my skype group messages. Prior it crashed every time and the Skype app on wp is horribly slow.
Edit: Yep still can't.

You should try to fix it, it works for me, two different phones.

I can see new skype messages but not that group. I think it's because there are so much messages in the group or too many people. I get like 300+ messages every 2h in the group. Maybe it's too much for the app to handle. Who knows.

I'm getting the same with the two group chats I'm currently in.

Same for me for my two group chats...

Yay! Been wanting that dark theme for a while :)

Great, more dark theme! Now if they could kindly add that option to the blindingly bright weather app.

Finally they did it! It should be there in the first place especially for video app. Light theme is just too bright when watching something. Glad its here! Even in slow pace.

The Outlook Mail+Calendar update just completely broke the app for me. It's crasshing everytime I open it.

The update killed my Mail and Calendar apps.

Me to, I had linked boxes setup (upgraded from 8.1) and after the update it broke completely. Now every time I try to add an account it crashed, (same with the calendar app) restarting doesn't help

Try restarting the phone. This has worked for me. Posted via the Windows Central App for Android

I did, restarted my phone 3 times still didn't work

Just updated and no problem here

Same here. L1520, had linked mail boxes set up. Linked tile crashes instantly, other tile opens but crashes after 10 seconds or so. Fuuuuuu

I don't have linked inboxes. I tried setting them up before, but the app crashed. But now it crashes constantly. I noticed the problem is related to the Microsoft account linked to my phone. When I disable the email sync on that account, the app doesn't crash. The problem is that I can't remove and add the account again, because it's tied to the phone. And I can't reinstall the app either... I don't want to hard reset the phone.

Working just fine on my Lumia 930 (with linked inboxes), no issues at all.

I can confirm that the latest Outlook Mail+Calendar update broke the app for my L1520 as well. Crashes upon launch.

So far, I'm seeing app failures on 1520's (including my own.) Maybe that's the common denominator.

This outlook update was actually the first smooth one for me in a while! (i've had to hard reset to fix outlook after some of the updates in the past)

This happend to me as well... but after a phone restart, it works ok.

Yup, crashed first, restart fixed it. Using 640.

Same here. L1520, linked inboxes. Mail/cal crashes and continually gives me notifications about an unread email. The same mail every time, every 5seconds. Phone is burning hot. Restart did NOT resolve.

Wow, I didn't know that it could be worse than what's happening on mine (just crashing). Maybe you can fix it temporarily by going to settings > accounts > your email accounts and turning off sync for all email.

Thanks for the suggestion @Joe920 Tried that also but alas, the problem remains..... Just have to wait for an update i guess :)

Now Calendar is notifying me. I didn't receive alarms from this since first build :)

On my W10M I still cant update to new one. :/

Dark mode is most welcomed for all options... Even Facebook should get dark mode

I'd love for Facebook to have a dark mode :P I probably wouldn't use it on PC, but it'd be great on mobile.

Dark mode would also help with battery life on AMOLED screens.

Helps when viewing it in a dark room or car also. One of the best benefits compared to iOS.

I'm using JDB Black for FB... nice change from all the vast white screen.

As far as I can tell, there are still no Linked Inboxes for the desktop version of Mail, right? That improvement was only for Mobile.

I couldn't get it to work on mobile,my app crashes as soon as I set it up

Yey, now just need to be able to delete videos from my collection

I've been asking for this for at least 2 years.

What? You dont like when Microsoft works on everything BUT what everyone is asking for?

Because what you are asking for counts as what everyone is asking for

No...what everyone votes for counts as what we are asking for.

I voted for the ability to delete videos - I have watched a preview of something, which I don't like, and I can't delete it - we need delete!

Its really weird a pretty basic function like a delete button is still missing.

Press and hold/right click for menus > remove from list would do me.

It eventually shows back up. Especially if you have to reset or get a new device. I try free pilots all the time. I end up like about 10% of them. That leaves me with 30+ I hate and cant get rid of permanently.

Messaging is broken now, I can't send any messages and Windows Defender picked up a Trojan inside of it?

Messaging apps on mine doesn't show any notifications or receiving any new messages at all. Its simply broken even I tried with my friends. Not to mention the ugly UI atm. Also you got a malware? Better clean it up using Defender or maybe try download some free or trial just to disinfect it before its too late.

Is it just me, or did this last Outlook Mail disable the sticky date headers in the emails list?
I mean, the headers of the emails grouped by date used to scroll like the letters in the phone apps list, now they just scroll like the single emails.

That's odd. Mine are still grouped by date.

Yeah, they are still grouped, it's just that the group headers no longer stick to the top of the screen, they just scroll like the other items

It would be nice to bring that sticky headers back.

Ability to organize account order is badly needed.

When is Cortana getting the dark theme in Windows 10?

When would we get a new build?

May be this week or next....;)

Hey team, do we have the preview widows 10 mobile available for Lumia 1020, I tried, but no updates yet. From India. Thanks

Do you mean the last insider build? It's not available to anyone yet

Ahahah the mail update just fucked it up :D wtf microsoft?

METADATA. We are listening my azz. And when are we going to be able to permanently delete the free samples of pilots we tried and dont want anymore? Just keep ignoring what we complain about on your user request page.

What is the relevence of system theme when dark and light themes are available. They could opt for custom themes

Well, there is no system-wide theme on desktop for whatever reason.

Though I would love to see a system-wide dark theme.

Well I think the actual Explorer shell still doesn't have light theme, so this could be why there is no system-wide theme settings yet.
For me though, they have to polish up the UI first and foremost. There is still alot of work needs to do. We don't want half-baked light and dark theme for Windows 10.

Outlook Calendar live tile is still broken. Doesnt show date.

Mine shows the date and meetings. Try unpinning/repinning.

Try it thousands of times.

It does but yeah its really buggy. Sometimes I only have the app icon instead of Live Tile with date. Worse is just blank.

I am not seeing the new Messaging settings, but mine already looked different than the before screen shot. Mine has a Skype setup setting.

The update totally trashed Mail and Calendar. Maybe I'll be more productive now, since I won't have to worry about those pesky emails and meetings.

I did. Several times. The apps are just broken now.

I really hope they're only adding dark themes to individual apps as preparation for a universal dark theme setting (WP style).

I think they will but it will take a while based on slow pace of development. The Explorer shell is still a doesn't have light theme either.

Outlook Mail on desktop RTM still sucks and doesn't sync on it's own! I thought it was fixed after getting the big BS fall update recently but it's still broken. It only syncs after first boot up, shows mail in the good for nothing action center, then the notifications clear on their own. And Mail never syncs again after that. Boo!!!!

So when win10M is rolling out to select devices?

The alarm update seems to have fixed the bug were an alarm would repeat 2-3 times despite being dismissed.

WE DONT WANT CRAPPY LAGGY ANDROID APPS PORTED TO WINDOWS PHONE AND RUIN ITS FLUIDITY... WE HAPPY WITH WHAT EVER WE GET FROM IOS. MICROSOFT MADE A VERY WISE DECISION.. THEY SENSED THAT ANDROID PORTS WILL RUIN THEIR OS

About fking time! Thanks! But why do I need to restart the app to apply it? Why not apply it right away like Groove Music app?

Well, that's why Google is full of viruses, they don't do things properly!

He said Grove music, not Google.

mmmmm I saw Google Music......but if it was Groove originally I stand corrected and apologise too :)

Anyone else have issues syncing Skype contacts with People Hub contacts? Because I can't sync, I'm unable to also use Skype for messaging in the messaging app. I'm also getting incorrect Skype contacts in some of my people hub contacts, incorrect meaning made up or skype contacts that don't exist.

I had the same problem, it worked this morning, though, so try again.

You're talking about the desktop People app? Its still pretty much a garbage unfortunately. Only W10M is still better but yeah there is a syncing issue sometimes. Especially on 3rd-party services.

I'm talking about for W10M, on my Lumia 1520. My Surface 3 People app doesn't show any synced Skype contacts, which is odd because my Skype contacts are synced in my Outlook Contacts. This whole thing is very confusing to me. The people app on my Lumia 1520 does not have the Skype contacts that are already synced to my outlook contacts, but will have other Skype contacts that I've never synced with on my People app. Just so weird!

Is it dark or just gray? I've been waiting for my PC to look like wp8 XL for quite some time now, and this is... Well I better appreciate it being "darker" and not a nighttime eyesore anymore instead of wasting energy complaining

Is Movies & TV actually called Films & TV or is it app names are different per region. Just curious!.

It can be different per region. The difference you noticed is probably between US and UK English.

We need dark theme for all apps and the whole windows itself should be provided with an option to switch to dark theme (like the themes you find on deviantart, the background of explorer also changes to black) . The point is. People who use their pc at night find this blinding white theme a little bit difficult to adjust.

This is possible with reg edit. I think they will add it later officially. :)

The reports of Mail and Calendar app failures I've seen seem to involve 1520's. Does anyone have a 1520 where these new apps ARE working?

Mine yes, yesterday we got also a new update and now Integrated email is working quite good :)..notifications are working good

1520 here. They are working.

Its so nice to have dark mode. It should be a requirement.

i need now new build......

With Dark mode, Movies & TV looks so much slicker now! Much appreciated!

Battery stays white after switching to light theme.

So I can have white theme and still dark theme on phone

Woah. Just requested a dark theme on the feedback app yesterday and it came within a day.
Nice

I hope we would be able to delete apps like xbox, movies & tv, podcast... Because not everybody use those.

Mail & calender working fine on 1520 after update.

Pure black isn't that nice. Maybe some gradient?

Prefer full on all black myself - looks great on my 930 and Surface Pro 3.

I have requested Dark Mode and sooooo happy it's been added - thank you for listening Microsoft :)

In my gmail live tile, the update changed the icon. It's now similar to what was with WP8. Anyone also happened the same?

Ow, after reading through the comments about w10m, I think I'll update from 8.1 next year sometime, once ask the bugs are ironed out.

I also like the look of the new universal app of Facebook on Windows 10 Mobile. But still, I can't edit my post. Only "Delete" is the option. I always make typo errors on my posts and "edit" option is very helpful.

Can you delete content you don't want yet? Why is that so hard?

Just updated apps on my L1520 and it looks good.... Smoother actually..... No crashing or any problems as reported by other 1520 owners

Ugh, so jealous. My grouped mailbox crashes instantly, and my outlook account shows just long enough to see new mails, but then crashes a few seconds later. Hard reboot didn't fix it. :( I've uploaded a ton of crash reports, so I hope they fix this quickly.

Same experience on my 1520 - no problems with linked inbox after update.

I like the idea of Microsoft as a provider on content like movies but so far I've not bought anything from Xbox Video as I can't get it on Roku stick, but I'm thinking of replacing this anyway with a Windows 10 PC if I can find a more friendly input method than a keyboard and mouse (it's in the bedroom). Going to try out Windows 10 in tablet mode as an entertainment solution as I like the idea of a fixed device for Xbox One streaming, something no other media device can do.

I found I could control store apps using the Xbox controller on my desktop last week, but when I tried it last night it wasn't working (It was also launching steam every time I pressed the Guide button, which usually brings up game bar when you're in a pc game/app)

But, I always got a dark theme...but good to have the option to change to white/dark theme

Cannot change theme in my lumia 625

I wish you could select "Dark Theme" at the device level and have that flow to all apps. As it stands now you can select Dark, Light, or Windows theme. I have it selected at the Windows level but does not seem to change at the app level which requires me to select Dark for each app. Hopefully this is something that will be fixed.
Windows Central Newsletter
Thank you for signing up to Windows Central. You will receive a verification email shortly.
There was a problem. Please refresh the page and try again.