Microsoft warns of a possible and massive future write-off due to Nokia devices acquisition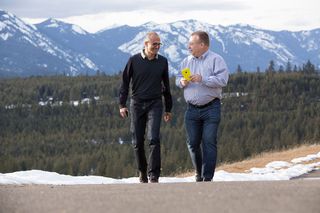 Microsoft may be forced to take a big one-time financial charge in the near future due to its acquisition of Nokia's Devices and Services division in April 2014. Microsoft bought the division, which makes its Lumia smartphones, for $7.3 billion.
Microsoft quietly made that rather major revelation in its report on their 2015 fiscal third quarter results that was filed last week to the US Securities and Exchange Commission. It noted that revenues from the phone hardware division from that quarter came in at $1.4 billion, versus its costs of $4 million As noted first by Computerworld, this means Microsoft actually lost 12 cents for each of the phones the company sold during that period.
Microsoft said that the phone division "is at an elevated risk of impairment" and added:
Microsoft has already said it has plans to reduce costs in its phone hardware division, but has not given any specifics.
This would not be the first time Microsoft would have to take a huge one-time charge based on the acquisition of a company. In 2012, Microsoft took a $6.2 billion writeoff in its fiscal fourth quarter of that year, in order to deal with the costs of buying the online ad company aQuantive in 2007, which did not perform as expected. Microsoft recorded a net income loss of $492 million for that particular quarter, due mostly to that aQuantive one-time charge.
Source: SEC.gov; Via: Computerworld
Do they not make money with free licenses and low budget phone.. well that is rather suprising

More about volume - or lack thereof - and not having many high-end phones.

Flagship! Flagship! Flagship! But I thought the low end and the mid range Lumias sell more and contribute greatly to the earnings?

They contribute more to the future of Windows Phone, with market share, than they do now with revenue. You have to spend a dollar to make a dollar (they say).

Exactly, that's what all these low-end and mid-range phones lately have been about: marketshare to increase user base. Flagships will come with Windows 10 to introduce the new OS and universal apps.

Yeah, a DOA flagship, just like the 1520, icon, 930, 920, etc. Developers aren't suddenly going to start making apps for windows 10. every new version it's the same dream. we're losing high profile apps faster than we're gaining them. It's not worth investing in. WP is basically dead. Time to buy a few flagships now, cause in a year when it's abandoned all you'll have to choose from is android and iOS. I love windows phone, but 10 is looking nuts and backwards, developers ARE NOT COMING, and microsoft is updating slower than android and getting further behind. it's done.

Universal apps on Windows 10 have a chance to change that. Much more than Windows Phone 8 or 8.1 ever did. You can of course do what you want but Windows Phone is not done yet and I find the course of events too exciting right now to leave. If Windows Phone turns out to be discontinued a year or two from now, I can still get an Android or whatever phone then, right? In the meantime I'll keep enjoying my new and shiny Lumia 640 every did and I look foward to Windows 10.

I'll likely stick with my 930 and 8.1 for a LONG time. I don't like android or iOS, but i'm not going to pretend it's suddenly going to do well on the market. that would be insane. Of the 8 people i knew with windows phones not related to me, only one still has one. the rest had them for years, but finally got fed up and jumped to android. that's the direction the market is going.

So, 8 people are indicative of the direction of the global market? Lol....

No, of course not. the falling sales and fact that they're literally burning through huge piles of cash trying to keep this dead platform afloat is indicative. Elop wrote a great email a few years ago... can't remember what he said... something about a burning platform...?

Windows Phone sales aren't falling. The decrease in unit sales since Microsoft took over is in Asha and feature phones.

Same part of the business, same struggling market share.

No no, Elop told that customers and operators requested 3rd platform and ecosystem. Maybe he was lied as that didn't happen. Operators didn't want 3rd ecosystem and neither did customers as when WP platform was announced the Nokia devices sales drop from + 20 million smart devices per quarter and was still increasing and WP sells less than 10 million per quarter. And now after 4 years ago the market has tripled and still WP market share has not reached even 5%. So, wonder how long it takes for Microsoft and Mr. Elop to accept the failure and do some dramatic changes? Think about it, Mr Elop was given market leader in devices (Nokia) and the R&D and marketing budget of Microsoft and still WP haven't delivered. Where is the accountability which Mr. Elop always markets?

you're high if you think this is just elops fault. the OS sucks, the hardware always behind android, and the apps have never been there for ANY OF MICROSOFTS STORES. Elop might not be the best, but this is clearly a MS screw up.

Yep, Nokia ecosystem had at the time when the WP decision was announced around 100.000 apps in their store, WP had 8.000 apps so it was clear that the WP ecosystem was not up to speed then nor its today. Mr. Elop and his management team plus consulting army was behind this decision (changing Nokia's direction and selecting WP). Who is left from that team, only Mr. Elop, and why is that? As a shareholder though with very small amount I don't understand the Microsoft money spenditure nor their strategy. And hard facts' speak for themselves (market share, profitability, ecosystem).

So jump ship and be done with it! If you hate the platform so much, go find one you like, and quit your whining about how much you hate the Windows Phone.. Most of us here still like and appreciate the Windows Phone and the Windows ecosystem.

That's exactly what i said. i hate windows phone. or i said i liked it a lot, and didn't understand the horrible decisions made over the past 5 years or the ones going forward.

I'm strong supporter of WP and I love my Lumia 1020. What I don't like is Microsoft not able to promote, market, build strong ecosystem, great devices etc and therefore I'm very critical towards the WP. Hence, I suggest that Microsoft takes some drastic measures to change the course. With the current road I don't see much of a future.

I like wp too, and the 1020 is a great phone. i had one for about a year. I agree, it's a mess.

Honest question, are you bi-polar? Because you said you hate Wp and then love WP all within the same hour.

I never said I hate wp. i said it was a mess, late to market, screw up after screw up, not getting enough development, behind on developer tools and api's, the app store sucks, missing features, and market share won't improve. all of that is true. I still love the UI and think it's the nicest OS to use on mobile.

As a shareholder I'd say he has every right to complain about their bad decisions.

as a shareholder he should be happy cause MS stock is doing pretty good.

The OS sucks? Please take a hike. The OS is far better than the other 2. It's the app situation that sucks..

That's not accurate. the kernel and the UI are great, but the OS is missing a ton of features, not to mention the terrible API's that make development difficult or even impossible when they're missing. it's years behind the other two, and not gaining ground.

What exactly is it missing? As far as basic UI features 8.1 brought it to same level as the other two in my opinion. WP7? Yes absolutely was the laughing stock of the phone OS's. Whatever you think about APIs, apps, development costs, bla bla it still a great OS. The other two are so bland and boring. Wife has an Galaxy S4. Every time I mess with that pos I want to throw it out the window, Android is so horrible

I'm glad it's to the same level in your opinion. As far as features though, it's far behind. There are many features iOS and android have that wp doesn't, and basically none that wp has the others don't. cortana? come on, it's like 2 countries and barely worth bothering with (my country is included). I love WP, but years of poor management and bad decisions have killed it.

First and foremost it doesn't tell you that you have a voice mail. I have to constantly call my voice mail service to see if I have any. Conversely if I put my SIM in an Apple device (can't remember if it applies to Android or not) and I have a voice mail, even if its one I got while the SIM was in my Lumia the first thing that pops up is a notification of an awaiting voice mail.

one of dozens of features that just still aren't on wp. they're the worlds largest OS and software maker. you'd think they'd be pretty quick.

my wp alerts to to voice mails and i can listen to them without actually dialing in anywhere.

I wish I didn't agree with you, but that's what's happening. Windows 10 isn't going to bring a massive influx of developers. If devs want to make a program for Windows they make it for x86 desktop, not the modern api. I think a lot of folks on here are users and not developers, they don't understand that there's a pretty big gap in development capability between standard desktop and the modern app's. There's a ton of limitations if you want to put your program in the windows store as opposed to the desktop, and Win10 isn't changing that. If I'm making a mobile app, for the most part I release on Android first, cause it's the easiest to develop for. Then iOS cause it's the easiest to make money for. Then I after a few weeks of crippling my WP version, yanking out the third party assets that only support iOS and Android (very few third party assets support WP) so that I can get it to run, then trying to find alternative packages that do something similar on WP I'll release that build. It's crappy, I hate it, I love my WP, I have far fewer issues with it than I ever had on Android. I'd love to support WP first but the marketshare just isn't there. Besides having some development limitations I have a game I wrote a while back, on iOS I sold a modest 300 copies. On Android I sold 50. On WP I sold 2. Just 2. I have a new game now, much better than the last. I'm hoping the situation to be a little better than last time, but it's a small hope.

Yeah, you're exactly right. crap API's and no impetus to use modern makes it not worth developing for. with so many windows 7 and pre systems, why would you limit your x86 app by ignoring win32? Gaming api's are still terrible on modern. If they were decent enough to offer the quality of gaming people on pc expect, the next halo (which may come on pc) would be a modern app. I don't think that's likely or possible. win32 rules and will for years to come. What are your games?

When they first announced Win10 and the universal app store I was hoping they were going to make the full Intel switch on their phones, for development that would have been great. Steam running on my phone, glorious. But sadly, tis a dream. I'm loathe to tell you the game I'm referring to above simply because it's so terribly bad. I actually pulled it from the Android store b/c at some point, Jelly Bean I think, Google changed something and broke how the accelerometer sensors work and my game didn't work right, and because it wasn't exactly a raging success I didn't want to bother fixing it. No one was downloading it anyway. I pulled it from Apple a little while after downloads dropped off, Apple charges an annual dev fee and I wasn't making enough to keep paying it. My new game I made in Unity, it handles the 2 billion different Android devices saving me a lot of headache, and is cross platform, well, almost, still doesn't compile for Windows Store, but Unity has informed me it's a known bug and is going to fix it. Anyway, that game is called Letter Farm, it's on Android already, I'm going through the approval process on iOS (yes, I rebought a license) and once that bug is fixed in Unity I'll get my WP version out. Because the game uses a combination of in app purchases and Unity ads, and since neither of those third party plugins I use support Windows Store I've had to change the monetization for that build. I'm considering either making it $1 up front and give u the ability to earn the in-game currency by playing the game itself, and then you use that to buy items (like gold in diablo). The classic game model. But given how my last game sold only 2 copies, maybe I'll just release it for free with no strings attached, no in-app purchases, no advertising. I've already made the game, it's not like I have anything to lose. I'm considering adding a link to a youtube video on the main menu of the game. I have a son with Type 1 Diabetes and we're very active in a charity. So I thought maybe I'll release it for free with no monetization and say to people, "if you like this game, and want to give me props to me and WP, donate to this charity, the money goes to great kids with a life long illness and every little bit helps." Also that'll earn me sweet brownie points with the wife, even if I only get 1 donation, when she asks me who it's from I can say, "Oh, well, you see, I released my game for free..." :D

Trying to find it on the play store, but no luck! charity sounds great, and it might make more sense. Sounds like a great idea!

Which brings me to my gripe with Google. Visibility. Getting your app any kind of exposure is very difficult. It's not exactly a big secret the big devs just pay for visibility. It's how Zynga can release a game and without any reviews or downloads it'll be featured games list. Anyway. </rant> https://play.google.com/store/apps/details?id=com.BundyGames.LetterFarm

release that mofo on WP. my wife will be all over that. I literally searched for the name and couldn't get it.

Oddly enough if I target WP8 and not WP8.1 then it compiles just fine. But I wanted to support Windows Store because my mother in law has a Surface Pro 3 and loves word games. Anyway, I'm hoping in the next couple weeks Unity will have it sorted out. They released a patch today, so I'm going to give it a shot tonight. I'll have to make the video first though. Yeah, Google ranks things weird. If you search for Hansen then you can find it. Know why? Cause some girl who's last name is Hansen reviewed it. I get more downloads on Amazon than Google.

I think what they did with with the zune hd was going in the right direction even their asus demo was nice looking all they'd need to do is update it

He was describing Symbian as a burning platform not WP. Now WP is a burning platform.

they are not burning thru huge piles of cash, they dont really have falling sales as sales are up but marketshare is flat.

I am about to buy a 930, do you recommend it? I hear a lot about the phone getting warm even during calls and taking pictures, let alone games...also they say the battery sucks. How's yours doing?

It does get hot, and tbh, I thought the 1520 was a FAR better phone. My wife made me sell mine, because she thought a bright yellow large phone looked stupid, and she hated me using it in public. silly, but you know. Mine gets hot, battery isn't as good as 1520, you know about sd/glance etc. it isn't my favorite phone. I think the 1520 is a far superior device. I'd just grab one of the international ones with Qi built in, and then you easily have the best WP on the market. The size is huge at first, but i found after a week it was perfect.

Personally, I'd wait for a Win10 flagship.

universal apps won't fix anything. If you don't have a starbucks app now, why would they make one for Windows 10 that works on laptops, tablets and phones? it's a bit rough scanning a 17" toshiba in the line at starbucks.

Universal apps are available now as well for WP8.1, you can see many apps that have gone universal and available on Phone and Win8.1. If WIn10 doesn't provide more robust and powerful API, then we will still see same DEV interaction that we see now i.e. minimal.. There is nothing exciting in WP10 for consumers that would make them flock to the platform... What they can do to attract developers is provide a truly Universal apps platform where they can create apps for Windows, Phone, Xbox, Hololens and Android in the same project with minimal changes...

I LOVE everythinfg MSFT.... BUT I too can't help but see the writing on the wall. Windows 10 is a step backwards when it comes to touch and you couldn't be more spot on about the app situation. At this point I'm super pissed I didn't just jump on the iphone6 wagon last December... OH LOOK my 830 is already discontinued... Go figure.... NOT TO MENTION every freaking app and service I use from MSFT is now on IOS and prolly runs better wih more features on IOS. Satya pulling the trigger on plan B must have been why he was so against the Nokia purchase to begin with.... It's corpse is rotting as we speak...

I'm in the same spot as you cribbcabel except I'll probably get a Galaxy S6. I'm running out of reasons to tell myself to stay with Windows Phone for the next upgrade cycle.

every single app on iOS is better. Even MS office is better on iPhone than on WP.

i have an iphone 6 and currently using the Lumia 830. I rarely use the iphone 6 for anything other than taking voice calls for work. The 830 is a much better phone in all respects for me.

Low-mid ends sell really well and that's where Microsoft makes the slightest profit margin. Right, they need to sell more and more flagships to make noticeable profit.

The article says they're losing 12 cents on every phone the sell, so that would mean there's zero profit margin, even on low end devices.

Not losing - lost. It was a specific reporting period.

Or maybe all the dispatched units didn't even sell.

Or maybe there are just additional costs that the low sales are not covering.

I'm sorry but a lot of the new phones coming out look really ugly. No one is going to buy that. It's like buying a hawaiian shirt. They just need to make their phones look like this. http://i1-news.softpedia-static.com/images/news2/Microsoft-Lumia-940-XL-...

I've got a Lumia 640 and it looks beautiful in blue. :)

Gatanui, you can't compare it to what I posted. It has that ugly thick border and the case wraps around the phone looking all shiny and plasticy. It looks like something from Fisher Price. Only reason I have a lumia 830 is because it actually looks pretty good compared to the other phones. It's still not as good as it could be, but that was why I bought it. The look was the first thing that pulled me in, and then it was the specs to see if the processor can handle the 5" screen and such. When people go to those phone stations at malls or what not, they are always looking at the pretty phones. I'm sorry but Microsoft has to create their own look and stop living off the lumia thing. They need to defeat apple with design. And honestly that concept phone is amazing. My friend who is a designer and obsessed with Iphone 6 design said she would buy it because of how pretty it is. That's why people buy phones! You flood the market with pretty phones and advertise them well and people will buy them. Like I said, the apps aren't being made for Windows phone because no one has them! They are no where, they don't catch the eye. The only peoples' eyes it catches is the people who see the prices not the phone. Those same people won't buy apps likely. They want to save as much money as possible and expect everything to be free.

I actually like the blue border on my phone, which isn't even too thick as you say. I think it looks great for a mid-range phone. This said, I get your point and that concept looks really sweet. That's something they could do for a high-end phone, though, not for a low-end. I think the current Lumia designs they inherited from Nokia are great for cheaper phones but I agree they should look for something new for the high-end. Let's see what the flagships bring later this year.

i have a 930, and the back color is basically useless. my 1520 had color on the front and that was WAY better.

Wow! I only wish the Lumia 940 or 1530 would look like that. That is beautiful and will catch a lot of eyes. Take note MS! Posted via Windows Phone Central App

That would mean ditching PureView though. Might not be a bad option.

It looks a lot like a motorola meets Lumia. I am not saying I don't like it, but I do like the design of the 830. I think the metal bevel with a hint of color (or not for those who like Black / white) looks rather modern and functional.

I really hate rounded edges on phones and tablets. Give me some 90-degree angles.

coip. Depends on how i'm holding my phone but at times the strong edge on the Lumia 830 annoys me as it jams into my hand. I wish it was a rounded edge. I get everyone has their own tastes. But rounded edges sell in the mainstream. Microsoft needs to focus on majority of people. Once they are popular enough. OEMs will provide all sorts of variety. The way I see it is, MIcrosoft can be like Apple with their own gorgeous high end vision but with one difference, they also have OEMs which apple does not. The OEMs would provide the variety. Microsoft shouldn't take on too much at once. If they focus on high/mid-range and then talk to OEMs about providing low range phones. They have too much on their shoulders right now. Apple doesn't worry about all these different types of phones. They release 2 phones, both high end and that's that. Microsoft needs to lower their work load. They have sooo many things they are working on right now.

If MS stop making low end phones, there is a possibility that no one else will take the spot. Now, talking about design, my opinion is that the Lumia family has some nice designs given the price point of each phone, and there were some great flagships in the past (920/1020, 925, 8x, and 1520). A flagship made of plastic doesn´t bother me, mainly because I don't get the "premium" status that some people give to aluminium and/or stainless steel (my kitchen is filled with both).

the 830 Design is about the best designed phone on the market, its beautiful, now just make that into a flagship in 2 different sizes.

Sorry, but that design does absolutely nothing for me. Looks.like something LG would put out and they're not exactly a bastion of design prowess. My 830 is probably my least favorite Nokia design. The frame is too square for the rounded screen edges. The back fees flimsy and it's overall just an ok design. Same with the iPhone 6 that your "designer" friend loves. It's mediocre design assembled very well. A huge step back from the iP 4 & 5 from an industrial design perspective. These cheep WPs are designed pretty well for what they are. Cheap, solid, comfortable devices.

Rob, you're in the minority. Look at the way the glass curves right into the frame on the iphone 6. It is very seamless and smooth. I agree the Lumia 830 needs the glass to do something similar. But out of all the lumia choices I had. This one did look the best. Nothing on my Lumia feels flimsy. I'm not sure if they had a different hardware revision when it was first released and they had updated it. I've seen some people complain about it, but it is super solid for me. It's definitely a great looking screen too. Which is surprising given the resolution and size. The clear black tech seems to help. Anyways, if you look at my reply I still said the Lumia 830 is not that great but looks best out of all the ones I had an option to get. The 930 looks nice in pictures and at least has rounded edges to match the glass, but it isn't sold here. And I would have to see it in person.

People love ugly phones, that's why the galaxy series did so well even while it was made of leftover plastic Easter egg material.

It'll never happen. MS love their bulky, heavy, plastic material, with huge bezels.

Well things are expected to change starting from this year with new mid range, new high end, new OS and fingers crossed :)

"things are expected to change starting from this year..." Something that has never been said about WP before /s

Pointing out it has been said before doesnt mean this time it wont catch on =).

you familiar with the quote about the definition of insanity?

Yep. But this isnt the same thing. The only thing that is the same is that its a Windows OS but the OS is different, the APIs are different, the idea to unify the apps across all platforms is different, etc, etc, etc, etc, etc. Hardly anything is the same this time around. Will it succeed, I dont know... But by saying Windows 10 will catch on for phones sounds the same as Windows 8 so therefore the OS is the same and therefore its going to fail is completely rubbish and illogical. If you are tired of waiting or expecting it to succeed that is fine. But it has a real shot at being a game changer now.

I disagree. it's basically the same os with a tweaked (backwards) UI and some long overdue (and still far behind the competition) api's. it's still going to fail in the market.

Thats your opinion, thanks for sharing it. Its a little void of facts but its a valid opinion nonetheless. =)

Let's just be honest here: Windows phone has been "about to catch on" for five fucking years. It hasn't happened. It's never GOING to happen. Windows Phone is DEAD.

It actually isnt dead. In case you havent heard, Windows 10 for phone is coming out this year. It unifies all Windows and their apps together with Windows 10, Windows 10 for phone, Xbox, and HaloLens... It has never been more alive.

ohhh that's why the market share has been identical for half a decade!

Windows 10s market share isnt out yet. Lets check back two years from now and see then...

Unify doesn't guarantee Snaphat will build a WP app. Intact, does guarantee devs will put apps across all devices.

The WP dies, is the day I get a new iPhone.

So true, also i might be alone on this but i think MS can still make gains, there's a huge chunk of people in the U.S who still dont know that MS makes phones or even that windows phone exsist. I still see people just about everytime i walk into a MS Store who says "i didn't even know Microsoft made phones" or " I didn't know that windows was on a phone" Seriously when people ask me what kinda phone i have, and i tell them Microsoft or Lumia, more than half of the response is "I never heard of that let me see" I think with the right marketing and the right phones it can maybe make progress. By the way those same people who never heard of windows phone or lumia, they know what a Surface is and they have a positive perception of it.

I just don't see it happening. They've already run some very clever ad campaigns, Cortana vs. Siri, People breaking thier necks trying to take pictures with I-Pads, etc. and NOTHING changes. What more can they do outside of giving the phones away for free?

exactly. that's why they're pushing so hard into android and iOS. WP is done.

Your conclusion is wrong. They already started pushing into Android and iOS when they were in the beginnings of Windows 10. It's just that keeping Microsoft services exclusive to WP is not benefiting WP (as Office showed) while harming the services while bringing them to Android and iOS doesn't harm Windows Phone while benefiting the services. Microsoft is putting a lot of investment and bets into their universal OS and apps. WP isn't done yet.

I agree a useless garbage office that didn't work worth a damn wasn't useful on WP. I agree not having their services available on the other platforms that literally have 96% of the market is damaging for Microsoft. The won't bother dumping billions into a phone platform for less than 5% market share for much longer. They'll just dump them and jump on the services, just like Satya WANTED to do.

You certainly have a strong anti WindowsPhone opinion. Your continued negative rants make you appear to be a dedicated non-WindowsPhone user. You certainly have your right to your opinion but you seem compelled to respond to tear down anyone who has hope and expectation for a better future for the OS. I have begun to skip your rants due to your continued negativity to the OS that I prefer. Just so you know.

i cant help you understand nuance and how an individual might like something and still not like the direction it is going.

Microsoft's 'high end' phones never sold volumes. Windows Phone has the highest rate of return, due to app gap perception and no cool cases.

Microsoft has never released a high end WP phone? your writing is flawed in the first word. Please show me that WP's have the highest rate of return??? There are plenty of cases available for different models.

Microsoft has made its own bed with Windows Phone. While I agree that pushing hard into low end phones is a smart idea, doing so while abandoning high end phones is completely stupid. Without a flagship to put front and center in the public spotlight, and without decent marketing, they've created a situation in which just about nobody knows much about Windows Phone, and what they believe is that it's a dead platform. And you know what? It pretty much is dead. My Lumia 1020 is now useless because of a defect in the USB port, so I can't return it to Windows Phone 8,.1 (Windows Phone 10 is AWFUL), and therefore I don't use it. Instead, I'm temporarily using a Lumia 635, which is garbage. I'm just about done waiting. If they don't get their shit together by the end of summer, I'm going back to iPhone and Microsoft can kiss my ass.

Everyone screams about a flagship Lumia device. The 830/930/1020/1520 never seem to cut it with those who really want a Nexus 6, iPhone 6 or Galaxy S6. If you're into Lumia and the OS then the 930 should just about do it. I like my 830 a lot; use my 1020 too. It's not the device, it's the lack of apps.

I think you mean not having any high-end phones. The Lumia 1520 was revealed over a year and a half ago. I realize that they want to release Windows 10 before pushing out a flagship, but that doesn't excuse the complete lack of worthy phone throughout 2014, and it's killing them. People on Windows Phone are still the enthusiasts, which used to include me. Unfortunately I had to change to an iPhone or Android (I chose iPhone) to get first party apps that work with my job (e.g., HipChat, PagerDuty, etc.); I still have my 1020 in my desk, but I haven't had a reason to pull it out. I find it weird that mobile developers don't push apps onto WP after they stop pushing regular updates for iOS and Android, but I almost can't blame them since Microsoft hasn't even put out a phone worth buying--as an enthusiast--in over a year. Microsoft is clearly planning to change it up again with Windows apps for Windows 10, so it will once again hopefully change things, but I also can't blame people for not wanting to write a third version for an ecosystem that will be unsupportd (or not seriously supported) after a release or two of the OS itself (e.g., Silverlight).

so we have 60 million enthusiasts in the world??????

But with Android patents does lot of money, also if the platform is getting worst since 8.1 and mistakes done from the beginnings, also the lack of applications is causing problems too, Windows phone it's not, an united states product so when we talk of applications in other markets just, are not in good condition, one strategy is making that the royalty that developers pay for the access and placing their app be for free that way may lure more developers and the market store might raise up, currently Firefox os is for free the application royalty payments for grant access to the store and can also work the virtual machine for use apk of android already I wonder how blackberries can do, through the Amazon store and haven't heard of problems.

Windows Phone is not a US product? Where is it from then? I beleive it is free on devices under 8 inches. I Cant say much about about royalties, however I believe i have read where Microsoft has drasitcally reduced or eliminated their fees to developers to encourage more devepement. Truth of the matter is developers aren't as interested becasue of the currently small WP market share. While I hate the over saturation of the market with low end phones, it is necessary to develope market satuartion so developers will see there actually is a market to develope for. Additionally, I do beleive making windows one platform across PC, tablet and mobile and introduction of universal apps will change this. the app gap is currently widening as develpers are stopping develpment for wndows phone 8 , im hoping in anticipation of developing unversal app for windows 10. By the way these are all issues which do not have boarders. Nothing is more irritating that the inevitable comment when a new app is released "not in india" or Brazil or Pakistan or China, etc. Every thing needs to begin some where. Microsoft is a US based company, and it makes sence that much (not necessarily all) of their new releases will be for the US first, or only . I AM NOT saying everything is always released in the US first or will always be US only, but things have to start somewhere. Sometimes it is just pointless to release an app where it has no use, an Amtrak app for India for example, Yes, I saw the " not in India" comment about the Amtrak app. That would make about as much sene as an Indian national railways app in the US. Somethings are just region specific and their app will reflect their app will and should reflect that. By the same token there have been window phones released in other parts of the world that will not work in the US. it is what the markets demand.

But what about if would travel to the USA, also the royalties of developers wasn't eliminated in countries like Chile, and others, and already isn't any, and in other countries the Android in low end hardware it's king due the high prices, already don't understand how come that Microsoft have, an better office in, Android and if want more functions get 365 while in their own platform is deficient. Already don't have Pinterest for, both, already lacks applications, and even in PC or best said in my tablet won't be able of Get all the applications that in the American market store has, in fact for get, Windows central app in my stream 7 have to search it in Google for just get access, to the app because if search on the Spanish market or latam market won't find any thing.

10 will change nothing. nobody uses the desktop windows store, and it has basically crap apps, just like the phone. combining the two crappy stores nobody uses isn't going to solve this issue.

They are combining three crappy stores, Video / Music will be there as well.

WP is not a US only product, but MS is and they artificially block many things to US only. For example, Podcasts weren't available outside US until WP8.1, I mean do they think that People outside US don't listen to podcasts. Look at cortana, its available in 2 countries. I understand that it takes time to get the data points/language etc. but its been more than a year. They are constantly improving cortana but for US/UK only, its not even there in alpha/Beta form in other countries. Bing sucks outside US, why not integrate HERE maps and POI data in bing, they already have license for it... Till they continue with their US only shite, I don't see any success. But looking at US marketshare, they might not be success even if they bring apps/feature/services parity across the world...

I guess MSFT aim to replace feature phones and dominate low and medium end market. Could be a good strategy, because that's what drove Nokia shipments high when they dominated the market. It was interesting to see 3 (or was it EE?) a few months ago promoting the Lumia 535 as a suitable upgrade from Asha 201 a few months ago

You're aware the feature phone market hasn't been profitable in years? dropping costs of wp to that low level aren't suddently going to make it profitable.

Feature phones (mobile phones) has always been profitable, still today. Its the Lumia part that generates the losses to devices division.

Surface phone running W10 is a MUST!!!
Lumia phones (bar 830 & 930) are looking tired and cheap.

They license software. This is related to the Nokia's hardware division that they bought. So, the software licensing would have no bearing on the Nokia acquisition.

Well we all really knew this was coming. MS over paid for this just to keep nokia from switching to android devices.

Please note Daniel - nowhere in the filing did the company say anything about a "huge write off.". Based on what they said, a write down is likely, but I would be surprised if it's "huge", relatively speaking. The market certainly does not seem concerned about it.

Sell it off, its clear they want to so they can concentrate on their true mobile strategy - ios and android.

They produce only cheap phones, they put all their services on foreign platforms, Elop is there after is big 'success' in Nokia and there are still surprised :/

Don't forget that Android-phones have a lower average selling price than Windows Phone.

http://icharts.net/chartchannel/smartphone-average-selling-price-asp-os-...

I'm calling BS without a source.

Office was exclusive to Windows Phone for some time but that wasn't enough to bring it forward. In fact, Windows Phone are selling better now than they did then. Platform exclusivity of Microsoft services isn't going to cut it.

Office, Oulook, Skype, Calendar are better on iOS. I do not mind that they are there, but it does bother me that they are better there. iOS has Apple, Google and MS services. Android as Google and MS services. WP has only inferior MS services. You never put your services on other platforms before you put them on your platform, it is suicid.

Well Microsoft has done their work then. It's Apple and Google who have to come to WP.

why would they ever do that? they're WINNING.

Microsoft services being better on other platforms is indeed very unfortunate and I assume part of the reason is simply that the Windows Phone APIs are less capable. I'm sure they're working hard on fixing this for Windows 10, though.


sure, and maybe in a decade they'll have some api's, just no users or products to sell.

Microsoft is expanding it's services to other platforms, not killing their own mobile OS. It results in more revenue if am not wrong..?
------------
They cannot currently build up on 8.1 and half-baked 10. Microsoft can truly move forward when 10 for phones is fully out.

Although, the profits from these other services on other platforms probably doesn't show up in the WP column. Not sure the bean counters want to work that hard at speculation. Though, it would be interesting to see how the cross platform investments help the company, even if it hurts WP.

They will show under the respective services, not under another category. And it doesn't hurt Microsoft in anyway.

iOS and Android are of course part of their mobile strategy but another great part of their mobile strategy is the universal OS and apps that they've been building up to during the past years. New flagships will be introduced with Windows 10 to promote the new platform and Microsoft will surely give mobile Windows 10 some time and investment before they make further considerations. Not building apps for iOS and Android now and instead waiting for Windows on phones to acquire increased marketshare (or even not doing so at all) would have been a waste of time.

Agreed. No point in wasting time and potential money. Hard-core fanboys don't get it though.

That doesn't account for the past 4 years when they were sitting on their hands and not improving the OS to be competitive and even superior when the leaders are so entrenched. Instead all that happened were lame launches, tons of marketing hype and no concrete features added to the platform. Of course they now have to out all their eggs in cross platform apps, but why did they waste so many years farting around? And those universal apps, they'll be on ios and android too so that wont change anything.

Microsoft is going to capitalize a lot on the fact that you can run the same apps on all your devices, including phone and PC. That's something neither Android nor iOS can do. Whether that's something consumers will embrace or not remains to be seen. I do. :) I agree Microsoft has been way too slow bringing out new features to Windows Phone to keep it in line with the competition. Windows 10 shows that their development speed has increased a lot, though, so hopefully that's about to change now.

Android apps run on phones, tablets, and now Chromebooks, which is Google's version of a PC.

Well for sure, but are they ALL lag and virus free..?

Android apps don't really run on Chrome. Theyre working on it though. And when it does ....theyll run on Windows too (via chrome).

I really hope win10 helps. It will take some time, but we need the mobile devs that support IOS and Android to feel it is a worthy investment to do Win as well. There are so many mobile-only apps that don't have a PC app (rather just depend on browser to address PC users). So will these companies like King, Snapchat, banks, airlines, and all of the flash in the pan fad apps change because of win10? I'll give it some time, but I may be eating crow later this year and shocking my Apple-using friends and family.

iOS and osx also share EVERYTHING. send texts on your pc, etc. 1 year later, NOTHING like this announced on windows.

Well if you have to cry over the past, no one's stopping you to. We are talking about the present and future strategies here, so please don't go whining about the past that has been wasted.
1)-Microsoft had more important projects back at that time, and you can still compare the services offered by Apple and Google at that time. They had only one focus.
2)-Microsoft didn't had a dedicated hardware partner for Windows Phones back then.

My guess the same. License or sell D&S division to a third party to build WP so as to concentrate on the real money maker, office and cloud.

But brands like xiaomi are making a lot of money from low end phones than why they cannot??....

Because they are selling phones running a popular OS that has apps people want.

You say that like there's literally no apps on WP that people want...

No, I said it like it is. They sell phones running apps people want, WP has a few but most apps people want aren't on the platform. Result, no sales.

No your not, your exaggerating. WP has gotten many popular apps, yes, not all, but many. As an exclusive developer for the platform, I work to bring unofficial and needed apps, and it matters: My apps sell too. Yes, maybe most people are more comfortable with Android because they may be afraid to try something new. Your opinion is not "telling it how it is"...

Exactly. you bring unofficial and "needed" apps because the big companies don't care. No banking apps, no flight apps, no google apps, most major games are missing, etc. He's telling it like it is.

I guess this is true... Sometimes its just hard to face the way it really is my friend.

I don't like it, but it's how it is.

The no banking apps, no "The Room" and no "Mahjong and Friends" are why I do not have a Windows Phone. Does Medscape and Express Scripts have a Windows Phone app? AreLive 35, Amazon Music, Gummy Drop, Farm Heroes and Bingo Blitz on Windows Phone?

pretty sure none of those are on wp. My wife was FURIOUS when nursing central killed their windows phone app. Worked great, but they said no users, so they took it down. Classic WP.

My bank (wells Fargo) and main airlines (Delta) both have apps. Game market is good and an advantage with Live support.

xbox live support blows, and literally only 3 people in the world care about it. the game market is a joke. it's literally terrible. you're lucky you have supported banks. most people don't, and as you likely know, lots of banks have been dropping support recently. Many of the airline apps are just webwrappers and are trash. Air canada is a great example of that.

Wow... Speak for yourself man because that like an incredible pathetic statement to make. People care about Xbox Live support unless their account got banned. Yes, it's not a surprise to anyone that these apps are being dropped but things are changing and Windows 10 is gonna be the flagship for Microsoft's mobile OS market. Your statement, however, just goes to show that no matter an outcome or situation in life, someone will always whine and complain.
Stay outclassed my friend...

do you actually think xbox meaningfully impacts anyones buying decisions? its barely even there. i may be biased, i play on a pc exclusively, and have never owned an xbox. as for win 10, yes, it will be the flagship os. i just dont expect it to sell in larger numbers.

Not necessarily, but yes, in some occurrences, it may be a part of it. I just think its very respectful to say that Xbox enabled games blow because the MS account I use on my WP got banned on Xbox, so I don't have the luxury of playing those. Don't get me wrong, I learned my lesson, but I can't even download any Xbox enabled games, and I bought quite a bit.

HTC is selling phones with that same popular OS. It isn't helping them much. Last I checked Sony isn't racking in the cash fromt their phone devision either.

HTC reported profits the last 3 quarters.
LG too with a growth of over 100% last year. And the only reason Sony doesn't report the same -being the second largest OEM in Japan and the third in Europe - is because they're being run by idiots that change strategies every two weeks. Posted via the Windows Central App for Android

Yeah, Sony's biggest problem is Sony.

No they are absolutely not making money. They literally run on investments by 3rd parties. They are not a public company till now

Because they run Android, which has more apps and thus sells more volume.

no... they are hardly making any money... what they are mdoing is making a brand name.

This is starting to look like this deal may go the same way the Google-Motorola deal did.

Exactly my thinking. Google, like MS, did it primarily as a patent grab with hardware as kind of a second thought. This deal is flowing much in that direction.

Except Microsoft didn't get any patents out of the deal. Yes they got to license them, but that's not the same thing.

Microsoft got no patents in the deal…

I stand corrected, I thought they got device patents in the deal.

Microsoft should have been so lucky.

Xiaomi makes their own phones. Microsoft outsources production to chinese manufacturers. So, they have that additional cost. Plus, when you are selling low margin goods, you have to sell a lot of them to make money. Microsoft isn't selling enough.

Speaking specifically about this article, it's not really a profit loss statement for each device (even though it is mentioned that overall, Microsoft lost 12 cents a phone). Instead, I think they're speaking to the fact that they paid 3x revenue for Nokia. So the sales are bringing in $1.2 billion while the company costed them a whole lot more, hence the "write down". In any case, this is actually very common when making acquisitions. It is often very hard to quantify the immediate financial impact of the acquisition so they have to rely on generally accepted accounting principles. In short: We don't quite know how much Microsoft is pouring into their devices division. We just have a standard accounting procedure being carried out after a take over.

they should in theory make money from windows store by giving phones away at low costs. That may not be accounted against phone division though.

If it's not then:
Every app bought for 1$, subsidizes 2.5 phones (they still take the 30% cut, right?)

No, MS do not take as much as Google or Apple. There are thresholds where they take less based on volumes.

According to http://en.wikipedia.org/wiki/Windows_Store#Details they do - the thresholds have been removed in January…

Only if either advertisers want to put ads on the platform or people buy apps, for low-end users, neither is true.

MS is doing great things and they kinda have to change

Their strategies are always a distant galaxy for me.The more you know,the farther it goes.

And Steve Ballmer's Mistakes keep hitting the company hard hopefully it's the last major writeoff

Nadella's strategy of holding back flagship and throwing all exclusive stuff to competing platforms is hurting more.

No, its called good planning. Posted via the Windows Central App for Android

Exactly. Flagships aren't going to contribute anything right now, they need a new OS, new apps and new features to capitalize on. Bringing them out right now would be a waste of money and potential. Also, keep in mind Office was exclusive to Windows Phone and it did nothing to increase marketshare. In fact, Windows Phones have been selling better after Android and iOS got Office - which are of course only correlating events but this shows that Office being on Android and iOS is not hurting Windows Phone sales.

The only reason a flagship is being hold off right now is because they're waiting for Windows 10. So there's no doubt that it will run it - And people don't have to update as soon as they get it. It doesn't really have anything to do with Nadella. Besides, there's nothing stopping other companies from making a high end WP. Just doesn't seem like a good idea atm, even if people want it. They'll get it, just along with W10.

I really don't understand why the wait for windows 10, the OS would just get installed to the phone when its released anyway, I can't see any reason why they waited.

Because it would need features and momentum of a new OS and applications to sell it. People aren't going to be interested in a flagship phone that is supposed to get features they don't even know about because they can't see or try them. It's pretty obvious actually. Why on earth do you think a new WP 8.1 flagship would suddenly sell like hot cakes just like that?

because if you released a phone to carriers right now with 8.1 update 2, On release of windows 10 you would be waiting months for the carriers to approve the update and that my friend is just bad for business.

ok so tell me what the point would be in releasing a flagship device 2 months before a new OS. Remember MS is also a services division and they are in business to make money, hence why their services are available everywhere, just smart business practice.

Tempted to say this, Nokia should buy back and fire the s&%t out of Elop. A sick Nokia would make better products than M$:)

Microsoft cannot rely on third-party OEMs to build marketshare for their mobile platform, which is why they bought Nokia's hardware division. There was no guarantee Nokia would have kept going with Windows phones into the future. And Microsoft's latest phones are of great quality (apart from some mistakes like the 535 screen issues) and even fixed some of the stuff Nokia did wrong with its last generation (general lack of Glance Screen, among others).

Net effect is the same, Microsoft bought Nokia's hardware division and have done squat with it, same thing as if Nokia had kept it and gone android.

It's not the same effect because had Nokia left Windows Phone that would have been the end of the platform. Microsoft still has the choice of going forward.

how do you know they have done nothing with it, do you think they create and make flagship devices in one day. these flagships have been designed and built to run windows 10 and use all the features in windows 10.

Microsoft has Nokia to thank for WP being still alive. I guess if they weren't trying to be Apple and gave more freedom to OEMs they wouldn't have to buy Nokia's D&S division just to avoid the inevitable Nokia jump to Android. When it comes to the marketshare problem, Microsoft only has itself to blame. They've been playing at mobile OSs for the last 5 years without ever being truly serious about their own platform. Posted via the Windows Central App for Android

Funny how this article is about phone devices not making money for Microsoft while their competition is making billions, but it is Microsoft that receives the M$ treatment. The Apple fanboys are running around bragging about how Apple makes more than any other company, but Microsoft is still the greedy ones that are renamed M$.

And Apple fanboys do not make the correlation that those mega profits are from them buying their mediocre hardware.

Yes, Mediocre hardware that runs apps and take photos much faster than the WP flagships....

This is business speak... It looks like they may well discontinue the phone divisions. Well... It was fun while it lasted... RIP Windows Phone. It was lovely to have known you....

You are reading this wrong, actually. Microsoft will not discontinue the phone division. You lose a big chunk of the Windows 10 story if you do not have a mobile platform.

I hope that WP continues, but this is not good news. If they feel it is operating at a loss, they may well dump. I'm not keen to use either of the competing platforms. Hopefully they can make it work as WP is an absolute joy to use... Fingers crossed!!!!

Microsoft is insanely rich (#2 richest company in the world, i believe?), and it has the funds to suffer losses on the devices front for a long, long while if need be before it even needs to consider taking action. What is no doubt a short dip will barely affect them - and with more phones (particularly the higher-range ones) they can soon start making real money. I cannot see them discontinuing the Lumia line, not any time soon.

Not even CLOSE to the 2nd richest company in the world on any metric.

That's what happens when I don't look it up aha, must have got confused.

I think he's referring to them being the second most valuable company on the stock market.

No one keeps being rich by constantly losing money. If the phone division keeps making losses, they will shut it down. Posted via the Windows Central App for Android

No, but it's not like they're a company that's banking solely on Lumia's success. Perhaps I didn't phrase what i meant correctly; Microsoft is rich enough to be able to spread out the effect of any short term losses, and they have the money to try and improve Lumia's fortunes if it continues to do poorly for them. Yes, if that fails - there's no guarantee that injecting money will save everything after all - then they could very well shut it down, but I can't see this being a plaguing, long-term issue for Microsoft.

Keep in mind the first two generations of Surface led to a write-off and the Surface Pro 3 has been a succesful product and Surface has become a recognized brand. They are surely going to give Windows 10 on phones at least a year to see how that develops.

They simply need a reference designed flagship Surface hero phone and a smaller more focused Lumia collection. There is a lack of confident identity with what is going on.

Exactly. Look at apple, one low end, one midrange one flagship, one phablet across the globe. Posted via the Windows Central App for Android

The problem with that strategy is that even the low end apple device is going to run you 500 bucks if you buy it straight out. Microsoft needs to hit the <$200 price range, because people in developing countries cant afford an iphone 5s or 5c. Also because of apples brand recognition, people will buy these phones anyways regardless of price. Microsoft has no brand recognition, they need to compete on price. This is why they have shit loads of low end lumia phones. Each one has a slightly different price, ranging from less than 100 dollars, up to mid ranged prices.

I think the best way to look at this is that Microsoft knew what they were buying, and I really do think they're aiming to use Windows 10 to truly get themselves poised with this new division. I think everything between the acquisition and the launch of Windows 10 was a planned "bleeding money" period while they restructure and set up a full range phone lineup for the launch of Windows 10. If we read this same report a year after Window 10's launch, only then will I start to worry that they'll consider closing the division. Look at how Surface did the first year that it was out - huge loss. But they stuck with it and now I think it's safe to say that with the Pro 3 they have a winner. It just took some time.

windows phone launched in 2010. how long do you think they'll wait?

Dump to whom? They are talking about a writedown which is an accounting concept, no one is saying anything about dumping yet

not really a very large loss when all is said and done, you guys read too much into things like this and get it all wrong.

agreed but man that report kinda sucks the life out of hope for the platform a lil, but also if MS is treating this like a Marathon and not a sprint which i think they are, i believe they will grow marketshare and become profitable it will just be slow haul up there. I do believe if they can execute the windows 10 story just right, that they could hit a tipping point and see some more agreesive growth in phones. But i think Winodws 10 on phone need a feature that really sets it aside that cant be done on any other platform. Honeslty I think the ability to maybe stream xbox one games to the phone could be winning feature if executed right. Or include some type of subscription service for only W10 devices that includes Movie/Tv/ Music/Games/Books/office365/Skype/Onedrive/ some type of custome care service/device insurance all wrapped up in one

The value of windows is disappearing rather quickly. Operating systems are quickly becoming free, and how that plays into this new paradigm is yet to be seen.

You don't need to produce your own phones to have a mobile platform. You just need to actually work with OEMs instead of trying to tie their hands. Huawei wants to customise WP? Let them! People have been customising Windows for decades and no problem ever came of that. But as I've said before, Microsoft Mobile will likely not last. Eventually Microsoft will put the Surface division in charge of the reference Microsoft phones and pull the plug on the rest. Posted via the Windows Central App for Android

"People have been customising Windows for decades and no problem ever came of that." Do you not remember all the trial ware that used to come pre-installed on OEM PCs to offset the licensing costs?

And? They're called "apps" on today's operating systems. Different name, same thing. (In fact, they're all bloatware. But it's not like they're gone. You buy an Asus PC, you get a ton of Asus stuff thrown in there. You buy an HP? Same thing. There's no reason why mobile OEMs should be prevented to do the same on WP.)

yup unfortunatly not many people here or anywhere else in forums around the interent really have a clue about anything.

This is not the end of Windows on phones. Keep in mind the first generations of Surface led to a write-off as well and look where they are now. Windows 10 is coming this summer along with flagship phones and Microsoft will surely give the new OS and universal apps some time to mature before making further considerations. Microsoft's bets and investment on the Nokia acquisition, OS convergence and universal apps have been too high to let go of it now right before all these developments finally culminate into Windows 10.

Exactly it took years for apple to reach their fanboy base position.

Except in MS case, the waffling over UI paradigms is hurting their existing Fanboys. I'm going Material after using Modern 2.0. Modern 2.0 is like .NET Windows Forms by comparison.

You just can't please everyone, especially when sticking to what is already there doesn't help the market share too much.

This is expected short term. But in the long run, having its mobile platform greatly benefits Microsoft and Windows alike.

In calculation Microsoft is losing 12 cents on every phone sold. Now they do not have such large a user base or ad revenue system to compensate for it. Also the volume sales are not that huge. But the hardware division is absolutely critical to their mobile strategy if at all at least to stay relevant. See its not that they are gonna go bankrupt if the phones division don't make a profit. But it will be really interesting to see how they cohesively maintain their revenue stream with the freemium strategy. But they gonna have to keep faith as they did with the Surface division. And now they are reaping the benefit of it.

And that is why they need to minimize their product lines and run with the surface design for their phone! If they can hit price points for the low, mid, and high end with the surface design, i believe they'd have a better chance. less design, material, and manufacture costs.

I agree on the design. But not the name. We all know the name surface but I wonder how many non tech consumers do.

I agree. They should give it a new name. It has to be different from Lumia though because Lumia doesn't evoke high class. More fun and hip. If there is one strategy to copy from Apple, it is the amount of phone choices. They have all their other OEMs to support their low end. Actually, this is not even Apple strategy. It's their surface strategy they should follow with their phone division.

Microsoft should only have one high-end phone and place it in the Surface line of devices - Surface Phone. The Surface Phone should have an Intel processor and comes with a pen. The Mid to low-end phones should be Lumia phones.All Lumia phones should remain on the ARM processor.

I'm waiting for Windows 10 to come out and expect flagships. and there better be one on GSM and CDMA networks!

Ok, but what does this mean? They stop selling phones or just adjust the value of the division in their Earning Report?

The latter. They will keep making phones (at least for some time) and flagships are coming later this year.

They should just keep making apps and services available for Android and iOS along with a Windows Tile launcher for Android and be done with it. Unfortunately they are so far behind I don't think they can catch up, even with WP 10. Posted via the Windows Central App for Android

920/1020/1520/930 users dont have anything to upgrade to. ITs microsofts fault. Its the high end phone people who attract lower end phone buyers. Review sides need a wow phone to write about. Without this you wont sell many phones.

The masses don't read phone reviews. MS needs big marketing.

Wow phones are coming in Windows 10. It wouldn't make sense to bring them out now because there wouldn't be much to wow in the first place. Windows 10 is going to be much more beneficial to flagship sales because of novelty (which in turn leads to more publicity) and new features Windows Phone 8.1 doesn't sport.

IF microsoft is to be believed windows 10 and windows phone 10 is being released this summer,. we havened heard anything from them in terms of new top end phones. Keep in mind the fall is when new iphones release. How many people will drop their 920's,1020'sand 1520's for iphones if they dont have a new phone in their hands by then? If I don't ehre anything about it I will be one of them.

We have heard from several people saying in official events that flagship phones are coming. I'm sure they will.

They've been saying this for two years since the 1520, and we've had NOTHING but crappy low-end phones. At this rate the entire WP platform and product line will only be used as cheap burner phones for drug dealers and pimps. I've been a big user of WP since the days of WP7 but I'm now ready to jump ship. Even though phones like the 1520 are still top of the range spec wise, dev support just isn't there and MS has done NOTHING to help matters. And now, they are getting rid of everything that made WP good and turning it into a crappy cut-rate android-like experience without the app support; forcing you to jump in and out of apps to get anything done instead of the fantastioc integrated experience it once was. If I wanted a crappy experience like that I'd go get a sluggish android handset. WP was different in a good way, but the marketing idiots and product devs just couldn't see past their android envy and have turned a great OS into a shoddy android-lite toxic hellstew.

If you truly find WP so disgusting now then do everyone including yourself a favor and just jump ship already. Spares everyone the trouble.

He is being critical of MS & WP, which is correct. I think all of us here bought into the platform because we loved it & believed the SM promise. But we have been burned time & again by MS... Don't worry, the way MS is headed, there wouldn't be many left to jump the ship anyway...

their have been high end phones running windows 10 showing up in recent stta, MS themsleves have already stated that flagship deivices are coming with windows 10, htc and microsoft are also working closely together for a htc high end device. these devices will be coming this summer 2015, You can also be asured that they all will be available via ms stores too unlocked.

Or people will see yet another windows version and think that none of the old apps will work on it and not buy the phones.

Tell me what data you have that suggests that people have an expectation that old applications won't work on a new Windows version. Because I think it's rather the opposite.

I just upgraded my 1020 to a Galaxy S6. We do have something to upgrade to, unfortunately for Microsoft it kicks us right out of the MS ecosystem. Sadly, I do think Windows phone is the better O/S and I'm missing its simplicity but there are a few Apps that I was no longer willing to not have and I wanted a hight quality handset which Microsoft no longer seems to care about.

The reason there haven't been new high-end phones for a while is because they actually do care. Flagships aren't going to contribute anything right now, they need a new OS, new apps and new features to capitalize on. Bringing them out right now would be a waste of money and potential. Windows 10 is going to be much more beneficial to flagship sales because of novelty (which in turn leads to more publicity) and new features Windows Phone 8.1 doesn't sport.

wp10 doa. I CALLED IT. 1 YEAR LATER STILL LESS THAN 5% MARKET SHARE. TALK TO ME IN 2016 AND WE'LL SEE WHO'S RIGHT.

I agree that they should avoid a flagship launch before 10 hits. There is also some benefit to learning how to make phones and starting with the low end. I want them to be several phones in before they release a flagship.

And just look at what happened the last 2 times they gave us a 'new OS'. Existing apps wouldn't work and because of the low marketshare the devs couldn't even be paid to update things. This is going to happen yet again with 10. My bank has just killed its WP app, older apps aren't updated, new apps are all on iOS then Android. Whats the point of sitting on an increasingly obvious sinking ship whos owners don't seem to give a damn and are throwing all the life preservers (apps) to users of iOS and android instead of their own platform!

The first claim you make is definitely wrong. WP 7 apps work in 8 and 8.1 and 8 apps work on 8.1. We already have confirmation that WP 10 will continue this. Seriously, where are you even getting this from? If you don't see the point anymore, then just don't do it and spare everyone the trouble. It's that simple.

Can you show me a single MS flagship that was generally well reviewed? they're all treated like crap, and nobody buys them. look how quickly the icon was dumped, AND IT WAS THE HIGHEST RATED WP EVER MADE.

Just like the Zune HD. There were sites out there that rated it the BEST portable media player on the market but gave it a mere 2.5 stars because it "wasn't made by apple". Anything that isn't made by the fruit company simply isn't given a fair chance by almost any reviewers, let alone the sickening Mossbergs and Pogues of the tech world, and its these shills that people listen to.

Even their best efforts for an exclusive flagship (Icon on Verizon) which had awesome specs was dropped in less than a year due to poor sales. Microsoft's only hope to salvage their handset division is Windows 10. Like the Zune product line, although it was a high-quality device, it never gained the traction it needed. If MS closed shop and I had to make a deal with the devil (Apple or Google) I think I'll either get a flip phone, our a 7" Windows tablet with LTE and route ask my calls through Skype.

If the icon wasn't exclusive might have lasted more than a year.

The key here I think is that some phones made profit, and some phones lost money. So selling "x" amount of phones for great profit, and then selling "y" amount of phones for a slight loss could balance out to an average of a 12-cents /phone loss. My math isn't so great, and I'm making up these figures, but imagine that they sell their 830, Icon, 930, and 1520 for a $200 profit for each phone. And then imagine they sell the 520, 640, etc for $20 loss per phone. If you sell far more of the cheaper phones for a small loss, eventually you'll eat away at the profit made from the flagships. So ultimately you come up with an average loss of 12 cents per phone, even if it's disproportionate to the actual total number of phones sold. Does that make sense?

Well its like the sony PS3 thing. They made losses on every unit sold, but thats okay coz "we're making it up in volume" lol

It's 4 million loss. The author should correct his typo.

They should've known this would happen. While the Nokia name holds some weight in the world at large, it's hasn't been attractive here in the states for a very long time. Sure the camera stuff was cool and far more advanced than competitors at the time, now they're all starting to catch up. Combine that with lack of cutting edge hardware, boring design and little promotion and this is what you get. At this point, they might be better off relaunching Danger...

The 1520 and 930 still have top of the line specs, especially compared to apple, and with any other OS they would be the darlings of the phone world. The 1520 especially was way ahead of its time, but because it wasn't made by apple the tech world turned their collective backs on it.

I just don't understand why such a big company cannot get the things right and start up companies are making big impact in the same industry. For example take phones from Xiomi and Oneplus. They are able to bring best hardware at lower price and able to make revenue by just selling in few countries whereas MS having presence everywhere not able to do that. I don't think its because of Android or Cynogen here. It's purely flagship phone at lower price. I'm waiting to see Windows 10 on Mi4. One phone with best hardware and better price is enough for MS to generate revenue in a year. Just need to release the phone in every country at the same time.

I want MS continue making windows phone.
They need to change things yeah, but a big company like Microsoft can do it.

I want to see Microsoft release some Commercials. No Cortana commercials or "How We Help The World" commercials. We need to see some clever, funny and attention grabbing commercials. Like Samsung releases good commercials. Android/Google commercials are great.

Getting my galaxy s6 tomorrow, excited much..... Couldn't wait any longer for a flagship WP. Using my 1020 to take photos from here on out... WP was fun while it lasted.

Okay but just promise us you'll install Cyanogen Mod with Microsoft Apps on it.

All Microsoft apps are definitely going on my galaxy. Until I see what flagships MS release later this year. It's Android till then....

My lady has the S5. Brand new. It sucks so much. Lags. Txting alone is laggy and letters get randomly capitalized and she doesn't receive messages alot and sent messages often don't go through. She has tons of malware. It's a piece of shit. These are basic functions that a flip phone can process just fine without any lag. Doesn't say much. Even her GS2 did this. She restarts the phone regularly. And its been reset. Can't fix broken software. She's gona get an iPhone that's the way to go if not WP. Lagdroid is simply not a plausible option.

She bought a Samsung running a heavy Touchwiz skin. She was almost guaranteed a laggy phone.

I bought a MotoG earlier this year just to see if that platform was still as bad as it had been on the various other androids I've had over the past 4 years. Even with no skin and as vanila android as its possible to get, the thingw as still laggy, crashy, and just generally a dreadful experience. How people can use android, letalone claim its the best mobile OS completely escapes me. It is and always has been a total miss match of badly performing, unstable parts where synergy works for the worse, making it even more crashy, laggy and cruddy as the individual parts combined. I will still try it every 18 months or so, but its hard to see how they can make it better without starting from scratch and actually design it properly this time instead of stealing IPs and bashing them together till they mostly work.

I switched from a 1020 to an S6 Edge. The 1020 was a stuttering, laggy disaster. It had one feature that was incredible, the camera, that opened so slowly and captured pictures with such lag, that I almost never got a shot that I wantedd. The s6 does not lag, I don't know why people here cling to that miconception but WP 8.1 made my laggy 1020 worse and it is simply silly to suggest android is somehow inherently laggier than WP. Moreover, there are tons and tons of apps.

My Gold S6 arrived a week ago also replacing a 1020. Get ready for a total shock when you see what Google Play has to offer. All the exuses we use to stay on WP (Apps don't matter, etc) will go right out the window. The Galaxy also has a pretty incredible camera.

It has to be the dump phone buisness which was 43M 2 quarters ago and 25M this quarter. If manufacturing was expecting 35M+ that would be a huge problem.

Remember when Windows Phone actually had around 40% market share.

You mean Windows Mobile back 10 years ago?

No. I remember when Windows Mobile did.

But some genius in Redmond decided to throw away the baby with the dirty water....

The writeoffs are just for taxes and letting the investors know what is going on. Don't forget that Microsoft wrote off $900 million for Surface and now that is actually turing a profit. I wouldn't read more into this than you should. It isn't all doom and gloom.

This really doesn't change much other than the earnings in a single quarter. It's disappointing that they have to do this, but it won't change the plans going forward. Windows (on phones) is not going away.

Called it. It's obvious: Microsoft is preparing to get out of the phone hardware business and write down the Nokia acquisition.

Just as they prepared to discontinue Surface after the first two generations and their write-off, right?

I think it points to the opposite. I think MS are looking to capitalise on the sales that the 10 launch will bring. Get the bad news and red figures out now. Then they have a clean slate. Dragging out losses only hurts any positives they get from the 10 launch.

its obvious that you have no clue what you are talking about, this is just daily business a lot of corporations go thru, nothing major happening here.

Hey, we bought a phone hardware company and didn't make any flagship hardware because we're waiting for Windows 10!! What? How did we lose money?

Flagships aren't going to contribute anything right now, they need a new OS, new apps and new features to capitalize on. Bringing them out right now would be a waste of money and potential. Windows 10 is going to be much more beneficial to flagship sales because of novelty (which in turn leads to more publicity) and new features Windows Phone 8.1 doesn't sport.

They keep stating windows 10 is coming out in the summer. We have to see a new top of the line phone this week. The new iphones ship in sept and oct. If microsoft doesnt want to be behind another year they NEED a new flaghsip to be shipped by that time. windows 10 or not.

I wouldn't count on them being announced this week. That's not what BUILD is for. Of course it would be great if they did but I would expect them to do so later, probably only few weeks before they are actually released.

they have already hinted at devices being shown of at this years build, whether they are phones i dont know.

For the most part, I agree. However, WP big problem is a lack of OEM partners that put out flagship phones every year regardless of what the OS is. For example Samsung doesn't wait until Android 6.0 to release a phone this year like the Nexus will. Neither does HTC, Sony, LG, etc. As long as the phones can be upgraded, what's the problem. We are basically saying WP is not good enough now to have a new flagship.

It's not good enough for the flagships they want to make. Or at least it seems so.


They have to wait and ride the launch wave. No goog having a great surfboard if there is nobody on the beach.

htc are working with ms currently to get a flagship device out with the release of 10.

Sure... now. If a true flagship was released a year ago things may have been different.

Wasn't there the 930 about a year ago? EDIT: Now I see what you did there saying "true" flagship...Keep in mind that had all to do with Nokia and not Microsoft, though.

Not so. You can't build too many high spec phones, when the OS only supports (at the time) Snapdragon 400 and lower. It IS ALL Microsoft's fault.

Flagship in the US - available on every carrier - and an unlocked version for the rest of the world. Make it better than the rest spec wise and promote it to death. Prob the only way this turns around to a profit anytime soon. Low end will grow market share, not revenue, ever as long as our app situation remains. Do it MS!

EVERY phone on EVERY carrier. A bold and much needed step. The carriers should only be allowed to dictate exclusives on the basis of colour or bundled products (Fitbit etc). Speaking of which, why on earth do MS not bundle Xbox Live in with some phones? The target demographic they need to also attract needs a Live subscription, not a 365 subscription. Let mum and dad buy Office. Anyone under 21 should have the option of Live.

I like the option idea. A gift card of your choosing when buying our new flagship device. They can't afford to do it on the low and midranges' as that is already not working, profit wise. But high end that's a good incentive to start offering, hell throw Xbox music 6 month option in the mix too, that will easily convert people over @ month 7 as now its a great app in our eco system. Better than every other and that is RARE.

Music companies would benefit too, as it keeps folks off of those free "legal" streaming services. Personally, I enjoyed Deezer on my 920, and I had it free with my 2yr contract. Surely MS could offer it bundled in? Or even offered it at a crazily reduced rate per year/month.

Except you can't sign a deal with a US carrier without providing some differentiation (unless you're Apple). MS need to get out from under the carriers and ONLY sell unlocked phones that work on all carriers and just treat the mobile device like a PC. Seems that's how the Win 10 for Phones UI is going anyway. Hope they add BT mouse support so I can dismiss message box with reliability.

It amazes me that carriers are not eager to see a strong third OS, as it would allow them to be stronger in negotiations with Android and Apple. But the differential needs to be something other than device. They need to be smarter. For flagships, they can offer a choice of colours and bundles. They have Xbox Live, 365, Xbox music, Fitbit flex, their own band, MS Store gift cards. They have wireless speakers, wireless chargers, car chargers, holders, tablets that they could offer with them. Phone bundles. There is a lot they could do to differentiate the carriers, and none of it means having an exclusive device.

My guess, the carries do want one, but they are in stupid contracts with Apple and Google that don't give them very much flexibility. Store space, device location, promoting by store associates, window signage, discounting, etc. It makes no sense that @least one of the carries doesn't want the around 9 mill devices MS is moving per quarter. That's just stupid business which is why I think there is some other force behind the carriers dumb decisions.

The need the Minecraft Steve and Alex flogging the phones. Get them used to promote to the youth demographic. Show me one of the Snapchat generation that gives a monkey's about a 365 subscription, and I will show you a liar. Chuck them games and music, that is where their money goes. Ps, they could also do with Snapchat.

Unfortunately, the idiot public mostly won't buy a $400-$700 phone + phone plan when they get one for "only $99" from ATT, verizon etc. They simply don't understand how they are paying the full (most times more than full) price for the handset through their expensive contracts and carrier lock in.

MS sells most of the current lumia's avcailable in Canada unlocked via their store, I would imagine it would continue with new phones too.

I do really enjoy the windows phone platform and have for many years, but as of late there's been very little GOOD news/announcements coming from Microsoft. I've been optimistic about the overal MS strategy and if executed would be awesome, but time is of the essence and every passing month is another that leaves me feeling more and more frustrated and wondering if I should give up hopes. They can't even announce a flagship. WTF.

They need a flagship but i understand why they have to wait..... If they released one now it wouldnt get Win 10 via the carriers until 2nd half of 2016. I hope their WIn 10 flagship will have USB-C and have monitor, printer, keyboard, mouse driver support and RT style snap multitasking on the larger device &/or when hooked to a monitor. No desktop but with screen scalable touch office, salesforce apps, outlook, IE for backwards compatibility & VPN support, it could be a dockable computer in your pocket for enterprise.

It may be a write off, but I still like my lumia 1520 and windows phone 8.1 to bits! They must have done something right, right?

No, they created Windows 10. Trust me, if you're a fan of Windows Phone 8.1, NEVER upgrade to Windows 10 for Phones. As a die-hard WP7.x-8.x user, I'm appalled at what Windows 10 for phones has become. Using it as a daily driver on my Lumia 625. While I get the bugs and crashes and instability are technical preview issues, the change in UI focus from panoramas and pivots to Hamburger buttons that bring up additional UI controls is horrible. All of the controls are scaled slightly from their desktop counterparts. As a result, fonts are too small and scaling is all wrong, and the built in controls, messagebox, etc are all too small to touch reliably with a finger. I think, like my Samsung Omnia (WIndows mobile 6.5), I'll need a stylus to make Windows 10 for Phones work well.

Other than the stupid hamburger button, everything else is still in flux and its definately a tech preview, NOT the final result. Plus app devs don't have to use MS's design language, they can just as easily use their own UI. Having said that, their apparent idea to make WP just like android without the app support is turning me off buying another WP even when '10' devices are released.

Perform a cesarean on Elop already and release the 940, 1030 and 1530 collection he's hording in there.

You want Elop to give birth? I'd rather he be neutered.

This made me spit my drink all over my work computer. Thanks!

3 big tech companies are about to become 2 if WP is let go. But hey, IBM as a company is at least around?

Nobody said Windows on phones is being discontinued.
Microsoft can still offer the OS to interested OEMs, but I can understand why Nadella no longer wants to be in the phone hardware business.

But judging by the production of OEMs over the past few years, MS pulling out of the hardware business = no more Windows phone hardware.

This is the reality, and the direction Satya wants to take the company. Services and cloud computing. That's where the money is, and where microsoft stands a chance of competing. they're currently just wasting time, money, and talent on WP that they could be using to make other valuable and competitive products better.

You should read Cringley's book about IBM. Its incredibly depressing to find out just in how many dire straights that once-great company actually is, and the awful way its run. The IBM current model is something that NO company should EVER aspire to.

It says phone, not smartphone or Windows Phone. Don't be stupid.

Windows phone cannot,die with windows 10 coming.

They should consider making one device. All of these lumias still has not generated a profit. Make one flagship device with windows 10. No more mid range or low end, leave that to the other OEMS. Pretty sure one fined tuned device from the surface team would sale more than any lumia flagship to date. The surface name is getting more and more noticed. The lumia brand not so much.

Won't comment much on the article. But from the comments of this article, seems like everyone just became a financial expert all due to one report.

buying a rotting corpse like nokia was kind of silly ... they should have just went to an OEM and said "hey ... make me a few windows phones that look nice." Would have been much cheaper.

I am really impressed by WPCentral: where did it say Windows Phone? It says Nokia accquisation and phone (maybe including Windows Phone). You got look at it carefully before saying it. Also the readers really don't have a clue.

seems that all these readers on here have actuallt read the SEC filing, and sat thru the finacial call last week and are siting in with the MS accounts

Unfortunately MS doesn't release revenue numbers for the smartphones and feature phones seperately like Nokia always did back in their financial reports. Would be much easier to compare the numbers that way. On average Nokia lost about 30 USD per Lumia phone sold but gained a lot of money with their feature phones. So all together Nokia's phone devision earned some money. It would be interesting to know if MS now loses less money with the Lumias than Nokia.

Hello missing high end. They could of easily done a bugfix/minor feature respin and put out a 1021, 1521 and 931 to tide people over coming off contracts. You want to profit? It helps to be making the profitable high end phones...

High end phones are only profitable if people buy them.

So yeahhhh, it logically helps if you have one for them to consider purchasing. Where is the 930 in the US? Oh right ITS NOT. Where is the 1520? Only on ATT and its old (With crippled storage and no Qi) Where is the 1020? Oh ATT too and also old as hell.

And where is the long overdue DENIM update for the "affordable" flagship Lumia 830? MIA! Because sadly US carriers do not want, push, or support products that do not sell.

the 830 was not "affordable", it's a $200 tops handset that MS insisted on pricing at $450.

Agreed! I was being sarcastic and that's why it was in quotes. Lol. I paid $200 for it recently but glad I didn't pay more for it.

If there is one lesson to be learned in this all or nothing industry, the largest shoes have always been filled. Motorola, Palm and Black Berry learned this and there isn't any reason big players like Microsoft can't swoop in to do the same to Apple and Android.

I had the Lumia 800 and upgraded to the Lumia 925 about 18 months ago. I have been watching for another Windows phone being released that looks as good and has at least all the features the 925 has, but upto now I have not seen one that has caught my eye. My update is due in about 6 months and I'm hoping things improve fast and Microsoft bring out a Windows 10 phone with great specs in the UK (also that Vodafone don't place massive monthly contracts on them). Another thing that really is bad, are people like HSBC bank not providing a banking app and Sky TV not supplying apps for the phones. I have contacted both these companies and all I get told, is that not that many people use Windows phones and that they are watching how sales for Windows phones go. I have even sent links showing where companies are changing from other phones to windows phones and they still say the same. When I upgraded I give my daughter the Lumia 800 and quite a lot of the children in her school didn't know Window phones existed and loved the look and said they'd love one, but when they found some apps like snapchat was not available for it they didn't want to know. This shows if Microsoft gets developers working fully with them, then sales could go through the roof.

Don't expect mainstream apps on WP in the future. they're not coming. your bank and sky won't suddenly make them. It's 2015 and no snapchat, instagram never updates, twitter app sucks, etc. you know how it is. Time to switch. you'll be happier.

My daughter followed me to WP, but "needs" Snapchat et al. I get it, as I "needed" Reebok Pump as a kid. Chuck out an Xbox Live, or 12 month Xbox music pass and the kids will flock. Which may mean that they then get the share to entice the app developers onboard.

Ok so when did comment section turn into such huge threads...

"a sick Nokia can make better products than MS" You know that, how exactly? Also, try a bankrupt Nokia instead since that's exactly where they were headed. All the production is still the same, just the Nokia logo has been replaced with a Microsoft one. Quit whining about this already and move on with dear life.

It's an accounting term used to value an intangible called "Goodwill"...it means that the value of the Nokia acquisition has dropped and they have to assign a numerical dollar amount to that devaluation. Now conversely, when the Nokia acquisition regains or increases in value, the impairment will then be an increased valuation...in accounting there always has to be a Ying & a Yang...

Are they going to discontinue Windows Phone?

to put it simply and to ignore all the mis informed, ignorant and just plain stupis people on here, NO

Wow I refused to believe it and even counter attacked who every said it. But it is true; WP users [too many] over react to everything. "Write off" this is an accounting term to clean up the books, no to kill WP. Do you guys forget that MS did the same with the first Surface generation. WP phone will be more important to MS than ever before, because it fall into the "universal apps/one platform" or whatever they're calling it now. And the CEO already reiterate that WP is here to stay. Yes he didn't like Bing, Xbox and wasn't the biggest fan of WP but as a smart guy that he is and with a great vision for the future he understood the importance of these products. W10 would be incomplete without any of these [ Azure, Bing, Surface, WP & Xbox.] So stop panicking get a grip and enjoy the April/29/2015 conference. Good day!

Exactly! Lol....people are weird.

Personally, I'm pretty much done with this site's comment section and its people not listening to simple reason. It seems shouting for flagships and hating on the hamburger menus is all they can do. They reject any reasoning why MS is waiting till Windows 10 for flagships and act as if hamburger menus were sent from hell. Seriously, there is an awful amount of narrow-mindedness and fanboy-blindness here and I've got pretty tired of it so this post may actually be my goodbye from here. Stop using Windows Phone already if it frustrates you this much and spare everyone the trouble.

This was a Ballmer mistake, I would bet...sadly, now it hits the books. Let's just say I'm happy that Microsoft has moved forward.

Put out a high-margin flagship. So many of us would buy one, and have been waiting for some time. Had MS announced that there would be no AT&T flagship for almost 2 years, I (probably others as well) would have gotten a 1520 to tide me over, and the numbers could have looked a LITTLE better. Instead, we expected McLaren, skipped the 1520, and got screwed, with many folks just leaving the platform.

I know that people say MS is done for as far as WP is concerned but I disagree... Doing badly for awhile (even a long time) and just to keep plugging away until things take off from a combination of endless money thrown at it and sheer force of will is classic MS and how many, if not most, of their product have got their start... They will get it right eventually and they've got the money to take their time. I foresee MS being the dominant smartphone OS by 2020 or so... May sound like a very bold prediction but come 2020 I'm gonna look like a genius.

Listen, I don't want to be an alarmist here, but there's a fat lady in the room and she's clearing her throat.

Not a day goes by when I don't check the site to find exciting info about an upcoming phone to replace my aging and now slow 1020. The 1520 would've been great if it wasn't for its enormous size. I wish for a lumia that will be as nice and compact as my wife's Sony Z3........i am already out of contract and have been extremely happy with the s/w experience on WP. But these guys are on a suicide mission by not releasing ANY hero phones this whole year. If there was atleast a global 930 that was compatible with ATT LTE bands, it would've been great. While the new Microsoft has been working relentlessly to reinvigorate the brand, their mobile division leaves a LOT to be desired. Very unhappy with how Microsoft is carrying on in this respect. On the other hand, if the intention is to eventually kill off the brand by drying up its enthusiast base, they are definitely doing things right. If nothing shows up within the next month or so, I am afraid my days with wp and wpcentral will be coming to an abrupt and distasteful end.

SEE! They could have easily refreshed the 930 into a "931" with LTE for ATT/T-Mo fixed glance and then promised to upgrade to to WP10 like the 635/640's I dont understand why the lack of even a token attempt to retain 920, 925, 928, 1520, 1020, and Icon customers.

There is no point even trying to understand the rationale for their action....or lack thereof. You never know what is going on behind the scenes with these companies.

If I'm forced to move to an Android phone the chances of me continuing to use a Windows tablet or 2in1 are greatly diminished. If I move to an Android phone and tablet then the chances of me continuing to use a Windows PC will eventually diminish as well. A lot of the advantages of choosing an Xbox over PlayStation also diminish if I no longer use Microsoft apps, media and services. I don't think I would use many/any Microsoft services if I had to switch to Android. If they ever give up on Lumia then there better be a strong plan to get better hardware support from OEMs than Android does. I don't see how that can happen, but it would be necessary.

Nah, everyone knows MS services on Android are far, FAR superior than on WP.

let them kick the marketing team of wp . Like in lebanon when someone say lumia they be like pff no wtsp no apps.. So much restrictions .. bla bla... and. Btw no new lumia after 1520 here ... Like what -!!! They closed or what !!!

Windows 10 right now it's all or nothing, IMO if Windows 10 doesn't meet my needs and expectations and I can't see that things are changing, I'll change to iOS (I hate android).

Read the writing on the wall here, folks. Companies are leaving the platform in droves, and those left haven't updated their apps since 2013. MS themselves barely mentions Windows Phone in its W10 presentations, preferring to focus on Xbox-style functionality. MS de-prioritizes major apps (Office, Outlook, etc.) on WP repeatedly so that they can distribute IOS/Android versions first. There hasn't been a real WP flagship in a year and a half. All they talk about is value smartphones. Now they're talking about a massive write-off surrounding the Nokia devices acquisition and cutting costs in its phone hardware division. It's pretty obvious that at the very least MS is getting out of the top-end phone hardware business. My guess is that they'll have one flagship device at most, and at some point may pull out of the phone hardware market in North America entirely to focus only on selling cheap phones in Europe and emerging markets.

So it's time to switch to Android then?

Its NEVER time to switch to android. But other than them we have iOS, $175 phones selling for $1200, but with ALL of the apps.

I don't think Windows 10 is going to help as much as some people here think. Shareholders don't give a tinkers damn about wp only about the returns on investment and a write down can seriously effect that. Microsofts strategy (if they actually have one) has to encompass the lack of promoting from the carriers and to do that they have to generate interest from the public and everyone else. So far their lackluster approach to making the phone desirable has failed miserably. People want flagship phones and the people who buy the most apps aren't people who buy low end devices... this has been proven time after time. Sure there are plenty of people who buy low end phones but to cure the lack of apps and get development of them in the store the developers have to have a good return on their efforts.. It's a viscous circle and Microsoft isn't doing anything about it. It's a real shame too... So much potential

Potential wasted after what 4-5 years.

Maybe if they actually released a phone that people wanted...

This. Enough with cheap colored plastics and make something that looks professional, or at least dignified.


http://fieldguide.gizmodo.com/ios-vs-android-the-2015-edition-1700461435 this gizmodo article sums up windows phone nicely. IT'S NOT EVEN MENTIONED AS A MOBILE OS WORTH CONSIDERING IN THE DEBATE.

Off topic: How are the Xbox and Surface lines doing?

It's OVER folks. OVER AS OVER GETS. Continuing to re-invent their strategy. Constantly recycling the OS. Pathetic marketing. Reluctance to keep on top with flagships. Developers dropping support every week. Dwindling market share AFTER 5 YEARS. I moved to iOS a month ago, a devoted fan of WP from day ONE. And being on iOS now it's painfully clear how invisible WP is to the rest of the tech world. NO ONE CARES about WP. Not even MS itself. This news piece is the hammer blow. As someone else wrote in these comments, WP10 for Phones is DOA. Nothing could be more true. I'm p1ssed, p1ssed with MS for absolutely ruining a brilliant opportunity with an amazing OS. Game over kids. It's done.

My honest guess is that wp10 won't make a difference. I agree with you.

The problem lies on Microsoft's lack of 'passion' to push Windows Phones to the market. And even though, it's trying most of its actions contradicts its goal. Take for example supporting its product first before pushing its apps to Androd and IOS - or at least release the app 'simultaneously'.. Here's a great example: http://forums.windowscentral.com/microsoft-news-rumors/353756-free-skype-qik-service-android-ios-only.html

Once again, this comment section shows just how low the user base is for WP. Not only are a good percentage of posters not even WP users, but most of those that are are convinced that its all over and find no redeeming qualities to the platform. That means even most WP users here feel the platform is poor, and they chose it! The morale is clearly in the tank. However, if anyone wants to think about this for a moment, there are facts to consider: (Keep in mind that none of these points mean MS is perfect or that this is a garunteed success. There are plenty of areas to improve, I just dont agree with the idea that nothing is going to change things and MS is ready to pull the plug) 1. This particular story is referring to a possible write down due to the cost of the Nokia purchase during a certain time in 2014. It is not making any reference to current conditions, nor is it referring to costs occuring right now (MS is not losing 12 cents per phone sold now). This type of write down is not exactly unusual after a high cost purchase. It's pretty silly to think that phone sales for 2014 would have grown enough to cover the cost of buying out Nokia's phone division. It's also silly to think MS didnt know this might have to happen when they made the deal. Sure you would rather not lose the money, but the risk of not buying could have been worse. 2. Taking this kind of hit does not mean the end of WP. As much as some of you are so sure of WP's demise (and you love to remind the world of that in every negative story comment section), this is not enough to shutter a platform. Now, if you take losses like that every year, then yeah, you are forced to shut down if nothing else can be done. The key here is that MS is not projecting losses like this going forward (phone sales were up during the latest quarter). It would be a one time event from the sale, not a loss that occurs each year. Compare it to the $1 Billion Surface write down a while back. Initial costs of creating a new device coupled with an over production of product resulted in a one time hit. The Surface division didnt crumble, it pushed on and is now another $1 Billion business for MS. The point is, MS has a track record of being willing to eat an initial loss in order to come out better down the road. MS has had to deal with integrating Nokia's business into its own, plus deal with its own massive restructuring. With Windows 10 bringing with it a better environment for developers and consumers, its clear that MS intends to keep pushing forward for the forseeable future. 3. Regarding the lack of flagship phones. Let's remember a couple points here. First of all, MS has had a lot to deal with over the past year. Integrating Nokia's assests and teams into MS along with their own massive reorg means that they did not have a lot of time to conjure up a flagship phone for this year. When McLaren didnt pan out, they simply had no time to come up with a plan b and properly support it. Keep in mind, MS was basically just using Nokia's phone release plan up until this year. The 535 is MS' first internally developed and released phone, followed by others now. The flagship(s) that come with Windows 10 will be MS' first flagship phone and it should set the standard for what WP users should expect out of a flagship phone. MS has been building up towards this point ever since the sale with Nokia. They finally have the teams in place working as they should. They just finished the last round of layoffs due to the Nokia purchase and the reorg has been settled. Add to it the release of a new OS, and you have plans coming together. Secondly, if you want to be technical about it, the Lumia Icon was released in Feb of 2014 (the international version, the 930, was released in July), so if we do get a flagship Win 10 phone, its likely to come no more than a year and a half from the last flagship. If you count the HTC One, its even less since that phone was announced last August. The 1520 will be 2 years old in November of this year, and the 1020 hit that mark this month, representing the oldest of the flagship phones. If MS gets a flagship phone out this year and is able to stay on a year cadence, then that will fall in line with everyone else. They are really close now even with all of the crap that has gone on over the last 1-2 years. With all of that behind them, with MS in full control and no baggage, I dont see why they would have any trouble doing that every year. 4. Windows 10 is a big development for the platform. No, its not some holy object that will cure all ills. However, it does address issues with WP 8.1 that people often bring up. On the development side, they are continuing the journey they started with 8, bringing development for all MS platforms under one roof. That means not just the tools being easier for developers, but also that the backend systems are all merged into one. That means its easier for developers to build once and get exposure across phone, pc, and xbox if they want. It means they can do things like cross platform buying and access without as much effort. It means developers dont have to wrestle with the idea of managing 3 app platforms (3 different types of rules, different methods for payments, etc). It means consumers get a better deal on apps they buy and smarter access from one device to another. It also means os development is much easier for MS since it allows them to share features, api, etc across phone, pc and xbox. WP will now be able to mature much faster thanks to a better api that is less watered down compared to the current situation. This is partially thanks to the changes built first into WP8. MS has taken a lot of steps externally to help improve the sitaution as well. It has dropped fees and made it easier for any oem to use its OS. That has resulted in a huge jump in oem support. That support will be crucial going foward, maybe not in the US, but definitely the rest of the world. Heck, MS is willing to float the idea of releasing a Windows rom that works on Android phones. They want to expand the Windows footprint, whether its first or third party hardware, just like the pc market. Again, none of the above means everything is awesome, I'm just trying to point out that its not all bad either. For every article here about an app leaving, there are as many, if not more, articles about a new app or updates to popular apps. Some US banking apps leave, then we hear a string of banks internationally that bring apps to WP. Its not so cut and dry. WP definitely has problems to deal with and its is not growing fast enough to move the marketshare numbers much, but it is still growing. Things could go either way. It could crash from here, or it could continue growing, maybe picking up speed once MS gets its first flagship out and builds a track record over the next couple of years. All I know is that this seems like a bad time to jump ship unless you werent really invested in the plaform to begin with or you had fundamental issues that cannot wait to be fixed. I wouldnt blame anyone for getting a different phone, you have to buy what works for you, but if you like WP and want to see what comes next, your not far away from finding out.

Give this guy a medal... Exactly when something good for WP is posted here very few people appreciate but one negative thing for WP in days they are here and prophesying how WP is going down, lately they are even saying Microsoft will discontinue the mobile department(madness!)... We need filter especially for these guys of ""Posted via Windows Central App for Android"" possibly using galaxy pockets.

Its $7 billion worth of negative.

Need Microsoft wallet with NFC pay, and a flagship surface phone, small size and large, with kickstand and mini display port,and USB C

But I cannot use my sim memory, neither can I make a call and share the internet! Killed by Microsoft....

Remind me again, why did MS buy Nokia? Wouldn't it have been cheaper for them to just start building thier own MS branded phones right from the outset of windows phone 7?? Surely at the time of buying Nokia the head honchos at MS must have been wondering how the hell they were going to get it to pay for itself

They bought it for the name and to prevent android from appearing on the amazing nokia hardware if nothing else. Nokia was investigating android and should that have panned out they'd have dropped WP completely once it became obvious that people LOVED the nokia handsets with google OS installed, not MS's system. Much like Facebook paying whatever many billions it was for instagram, simply to keep it away from the clutches of google.

Maybe people are right about Elop, he is an Eflop.

I'm still waiting for a new 5 inch flagship. Keep sinking till you can deliver

"Microsoft has already said it has plans to reduce costs in its phone hardware division, but has not given any specifics." This, as always, is the wrong response. Nothing gets better if you reduce costs, slash workforce or drop quality over R&D and quantity. The ONLY thing to do is to make the product more desirable to people, and 'reducing costs' simply is not and never will ber the way to do that.

I think with all the money spent in the range lumia, anyone would have done better than stephen Elop.moi as I have done better than Stephen Elop

They never needed it. They overpaid for it. They gutted it. Now they're writing it off. Ain't business grand?

I'm sure this isn't a surprise to MSFT. They stopped NOK from going Android, which would have completely killed WP, and they'll get to write off some of the cost. They may end up canning the whole thing but they really had no choice back then. Anyway, the stated loss per device is no problem to a company as large as MSFT. They'll make that up in lower taxes when they write off some of the NOK purchase.

I'm pretty much out of optimism at this point. Microsoft really doesn't seem interested in improving the platform's chances... refusing to release even a single flagship, and having all their own apps available on other platforms in superior versions tells the story. No flagships isn't just a hit due to the loss of a few flagship sales... it makes your platform look dead and hopeless, scaring everyone away. And by all appearances Microsoft truly does not care in the least. Windows 10 for phones so far is an epic disaster as far as I can tell on my 635... every single visual change is a downgrade, and there are only a very few new cool features. I know it's a preview, but I can't see them polishing this up adequately in time for release. So I will just support it as long as it lasts and hope that by the time they officially kill it there is a better competing platform than Android or iOS. It's really sad... I truly do love what they achieved with Windows Phone. They just never really went for it, always delaying constantly and putting forth a half hearted effort.

Well this should be a wakeup call for the LUMIA division to reduce the unnecessary plethora of inventory acquired from the purchase of NOKIA. I'VE commented previously that MICROSOFT needs to reduce their LUMIA devices to perhaps 2 Lower end devices, 2 mid range and 1 FLAGSHIP device all of the best possible quality at affordable consumer prices. AND DUMP THE REST of their inventory carry over from NOKIA. Time to Wakeup Microsoft and JUST DO IT.
Cheers from DOWN UNDER.

Lol I can't help but laugh at all of these "Windows Phone is dead" or "Windows 10 won't save Microsoft" comments. Sure they have an embarrassingly low market share right now, but it has been holding steady, and hasn't gotten any smaller. It's still alive, and its not going anywhere. Windows 10 is STILL in development people...you're all acting like the half assed builds they have given us for Windows 10 are the final product. They are NOT. They've been working on builds way ahead of the ones they are giving us. They just give us older builds to see what we do or don't like or point out bugs they may have missed, so they can change it/fix it in the current builds they are working on. For all we know the next build of Windows 10 for phones could end up being drastically different than the ones they have given us. A lot can be changed between now and the end of July which is supposedly when Windows 10 will be released. It's all up to Microsoft to get devs on board and to continue making changes that will satisfy both consumer and enterprise users. They are working on something great right now, and so far it looks nice. They just need to pull it off the right way. They can't afford to fuck it all up again. You have to remember Microsoft is still trying to recover from Ballmer's failures, so they're still in a transition phase right now, which is why it may seem like everything at Redmond is a big chaotic mess right now.

OK everyone on here get a grip 1. MS did not buy Nokia for them to continue making Windows Phones, they purchased them to take them out of the mobile business. 2. Microsoft are not killing off their mobile platform 3. Do you really think MS needed Nokia to make a Device, Their surface Division is more than capable of Making a much better device then Nokia 4. Do you really think the Surface Division has just been designing Tablets???? Final remark i will make is Nokia is dead, we knew that when MS purchased them and refer to point #1. But Windows Mobile devices are not dead, hope that you understand all I have said here.

All these armchair critics. Funny really. Either you find the platform favourable or you don't. If you do, continue to use it, I'd you don't, then move to something else. We all know Windows 10 is paradigm shifting. Let's wait and see what happens- my feeling is that LOADS of developers will support the platform, and all will be well.

Guys, dont forget about the fact that Android and IOS were in the market years ago, they monopolized everything. MS has a big challenge now, im a owner of Lumia 1020 a lover of its platform, WP now is amazing and I do trust MS for making things better in the near future, of course they have some missing stuffs but their platform and devices are lovely and nice looking as I think. just give it a try then judge. I'm sure you will love so many things rather than hating some few things that can be overtaken in the future. For me as a normal user I have all the apps needed, but i will not deny that they are less better than IOS's one. MS needs just to make things attractive, colorful, brilliant, sweet.... and they will gain trust. The majority of lumia lovers now are happy with their choice but they need to do little effort and you will be a Lumia owner.
Windows Central Newsletter
Get the best of Windows Central in in your inbox, every day!
Thank you for signing up to Windows Central. You will receive a verification email shortly.
There was a problem. Please refresh the page and try again.