Microsoft will launch a Windows 10 app for all things in the Halo universe on Sept. 8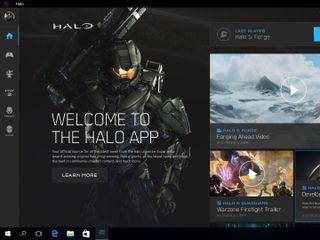 Microsoft will launch an official Halo Windows 10 PC app on September 8. It will act as a one-stop location for all things related to the Halo game universe, including news, videos, tutorials and more.
In a post on the Halo Waypoint site, Microsoft says the app will also serve as a way for players to learn more about the upcoming Halo 5: Forge map editor that will also be released on Sept. 8:
In addition to map making, the Halo 5: Forge editor for Windows 10 will also support online multiplayer games as well for the PC.
Windows Central Newsletter
Get the best of Windows Central in in your inbox, every day!
So what happens to halo waypoint?

Waypoint was retired a while back wasn't it?

Halo Waypoint is long dead. The current app, 'Halo Channel' app is basically exactly what they are announcing here. Not sure why they couldn't just keep using that one.

I miss the old Halo waypoint on 360 , still don't understand why 343 abandoned it and why they are trying to reinvent a halo hub again for the third time when they already done with the first try.

Thats the Microsoft way though, reboot after reboot after reboot....... then retrench! :)

This is not really an app, Sept. 8th 2016 is when Cortana will become self aware... :)

Bet it will be but wont be on mobile.

Microsoft makes no sense, they want everything to be a UWP but make a app that's not a UWP can't use it on w10 mobile WTF

Not on mobile != Not a UWP app

What happens to Halo Channel app? Discontinued?

I was wondering the same thing. Why not keep using that app? Do we really need to reinvent the wheel a 3rd time?

Well, it's MS. Windows Mobile x, WP 7 & 8, Windows 10... :D I could see why they would though. Design and content refinement/expansion. There was some much needed UX rearrangement. Hopefully it will replace the Halo Channel app automatically so there isn't much confusion.

Well the old app wasn't UWP for a start, so they clearly need a new app to bring it to the new platform. The design of Halo Channel really also didn't fit in with the general style of Windows 10 apps, and it's been out for a couple of years now so needed a facelift anyway.

Do we get access to premium content included with Halo MCC that was accessible through Halo Channel? (Never got why they didn't just give us them in the films and TV app tbh)

Halo: Waypoint was first introduced in Windows Phones, and IIRC, that app was closed somewhere in 2014, and now they will bring it back in Windows 10 flavor? Great!

You forgot about the "current" 'Halo Channel' app. Not sure why they wouldn't just keep using that.

You forgot about the "current" 'Halo Channel' app. Not sure why they wouldn't just keep using that.

Well I was talking about the now-retired Halo Waypoint app, but you're right, I forgot the current one. Hmm... they're reintroducing the Halo Waypoint, aren't they?

Wonder if video content included with the digital Halo MCC purchase will be accessed through the new app or if the Halo Channel app itself will disappear along with access to the content

Perfect, so they abandoned Halo Waypoint, then they abandoned Halo Channel, and now they're releasing ANOTHER app that htey can abandon.

Am I the only one who's pissed off by ms spokesperson dismissing shout outs about bringing halo 5 to Windows 10 (pc) as "we won't do it just because a suit said so" (I'm paraphrasing).
I only tried 2 on my ex-flatmates' Xbox and since then would've wanted to play it (any halo) on my desktop.
That comment just sounded arrogant and evasive to me

Oh Microsoft! With so much talent why so many missteps? Posted via the Windows Central App for Android

Will it be better than that Halo Channel thing on XB1? That thing's a ****.

Agreed, i hated that the terminals linked to it because it would never open properly.

Disliked the app in general on all platforms so never really used it much. The Xbox 360 Waypoint app was one I regularly used when it was out
Windows Central Newsletter
Thank you for signing up to Windows Central. You will receive a verification email shortly.
There was a problem. Please refresh the page and try again.