Microsoft will offer technology support for 2016 Republican and Democratic conventions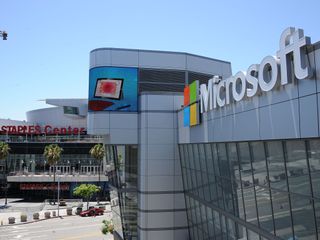 Microsoft has announced it will provide technology products and support to both the U.S. Republican and Democratic conventions that will be held this summer. It will also sponsor some host committee activities for the Democratic convention.
In a blog post (opens in new tab), Fred Humphries, Microsoft's Corporate Vice President of U.S. Government Affairs, stated that the company will continue its policy of not endorsing any political party or nominee, but will help both the Republican and Democratic parties during their conventions in July:
He added that Microsoft has held discussions recently with unnamed groups about theiir plans for helping both conventions but Microsoft will continue with their support as planned:
Ugh c'mon MSFT let Apple deal with those two. Posted via the Windows Central App for Android (from my 5x or V10)

And then the day after the conventions are complete there would be a few hundred people in here lamenting how Microsoft missed out on another chance, how Microsoft is once again giving into Apple, how Microsoft is no longer a leader, blah, blah, blah.

Too late haha Posted via the Windows Central App for Android (from my 5x or V10)

love to watch CNN lately during this election where John King is doing magic with the Microsoft Hub, it amazing how well this thing works and how well he knows how to work it. I am impressed every time i see it

Oh really? It's in use? I need to find a video of that! :) Sent from my Windows 10 PC.

So expect blue screens, errors, prompts to update the OS every 5min, zero apps, etc etc

Terrible troll attempt. Try harder next time.

People need to stop with the "troll" crap... my comment was just that, a comment! A factual one at that.

No, it was in essence exactly what counts as a troll comment. And a very bad one at that. Sent from my Windows 10 PC.

And both of your responses are nothing but whining comments, and bad ones at that.... judged by the whining scale. Stay on topic please, instead of focusing on what kind of comment is what.

I'm sorry you are not getting any emotional responses for your own amusement but you really didn't try hard now... Did you?

@rld082982
Your comment is nothing but idiotic. Can you do me a favour please? Why don't you ***** off. I do apologise to WC fans for my French. No apologies to you @rld082982.

Don't give in to it... Emotional responses are what makes people like him get up in the morning. Sent from my Windows 10 PC.

And guns need to be regulated.

Factual? No. You have no way of predicting if ANY of those things will happen. Plus, there are many more than "zero" apps. They won't be ShapChatting with these.

Don't pick on him. Just watch this: https://m.youtube.com/watch?v=J5vZwFUvG68

WC, please make us possible to open a link from comments using WC apps for win10 mobile.

No. Your comment was full of crap. Point 1, never had a blue screen on any of my three devices since upgrading to 10. Point 2, ok I'll give you that, since I get freezing all the time. Point 3, can turn that off if you have the Pro edition as I do. Point 4, I'm definitely running apps on my Lumia and Windows 10 computers. Not having the latest apps =/= zero apps. It does have plenty apps but people like to go to the far end of the fart and say it has no apps just because it doesn't have Apple/Android levels of apps. So no, your comment is not factual.

If it's Killary vs. Trump I hope non-neocon wins.

As a non American looking in I'll be rooting for Gary Johnson

Yes!!! Someone else that calls her for what she is!!! Killary. I thought only me and some of my twitter buds (non-Americans) called her that. Good to see more people see how she really is. It's sad these are the two candidates for my first ever election. What a shame. Posted via the Windows Central App for Symbian

Microsoft Product are Great.... Good Move!

Would this mean MS is both Republican and Democrat?!

It means they are neutral. Sent from my Windows 10 PC.

Perhaps they're Libertarian and have a plan to sabotage the War Party

It means they are both iOS and Android.

He added that Microsoft has held discussions recently with unnamed groups about theiir plans

theeeeir......

Hopefully, they won't call them iPad like devices, like the NFL did.

I know what a face palm. I'm sure it would be poo poo'd on but if I was in charge I'd impose a penalty if they referred to them as ipads.

Hopefully Windows Explorer process doesn't lock-up in the middle of the voting session: Windows-Feedback:?contextid=88&feedbackid=b89a6a2c-f55e-42ec-a387-ec8be39bdf00&form=1&src=2 Windows-Feedback:?contextid=213&feedbackid=a73dbad9-93da-440e-ae81-ea730356146d&form=1&src=2 Windows-Feedback:?contextid=395&feedbackid=1559d936-0552-435c-a01c-0a163edf7d7e&form=1&src=2 Windows-Feedback:?contextid=67&feedbackid=ef972afe-c0cc-4ca1-ae83-66e793dce9f5&form=1&src=2

I'm betting they're providing the Firewall to the Republican party. They know President Trump loves walls.

Keep telling yourself that lol

Keep telling yourself that. He has no chance #TeamLumia 950 XL

Great So the technology run by lefty Bill Gates and his lefty left coast pals is gonna be 'impartial' ... right. Just like the media ...
Windows Central Newsletter
Get the best of Windows Central in in your inbox, every day!
Thank you for signing up to Windows Central. You will receive a verification email shortly.
There was a problem. Please refresh the page and try again.