#MicrosoftEvent announced for May 23 in Shanghai, new hardware expected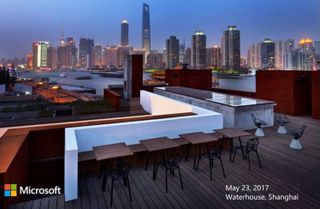 As if the May 2 education event and Build 2017 next week weren't enough Microsoft just announced another event, this time taking place on May 23 in Shanghai, China.
News of the event went out to media at 9 pm ET tonight. An event page (opens in new tab) is already set up to follow news on the announcement.
The landing page merely states:
While we have no idea what Microsoft will announce we can confirm a few things as a sneak peak:
New hardware news will be shared.
Panos Panay, Corporate Vice President of Devices, will be in attendance.
There will be "global and regional" news as well.
The event time is 7 pm China Standard Time, which is 4 am PT/7am ET.
Let the speculation begin! More on Windows Mixed Reality? Maybe a Surface Pro 5 launch? We'll leave the guessing to you in comments.
For those curious, Windows Central is planning to attend the announcement for further coverage.
Windows Central Newsletter
Get the best of Windows Central in in your inbox, every day!
Daniel Rubino is the Editor-in-chief of Windows Central, head reviewer, podcast co-host, and analyst. He has been covering Microsoft since 2007 when this site was called WMExperts (and later Windows Phone Central). His interests include Windows, laptops, next-gen computing, and for some reason, watches. Before all this tech stuff, he worked on a Ph.D. in linguistics, watched people sleep (for medical purposes!), and ran the projectors at movie theaters because it was fun.
Do you mean that band 3 you keep talking about is finally about to be announced??

Maybe, but... come on Surface Phone...

Surface Band with LTE and a pico projector to put a 'screen' up your forearm, like that Android tethered band.

I actually bought that "Flex seal" stuff I saw on TV, and coated my band 2 in it just to save the straps from getting ripped. My band 2 looks terrible but it still functions. Haha

Electrical tape is barely working for me. It'll be a sad day for me when I have to retire.

Replace the electrical tape with BACON DUCT TAPE. it's the best!

They took our work, paid us, and cut us off. The product was supposed to go out in q3. This is q2.

I missed it. What are you talking about?

So..... it might still happen?

yay...i am pumped up...I was not in home and here I come and see this Great news

I have little hopes for the Surface phone...but remember that the surface studio patent leaked a few weeks before the official release...? And now we have a leak of a foldable device....very little hope....and the device might be pointless too given how the eco system is....let's see what happens...

Huh I thought a Bud Light was supposed to be delivered :)

Hardware or another paperware from Nadella?

I give up: (a) what is "paperware"? and (b) what was the last "paperware" from Nadella?

I actually don't remember the last time Microsoft "produced" "Vaporware".... Everything has gone to market.
........
Now, has everything gone to "Marketing"..... No. That's more the issue, and one reason why I love to see new Surface branded devices.. MS actually does a good job of Marketing Surface, which leaves me wondering why marketing is so poor, or has been so poor, for other offerings🤔🤔🤔

Thought the same thing. I think all Ms marketing should be approved by the surface team before launch.

90 percent of the awesome features were left out of windows 10, project astoria, islandwood etc, all vaporware. Can I go on...sure, Mclaren, another microsoft vaporware product. yada yada yada. They are not as awesome as you say there rodney

How was McLaren vaporware? It was never announced, it was never marketed, that bars it from being defined as vaporware. Project Islandwood is there, and it works fine. I'll give you Astoria, but that just proved to not work well, the Android architecture didn't mesh well. I'd rather they realize something doesn't work and decide to nix it instead of releasing something that doesn't work.

He maybe referring to all those "We'll build Mobile in the future if OEM's don't do it".
It wasn't really on "paper" but well, he did say that!

He just said the other day that OEMs are building Windows phones though (HP and Alcatel he mentioned)

But that's not enough is it? 3/4 of the world don't have Windows 10 Mobile devices...

Could be meaning "vaporware" ;-) , that's a known one from many.

I'm referring to his book. Lol!

Ooooohhh.. That's actually kinda funny lol. Well done. I've been served.

Daniel, I love this site, but Microsoft can't please everyone but I wish the people who don't have patience or believe in Microsoft would just move on and stop making this site a drag to visit!

You Excel at puns, don't you

I think it's a great Outlook to have on life.

I see what you guys did there.

It at least gives you Access to a happier life.

You guys definitely know how to Sway the conversation away from the original topic...

"It's micro, only when it is soft"
-Bill Gates

Well then....err.... Your making this easy to easy.

And I wish Microsoft fns could have more critical thining than the Apple sheep they mock. Yet, here we are, with the crybaby "if you won't worship them, get out" mentality that is just begging Microsoft to abuse your trust.

They get way more flac than their products deserve, and there is a very tiny but hugely vocal part of the community that continue to try to convince people that they deserve it. Most of it through harassment.

NOt really there giddora. They destroyed an awesome mobile platform from the inside out. They deserve every bit of flack they get for that.

HA HA HA.....FANBOYS! They DID destroy windows mobile, they fired the entire team, they left it in limbo for too long, they never pushed it, they never moved it forward...they "retrenched" it. DOWNVOTES FOR THE TRUTH!

Dissention isn't harrassment. Also, how is the flack undeserved? They have done consistently bad work across the board. Xbox was marketed terribly, especially Kinect. THey've now gutted the developer talent from their first-party studios and have an extreme dearth of exclusive content, thanks to those firings and the total abandonment of Kinect. The Band line was a mess, never marketed pre-launch (or even spoken of), both iterations of it came with severe build quality flaws, then it died without a peep. The mobile side has been in disarray since the second Microsoft got their hands on the hardware and did something as stupid as putting a flagship exclusively on Verizon in the US (after Verizon showed 0 willingness to promote the platform in years past). Then, as they took over hardware design, duild quality tailed off and they basically began to sell their products at flagship prices with alsso-ran specs (where as Nokia was great at competing on price). Lastly, they've gotten lazy with the Surface brand, treating it like some amazing luxury brand worth the highest praise in the world. They've followed everything I hate about Apple to the t, whether it be the absurd price/performance ratio of the new Surface Laptop, the extremely high price on the Studio (IDK that the display is worth the $1,000+ premium it seems to carry), and the recently lazy release schedules of offering no Surface Pro or Surface Book refresh in 18 months (in addition to the complete abandonment of mobile hardware). I mean, I've given MS 15+ years of business, starting with the first Xbox. I've brought loads of people to their platform in that time, be it for gaming, mobile, fitness, or even several Zune users. However, they have become increasingly frustrating under Nadella, lacking driection beyond his cloud specialty. Everything's inconsistent, planned poorly, and executed even more crazily. You say the flack is undeserved, but didn't at all explain what they've done that isn't worth criticism. I can't find it, and that's as someone whose Xbox live account is older than his teenage brother. They've just been in a steep decline across the board for me since about 2013. I've stuck with them the whole way, but when I can't even buy a new phone or an exclusive video game from them, I have a hard time supporting them with anything.

I did switch....I bought macbooks, iphones, ipads, and a playstation. I had to ditch the macbook. the MacOS SUCKS! Its backwards, terrible layout, mind numbing controls etc make me wonder how the i lemmings can even use it. I am getting a new xbox to try soon for forza. I do like my PS, but the xbox my son has is better. I will never give up my iphone and ipad. NOTHING comes close to those for true mobile devices.

Forza is the most entertaining racing game i've played. It's more arcade-like so the purists may not like it. But if you're into cars at all, I'm sure you'll enjoy it. My Playstation friends are envious.

I'd agree on Forza Horizon 3, but Forza Motorsport is highly iterative and redundant. Their career mode is basically jsut a string of single-race events with no sense of actual progression or accomplishment. Forza Horizon gives you an environment where free roam is fun, along with a variety of content to change up gameplay.

See, I'm the exact opposite on the console side. I've had an Xbox since '01. I got an XB1 about 3 years ago. I upgraded it from the Titanfall bundle to the Halo 5 console when that launched, only to be massively frustrated at how across-the-board terrible Halo 5 was. I upgraded THAT to the Batlefield green XB1S in the fall, since it was a really cheap upgrade for me. I also got a PS4 Pro around the same time, partially because MS was failing so badly t releasing exclusives. They've released 2 in the last 14 months or so that got my interest--Quantum Break and Forza Horizon 3. The former had a massive bug that caused save files (inlcuding mine) to just disappear late in the game. It also oversold its choices as impactful and ultimately was a bit of a letdown. FH3 is great, but you need people to play it with consistently to fully enjoy it, and my friends didn't want to get it at the time. So, since the winter, I've almost exclusively played PS4, with MLB 17 being 100% of my console gaming time since I picked it up at the end of March. Microsoft just isn't releasing, or even announcing, games right now. Killing Scalebound was a big drag for me, in that respect. The stuff they announced has been taking some time to release, and isn't really what I'm looking for--Sea of Thieves is too aimless in its structure for my liking and I don't trust Crackdown. On the other side, I've got massive interest in the progress Detroit: Become Human has hopefully made in the past year since it was talked up, and whenever I get bored of The Show, I can fall back on two recent releases on PS4 to pick up and play, Kingdom Hearts 1.5/2.5 and 2.8, plus Horizon: Zero Dawn. The former is mostly remakes, but remakes of non-Xbox releases I always wanted to play, and they'll offer a few hundred hours of content for ful completion. There's a lot of pure content on PS4, thanks to its constant work with action and RPG games .MS has mostly done mediocre, short stories like Halo and Gears, while hoping you go into the multiplayer and never want to play a second game ever.

So, for yes-man fanboys only, is what you're saying...?

Then Daniel likely need to look for a new job, ad money count I thing.

As you can see, there are many that have moved on to other devices. But somehow still have time to troll here.

Daniel, will there be a live video feed, and blog?.. I ask because sometimes It's only the blog.

He probably means vaporware, and Nadella's vaporware can be said to be, oh, I dunno, ANYTHING of note relating to Windows 10 Mobile phones.

All the stuff that gets a US-only release might as well be "paperwork" to everyone else. At least they better make good on the "world" part of their message this time...!

I think he means "Paper Mario". Let's just nod and slowly walk away.

That is a paper ninja-like comment...

TBH, this is kind of funny but I did like what he said last night regarding mobile. Not sure about him but MS is quite aware about how they can make the mobile work again. There are lot of guys concerned about lack of devices from MS but MS want OEMs to come on board and for that they want to come out with something exceptional which will mot only attract consumer but OEMs at first. If any new mobile comes out it will just be a failure unless and until it is exceptional. I don't how many of you will agree but I could sense the clear direction from him regarding mobile.

In simple terms, like google it is hard for MS to bring success for mobile without including OEMs and they are not able to convince the OEMs. For this to make happen, MS wants to come up with an "exceptional device like surface" first and then expects OEMs to follow exactly like "surface".

I hear ya @Rahul Sharma45 I am not certain the timing is right, or maybe it is. Build is around the corner too. Taking from that and into May 23rd, I guess we will see what they want all to know. I think Microsoft invests with ODM and OEM companies much more than we think they do. We just only see what has materialized up to this point, tangible. Knowing how secretive Microsoft can be with stuff, we see very little from most of their partner companies as far as ideas or mobile-like devices maybe because non-dsiclosures in place or something. What do you think?

Tbh, I have high hopes but simply not limited to may 23rd event. I believe in the vision of MS, kindly of updates they are delivering with the RS3, kind of words nadella is using regarding phone in the interviews, kind of product they are launching, I am pretty sure they are not sitting idle when it comes to mobile. I won't say they are as committed as PC but they definitely have something to come out with and "show the world" what's next.

Tbh, I have high hopes but simply not limited to may 23rd event. I believe in the vision of MS, kind of updates they are delivering with the RS3, kind of words nadella is using regarding phone in the interviews, kind of product they are launching, I am pretty sure they are not sitting idle when it comes to mobile. I won't say they are as committed as PC but they definitely have something to come out with and "show the world" what's next.

I can't believe how successful MS can be at keeping secrets. We get prototypes of every new iPhones months ahead of time but the Surface Book was a complete surprise and the laptop only leaked the night before... Maybe that means something big can really be hiding. Where the emphasis is at Build will probably help us guess.

The Apple phone leaks are paid for by Apple I'm pretty sure. Keeps the hype going and people think that others really care so much about iPhones.

Apple phone leaks are a hell of alot more exciting the windows phone device leaks!

They are leaked on purpose.any publicity is good publicity.

No one had any inkling about Hololens either. That was a total surprise for everyone. Why not a pocket computer with Telephony to round out the surface family.

She talks about it from the 25 to 27 minute mark...go back and have a listen

I agree that is part of a long term strategy, but unless they have super secret stuff there it isn't near term.

Casio - The Unexpected Extra -

Nothing to see here move along.

Wild guess here: you're a Windows phone fan.

Are you sure it's not just to launch the Surface Laptop in China?

I think that would be a bit odd to have a press/media event for just that. Also, the whole "show the world what's next" part betrays a China-only play here (though I do expect some China-only news).

Well, OEMs *do* tend to do "China Release Conferences" for some odd reason. So I wouldn't be surprised if Microsoft held an event in China to present there what they already presented to the rest of the World. But I have to agree, the messaging makes it sound like it's not actually China-focused. It just happens to happen in China.

Well then, why China of all the places? A country where Microsoft is hated? A country where they dont wanna use Windows and those who do use, pirate it. Why not India or somewhere in Europe?

Maybe they've been reading the Art of War!

LOL... Trump must be sending them to spy 🕵.

No idea. If I had to guess, it's a cultural thing. Like 'muricans, the Chinese have this idea that the World turns around them and they like to have their own versions of everything.

Well Microsoft started in "Murica" and was founded by "Muricans"...so yeah.

I don't think MS is exactly hated in China.

I don't think MS is exactly hated in China.

How about you don't steal profile pictures?

@Giddora if you're replying to my comment about stealing "profile pictures" then there's something wrong with you. I didn't "steal" anything. Must be the known bug in the UWP WC app that causes profile pictures to get mixed up.

abhi, don't mind him (giddora), he is the whiniest person in here...and the one with his head way up Nadellas.......

No problem. If you dont suck nadellas...fill in the blank.....like giddora, your against EVERYTHING microsoft.

woo hoo truth downvotes....ha ha ha!

Thank you! I didn't realize it's a known bug. I'm scrolling through comments and the pics are changing in real-time! Haha! The guy who accused you of stealing now has Dan Rubino's pic. Haha!

By hate he means govt censorship and regulations it needs to follow there.(which are ridiculous).
Trump had a legal case in china over the brand name "TRUMP"

Maybe that's exactly why they want a presence in the country?

@AbhiWindows10 "Well then, why China of all the places? A country where Microsoft is hated? A country where they dont wanna use Windows and those who do use, pirate it. Why not India or somewhere in Europe?" A country that has a massive market that can completely change your balance sheet? Especially if you're starting in the hole?

Well, they have made it known what is next, and now maybe they will show what is next on that day.

Hello and good morning! Looking forward to these two events... Will be great if they announce new surface device because that would mean there will be some nice and sweet discounts on the existing sp4 devices which I'm planning to buy. So a question here, like mobile does sp4 too have a 2 year lifespan after which it won't get updates? Because it's from nov/dec 2015 so quite old. Also, why did you say that wc is "planning" to go to the event, is there still se doubt? If not wc then who? It will be bad because other news sites are often not to my liking. But of course you don't write for one person so it's your call. Thanks!

Microsoft is still issuing firmware updates to the Surface Pro 3 from 2014. However, when the Surface Pro 5 arrives, I'd expect firmware updates for the Surface Pro 3 to stop (Windows updates will continue to be issued, obviously). The only thing where Microsoft is bound to a 2 year warranty is hardware defects and even that is only in Europe in general (that then changes from country to country outside of Europe).

TBH, I like competition among these BIG 3 tech giants. MS is focusing on china while apple and google are focused on India. Love the way people of these countries are benefitting. I see almost everyday google and apple doing some India specific work, especially google. Though, coming from MS fan from India.

Next we will get a hint at Build

Dude you're comment was spot on, I'm cracking up!

Q2) Why would MS launch a generic laptop under "surface" brand?
Ans) To complete the surface family. You said it, Daniel. But surface family is not complete without a "Surface phone". May be this is the event to complete the surface family. So, probably not a wild guess.

It won't be a phone. Microsoft would announce it in the US if it was something huge like that.

Q2) Why would MS launch a generic laptop under "surface" brand?
Ans) To complete the surface family. You said it, Daniel. But surface family is not complete without a "Surface phone". May be this is the event to complete the surface family. So, probably not a wild guess.

@Rahul, let's have hope. Anyway, don't call the event disappointed because what we hope does not come true.

He is using South Park reference

Microsoft is going to busy the following weeks... Hoping for something exciting.

Fingers crossed it's a Surface Pro 5. My first gen Pro is really being pushed up against the limit right now, but if I'm going to upgrade I don't really want to get the 4 that's already a year and a half old, would prefer to just get the latest and be good for another four years.

What ever it is, it better have usb-c.

Yes it's a deal breaker if it doesn't.

I doubt it, what would people look at the Surface Laptop if they release another device with USB-C within a month. So, I'll bet against that. Well, unless it's a mobile device though since 950 already has the C.

All high end Snapdragons have USB-c now that Samsung is on board and the Chinese OEM have been in USB-C land for a bit now, i can't imagine any ARM device without it now.

Maybe a launch of Windows 10 ARM devices or maybe their own VR standalone headset? Since Windows Mixed Reality can run Win32 desktop apps in a Desktop Window and 3D and 2D UWP around the space and along with full screen VR games. It's possible that they may announce a VR PC. Where everything is done in VR and in 3D

Maybe a new android phone.

Careful what you wish for, it might come true!

Exactly what I prefer to bet on :-) .

This is a good guess. The first time they announced WOA was in Shang Hai as well. So, I'm with you.

WinHEC used to happen in China. This is the best guess as to what the event could be that I've read across multiple sites now.

Yes! I get the need for surprise, but silence without any hints for months at a time, to the point where we start to wonder if new gear is ever going to get released, and they lose a ton of money unnecessarily, is a terrible strategy...

Don't worry, they'll telease images the night before like the surface laptop was; people just can't keep a secret these days!

Grow the hell up, dude... seriously.

Wow. Those are fighting words.

Shut the hell up dude....... Seriously.

They did not "lose" a ton of money. They simply didn't sell as many Surface devices in the first quarter of this year as they did in the same period a year ago. They still made money, Surface is a billion dollar business.

Um, there were recent reports that said "Surface revenue declined 26 percent, reaching $831 million down from $1.1 billion"? If over $200 mil isn't a ton to you, then I wish I had your money, because I'd throw mine away...

They didn't "lose" that money though. They just didn't gain it.

Revenue decline is not the same as loss. Made less money is not same as losing money, like Lumia.

To one significant figure they are the same :)

OMG, do you guys also correct people on the proper use of the semi colon, etc? Regardless of the semantics and the exact language that you would prefer to use, inaction and silence led to over $200 mil not being in their pockets that in all likelihood should have been there. People normally lose jobs over that kind of thing...

More than just semantics. They have other revenue streams that benefit from customers going to oems. They didn't lose money

Let's not forget alot of OEM's picking up their game and offering suitable replacements. Do a search for articles for the original Surface Pro from years ago. This was Microsoft's plan all along.

Well, Apple is saying the rumors of the new iPhone are hurting their bottom line. So, maybe having rumors isn't such a good idea if Tim Cook is to be believed.

Not sure you lose a job over taking in less at the end of a sales cycle then at the beginning of a sales cycle when you are supposed to grow an ecosystem, not just your own hardware line.

Them keeping secrets is one of my favorite things. I hate when stuff leaks right before the announcement. Makes the announcement lose its impact. That awesome reaction people got for the Surface studio? Trust me, it wouldn't have happened on that scale if info had leaked before. Same with the Surface book announcement.

I'd be so excited 😃 if it's the "ultimate mobile device" but I'm guessing SP5 with the same specs as the surface laptop...

I am so happy Microsoft is not done on annoucements. I was just going to sit back and wait and see 2018. If I was a betting man, YES I am, there has got to be some type of Windows Phone annoucement to be apart of new Surface Laptop Windows 10S. It would only make sense. You can all rain on my parade if you want. I don't care. Here is to praying that some windows phone will be annouced. I would even be happy if Lumia 950 would now be carried by big red Verizon. That would be sweet.

Yeah, the Microsoft Lumia 951 to add to the confusing numbering scheme Nokia started with less memory, sub par processor, and no flash on the camera : )

No phone will be announced. If that ever happens, it'll be in the US.

I'm guessing new hardware like prototypes and future devices.

It'll be Surface Desktop... thinner than other towers and machine tooled... no USB-C

I'm mostly excited for build since I know for a fact a Surface Phone ain't coming.

Wouldn't it be a total surprise if it was a Surface Phone?... Lol. That would set the tech world ablaze!!

Wow, this is great news. Very exciting

I'm keeping my expectations low; maybe a selection of partner devices.

Maybe, but then I'm not sure why Panay would be there. He's all about their tech :P

That's a GOOD point. Panos Panay is the man for hardware launches.

What if what comes next is actually ready to be shown off, I'm betting it's not the invoke speaker, lol

He's introducing the unique colors the surface laptop will come in specific to China only ; )

Hello kitty theme for sure.

Panay is only popular one in MS. Not Panay, whom people like to see ?
Nadella ? Myerson ? No way

Because he is the only one that has pride in his work.

Yeah, those two guys lie a lot ; )

I am sure this time, MS gonna cheat us. Sending panay may seem like a conformity of a new device launch but it may not be 100% true.

Satya did say, that they are making phones, today... :)

I am thinking new surface 2 in 1s, one 12" one 10".....lets see what happens....

Surface phone by Christmas '17

It's better to make guess after BUILD. We will get to know better which are the form factors MS is targeting now.
It won't be a phone surely. Why it won't be .. we should discuss this in separate forum!

Well we know it won't be phones

A Surface Pro 5 would be appreciated indeed. My SP3 is starting to fan-up way too much for my taste. If not, I'd really like them to release a Surface Keyboard: 1 - in Black; 2 - With backlit keys. And if it's none of these things...well, I'll just sit and watch (unless by some miracle they decide to announce a black version of the Surface Laptop alongside a reajustment of the prices to more realistic values...but that's asking too much.)

Please something interesting. How about a W10 taser on my Nokia 930. When used Cortana screams 'Shocking', and updates Instagram? Please add to this wishlist.

Haha! Now that would be useful!

I'm kind of hoping they don't announce a new phone so I have a reason to move on to Android. It seems with every update to W10 my phone breaks further.

You can move. They won't announce a new phone. I can absolutely guarantee it. Neither now nor next year, nor the year after nor after. ;)

I'd rather not have to rebuy a whole bunch of apps again if I can avoid it. Although like I said with each update something breaks on my phone and it's getting really frustrating. Ill just wait for the Note 8 I think, or grab the S8 when my contract is up.

I honestly do not recommend the S8. It's overpriced and full of compromises. I'd still buy the S7 instead and wait for the S9. As for the apps, many of the apps you had to pay for on WP are free on Android. You can also install Amazon's Underground app as Amazon also often gives away otherwise paid apps for free.

Cool, i utilise myappfree on WP when something pops up that interests me, so that underground thing is good. I'm more leaving towards the S8 due to Dex, as I use continuum in my room for watching Netflix and Stan, would be good to do the same with my next phone too. Price isn't an issue because I'd be on a 24 month contract anyway which includes the phone. But yeah, my current contract doesn't finish until November so it could be worth waiting until early next year to see what either Samsung, or other Android manufacturers, have to offer.

MyAppFree is also available on Android ;) Also if you're moving to Android, I'd honestly recommend you to get a Chromecast. It's cheaper than Dex and for that sort of use it's much better. Not to mention it costs 1/3 of the price of the Dex dock and it's much more portable.

I actually already have a chrome cast funnily enough which is gathering dust. So that's awesome.

I would recommend iOS instead of Android. Android truely is a horrible operating system and you will not be happy if you go down from Windows 10 to Android.

I recommed any other OS at this point. Android is NOT horrible. Not even close. W10M is HORRIBLE. No apps, no nothing anymore. Just a dead in the water boring feature phone set of options. Android and IOS are way more advanced..

It's worth the move. One thing kills me though, and that's the fact that there is no edge browser. It was nice when everything was in sync and uniformed between my phone and Surface book on the browser front.

Really? Mine isn't, my phone and tablet browsers are independent, maybe I need to adjust some setting though.

If your using edge, anything you do as far as favorites or saving to read later, should show up on the other. I truly miss that. Ugh.

Microsoft does get some things right. ;)

Chinese Guests: Surface Phone! Surface Phone! Surface Phone! That's it.

I'm surprised that there's already another event, whoa.

Kind of mixed feelings. Rarely has MS launched anything "big" outside the US so that might point towards a disappointing iterative SP5. The "world what's next" phrase could give hope that MS, knowing mobile in the US is a lost cause at this time, are bringing something to the table outside the standard arena... But that would require a lot of things to be farther along than rumors suppose. I'm going with iterative SP5 or spin on mixed reality.

Xiaomi/Huawei Surface Phone.😁

Along with China Mobile and they'll drop support all other platforms for an instatnt 1 billion phone sales.. Take that Google lol

And only available in China.

So... Mehdi said today to look for the SP4 Successor "coming soon". That's one. Next, Windows 10 on Arm, since Intel seems to not be able to compete. That's two. Still more by way of Cellular PC. That's three. And now my dream.
A Surface, at 9.7 inches that folds, has windows 10 on arm, is cellular and does voice. Mehdi, also said today they are all in on mobile, not phone. MS will sadly never market a Surface phone, it's just a Surface with voice

I'm fine with a 6-8 inch Surface with Voice, that is enough of a Surface Phone for me. Give it continuum, usb-c, surface pen, and CShell and it can replace my 950 and Surface 3.

Have exactly the same equipment

That difnitely aint going to slip into your pocket while you run out the door to get those last minute bags of popcorn for a Saturday night movie... If I cannot hold it and use it in one hand, along with continuum, have ease of use and functionality of Windows 10, then it is hard to even consider. Not everyone wants to hold a 800 dollar piece of hardware in their lap if they need to watch a movie. Now I am not cheap, but if it is surface branded and a replacment for what they called phones 2 years ago, then it will be hard to even need this item any time soon. Expensive for 1, and not made for portability 2. I hope for the sake of Microsoft that they invest more in their ecosystem and have more to show about that then surface hw. OEMs and ODMs are the future of mobile devices for our average consumers. But maybe I am completely way off, and Microsoft is going to shift everying on that day to meet all areas for those who need Windows in their daily life.

That isn't coming. Nadella specifically said it won't look like a phone. You won't be measuring the screen in inches, if it has a screen that is. https://www.theverge.com/2017/5/3/15533668/microsoft-alex-kipman-phone-a...

There are lots of ways it can be effectively a phone, yet not a phone. I doubt Nadella would call either device shown in their concept videos a phone, but they serve as one. I can slip my Nexus 7 in my pocket if i want (six a half feet tall, big pockets) but i wouldn't call that a phone. Nadella is probably referring to usage scenarios more than anything, much like HP conspicuously doesn't call the Elite X3 a "phone"

The Nexus 7 and Elite both look like phones. He specifically said "look", not operate or function. They have no chance in the slab, touchscreen, phone market wether they call it a phone or not. Continuum isn't going to make a difference, just like it didn't help the 950, Elite or Idol. He means they will release something completely different and this engineer is saying something very similar and giving examples.

When Dona Sarkar was on Daniel's podcast she made a pretty strong statement that the era of having one's face bent down over a phone was not the future of phones. She spoke specifically about heads up display type of thing. What about a stripped down hololense that functions as a computer and phone aka google glass ?

This is exactly what I was getting at. Their engineer also confirmed they think the Hololens will replace the phone. I don't see them making a slab of glass phone device and Microsoft's communications echo that. https://www.theverge.com/2017/5/3/15533668/microsoft-alex-kipman-phone-a...

Yeah, long term, but it isn't anywhere near ready yet. There will be a tablet form for a while.

Remind me, how did Google Glass do?

Here's my personal preferences:
1. A phone like device (some kind of device that can replace my phone)
2. HoloLens Consumer
3. A wearable device with fitness and connectivity
4. Something for home automation, like a Windows Home Center
5. Microsoft Smart TV
6. Microsoft Smart Speaker
7. Microsoft HTPC
8. Anything fun...

ARM devices would be nice and they've partnered with Xiaomi and a few others in the past so anything possible. Maybe more from 3Glasses, and the Chinese Government version of Windows 10 without telemetry? We'll have to wait. * and for sure, the Hololens release

Considering it would make very little sense to do a product announcement in APAC unless the product is being released in APAC (at least, and expect US as well), I'd think it's a Surface Pro 5 global announcemet (with China being an immediate market rather than secondary) and a Surface Laptop "Chinese" for the local market since it was omitted from that first 20 countries where it was made available for pre-order. But damn it would be fun if they whipped out a foldable surface phone too :)

-Surface Pro 5
-Surface Fold pocket pc
-Surface Note with W10 SC loaded

Just dreaming here: 8" LTE foldable Surface with W10S on ARM.

Forget about the new hardware. I just want to know what nostalgic song they going to use during the event, and will it be sung by Stephanie Tarling?

This time it will be a cover of Amy Winehouse's modern classic "Rehab". Microsoft don't need no rehab!

Since Panos will be presenting, it can't just be the SP5 as according to reports SP5 is actually a SP4 refresh. Having an event for that will be unnecessary to say the least

Besides Panos already said 'there is no Pro 5'... Pro line is DEAD.

Source? I am guessing this is just a BS statement.

I have never read this. linky please! That would be the same as apple discontinuing their macbook pro.

Guesses: A future proto, like a folding tablet (It is china) Actual products: A smaller tablet, LTE enabled (WoA), that is pen focused
A watch, running IoT core.

The smaller tablet might be nice. I remember them saying they cancelled the Surface Mini because it didn't differentiate or create a new category. Didn't stop the Surface Laptop... so who knows.

"A future proto, like a folding tablet (It is china)" That'd be the reason NOT to present it there. China has no respect or concept of copyright laws or industrual theft. Microsoft would see it copied even before they announced it.

Copied device or not, if running Windows it would just be added to the tally of 1billion...;)

Microsoft has no interest in having its IP stolen, even if the thief runs Windows. That's like you being mugged but realising that the thief supports the same football club as you do and therefore you won't mind anymore.

that would be regardless of the fact wether the event happens in Shanghai or San Francisco

Except jurisdictional effects would be different ;)

I think we may have already seen what they are going to announce. A Surface Laptop focused on business that run Windows Pro instead of S, has multiple USB-C ports. AKA, the image shown in the video that is referenced here https://www.windowscentral.com/sites/wpcentral.com/files/styles/larger/p...

Huh...that's an interesting guess. No idea if it were true, but would love if it were.

To get our hopes up again: Could this be the real reason for a 'feature 2' branch.
To keep the cool stuff hidden from us until they can show it working. Donna did say something like "We're working on something for HP at the moment"

The new HP Elite x3 maybe?

An Elite X3 running on SD835 would lay groundwork for win32 emulation.

Another one? Seems they're thirsty of events 😛 Hope for something about services expansion (more supported regions for Groove etc) related news!

What's next? Surely that means the same as "what's the next thing around the corner"? Surface phone, and a new Band! :-D

Surface Finger (the middle one). Lol!

Does that integrate with Holo Lens and mixed reality? lol

I'd like a Surface Band to match up with a Surface Phone...or both...as one :)

As everyone else is saying: more likely than not, this is a refresh of the entire Surface line. No, there probably won't be a 'Surface Phone' revealed. Nadella admitted they're not getting back into mobile hardware until some future point.

It's going to be another Alcatel Windows Phone for Asia.

May be Huawei is coming back to windows phone

Why from China? Any ideas?

Big market, oem and parts center for all their devices. Perhaps more on VR, MR stuff. Who knows, but they are a global company. I'm pleasantly surprised there will be a hardware released.

Or for better Chinese food. The team had Chinese in NYC after the last event. https://twitter.com/panos_panay/status/859517431471124482

Is this BUILD event? Or different?

Additional to build. So different.

Kind of, but for hardware only

I just read that surface pro 4 refresh is confirmed. They could announce new updated surface devices. Would be good to hear about mobile phones

Microsoft have given us surprises in the area of Desktop, tablets; with the 2 in 1, and Laptops, but not in Phones and TV's

The Surface Hub is a gigantic TV ;)

Nothing but Surface mobile can excite me. Or Surface speaker w/ Cortana (that b cool

A successor to Surface Pro 4, Surface 3, Surface Book and Band 2 would excite me greatly.

Another great surprise would be, upgrades to surface pro, book and available in multi colors like surface laptop. I definitely would love them the same way Panoy loves it. Plus thinner and lighter surface pro.

Microsoft is on fire this month :)

The dream: Surface Basement Dweller (gaming PC with the Studio design) The wet dream: Surface Foldable-as-**** (mobile device we saw in the trademark applications, running on ARM) The pumped dream: Surface Pro 5 with USB-C and the Surface Razer Core (to give it a crazy hardware boost)

Curious about this event being in China. If it's not for China-centric products, then maybe it's an attempt by MS at starting to shed their "all our products are only fully functional and available in USofA" image.

even when windows mobile market share was at its peak, its share in China was among the lowest. I woudl speculate that this even in China is either to renew interest in new PCs and 2-in-1s from MS or if they truly announce something totally unexpected like the surface phone, then just to show how important China is for them. Either ways, this is something for all us to be excited about for the new few days.

Cool. I guess they didn't want to take the spotlight off Edu event, and just focused on the laptop that serves as a hero device for Win10S, and challenge to MacBook for college kids. I suspect SP5 or Surface 3 successor. SB just got a refresh last fall, so I doubt a SB2. WOA might be too early.

Please release a waterproof Microsoft Band 3 with Groove Music controls!!!

Something new in "mobile" segment. Nadella has already told that they will invest in "mobile" but it will not look like the ones we are using today. So may be we can expect something related to cloud to enhance our mobile experience. Or it can be a small tablet (6") running Windows 10 with a mobile mode just like tablet mode.

Surface Pro 5, Book 2, fordable Surface Phone, Surface Laptop with USB Type-C, and Project Scorpio of course. Just these ones would be fine :)

that will be enough for me too, though a Surface Watch and consumer edition of Hololens should also be there

I'm guessing a vacuum cleaner running windows 10 s 😀

"The Surface Vacuum : it sucks a lot. Just like Windows 10 S"

That makes it a really good vacuum, IMO. And Windows 10 S seems like "the way" to go, not in the sense that you want to get Windows 10 S specifically, but maybe you'll want to use Store apps only, if that's ever enough for you.

I know this is not on the agenda but still all I care for is... Surface Phone! Surface Phone!! Surface Phone!!! Surface Phone!!!! ........

Just like Bloody Mary, that won't appear either.

HA! Can always count on you **** on someone with some humour 😆 +1 (For everyone reflex downvoting this guy because of his pragmatism, he's been around for many years longer than almost any of you)

Now I am raising my hopes once again based on this statement of theirs, "On May 23 in Shanghai, Microsoft will show the world what's next."

And I thought the next big and interesting event would be E3. Now I can't wait for Shanghai.

I will be waiting for that, "I didn't see that coming" moment. They keep secrets really well. Fingers crossed.

Def. SP5, SB2 maybe, Speaker + 1 more thing.

So I hear there's going to be a surface phone announcement, a band replacement, a surface pro 5 with 86 hours battery life, ballmer is returning as head of baldness and every single person whose used windows phone consistently for the past 5 years is getting a free surface laptop to make up for, well, everything.....apparently 😉

Well, we've seen the creators, now the educators, who's next? The workers? The explorers? The warriors?

the politicians with backdoor to the NSA... wait, that's just regular Windows 10. (It's just a joke... don't arrest me!)

I believe it will be the Surface Phone. "SHOW the WORLD what's NEXT". Phones reached their limits and there is no real innovation anymore (bigger screens are not innovation). Therefore, as Microsoft already stated several times they're looking for what's next in the curve. I believe THIS IS THEIR CHANCE. Even if the product itself won't launch for many months to come. But SP5 will surely be announced as well.

Could be a HoloLens Consumer sku

I'm so pumped. I dont like leaks at all but im soooo freakin curious -.-

Great something new.But its a waste of time if you don't have decent apps to run on it,or app that take for ever to load.
Let's get basics running sweet first

wow...nice news...but I can't belive, I prefer don't traveling with immagination but stay with feet on ground!

A Windows 10 on Arm micro PC would be nice, to shake Intel Atom and M up....I think a Snapdragon can power a home surfer/media player nicely!!! The next Gen Phone device would be nice also!!! These would be a nice refresh of my home equipment with the addition of an Edu Laptop 10S version as I have no interest in the surface laptop. $999 to start and no USB C......utter over priced garbage!!!

Hand held mobile PC with cellular connectivity....!

If I had to guess, it's the Cortana based speaker, we are already in 2017 and it's due.

More Pano! Can we have Panos voice in Cortana? would talk very fast and poetic version.

Let's request it.
"Hey Cortana, mock Panos!" will be popular right!

Panos sold the hell out of a laptop in 2017. I'll give him that. After he was done talking, I wondering if I needed a new laptop, and I'm lucky enough to have a Surface Book. He did a fantastic job. They should put him in the commercials (if Microsoft ever makes one).

Project Scorpio or new Xbox one elite.

I predict that there is the same chance if him announcing a surface phone as there is of Apple announcing a truely budget iPhone for the masses.

A Windows 10 mobile version of OnePlus 3T phone ?

Panos tweeted with #Surface...so must be Pro 5, SB II or wearable (foldable) surface phone that doubles as the band 3, ARM 835 processor, continuum.

Panos Panay will be in attendance. New hardware for sure

They gotta keep Panos' attendance a secret the next time they want to hide something.

WE JUST WANT A PHONE! Any phone! But a flagship to tide us over would be great. We don't care if it runs Windows S, T, U, V or Z!

"we can confirm a few things as a sneak peak" *peek

laast time they released a surface pro, it was summer time. so ready for this

China? Gonna hear Panos Panay say, "Ni hao! Let me introduce the Panay Phone."

New keyboards and mice....

This event for just some refreshed hardware? That doesn't make sense.

My prediction: Surface Pro (either 4 refresh, or 5), but available in the same four colors of the Surface Laptop.

That sounds right to me. I would love more, but just don't it yet. The Surface Mobile would probably need RS23 in the fall, and it's too early to announce even if "done".

They would never hold a hardware event simply to present a refreshed SP4. They certainly wouldn't hold one in Shanghai for it, either. SP4.5 is the kind of thing they'd gloss over leading up to a more category defining reveal at the end of a presentation, like they did when the Surface Book was announced.

Just hoping for a high quality new phone

I was so so about this until I saw Panos would be there. Arguably one of the most entertaining and passionate speakers with it comes to conferences. He's the only one I watch and think yeh, this guy really gives a damn.

Who's the lucky guy taking the 15 hour flight to China, or did you co-opt a local for reporting on the event?

Wouldn't it be kind of anti-climactic for Windows Central to travel all that way just to be shown a Surface Pro 5 (upgraded Pro 4)? There's nothing unexpected in that scenario. I sincerely hope there is more to it than that.

I was thinking more like an extra capacity Surface thumbdrive or something equally banal. The look on Rubino's face would be priceless lol

It is a 4 in 1. Ultra Pc.
Telephony, Tablet, Mixreality , and Pc

Also HoloLens with an Arm chips to a mass consumer coming starting at $1700.00

Oh also the HoloLens headsets can also be telephone too.

Windows 10 S Pro, please. Will want Windows 10 S with Remote Desktop.

Windows 10s is based on Pro, not Home. I think it does have remote desktop.

2 events within 2 weeks of each other? They couldn't have combined these 2? Bizarre.

Maybe one of the Chinese super companies can build a flagship consumer phone for MS and leave the corporate big bucks stuff the likes of HP and MS is they still want to stay in the game.
And a new band...
And a new Surface Tablet?

The Surface Pocket has come! 😃

If they every release one (and I believe they need more time on the OS even if hardware is close), they will call it Surface Mobile

Hoping for something that could at least hint of a future arm based pocket sized device, that has telephony capabilities. Please MS....

I want a Surface 4 and Surface Pro 5! Eek. Can't wait. So much stuff is happening. Build is right around the corner too

I want Surface 4 ARM based with LTE baked in.

Wow, 2 and a half weeks is alot of time for speculations. This thread is going to be huge!

Folks on the Web have already seen the USA patents on foldable "Mini" tablets Microsoft Got. So I expect to see the debut of the fantastic super Surface "Mini " Tablet and get ready for a shocker one model of the Surface "Mini" Tablets may include a cell phone inside it's case Making it a Mini tablet Cell phone hybrid device. Microsoft is doing this in China to get customers there and Advertise it on a "World Wide" venue. Microsoft will create a NEW catagory of smart phone and Mini Tablet. - Go Microsoft Go"

Well this is baffling. A major hardware event in China with Panos present, just a few weeks after a previous major hardware event which introduced new hardware. This is highly unusual for Microsoft. This has to be big so I think it's safe to say that this won't be a component refresh to existing Surface products although they could be included as side announcements. I very much doubt this is the mythical Surface Phone or other interim mobile device to replace the Lumia line. It has to be something else, something next. A Surface 4 - nah, Band 3 - nah. How about a Surface Beam? An Amazon echo-like device that also projects images or videos in 3D space. That would be super cool.

I guess I'm the only one who noticed that the shape of that white wall is the shape of the foldable Surface Phone granted on their patent. May 26 does not match the release of Redstone 3 and the Qualcomm 835 ship, but from May 26 to the beginning of September is a little more than there months, which will be fine for pre-orders and for developers to take the Microsoft Store a little bit more serious.

Shanghai? Very likely to be something the Asian market desires. Not sure if the Surface is popular there, but if it is, then it's highly likely that we'll see the next iteration there, but I highly doubt it.

I know there's a ZERO percent chance of this, but I'm going to dream of them announcing the monitor from the Surface Studio as a stand-alone peripheral.

I will take 3 if thats the case!

Surface Zune and Surface Kin incoming

Look this video https://youtu.be/f-_uhmCTPC4?t=18 (official video, 0:18), Microsoft will announce a SURFACE TABLET (not Pro), because it hasn't kickstand.

Afraid not, it's a Surface Pro 4 (if you look carfeully there is a kickstand on it)

I think it is one part of the Surface Book?

"...Show the world what's next." From Nadella: "We have to be on the hunt for what's the next bend in the curve to be relevant in the future. This applies for any company" When he said that he was referring to missing the smart phone era. Put that together with the panels in the photo (glass and wood) and it definitely looks like the foldable device they patented. Will probably not have the word "phone" anywhere connected to it - except when they do the "one more thing" move like they did with Surface Book. They will then reveal it can fold and...make phone calls.

"...Show the world what's next." From Nadella: "We have to be on the hunt for what's the next bend in the curve to be relevant in the future. This applies for any company" When he said that he was referring to missing the smart phone era. Put that together with the panels in the photo (glass and wood) and it definitely looks like the foldable device they patented. Will probably not have the word "phone" anywhere connected to it - except when they do the "one more thing" move like they did with Surface Book. They will then reveal it can fold and...make phone calls.

"On May 23 in Shanghai, Microsoft will show the world what's next" , what's next? What's the next bend in the curve hopefully 🤞.

CAN WE PLEASE START CALLING IT a SURFONE iPhone- Surfone = YES iPhone- Surface Phone = NO

Could it really be that Microsoft is further ahead of the game then anyone thought possible? Is it actually possible that this event will feature the reveal of the mythical "Surface Phone?" No way of knowing until 5/23, obviously. I really do feel confident, however, that it is in active development - along with a brand new mobile version (powered by CShell) of Windows 10. The current insider builds of Windows 10 Mobile are, indeed, lacking in new features. This truly is "maintenance mode" - refining the OS to be a bug free experience. I believe, as others have theorized, the real work being done in the "mobile / phone" space is for the new OS / device. Something which, Microsoft hopes, will be a paradigm shift comparable to what was seen in the move from "feature phones" to the slate smart phones we have been using for the past decade. So, work is being done simultaneously on two very different versions of Windows 10 for mobile devices. One of these will (fingers crossed) usher in a new era of mobile devices - a generational shift of iPhone proportions. An OS which will power a game-changing device which will make even the most bleeding edge of current "smart phones" so obsolete as to be, for all intents and purposes, the new "feature phones." These older devices will run the current OS as we know it today, in a slightly more refined version - Windows 10 Mobile "Feature 2," powering the new feature phones. It's all right there in front of us, plain as day. I can't wait.

He didn't actually say that.

Please let there be at least a Surface Pro 5 with a full Thunderbolt 3 port...

Yesterday Panos said "there's no such thing as a Pro 5"

I am picking up my S8+ today and putting my tired old Lumia Windows Phone in the drawer. I will be pissed is they finally announce the Surface phone.. I wonder what the 3rd party market is like for used S8+.....

I've heard rumours about a HoloLens 2. Maybe one with LTE capability, calling, Cortana api, gaze detection and the mixed reality desktop? Just one other possibility. First one, lets face it, is too expensive for consumers.

yes thats true, 3,000$... ways too much But what would be the advantages of a new HoloLens? Better Resolution? *thinking*

that would be awesome :DD

I think that Microsoft's key technology is not ready for production yet. We've only seen some leaked drafts for the foldable screen and full Windows on ARM is also not ready. So no surface phone as we have it in mind. But since they still have a team working for W10M and the OS is now mature enough I wouldn't doubt they're going to announce new W10M phones considering the progress they've made with universal apps. Even with a small market share and many useful apps missing from the store it's for their benefit to have some lumia like quality devices out there until the surface phone (or whatever it's name will be) is ready.

A LOT of replys, so I didn't look through them all, but with that city in the backdrop, it seems like the perfect place to introduce something that takes pictures really well.

Or with all that empty tables, Mixed Reality.

Regarding the May 23 event, I suspect the device they introduce will indeed be mobile, foldable, run full Windows on Arm, have cellular capabilities...and be prohibitively expensive - similar to Surface Studio. It will also be just as exciting, if not more so, than Surface Studio. Price? My guess is $1,499-$1,999, aimed squarely at enterprise and business customers - just like Surface Studio. Given that it will be a full computer with unparalleled mobility for the size, many will be able to justify it. Oh, and if "Surface Studio" is for professional Creatives, "Surface Office" will be for business professionals.

I think this will be a Qualcomm based device running Windows 10S. It will support running x86 programs from the store. It will have LTE and Phone capabilities. So the "What's next" is really Windows10S on arm, with a surface device to show it off.

i dont think that Windows 10 S is going to take a good way. We all know that the Windows Store hasn't enough Apps

The Surface Mobile is incoming....I and we all hope.
Windows Central Newsletter
Thank you for signing up to Windows Central. You will receive a verification email shortly.
There was a problem. Please refresh the page and try again.