Microsoft's Cortana no longer integrates with Amazon's Alexa
You can no longer summon Cortana and Alexa from each other.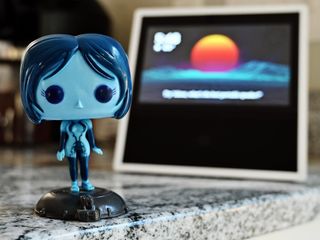 (Image credit: Windows Central)
What you need to know
Microsoft quietly ended the Cortana integration with Alexa in September 2021.
Amazon and Microsoft announced the integration of Cortana and Alexa in 2017.
Microsoft has shifted Cortana to be a productivity-focused assistant that works within Microsoft 365.
Microsoft and Amazon's digital assistants no longer work together. The integration between Cortana and Alexa ended in September 2021, though as pointed out by PCMag, no one seemed to notice. If you ask Alexa to access Cortana, Amazon's digital assistant will say, "sorry, the Cortana skill is no longer available."
"As of Sept. 18, we decided to end the Cortana on Alexa experience as it previously existed and shift our Cortana resources to focus on productivity within Microsoft 365," said a Microsoft spokesperson to PCMag.
The integration between Cortana and Alexa required several steps to work. Essentially, you would call upon one assistant to summon the other. This proved redundant in many cases as the two assistants could perform similar tasks. Since the announcement of the integration, the focus of Cortana has changed.
Microsoft repositioned Cortana as a productivity-focused digital assistant that works within Microsoft 365 apps, such as Teams and Outlook. Cortana gradually lost consumer functionality during the shift, including skills losing support in 2020. Instead, Cortana can now perform tasks such as reading your emails.
The iOS and Android apps for Cortana were retired last year. Cortana support for the Harman Kardon Invoke speaker ended in June 2021. Cortana is available on Windows 11 but isn't installed by default. It's not surprising that the integration of Alexa and Cortana ended, though it's odd that no one seemed to notice for a couple of months.
Windows Central Newsletter
Get the best of Windows Central in in your inbox, every day!
News Writer and apps editor
Sean Endicott brings nearly a decade of experience covering Microsoft and Windows news to Windows Central. He joined our team in 2017 as an app reviewer and now heads up our day-to-day news coverage. If you have a news tip or an app to review, hit him up at sean.endicott@futurenet.com (opens in new tab).
Dead for real this time. Cortana is also dead (or will be) in Outlook. No one will miss her. (I love the voice actor though. She'll be missed.) I don't want to knock MS's AI assistant efforts too much as it seems to be a tough task to get something that is actually useful and doesn't get in the way. If anyone could do it right, MS could, and they failed (though they'll try again for sure). But I can't help but feel that they didn't put enough effort into it. The reminders, the attempted mind reading, the notifications ... none of it was helpful.

Yeah.... Cortana lacks main basic functions

It's really upsetting because Cortana was way ahead in functionality compared to Google Assistant and Siri for a while (and only slightly behind Alexa). It just goes to show how essential a mobile operating system or dedicated hardware was for assistants. I had been waiting for a Microsoft answer to the Echo for years by the time the HK Invoke came out, but by then it was too late. By that point Google and Siri had caught up phones, Windows Phone was dead, and Amazon had extended functionality while cementing its dominant position in homes. One of the most frustrating things about Microsoft is watching them deploy things too early, not supporting them, letting the competition overtake them, then killing off the product.

The Cortana team were pretty much a skeleton crew and severely underfunded and resourced for the scope of the task.

I agree that their strategy for consumer offerings has been janky. But I also think consumer AI assistants aren't all that amazing to begin with. I think what Microsoft is trying to do with AI services for individuals is tough (just like nailing the OS and ecosystem for 2-in-1's). It's hard work and no one has really gotten it to a point where it's truly useful.

Well, having a mobile OS wasn't the issue. Amazon has proven that. It was Microsoft's lack of commitment to Cortona and relying on partnerships suc as, Harmon and GLASS to integrate Cortona with their own devices. Microsoft should have shifted Cortona to their own home-grown speaker device and actually push and properly promote the device.

It's my fault. I queried her in September to show my wife that you can still have her tell you what the fox says. Microsoft then cut it off after realizing someone used it.

I did suspect it was your fault.

Actually, Microsoft is pushing Microsoft Viva as the productivity Assistant. I unfortunately no longer get daily break downs from Cortana. This has been ongoing for so time.

I did not find those daily breakdowns very useful personally. Same with follow-ups (Cortana can read English but doesn't understand context. Same with SwiftKey coincidentally.) I suppose if I had a more packed schedule (I basically never do) the assistance with finding a meeting time would be good.

I noticed. I also notice how MS had slowly sabotaged Cortana. Whoever decided to end the mobile platform clearly didn't consider the full scope of ramifications that would present.

Amazon doesn't have a mobile platform and Alexa is still successful. Microsoft just needed to make a good product in the first place. They struggle with that.

Cortana was a great product, during its time. Microsoft just failed to put any real effort behind it, instead, they focused too much on it being on mobile and later PC, which most people never used. Additionally, not really opening it up for additional skills. Where Cortana could contend with Alexa and Google, it fell to the wayside. Making great products isn't their issue. They've proven they can, but it takes more than simply creating a great product, it takes commitment. My biggest issue with Microsoft is, stay out the consumer market, if you arent going to support the product to its fullest. People lose trust and confidence, despite how good a product maybe.

Luckily Cortana is not installed by default in W11.
Windows Central Newsletter
Thank you for signing up to Windows Central. You will receive a verification email shortly.
There was a problem. Please refresh the page and try again.