Cortana skills are going away as part of the updated Cortana experience
Cortana is converting to a productivity assistant, meaning Cortana skills are on the way out.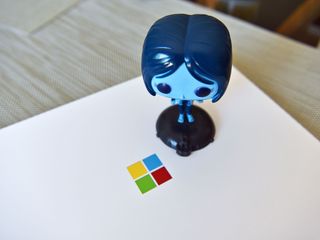 (Image credit: Windows Central)
What you need to know
Cortana skills will no longer be available in the upcoming updated Cortana experience on Windows 10.
Cortana will instead focus on productivity.
Microsoft says that "some consumer skills including music, connected home and third-party skills will no longer be available."
Cortana skills are leaving Windows 10. Microsoft announced that a new Cortana experience is on the way that focuses on productivity. The updated assistant will be able to do things like find information across Microsoft 365, help manage your schedule by giving you insights about your meetings. While Cortana will gain functionality in this update, it will lose support for Cortana skills.
Cortana skills allow you to control things and perform tasks. Some of Microsoft's top picks for skills include Xbox, FitBit, Phillips Hue, Spotify, and SmartThings/Samsung. Following the update to the new Cortana experience, Cortana skills will no longer work. Microsoft states in its announcement post of the upcoming update that "some consumer skills including music, connected home and third-party skills will no longer be available in the updated Cortana experience in Windows 10."
Microsoft's use of the word "some" is interesting here. It implies that only some consumer skills are going away, but then lists music, connected home, and third-party skills. It doesn't seem like there are any skills left once you exclude these.
In addition to Cortana skills no longer working on Windows 10, Microsoft also announced that its ending support for Cortana on older versions of Windows and that it will remove Cortana from Microsoft Launcher by the end of April.
Microsoft frames the change to a productivity-based assistant as a positive, stating, "We're excited about how these updates to Cortana will help you stay on top of things, save time and do your best work." Despite Microsoft's positive focus, some will take this news negatively.
Updated February 28, 2020: In a statement to ZDNet, a Microsoft spokesperson confirmed that you'll still be able to control smart home devices and speakers with the Cortana apps for iOS and Android. However, this same capability won't be available through the new Cortana app on Windows 10 when the 20H1 update ships. This leaves some users in a bind, as the Cortana apps for iOS and Android were discontinued in some markets at the end of January.
Windows Central Newsletter
Get the best of Windows Central in in your inbox, every day!
News Writer and apps editor
Sean Endicott brings nearly a decade of experience covering Microsoft and Windows news to Windows Central. He joined our team in 2017 as an app reviewer and now heads up our day-to-day news coverage. If you have a news tip or an app to review, hit him up at sean.endicott@futurenet.com (opens in new tab).
I think Katy Perry wrote this song for Microsoft after promoting windows phone "You change your mind like a girl changes clothes
Yeah, you, PMS like a ****, I would know
And you over think always speak cryptically
I should know that you're no good for me 'Cause you're hot then you're cold
You're yes then you're no
You're in then you're out
You're up then you're down"

So what about the Harman Kardon Invoke? Is it becoming a useless paperweight? A glorified bluetooth speaker? So much for that investment. Thank you microsoft for killing yet another useful consumer product that I bought into (windows phone, band 2, music, etc....)

I believe the Invoke will still work but I'll have to check.

That would be great, but "work" in what way?

I've got 2 Invokes so I want to know when this goes into effect

I have four of them and am hoping I can still use it

Sean, where are you going to check on whether or not Invokes will still work or not?

No joke. I've got two Invokes and use the Cortana skills every single day. I mean, what else would I possibly use it for? Microsoft is literally just killing every single consumer product in its entire portfolio; I wouldn't be the least bit surprised if the Xbox dies next.

They may be excited, but unless Cortana can offer something extremely compelling on the "productivity" within the Office app or other areas, Cortana will eventually completely fade away, unfortunately. Instead of improving the things that most people will use, they want to focus productivity? Cortana voice dictation in Office would be the most useful thing. If Microsoft was smart, about it, they should have incorporated Cortana into the Your Phone app for PC. The app's focus is to keep you from having to keep pulling out your phone, while working or whatever. They could simply say, "Hey, Cortana... Call Joe" and Cortana would use the Your Phone app to make the call. Doing this would go a long way in Cortana not disrupting the work flow and being more productive. I guess time will tell how this will go, but not really holding my breath that Cortana will not eventually be disgarded altogether.

This is WOW, I have four of these Invoke speakers and use them all the time to control lights and play music and set timers. I was always a diehard MicroSoft fan but they may have actually broken me now..

Next question, it says Cortana is moving towards Office 360, which is gear for Business, so what does that mean for setting and asking about Calendar appointments and To-Do lists for home users? Is that all gone now?

With the next Windows 10 update, April-May time frame

Cortana is dead. Just remove it from Windows already.

Won't be available when 20h1 launched does suggest it's just not ready yet so maybe 20h2

When's that? Sorry, from the name (20h2) I'm not sure how to decipher when that will be.

As a loyal Microsoft consumer (at work & home) who heavily uses Cortana connected home and music skills on Invoke speakers and Surface devices, I don't see how this is anything other than negative. My "excitement" for continuing with Microsoft products and services, such as the forth coming Neo and Duo, is much less.

Duo is Android so it is designed to be abandoned by the manufacturer! It won't really matter if you never get an operating system update. Google will keep it compatible for several years. Neo, on the other hand, I would touch that with a 1,000 foot pole.

I don't see how there's any Cortana "experience" left after this at all! Microsoft seems to be determined to have as few products and services as possible.

Will they get rid of it on 20H1? No more tinkering with the registry, please?...

This news item was enough; I've unplugged my HK Invoke and have just plugged in a new Echo Studio. It's nice to find that it connects to Outlook email and calendar and sounds great.

I have four HK Invoke so I am waiting to unplug it. Maybe it will work with the Cortana Android App or will still work with by accessing Alexa

I'm hoping what happens, should either Microsoft or Hardan Karman decide to pull the plug on Cortana on the Invoke, that they give us a migration path to either Alexa or Google Assistant.

When they said they were working closely with Google to bring Android to the Duo, I'm guessing Google probably wanted Google Assistant to have a more active role instead of Cortana. Microsoft is becoming less consumer friendly (home convenience) and more business friendly (productivity). So if I am looking for something that would be consumer friendly, I shouldn't count on Microsoft for that service. That will help me with my future purchases. Thank you for that clarification Microsoft. I finally understand.

As someone who uses their products for business, I maintain they are NOT business-friendly, and are moving in the wrong direction.

So, what they're saying is Cortana will be 100% useless. Way to go, idiots in charge at Microsoft. They are all idiots, no exceptions.

You didn't realize this was coming years ago? You really should switch to Apple. They have a much better ecosystem, it will work much better for you.

Perfect timing. Kill it right before you release the duo phone.

The effect of this on the Duo is going to be zero, as "nobody" cared about Cortana in the first place.

It actually is, much better than doing it right after people may start using it on the new device and then they drop it.

Darn shame on the consumer end, but at least Cortana isn't forgotten and is getting new features at least, its still beta and more updates will come so here's hoping Cortana will have a brighter future this time.

Didn't Microsoft release a really cool Cortana video like a year ago where they showed it working with natural speech and carrying on a conversation? What happened to that vision? They better have some really cool productivity tricks up their sleeve of Cortana will be the next Clippy.

That is the new Cortana. The video was introduced at Build 2019. It called conventional or chat based UI.

Cortana never worked well in Canada. And, i used it with Office 365, and other third party apps like, Spotify... but now, they are taking that away. They might as well shut it down. It just opens the browser anyway.

I just found this on "Users still will be able to do things like control certain smart home devices and speakers -- including the Harman Kardon Invoke -- via Cortana but only using the Cortana apps for iOS and Android, a Microsoft spokesperson confirmed when I asked. f you have an Invoke speaker, which is powered by Cortana, and you want to keep using it, you'll need Cortana for iOS or Android. Windows won't be an option for controlling it at all, the spokesperson confirmed" From Mary Jo Foley for All About Microsoft | February 28, 2020 -- 18:43 GMT (10:43 PST) | Topic: Artificial Intelligence which is good thing

What does this mean for the HK invoke?

Sounds a lot like the history/demise of Groove...Cortana is dead.

MSFT has been mentioning about Cortana's evolution for a few years now. Why do you think they worked on incorporating Alexa with it? I love my HK Invoke, but honestly the Cortana skills I can use on it were always limited. Cortana on Xbox was a cool tool but I really never used it much. I do understand MSFT's method to their madness. To use Cortana would require you to use Office 365 or some other MSFT product. More people use Office than own a HK Invoke or Cortana activated smart bulb so might as well capitalize on where the attention is. Trust me, I don't like the thought of only using my invoke via Bluetooth, but I understand the thought process behind it.

Why is anyone surprised by all of this? Microsoft is NOT a consumer focused company. They never have been. Yes, they tried for several years. But everything is now gone. Phones, MP3 players, music streaming, books. Probably more that I can't think of at the moment. And now, Cortana. It is being changed into a "productivity assistant". Whatever that means. Rest assured that it will be enterprise-focused. The consumer/home control stuff is gone. Google and Amazon own that market. As for the Invoke speaker, I expect Cortana will soon stop working there. Don't expect any support from harman/kardon. The Invoke is no longer mentioned AT ALL on their website. Not even under support. Pretty sure h/k lost a bundle on the Invoke, since thousands of them were dumped on eBay for $40, new in the box. Which makes it pretty hard to believe when you recall that the original price was $200.

Once again MS gives the finger to it's loyal consumer fans. How much more abuse do we have to take? Why can't they just off-load a completely separate consumer division responsible for Xbox and consumer versions of the upcoming Neo and Duo. Then the new company could revitalize and deploy a Cortana for consumers.

You are a Cortana's fan? Wow. Must be the only one!

Cortana hardly worked in Canada. And now, they are taking away some few skills such as, spotify that i used? How wonderful! I guess i will be using Cortana just to ask her to put PC to sleep after I'm done watching a flick in bed with Bluetooth headset on. That's all she is good for. ☻ Google AI on other hand, is just marvelous! And, so is Siri.
Windows Central Newsletter
Thank you for signing up to Windows Central. You will receive a verification email shortly.
There was a problem. Please refresh the page and try again.