Cortana support going away in Windows 10 versions at 'end-of-support' dates
You'll have to keep Windows 10 updated to keep Cortana kicking.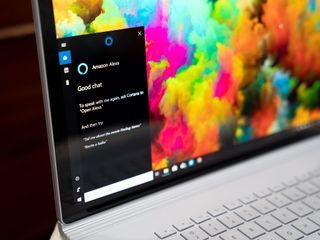 (Image credit: Windows Central)
What you need to know
Microsoft announced today that Cortana support is going away on older versions of Windows 10.
Windows 10 releases that have reached their end-of-support dates will lose access to Cortana.
Microsoft recommends you keep your PC updated to the latest version of Windows to keep Cortana.
Microsoft detailed several changes and improvements coming soon to Cortana with a focus on productivity. As part of the moves, however, the company revealed that it will drop Cortana support from older versions of Windows 10. Specifically, versions that have reached their end-of-support dates will lose Cortana.
"As part of our standard practice, we are ending support for Cortana in older versions of Windows that have reached their end-of-service dates," Microsoft says. "We recommend that customers update their devices to the latest version of Windows 10 to continue using Cortana."
The move makes sense as Microsoft transitions Cortana to more of a productivity tool, rather than an assistant. This requires a number of changes that won't make their way to older versions of Windows 10 that are no longer supported, including Windows 10 Mobile.
In addition to dropping support from older Windows 10 versions, Microsoft also revealed that it is essentially eliminating Cortana skills and Cortana will be dropped from Microsoft Launcher on Android by April.
Dan Thorp-Lancaster is the Editor in Chief for Windows Central. He began working with Windows Central as a news writer in 2014 and is obsessed with tech of all sorts. You can follow Dan on Twitter @DthorpL and Instagram @heyitsdtl. Got a hot tip? Send it to daniel.thorp-lancaster@futurenet.com.
Losing cortana is a good thing, crazy that people have to use older versions of Windows to get rid of it.

? What a heck are you talking about?
How is losing cortana a good thing?q

in most countries outside the U.s Cortana is a waste of time and even if it does do some things, those of use who do nto want to use it, still have to have it running in the background, unless we kill it completely

How are you forced to use it in newer versions?

it is always running, no way to stop it running and who knows what info it sends, Windows 10 is a spying OS as it is

It's not always running, it's just that before 2004, Cortana and Search were inside the same app so you would see Cortana in the task manager even though it was just search. In any case, 2004 splits them and you won't ever see Cortana in the task manager unless you open it. Anyway, if Microsoft really wanted to spy on you without your knowledge, they sure as heck wouldn't need a process called "Cortana" to do that. Think about that.

So this leaves the HK Invoke where exactly? Bluetooth speaker and Bing search?

I have the same question about the HK Invoke, I have four of these and everyone in my family uses them to control lights, set reminders, play music. Is that all gone now?

I don't think the Invoke Speaker is supported anymore or will not be soon (that was already announced).

"that was already announced", where and when was that announced?

Good thing I didn't buy one. I was on the edge, but didn't trust MS enough. And look, I was right... sadly.

I bought one when they were dumped on eBay for $40, brand new in the box. For that price, its a good bluetooth speaker. I didn't care about Cortana, then or now. In fact, I have never used Cortana. It is completely disabled. In the FWIW department, the Invoke can no longer be found at the Harman/Kardon website. Not even under support.

Maybe they will do the same thing they did with the Glas thermostat. Make it work with Alexa or Google.

Other announcements from Windows Central and from others like Mary Jo Foley have noted that the Invoke will continue to be supported as long as the user has Cortana on iOS or Android to manage the device with. The existing Connected Home features and music connections should continue operating as normal.

What I think is really happing with Cortana is this. MS got behind the other digital assistance and could not cobble together enough AI and API's quickly enough to keep trying to push it. Since they lost the initial push, they decided to regroup and do things in a more supportable and scalable way. Now they have rebuild the basics around productivity and other MS tech for the US only and only the very basics of Bing search for other languages. Next they will scale out all of the new Cortana productivity features to other countries over the next few years while they redevelop APIs for all of the consumer and skill functionality. Then if the Microsoft Android (I think of it as MAndroid) and Windows 10x are getting traction, they will start adding these features back into Cortana to support a new consumer push. Not to mention that Xbox and XCloud should be doing pretty good by then.

"Next they will scale out all of the new Cortana productivity features to other countries over the next few years"
I wouldn't count on this. Cortana hasn't expanded to any countries for five years, and now it's back to square one. "they will start adding these features back into Cortana to support a new consumer push"
Don't hold your breath. I'd safely bet that that story is done and over for Cortana.

Not countries but languages, it could enable everything US EN has for the rest of the languages. But yeah, it's all pretty grim until there's positive news rhst say otherwise.

Next few years ? I've waited long enough while Microsoft dropped more and more consumer features. The last straw was not able to use Cortana to set reminders. I had Zune HD, original Surface Pro, Surface 3 Pro, several Lumias, got Surface 6 Pro for my daughter. I was a MS fanboy, bing insider, W10 skip ahead. No more, Microsoft lost me as a consumer forever as MS seems to change their tune every couple of years, one is never sure what they are going to drop next. Moved to Apple - iPhone, iPad (confiscated by my wife ;), MacBook Pro, Apple TV. Now I have nice consistent consumer oriented eco system which works well together.

Enjoy the new Xbox Series X

"No more, Microsoft lost me as a consumer forever as MS seems to change their tune every couple of years, one is never sure what they are going to drop next. " Actually, what they were going to drop was always fairly obvious: Anything consumer related.

I feel sorry for you when you find out that you don't actually own your Apple products, that you merely purchased the privilege to use Apple's property.

1. Nonsense. 2. How is this different with Microsoft?

I feel sorry for you when you have to invent such an absurd statement, in a pathetic attempt to justify your irrational hatred of Apple.

Good. Now could we have a normal start menu and search like it was in Windows 7?

Cortana has already been dropped for Launcher for non-US countries. At least for Spanish.

Cortana doesn't even work in my updated Windows 10 anymore in the UK. Microsoft completely blew it, paired with it being dropped on Android. To-Do is such a clumbersome replacement.

Sad but not surprising with the popularity of Alexa and Google Home

And this is why I don't rely on much of what Microsoft has to offer. Their "long-term" strategies are pi$$ poor usually turning into just another reboot. Never used Cortana nor will I so any hikes she takes are alright by me.

Makes sense to me really, if an older version of Windows 10 gets unsupported, Cortana goes down with it unless you're up to date with the current versions of Windows 10, I don't see why people are ******** about this...

Combined with the removal of skills and removal from their Android launcher and other platforms, this looks like they are slowly shutting it down. This also means it won't work on W10M much longer.

How's this going to affect my Harmon Kardon Invoke, which I use with Spotify and Kasa? Also, how will this affect the people with the Johnson Controls GLAS?

They already replaced Cortana with Assistant or Alexa on that thermostat.

So they are cancelling Cortana forever or it is only on old versions only.

It will stop working on older unsupported versions of Windows 10.

"Cortana support going away."

Anyway Cortana is going to be dead sooner or later.

why do you say that? I use it all the time for my sports updates and reminders
Windows Central Newsletter
Get the best of Windows Central in in your inbox, every day!
Thank you for signing up to Windows Central. You will receive a verification email shortly.
There was a problem. Please refresh the page and try again.