Microsoft's Delivery Beta package tracking app appears on the Windows Store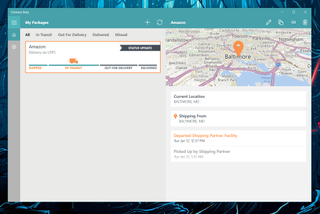 Delivery Beta, a packaging tracking app that Microsoft was reported to be working on just a short time ago, has appeared on the Windows Store and is currently available for download. The app is clearly marked "Internal Beta," but we were still able to download it on PC and our Lumia 950 and Lumia 950 XL.
The app itself is pretty basic, allowing you to do pretty much exactly as you'd expect: track incoming packages. You can filter the tracking by all packages, those currently in transit, those that have been delivered already, and missed. Under each heading, you'll see a timeline for each package that is on its way. You can also pin individual packages to your Start screen for easy access.
One theory about this app is that if Cortana tracks your package if you click on it for more detail it could hand off to this app for more information. However, that bit of info is not confirmed (although it would be nice).
The app is available for both PC and phone (mobile).
If you'd like to explore the app for yourself, you can grab it at the link below. However, you'll want to act fast, as we wouldn't be surprised if Delivery Beta goes private again before too long.
Download Delivery Beta for Windows 10 and Mobile (opens in new tab)
Windows Central Newsletter
Get the best of Windows Central in in your inbox, every day!
Dan Thorp-Lancaster is the former Editor-in-Chief of Windows Central. He began working with Windows Central, Android Central, and iMore as a news writer in 2014 and is obsessed with tech of all sorts. You can follow Dan on Twitter @DthorpL and Instagram @heyitsdtl.
Now I can track my deliveries! Thanks Microsoft!

This. Package Tracker is one of my most used apps, and it syncs between mobile and PC.

Yep, got it during the .10 sale.

Nice. I paid 10x as much. At least I didn't pay current market value. :)

Package tracker works flawlessly! Love that app!

Yeah, what he said. Great app. And it seems to have a thing going with Cortana.

Package track is my most used app. Syncs beautifully... No muss, no fuss. Wished other apps were as good ans efficient.

The issue I found with Package Tracker was that it didn't support Toll Group in Australia.

Did you email Itecture about this shortcoming?

I vaguely remember emailing them a while ago about that (providing the tracking number) and I think I got a canned response. As far as I can tell, nothing's been done since. Toll Group has multiple delivery services (Toll Express, Toll IPEC, Toll Global, etc). More info can be found on their website (http://www.toll.com.au). Posted via my Nexus 5X

Yes. Itecture's Package Tracker is the one. While this app looks nice, it doesn't (yet) sync between devices so it is worthless by comparison.

I don't get the point of this. Can't Cortana already do this?

Well, yeah, but if you have used Cortana's tracking it is very basic. There is a reason why some of us still prefer dedicated tracking apps.

Any news on the fixing of the "view links" section?

They're working on a new app for Windows 10. It should be fixed with that release.

They fixed it already but blocked it for you for spamming every article with that

Lol this so much. Irritating, isn't he?

Makes sense. I'd just prefer that Cortana be improved rather than use another app. But I ain't complaining.

Separate app is preferred because unfortunately Cortana isn't available worldwide. Cortana's traker need a lot of updates, and I hope it will track packages right from linked emails (with Office 365 Home I'm jealous to Pro users. I can see package info in web client, but not in Cortana)

Cortana should to do this kinda work. Cortana needs update.

Microsoft should put more detailed tracking info into the cortana app first... Oh Microsoft Posted via the Windows Central App for Android

Yes of course, because Cortana is available worldwide....

Yes but it would be like weather. If you click on weather in Cortana the weather app would open with more detailed info. The same would go here with packages.

Correct. Why build a new App vs improving Cortana behind the scenes to tap into already existing into shipping info to offer more granularity as required. This would in time make the OS much more attractive as a complete package vs a unit needing Apps in order to function as a smart phone.

What I've found is that Cortana pulls the information from the source, like eBay. And their tracking leaves a lot to be desired. If this app syncs to Cortana then problem solved.

Because MS have decided to NOT make Cortana available to a HUGE segment of their customers, and by tying in functions to Cortana, they would in effect be withholding said functions from these customers. If Cortana was available worldwide I'd agree with you...

Only from certain sources, like Amazon. Hopefully this expands that and automatically pulls the info from emails like Cortana.

Where do you see the ability to link it to Amazon? The main screen says to go to settings, but there is nothing there. (At least in the mobile version.)

Cortana doesn't give you proactive notices, and doesn't let you assign a name/comment to them. In a perfect world Cortana and Delivery would be integrated, such that Cortana would add packages to Delivery, and Cortana would then display tracking updates from the Delivery app.

Fingers crossed that is what they are going for here.

Perhaps Microsoft wants to give a short status of your package tracking in Cortana but if you'd like to know more they hotlink to this new app :) instead of the website of the package deliverer. Though I do agree that the estimate timeframe would be a nice addition in Cortana (atleast that's what I missed tracking a UPS-package recently (with my Display Dock in it))

The other beta is also available...authenticator: https://www.windowscentral.com/e?link=https2F%2Fclick.linksynergy.co...

Is it though? We didn't report on it since you can't actually download that one. At least I couldn't.

When are we gonna see the new Windows Central UWP app?

Been using Package Tracker for the last few years. Great app and reliable. Because this is new app is from Microsoft, may take a peek to see if better or not. Package Tracker: https://www.windowscentral.com/e?link=https2F%2Fclick.linksynergy.co...

I think Package Tracker is still more powerful (and one of my favorite apps too), but yeah, this could replace it.

Would be nice if the app automatically added the delivery to the app. We'll see.

I can't download it, there is no download button and the Store isn't opened automatically either.

I couldn't get the download link to work in Edge, so I ended up just scanning the QR code from my PC...

Just downloaded it without issue. Weird how this happens.

Not seeing the point if the app can't scour my email for packages on its own. Don't want to manually type in every package. This app isn't sleuth enough lol

Looks like a coming feature is automatically adding packages from various places, which would be much more convenient.

Why the hell are the buttons at the top of the screen?

Because that's how the world works. Why Windows user are so annoying about that? First, we don't even have apps so be happy and smile, second not even iOS users with a million apps complain about that.

The orangutang world, perhaps; not the human... Nobody can reach the top of the screen with one hand on a 5,7" display. Stupid move to cater to the iOS and Android users instead of going with what works.

I'm shocked how this app is fast.

I like the rate and review heading on the download page. I have a Lumia 950, but it says I am missing Hardware that could hinder the apps performance, there for rating is turned off for me.

And 640, where do I plug in my mouse?

I guess it requires an intel cpu.

Wont download. Says something happened on there end on the PC side.

doesn't appear on UK App Store?

I like that you don't have to enter the carrier information.

Just downloaded it, on my 640 it warns that I don't have all the hardware needed for full functionally. Required are touch, mouse and keyboard.
Well, it's a new beta, I guess we get to see this one grow too.

Just downloaded it, on my 640 it warns that I don't have all the hardware needed for full functionality. Required are touch, mouse and keyboard.
Well, it's a new beta, I guess we get to see this one grow too.

Unable to download on 1020 running .63 build.

Installed on my desktop and my 950XL, added a package to mobile, booted up desktop, and it unfortunately appears to not have cloud sync. I'll test it out a bit still but they really need to add syncing.

I'm loyal to Package Tracker, it was one of the first apps on windows phone 7. it does everything I need and syncs between desktop/tablet and my phone.

Really like Package Tracker as well

Don't see it on my Lumia 640

I was abke to download and install this app (L830).Im from canada but unfortunately canada post tracking number doesnt work on this. Doorstep app is the one I use and it works flawlessly.

Does automatic package tracking in Cortana still work for anyone? I'm on the latest Insider build and it hasn't worked for me in months (and I receive packages several times a week through Amazon and Ebay, with notifications routinely being sent to my email).

Great! Went straigth ahead and installed it on both SP3 and 950XL. Moved it to phone start screen, in Tools folder, replacing DoorStep which stopped working with UPS a while back. Thanks for the tip, WC!

I opened the store .. It says it's N/A
PLZ HELP!!.

Nice. I been using Package Tracker on Windows 8.1

I use Package Tracker for this task, and love the app (it does do everything rtelated to tracking), but without any update in about a year, even though it works just fine it has become a bit long in the tooth. No UWP, or updated UI and the whole lot. But this app even in this early stage looks fantastic! Which I must say is pretty out of character for a Microsoft app. There are areas I hope gets irones out before full release, sync not working for me right now. But in all likeness it'd become my go to parcel tracking app very soon.

It will only be successful if it actually supports more than UPS/DHL/FedX. Right now, Package Tracker is more convenient.

Tried with an international DHL package, doesn't like the tracking number...

I always use trakky free, but it doesn't work well...A TRACKING APP BY MICROSOFT? BEAUTIFUL IDEA, I love it, but I start to use it only when going out of the beta

I use Package Tracker .. Excellent synchronization between Windows phone and Windows 10 using OneDrive

I can't download this from the US Store. It says Internal Beta only...
Windows Central Newsletter
Thank you for signing up to Windows Central. You will receive a verification email shortly.
There was a problem. Please refresh the page and try again.