Microsoft reportedly working on Windows 10 Mobile upgrade advisor, remote authenticator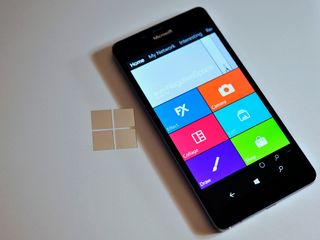 While Microsoft may have shut down a number of older apps over the past few months, the company is reportedly busy working on new ones for both Windows 10 and Windows 10 Mobile. Two sites reportedly have some inside info on three such apps, including one that has been designed to help Windows Phone 8.1 device owners upgrade to Windows 10 Mobile.
WMPU has posted information on the upgrade advisor app, which has not officially been confirmed by Microsoft. Their story states that it has been created to inform Windows Phone 8.1 device owners if their smartphone can in fact be upgraded to Windows 10 Mobile. If it can, the app can also help with freeing up internal storage space so the upgrade can proceed.
Sister site Microsoft-News.com has posted word on two more upcoming Microsoft-developed apps. One is designed to help track package deliveries, while the other is a remote PC authenticator. Here's the company's description for that latter app.
Keep in mind that all of these apps have not been officially confirmed by Microsoft as being in development. It's also possible that the company could decide not to release one or more of these apps to the public.
Source: WMPU; Microsoft-News.com
Windows Central Newsletter
Get the best of Windows Central in in your inbox, every day!
MS should release W10M unfinished now instead of releasing it unfinished months later

I'm tempted to add "worst" there, but sadly it isn't..

Roflmaocopteropolisticexpialadocious

Office lens, please, MS.
It's slow, unresponsive in W10M, but I need to use this app almost every day.

I was also stuck with Office lens then I found Camscanner!

Are they really preparing for nokia takeover?? Cos they have killed so many apps and project that nokia started.

so far nokia are just branding stuff.. I dont expect a true nokia product

Cool. The current authenticator app can be used only for two-step verification while logging in with Microsoft account email address. The new one seems more promising.

Pretty much any website that uses two factor authentication will work with the current Authenticator, I've been using it for over a year with Gmail, Microsoft and Facebook so don't know where you got that from.

I use it for Amazon as well

Amazon, the online retail website or Amazon Web Services? I really want to secure my Amazon (online store) account, but last time I checked, they don't offer 2-factor authentication.

Yeah, that Authenticator protocol is universal and used by alot of websites and services these days. Anyways this mobile authenticator is interesting, this should be baked to OS and serve as a universal digital key to unlock your Windows PC and other apps and services that needs authetication.

There does seem to be a few confused people here who think that app is the one being referred to in the article. Just wait until you use the remote authenticator app. It makes using the Microsoft Authenticator effortless. You don't have to retype the 6-digit code. Sorry, but when you're right, milk it, especially when someone mentions haters. :_)

No one here is saying those two apps are same. Read first my comment again. This thread is only about the Authenticator app. For which I said the new app looks promising. That's sufficient to differentiate b/w the two apps. Everyone else is too talking about the former app. So, in hurry of "milking it" (Lol xD), you milked yourself too. (God knows what does that even mean). You're half right - about the Account app.

Well, at least one person reading this thread got the impression that it was the same app and that it had been available for a long while already. He also mentioned something about someone (me) being a hater. Then he deleted the comment when I posted it wasn't the same app. ¯\_(ツ)_/¯

Nope. I never said that both apps were the same. You simply started blasting out that Android and iOS has this new app. I never actually said "Microsoft Account and Authenticator apps are the same" in actual words. I just said that there is one app available in the store which is pretty useful and Microsoft has not orphaned the WP users as you had said earlier. You look kinda fractious xD

Authenticator app?Link plz.

You need to go to your Microsoft account online and to additional security settings to scan a QR code to use it. Get it here: https://www.windowscentral.com/e?link=https2F%2Fclick.linksynergy.co...

To repeat: the Microsoft Account app is not the same as the Microsoft Authenticator app. ;_)

Remote authenticator aka Microsoft Account for Android? https://play.google.com/store/apps/details?id=com.microsoft.msa.authenti... Can't leave out iOS. http://microsoft-news.com/microsoft-announces-azure-authenticator-app-fo... Note the original release date of the Android app and the date of the iOS press release. Then laugh or cry depending on how you feel about Windows Phone.

'Here's how to use remote login:
1. Go to your computer and click something.
2. Something happens.
3. Magic.'

I just wish they would integrate 2 factor auth to go against your phone number like the OS does when signing into a ms app

why not just release the goddamn thing already. we're already 13 days into 2016 and W10M should've been released in december. Surely something is wrong. We don't need an upgrade advisor anyway..

Im guessing their way of relaying info from other OEMs

I think its sort of like the Get Windows 10 app. It's there to make things easier.

Hahaha. Stick Window Phone 8.1 until Window 10 Mobile Stable and not bug.

https://www.windowscentral.com/e?link=https2F%2Fclick.linksynergy.co... Ms should give more attention to WM on their websites, some minutes ago a customer sent me an email if there is outlook app for windows mobile due to the ms website (link) do not show it and it seems to hide windows phone (no windows store banner) Ms marketing staff are (3 possibilities): 1) idiots
Or
2) crazy
Or
3) incompetent Just look the link...

Well... Windows is windows, no matter what it's on now, so it's all One. We are One. One is the beginning. Are you One, Herbert? =)

If you are a developer, you are going to make an app version where people will use it the most. It's probably safe to assume at this point that more people use Outlook on Android and iOS than on W10M.

I want to be able to click the Windows 10 Upgrade Advisor's NEXT button on my 822.

gestures gestures gestures gestures :)))

~April 2015, I got windows update advisor. Three months later windows 10 was released... Three months after the phone advisor I may get w10m? Time to go back to gingerbread!

Yeah cause that's how things work..

I hope that I don't get a message that my phone is not eligible for the upgrade when I install this app eventually. Have a BLU Win JR LTE btw.

Why? This seems like a waste of resources. We alrready know that every phone that was released with WP8 CAN be updated to W10M but because of cariers, OEMs and even Microsoft, it's only going to be released on some devices with 1 GB of ram which to me doesn't make any sense considering that W10M has run fine on my 635 with 512 mbs of ram.

What the hell?? windows phone 10 is irritating me.. my mobile is nokia1320.. compar to to WP10 WP8 is 100times better after install WP10 my mobile is frequently going to hang and even it is unable to restart nothing will work... also having lots of problems like music playr not working properly, camera also.. please MS Provide proper OS because we are kepting lots of trust on MS & WP , money also compare with other mobiles this is doest have featurs also camera no clarity, no call recording option, unable to open zip files(using apps also), doest have share it.. getting frustation ..
Windows Central Newsletter
Thank you for signing up to Windows Central. You will receive a verification email shortly.
There was a problem. Please refresh the page and try again.