Why Microsoft's new Edge browser could be a true Google Chrome rival
Microsoft's Chromium-powered version of Edge, codename 'Anaheim,' leaked over the weekend, giving us a first look at what Microsoft is cooking up.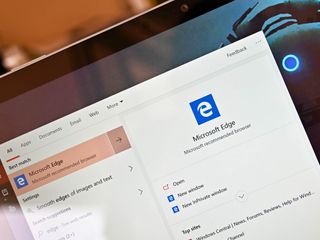 (Image credit: Windows Central)
Last weekend, an early build of Microsoft's new Chromium-powered version of Edge leaked online, giving us a first proper look at what Microsoft is working on. Announced last year, Microsoft is rebuilding Edge from the ground up using the open-source Chromium project, but many questions had been left unanswered. Now that a build has leaked, we have a much better idea of what Microsoft is doing with Edge now that it's moving to Chromium, and the early builds we've seen are more than promising.
Codenamed "Anaheim", this new version of Edge is a complete rebuild of the web browser. It's no longer based on Chakra core and doesn't use Microsoft's own rendering engine known as EdgeHTML. It uses the same rendering engine found in Chrome, meaning Edge now handles websites like YouTube and TweetDeck quickly, without any lag or performance issues. Microsoft has also managed to make Anaheim less resource intensive, using less RAM than both Chrome and the old version of Edge.
Microsoft Edge, Chromium, and Blink FAQ: Everything you need to know
An early build with real potential
The early build doesn't have all the features that Microsoft is planning for Anaheim, but it does give us a good look at the browser so far. Its UI is clean, albeit missing Fluent Design effects, which will hopefully be added over time. Edge-specific features like set tabs aside and inking onto pages aren't currently there. Microsoft hasn't committed to bringing these features to Anaheim, but it has said it is evaluating what Edge users love most about the old version and will bring them over. So expect to see things like the PDF reader and inking show up in Anaheim soon.
New features for Edge users so far include a better password manager, the ability to search through browser history, more reliable syncing across devices, tab grouping, better progressive web app (PWA) support, and Chrome extension support. The new version of Edge also supports the vast library of Chrome extensions, which can be downloaded and installed from the Chrome Web Store at the click of a button.
Regarding touch and scroll support, these early builds aren't as good as the old Edge, but they're not bad. Chromium has come a long way with touch support, and things like pinch to zoom now mostly work. I'd love to see Microsoft add back the rubber-banding effects found in the old Edge, as they give the user experience a little more personality. The lack of a rubber-banding effect when swiping around using touch or a trackpad makes the experience feel incomplete.
The browser itself is very stable. Although Anaheim has only been in development for a few months, the browser is already years ahead of the old Edge, as its Chromium base is already a mature platform. Unlike the original Edge, which often crashed and wasn't very reliable at first, this new Edge has already passed that stage of development. It's about as stable as Google Chrome is today.
Anaheim uses your Microsoft Account to sync data to the cloud, which can then be accessed when logging into the browser on other devices. While you can't use a Google Account, you can port your Chrome browsing data to the new Edge and sync it with your Microsoft Account. In fact, porting your browsing data from Chrome or the old Edge is super easy, and it's very reliable, meaning you won't miss a beat when switching browsers.
A very promising start
The new Edge is fantastic. Since the core of the browser is Chromium and Blink, Microsoft can spend more time building out surface-level features, as the engine is already being dealt with by the open-source community. this version of Edge is already the best browser Microsoft has ever made. But is it better than Chrome?
It's too early tell, of course, but in regards to performance, it should at the very least be identical to Chrome. What will make Edge stand out are the many surface-level features Microsoft builds for the browser. Things like a better PDF reader, saving tabs for later, inking, and contextual Cortana experiences are all things that could make the new Edge great. If you use Google Chrome because of its better web rendering, Edge now matches that.
I think for many Edge will now be good enough. It's essentially Google Chrome but built by Microsoft, meaning Microsoft can finally give Google a run for its money. If you're a Windows user who is not in the Google ecosystem, there's no reason to not use this new version of Edge. For existing Edge users, this new browser is a vast improvement.
Get the Windows Central Newsletter
All the latest news, reviews, and guides for Windows and Xbox diehards.