Microsoft's next Surface Pro might have a Snapdragon 8cx variant
A new Surface Pro with an ARM processor may be on the way, along with other Surface product refreshes in the fall.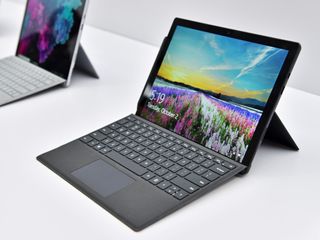 Microsoft is working on several new Surface products for the fall and into 2020, including a new Surface Laptop, Surface Book, and Surface Pro device, that will likely be announced in October. It's possible that we'll also see a new form factor in the form of a dual-screen 2-in-1, codenamed Centaurus, but that device is not expected to start shipping until sometime in 2020.
The other devices are expected to start shipping in the fall, but not much will be changing on the surface (pun intended.) According to a report from Petri, of which we can confirm, Microsoft's major hardware lineup this year is going to entail of mostly under the hood changes. The devices will, for the most part, feature the same designs, this time with USB-C instead of the Surface Connect port.
Microsoft has been testing AMD Picasso SoC versions of the next Surface Laptop, as Microsoft's relationship with Intel is reportedly on shaky grounds. It's unclear why said relationship is on thin ice, but it's likely related to Intel's recent chip shortage and lack of innovation in chip design.
More interestingly, Microsoft is testing an ARM version of the next Surface Pro as well. I've been hearing for a while now that Microsoft is working on a device codenamed Excalibur, and Petri confirms this, adding that Excalibur is the 8cx SoC that Microsoft has been working closely with Qualcomm on, and is featured in some Surface Pro 7 prototypes.
The next Surface Pro will also be an Intel device, of course, but Microsoft may opt to also sell an ARM version as well. The 8cx is said to rival that of an Intel Core i5 processor, which would fit right in with the entry level Surface Pro. It makes sense for Microsoft to ship an ARM device in the fall, as it is yet to ship a Surface PC with Windows 10 powered by ARM, even though Microsoft itself is pushing other OEMs to do so.
Finally, Petri goes on to mention that Microsoft may be planning to unveil Microsoft Teams for life at the same event, and could possibly formally announce Windows Lite. If Microsoft announces Windows Lite in October, it needs to also announce a Centaurus device alongside it to showcase to the world what Windows Lite is capable of.
What are your thoughts on the upcoming Surface lineup? Let us know in the comments.
Get the Windows Central Newsletter
All the latest news, reviews, and guides for Windows and Xbox diehards.