Surface 'Centaurus' is another dual-screen Microsoft PC with Windows Core OS
Microsoft and Intel may be working together on a new dual-screen Surface PC that's designed to kickstart a new form factor of devices with Windows Core OS.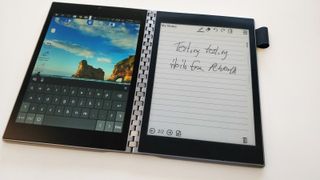 Photo credit: The Verge
Microsoft is working closely with Intel on a new dual-screen Surface device powered by Windows Core OS that's similar to Intel's Copper Harbor prototype that was revealed earlier this year. Codenamed "Centaurus," this device is akin to Microsoft's canceled Courier project, which saw the company conceptualize the idea of a digital journal in 2010. Centaurus marks the second dual-screen device we believe Microsoft is currently working on internally, the first of which is codenamed "Andromeda."
What we know about Surface 'Centaurus'
According to my sources, Microsoft has been working on Centaurus for about a year now and is hoping to announce the device in the fall of 2019. It is supposed to be the first of what Microsoft calls a dual-screen 2-in-1, a new device form factor for Windows that utilizes two screens for productivity, inking, and more.
Like it did with the Surface Pro, Microsoft is building Centaurus to show hardware makers what can be done with this new form factor. These devices are adaptable and can transform into a tablet, laptop, digital book, a bigger tablet, or somewhere in between. Since Microsoft is working closely with Intel, it should come as no surprise to hear that an Intel processor powers Centaurus. This means Centaurus will be able to run x86 apps.
I'm told that Centaurus runs a flavor of Windows Core OS, Microsoft's new modern version of Windows 10. It runs an experience that has been designed from the ground up for dual-screen devices, and as such, provides a tailored experience that takes advantage of the dual-screen setup, that can also adapt the user experience to fit other orientations the device may be usable in.
Photo credit: PC World
While Windows Core OS can run legacy Win32 programs, it can only do so if they are containerized or are from the Store. As such, Microsoft has been focused on getting as many Win32 programs into the Microsoft Store as possible during the last couple of years. This means there will be a library of Win32 programs for users to take advantage of on Windows Core OS devices like Centaurus.
Since Windows Core OS is adaptable, the user experience can change on the fly. For example, if Centaurus is being used in a tablet orientation, you can fold it into a laptop position, and the OS will adjust to provide an experience akin to a laptop. This would make one screen a keyboard and trackpad and the other screen a familiar desktop with a taskbar along the bottom and windowed apps.
What does Surface 'Centaurus' mean for Andromeda?
Surface Andromeda is believed to be a pocketable dual-screen phone, and reports from earlier this year had suggested that Microsoft was scrapping the pocketable phone idea in favor of a larger tablet form factor. This larger version is Centaurus, but we hear that Andromeda hasn't been scrapped.
I'm told that Microsoft has put Andromeda on hold and is prioritizing the release of Centaurus instead. That's all in the name of ensuring that Andromeda has a successful launch when Microsoft finally decides to re-enter the mobile market. The problem with Andromeda is that when it's being used as a phone, it's too small to take any real advantage of Win32 programs, and there aren't enough Progressive Web Apps (PWAs) or Universal Windows Platform (UWP) apps in the store for people to warrant buying one as a phone.
If Andromeda were to ship in the next year, the device would launch with no apps, just like Windows Phone did, and it would more or less be dead on arrival. Microsoft is pushing hard on PWAs to help solve this, but it's going to be a while before any of that takes hold. In the meantime, Microsoft will try to kickstart this new form factor by releasing a bigger version, one that isn't a phone and doesn't depend on UWP apps to be useful. And it will try to convince OEMs to do the same.
If this form factor proves to be popular, the idea of a pocketable version becomes much more appetizing. Microsoft's goal is to give the larger dual-screen 2-in-1 devices a little time to breathe, push developers to build UWP apps that take advantage of the dual-screen setup, and give PWAs more time to mature. Then perhaps in a couple of years, a device like Andromeda will make much more sense.
As far as I know, Microsoft doesn't have a release window for Andromeda right now. It's still being worked on internally, and Microsoft really does want to ship it eventually, but it's waiting to see how Centaurus is received first. I'm told Microsoft is also considering (but hasn't committed to) the use of Android apps on Andromeda as another way to fill the void of apps when being used as a phone, but that's something I'm still digging into at this time.
For now, Centaurus looks like it's going to be Microsoft's first foldable PC to launch during the next year. It will be the first new Surface form-factor since the Surface Laptop of 2017 and the first new form factor device for Windows since the introduction of the 2-in-1 with the Surface Pro. It will also be one of Microsoft's first Windows Core OS-powered devices to ship publicly, as Surface Hub 2X isn't expected until the 2020 timeframe. Of course, all of these dates can and will change, as nothing is set-in-stone when things are still being developed.
Get the Windows Central Newsletter
All the latest news, reviews, and guides for Windows and Xbox diehards.
Zac Bowden is a Senior Editor at Windows Central. Bringing you exclusive coverage into the world of Windows on PCs, tablets, phones, and more. Also an avid collector of rare Microsoft prototype devices! Keep in touch on Twitter: @zacbowden.