What's going on with Microsoft's Surface Andromeda device?
Recent Andromeda rumors spanning from delays to hardware overhauls, to outright cancelations have been making the rounds online. Let's try to make sense of it all.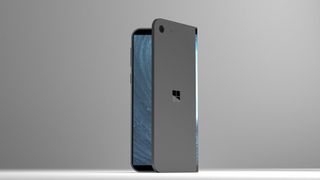 The last couple of weeks have been rife with speculation surrounding Microsoft's mythical Andromeda device, with recent rumors suggesting Microsoft is close to pulling the plug on its dual-screen mobile handset — understandably throwing optimists and die-hard fans into a panic. Everything from delays to significant hardware changes, to outright cancelations, have been spotted on the rumor mill as of late. So what's really going on?
I've been doing some digging to try and clarify some of the recent rumours reported by several news outlets, to see if we can make better sense of the situation.
ZDNet's Mary-Jo Foley recently wrote a bit about Andromeda and revealed that Microsoft has decided to delay its release to next year, and is also seriously considering canceling the device altogether. This news caught many off guard because just a few days beforehand The Verge had written a somewhat positive article that revealed internal emails describing the Andromeda project itself.
Related: For Surface Andromeda to succeed, it absolutely needs these mobile apps
Unfortunately, it is believed that the leaked emails in question are months old, from back when Terry Myerson was still in charge. Many believe that now Myerson is out, Andromeda won't ever see the light of day, which is entirely possible of course. However, I was able to confirm recently on the Windows Central Podcast that Andromeda is still alive and kicking internally, with the only bad news being that its planned release date has indeed been pushed back to next year.
Why the delay?
The question now is why? Well, according to my sources, Microsoft has decided to push back Andromeda's release to give itself more time to improve both the hardware and software. There are a whole lot of moving parts involved when it comes to Andromeda, as it's being built alongside a custom version of Windows 10 specifically for the device and form-factor itself, similar to Surface Hub and HoloLens.
The Andromeda device runs an experience tailored for its unique form-factor, which is built on top of Windows Core OS. This tailored experience is known as Andromeda OS and includes no legacy UIs and bloat. Microsoft is doing the exact same thing with Surface Hub 2, which also runs a custom tailored version of Windows Core OS known as Aruba and built specifically for that large collaborative device form factor.
Therefore, it's important to stress that Andromeda OS is unlike any version of Windows 10 available on the market today; it's an entirely new Windows OS experience powered by CShell that's built from the ground up for mobile dual-screened multitasking. Because of this, Microsoft needs more time to ensure the OS is well-baked.
Microsoft also needs more time to improve the app-gap on Andromeda, which is another cited reason for its delay. If Microsoft were to release Andromeda this year, it would do so with a platform that has more missing apps than Windows 10 Mobile did. One of the things Microsoft is doing to help combat the app problem is embracing PWAs (Progressive Web Apps.) It's even built a bot that will automatically add PWAs to the Microsoft Store without developers having to submit them first.
Of course, PWAs won't solve everything, but they should be able to step in for the most popular apps and services like Twitter, Uber, and even Spotify if it chooses. The delay gives Microsoft more time to get PWAs into the Store, and I hear Microsoft is going to use this extra time also to improve the Edge engine so that PWAs perform better and eat less battery life.
It probably goes without saying that UWP is also something Microsoft is actively pushing on Andromeda, and apps like WhatsApp are a possible contender for this, but progress on the UWP front is slow, hence the focus on PWAs. Furthermore, I'm told there are other ideas that the company is also considering to help improve the app situation on Andromeda, but I'm still digging for information on that. For now, we know that Microsoft is betting big on PWA, and rightly so.
What about the hardware?
I've seen a few rumors claim that the delay is related to hardware, with some reports suggesting that Microsoft is planning to rethink the device and even change its form-factor a bit. According to my sources, however, Microsoft is not planning to drastically change its form factor. The delay is primarily software related, as the hardware itself was more or less good to go for an October release.
The delay now means Microsoft has more time to "fine-tune" the hardware, and maybe even slip in a newer processor, depending on whether Andromeda's release lines up with Snapdragons processor roadmap of course. I understand that the latest Andromeda prototypes use Snapdragon 845/850 processors, but now Andromeda is coming later, those chips may be old by the time Microsoft is ready to launch the device.
It's worth noting that early Andromeda prototypes used a Snapdragon 835 processor, which was later switched out for the 845. So, Andromeda has already gone through one processor switch internally before, meaning it's not hard to imagine the device going through another one if needs be. A more powerful, optimized ARM chip is never a bad thing.
It's also not uncommon for a device to go through several iterations throughout development. Putting in a newer processor may require the company to rework some of the internals, but outside of that, I have not heard of any plans to dramatically change up the form-factor itself. It should still be a pocketable, pen-orientated foldable device with telephony when it ships.
So when is it coming?
The biggest question now is when can we expect it to show up? The simple, unexciting answer is "when it's ready." Windows development has changed quite a bit since the old days, and deadlines aren't as strict as they used to be. How it works now is engineers working on software features will have a set deadline for a future release of Windows 10, let's say RS5 for example. This usually happens several months to a year or so before that release is expected to ship.
This gives engineers time to build out a feature, but if the engineers find that they are unable to complete the feature in time, they can just push it back to the release coming afterward. So in our example, said feature is pushed back to RS6, and the team working on it now have an extra six months to complete it. This cycle repeats until the feature is good enough to ship. This is exactly what's happening with Windows Sets, in fact. This is partly why Microsoft is committed to two updates a year as it allows Microsoft to get features out sooner after they get pushed back.
The software delay for Andromeda is with Andromeda OS, which simply won't be ready in time for RS5 now. So, that means Microsoft's next port of call for Andromeda is RS6 (known as 19H1) in the Spring of next year. Even then, Microsoft may decide to hold on releasing it until the fall of 2019, alongside RS7 (known as 19H2) giving the company even longer to make sure everything is good to go and maybe even slip in that newer processor.
It's not plain sailing
Of course, if you've been following along with our Andromeda coverage since last year, you'll know that the possibility of Microsoft killing Andromeda is never far away. As of today, work continues on Andromeda as normal, but that doesn't mean it's plain sailing from here until it ships. Microsoft may pull the plug at any time, as is the nature of internal development.
We also still don't really know who this device is going to be for, and that's because we don't know its full feature-set yet. Who Andromeda is for is going to depend heavily on what it can do. If Microsoft can improve the app-gap, then buying Andromeda is going to evolve primarily around its capabilities, on both the software and hardware front. Hopefully we'll learn more about what it can do in the near future, but for now who Andromeda is aimed at remains a big mystery.
In short, Microsoft has delayed its Andromeda device to ensure a better product when it ships. All of the people I've spoken to on the subject agree that delaying Andromeda is nothing but a good thing. It just sucks that we're going to have to wait even longer before we get to see it for real. In the meantime, what are your thoughts on Microsoft's Andromeda project? Let us know in the comments!
Get the Windows Central Newsletter
All the latest news, reviews, and guides for Windows and Xbox diehards.
Zac Bowden is a Senior Editor at Windows Central. Bringing you exclusive coverage into the world of Windows on PCs, tablets, phones, and more. Also an avid collector of rare Microsoft prototype devices! Keep in touch on Twitter: @zacbowden.