Microsoft's OneNote team hints at new and 'more accessible' UI coming 'very soon'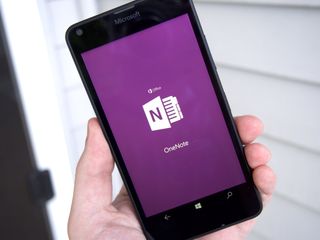 Microsoft's OneNote team held an AMA chat on Reddit today, and talked about their plans for the note-taking app. The team stated that it was working on a new user interface for the app that will be revealed soon.
The Reddit AMA session included this response to a question about if the team was working on something major that it could hint about. The answer was very interesting:
The OneNote team also discussed the differences between the desktop OneNote app and the Windows 10 version in response to one user who felt that having two separate Windows apps was confusing:
The AMA session was both informative and enteraining and you can check out all of it at Reddit's site.
Download OneNote from the Windows Store (opens in new tab)
This is exciting! We want more Windows 10 Mobile news! Also can't wait for Surface Phone with pen support.

This is General Windows 10 news, not specifically Phone news.. Although, it does apply to phone as well.

i gave you a downvote because i don't find it excitind

You're too dumb.. -_-
You obviously knew people would give you downvotes with that stupid comment right? Or maybe not. :p

I'm with you, I'm saving up for whenever it comes out. I can't imagine it doesn't have some sort of pen functionality.

No pen functionality would be a huge disappointment.

Indeed! Seriously though, Pen functionality on Windows is been here forever, it's just way too odd not to have it. On smartphones, it's really only Samsung is staking advantage of it on Android, not even Windows Phone/10 Mobile (well because we never have Galaxy Note equivalent to Windows anyway). It's time that an active digitizer to come for W10M, no less, or more. Microsoft wants productivity devices? Then at least give us digitizer pen functionality.

Samsung is adding more Win10 devices, and can't wait for Galaxy Note 7 with Win10M on it. They know MS is working on Surface Phone. Why wouldn't Samsung release such a device?

Having samsung on board would definitely be a huge boost. It's sad really, Samsung was one of the original Windows Phone OEMS. The Omnia line was Solid.

Yeah, we seriously need major OEM especially Samsung to boost the mobile platform of Windows. It's sad indeed since Omnia was really good ones but sadly they left when Android became really a huge success for them while MS still don't care about the mobile space. If W10M would have a great pen support, they can invite Samsung to release a W10M version of their Note 7 and use Samsung marketing prowess as a stylish productivity phone.

Yeah, they were but they never supported any of the devices and if they come back with no support, odd rather them pass on W10M.

Well thing is W10M at the moment isn't really a successful platform and MS recent strategy is really disappointing. There may be a bigger goal but atm its not there yet. Samsung will only look for any good result of this platform if it's viable to invest for long-term. They have Windows 10 PC devices because at least that space is where Windows still have a good reputation and Windows is competitive on pro-consumer tablets, that even Apple is chasing in. Surface Phone true or not, still a speculation if it will be a successful one. If Samsung see the competition, demand and this potential profit, then they can release a W10M device. Samsung can really release a W10M device of they want to, but why its not there likely is a business decision and because MS effort on mobile is weak, whether we accept it or not.

I sure hope you're right!

While a Note 7 would be cool, I'd even be happy with a Windows 10 based Note 4... Only thing that device was really missing was a PKB and waterproofing...

Poll: What screen size would you like to see? 5", 5.2", 5.5", 5.7", 6", 6.2", 6.2"-6.5", or 6.5"-7"??????
.....
Please choose 2

And great stereo speakers in the front.

Lumia 650's front facing speakers are AWESOME. Same with HP's Elite X3 im sure.
I love watching short videos on my 650 now just because of the FFS.

5 inch is a sweet spot of still able to use phone one-hand and have generous screen size. This should be always an option to have. 5.7 inch is not too big but still have bigger screen size, it's also good enough to be used for pen. Galaxy Note 7 is just 5.7" and its nice to hold because of smaller side bezels.

Rumours are that it's going to be more of a phablet than a phone so no 5" isn't going to cut it and would fail misserably. Has to be somewhere between 6 and 9. Posted via the Windows Central App for Android

What do mean by fail misserably? By having a 5 inch phone? What would be the reason? Personally I would be disappointed about that if the rumors are true. My take is that there should be at least 1 (out of 2 devices more likely) that is suitable for one-handed usage, without keeping all of our hands to a mobile device. Having 6 inch isn't for everybody, heck even some for with bigger hands don't always appreciate something too big. 9 inch is already a tablet category, that's just as good as having a 10 inch tablet (some like an iPad Air is actually just a 9.7 inch something). That big is really as big as the non-Pro Surface. That's no phablet at all. Though we don't have any choice if there won't be anything smaller than 6 inch....actually there is a choice, but that means it won't be that device, hopefully there will be another compelling flagship W10M device by that time. IMO, not having 5 incher device would rule out the larger demographic of smartphone (W10M) users. There is a reason why other OEMs offers a flagship device within this size. Even the fruity company released a smaller phone with updated internals (which many takes as a lazy approach) because there is actually a demand for a device that we most of us can grip.

two variants 5.5" & 6".Obviously there will be two.

5.2" and 5.5" Anything more would be difficult to carry around, although I must admit, the 950XL even with 5.7" is really great to hold because of its thinner bezels even compared to the 1520 with 6". :)

5.7" with curved display/bezel less like the s7 edge and note7

No curves. I have used an Edge and it is not fun.

6"like my current 1520, but 5.7" minimum.

We recently got the math functionality that requires (sort of) the pen. So that tells me we have a pen future on the phone as well.

Probably anti-windows 10 mobile news since its prorbably coming for iOS and android and then Windows 10 Mobile 2 years later.

I'm willing to bet iOS and Android already have the new UI. :-)

Don't know about the UI. but free version on android has a feature to lock a section with password. But In windows 10 (PC), It is available only with office 365 which is not free and in windows 10 mobile It does not have any such feature on app.

Actually it's the opposite. The Windows 10 app can lock and unlock sections, the Android version can't. Posted via the Windows Central App for Android

This is the height of hopefulness ! ;)

I love OneNote, use it a lot on my work and at home on my Surface and on my phone. Only 2 versions is indeed al little bit awkward. Love the desktop version but syncing on the metro version is a lot quicker. Sometimes they won't synchronise welk with each other...

When are we going to hear from the Cortana team? A lot of improvements need to be pushed out this year!

Still like to see Cortana in Dutch. Since they decided the Netherlands is going to be one in their core market for Windows Phone

yup, Need to see real improvements. the Cortana UI still looks a little beta. And she needs to get smarter with more natural conversations. And she needs to remember stuff in the conversation like. "How old is steve ballmer?. Where does he live?"

Search UI seriously needs a work in Cortana for W10M for real, heck its non-existent and just pulls up a Bing web search inside the container of Cortana. What was bad about the Windows Phone Search UI that is native? If there was any shortcoming on that, then just improve it, not this removing altogether for something inferior. I use Cortana often for any of my web searching needs when I was using WP8.1 because it was snappy, reliable and just works. Now since W10M, I barely open Cortana for those (not to mention crashes) simply because the web search page is simply clunky and slow to use. In terms of voice commands, it needs to work offline gain for more basic task. Now it seems I can't even turn on Wi-Fi without even connecting to the internet in the first place. That's just ridiculous.

The Cortana team went on a long leave of absence exploring the world with Joe Belfiore

They did great improvement with AU so we all can access Cortana in any region just choose the language that they want Cortana in

What do you mean? How can I make Cortana work in any region? I'd really like to know

Do you have anniversary update?

And Regional push is still really slow. I think it needs more performance optimization, stability (oh boy, Cortana crashed on W10M more than I remember from Windows ME), and regional feature-parity at least. Cortana just needs to open the API for developers and implement a native UI for Search in W10M like from Windows Phone, and more offline functionality like it used to and Cortana is pretty much usable already. Anything after is continual evolution for improvements.

That confusion of having 2 OneNote on my surface whenever I go to apps list....

I love OneNote. I do wish you could access the camera with the desktop version

You can now with the latest UWP update

I anticipate some kind of Surface mini-tablet with pen and phone capability. I expect something dramatically different from a typical smartphone. Encryption/security improvements will appeal to enterprise customers.

Maybe it will be like a mini Surface Book with thin removable keyboard. But the keyboard has software keys like the Lenovo Yoga Book.

Or Surface Note that have dual screen as thin and small as Yoga 910. Courier can still happen if Microsoft is ever interested to pick those concepts up from their research lab.

Def, I'm ready to see something crazy from MS again.

Actullay Courier type device would set it apart from everything else out there and would be a good idea. Posted via the Windows Central App for Android

Yeah, which also reminded me where Panos mentioned that he actually loved the unreleased "Surface Mini", which is said to be like a Moleskine notebook, something like that if I remember correctly. If Surface is about being a high-bar reference device that push innovations to the whole Windows platform, then having a Courier-type device is a real candidate for that. It seems we even have a necessary tech already, especially the existence of newly announced Yoga Book. Having a literally notebook-like device matches to their matra of "productivity" just perfectly. It also shows how innovative and cool MS can be, especially that even Apple these days seems already loosing their mojo for a while and it would be another great timing for MS. Surface Book turned heads of almost everybody despite of some criticisms about it, which means that the only thing they have to bother is to address the remaining shortcomings. Courier didn't get materialized because of MS bureaucracy and upper-management lack of vision or their philosophy internally, not because of the lack of talent as far as we know. I believe MS can do great stuff, its just sad that many didn't get past in their great filtration which unfortunately filters even the good stuff.

I sure hope so. I use my Stream 7 pretty often, but the quality is far from my Surface. I would love to eliminate my phone completely and just rock a Surface Mini.

Nice news. I found OneNote both in mobile and pc not so accessible.
The most "hated" feature for me is the actual implementation of blocks note. I'd like to have the blocks more accessible with fewer taps as possible and not hidden into a submenu.

This is good news. One Note is my lifeline between devices and locations. What I also want is writing recognition on Surface. Also, add the ruler from the inking apps.

In the Reddit Q&A they hinted that a ruler will be coming.

This is good (I hope). Loved the mobile version of OneNote in W8. With Windows 10, I stopped using the mobile version and just switched over to using the desktop version (which, once set up properly, can work very well on a smaller screen- I hide the ribbon and rely 95% on a custom quick access toolbar). However, it's still limiting because so much of W10 defaults to the mobile version and cannot be changed.

Finally... such a cluttered and bloated app.

I don't think you know the meaning of the words cluttered and bloated, because OneNote is anything but.

Yes, it is -- but you're certainly entitled to your own opinion, thanks for stopping by to share it :-)

How is it cluttered and bloated? The UI may be overwhelming but you can magically hide all of those if you wish to. Heck the OneNote 2016/2013 starts faster than the UWP version sometimes. The Win32 version atm is still way stable.

I much prefer the UI of the old version of the app over the Windows 10 version, and not to say the much more in-depth functionality. Recording notes, macros, add-ons, et, etc...

I really wish to return the Pie-menu. It was really joy to use on a tablet and sadly gone starting on Windows 10 versions.

Slightly OT, I have OneNote 2016 on both my desktop and SP3, but that I can see the "app" is still the default in a few instances and you can't uninstall it, or have I missed someting, I know I can set the pen to default to 2016 on the double tap on the pen, but I would make sense if you had 2016 the app got zapped

Give us a transparent tile while your at it...

Can I use my finger to draw on my onenote stuff like the other cool OSes?

Yes, you can, but pen experience is a way better

I would be happy with just the ability to sort notes based on date taken/modified.

Bring back the circle interface. It was the one thing that I truly miss about the windows 8 app. While your at it look at drawboard. When I m board scribbling on PDF files I just bounce it around the screen like a hokey puck. It was the best interface for one note and pen ever.

It's officially called a Pie menu, which isn't a new type of UI and used for years on several other softwares. But yeah, they need to bring that back since it works better for tablet usage and touch. The right-click linear menu system isn't joy to use for touch and pen. Pie menu is actually designed for pen and touch, even for a mouse it works very well with added ergonomic benefits. The only big advantage of Pie menu is it use alot of screen space than linear menu on fewer options, but the Pie menu used on OneNote MX in Windows 8.1 actually solves the screen usage and works beautifully.

It's officially called a Pie menu, which isn't a new type of UI and used for years on several other softwares. But yeah, they need to bring that back since it works better for tablet usage and touch. The right-click linear menu system isn't joy to use for touch and pen. Pie menu is actually designed for pen and touch, even for a mouse it works very well with added ergonomic benefits. The only big advantage of Pie menu is it use alot of screen space than linear menu on fewer options, but the Pie menu used on OneNote MX in Windows 8.1 actually solves the screen usage and works beautifully.

Looking forward to this. I do miss the pie menu as well...

I don't use the classic desktop app anyway. The modern UWP apps works very fine for me. Excited for the update! :)

so am I the only one who has signing in problems? I cant use the app offline anymore

Same problem here. Very annoying. Update yesterday did not fix it. Pretty useless now

Youp, i have it to. Lumia 950xl, not that i ever used it

I really hope that 'All platforms' INCLUDES Windows 10 Mobile. We need some love too. :)

Yes, the OneNote UWP app is the one Office app which has the worst feature and design parity between PC and mobile. It badly needs a ribbon with features like drawing.

Why not cheeseburger? Hamburger is plain.

Agh missed it. Would've asked Where is the feature that I saw in /build// 2016 that converted your wobbly highlight lines into uniform highlighting over your text? Or lock notes to respective txt/paragraphs... That was missing from build. *coming soon*

As for the phone UI (android or otherwise), Microsoft should merely copy the interface used by Evernote or Google Docs. Specifically, when writing....Evernote and Google Docs allows you to immediately access common things like hi-lite, bold, bullets, etc.....and all without filling the screen. Onenote requires you to back out entirely from the typing and then dive through menus.

Coming sooon haha Posted via the Windows Central App for Android

I would like to see some blatant copying of Samsung SPen features, the hover menus and such are really intuitive, and would work really well with Windows Ink's new features. Also, we need ruler feature to be in all apps, especially in Onenote. The radial menu from W8.1 would be a welcome comeback addition as well

You know what I find confusing is that Microsoft keeps changing things, always so called better but once you know where to find it, they change it. Job security I guess. Very rarely it is a real improvement.

Thats the Nutella Microsoft way. Commit to something if it does not gain traction in a month scrap the entire thing. They have done it numerous times since he has taken control. Piss poor leadership is to blame.

So.....Using microsofts "coming soon™" timeline..........the new Onenote UI that is "Coming Very Soon™" will be available on windows devices in about a year and a half.....

Need better search now that I have years of notes

Need better search now that I have years of notes

I cant believe that an android phone I own , samsung j5 , that costs 130 euros has a lot more features in a native microsoft app. I own a lumia 950 and onenote has a lot less features, no option to write with finger no colours in texts no grid.. I cant believe it. It is my fist windows 10 phone and i try to love it but microsoft dissapoints me every day.

I just want to be able to use it offline
(L930 win 10)
Windows Central Newsletter
Get the best of Windows Central in in your inbox, every day!
Thank you for signing up to Windows Central. You will receive a verification email shortly.
There was a problem. Please refresh the page and try again.