Microsoft's Sprinkles app for iOS adds some quirky machine learning fun to your photos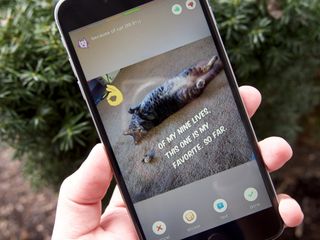 Microsoft seems to have a thing for camera and photo apps on iOS, and its latest is no exception. Called Sprinkles (opens in new tab), the app draws on the serious field of machine learning to bring some much more lighthearted fun to your photos.
Everything you can find in the Sprinkles app is reminiscent of the frills you'd find in Snapchat or Instagram Stories, which is probably no coincidence. The difference is that Sprinkles uses its machine learning prowess to analyze what's in the picture and automatically add captions, stickers or emoji. For example, the caption in the photo above was one of several offered up automatically by Sprinkles when it recognized my cat was in the picture. Pretty neat.
Suggestions aren't only limited to what's in the picture, either. You'll also get suggestions based on time of day and location, which can vary things up a little bit. Here's a look at some of the app's main highlights:
Choose from witty captions based on what's in the photo
Explore different time- and location-based captions and stickers
Search for free stickers on the web
Add stickers, emoji*, and your own captions in different styles
Auto detect your age, celeb look-a-like, and more
Place hats, mustaches, and other accessories on your selfies by face detection
Unlock more captions and stickers when you add your birth date
Enable even more content in Settings
Sprinkles definitely won't appeal to everyone, but what it does, it does well. What's particularly neat is that Sprinkles seems to bring together some of the tech we've seen in other Microsoft projects like Pics, and How-old.net. If you have an iPhone handy, you can grab Sprinkles at the App Store now to check it out. And for more of the app in action, be sure to check out a short review of the app from our friends over at iMore.
Download Sprinkles from the App Store (opens in new tab)
Windows Central Newsletter
Get the best of Windows Central in in your inbox, every day!
Dan Thorp-Lancaster is the former Editor-in-Chief of Windows Central. He began working with Windows Central, Android Central, and iMore as a news writer in 2014 and is obsessed with tech of all sorts. You can follow Dan on Twitter @DthorpL and Instagram @heyitsdtl.
I gotta say it...why is Microsoft letting its employees as part of Microsoft Garage work on worthless Apps like these and not invest that time in improving Windows 10?

Because Microsoft can't and won't control what the employees do on their spare time. No company should. But if you are for dictatorships' there are plenty of options.

The Apps are released under the Microsoft Brand though. They don't need to control what their employees are doing, as their employees can make Apps on their own time if they so please, but using company resources and company time to make projects like these doesn't make sense to me.

They are not using company time....

what? no company should control what they employees do? The world would end in 7 days if things would work like this

On their own time and their own personal projects? No, they should not control outside of their normal daily duties.

But it tells that they choose not to do stuff for Microsoft in their free time. It tells.....

That is here nor there. He stated that they should control what their employees do outside of work. Am I disappointed that is where they spend their time? Sure, absolutely. But we are not slaves to the company we work for.

Yeah. Apple would love it if their employees worked on Android only apps. They'd love it so much that they'd setup company branded distribution. /s

I like Sprinkles on my ice cream 🍨

There's definitely worse apps to have emerged from Microsoft Garage tbh. I still say it's a great idea and one app from it I still love and use every day is Sensie

I hate to ask, but is it really related to Windows? And an appropriate post for 'Windows Central'? Sure, the app maker is Microsoft, but I'm not sure why it should be posted here.

Yeah, any article ending with 'Download now from the App Store!' probably shouldn't be on this side of the website.

Huh? Wndows Central is a hub for Microsoft news, so it is related. Maybe I'll try this app and then uninstall it.

I actually thought this site was the central location to get Windows news. I go to mspoweruser to get Microsoft news but "Windows Central" implies it is a site for Windows users and articles that are not for Windows users probably should be on sites for their respective OS, even if Microsoft makes the app so that those users can download the app, otherwise, you are posting articles about apps that the Windows users cannot use. Now, if this was Microsoft Central, I wouldn't have any comment on the matter. This extends to the onslaught of the Android powered Galaxy S8 articles, Windows users want to use Windows. Most users couldn't care less about installing Microsoft apps on Android as the e users mostly don't use Android as it is a Windows site. The articles would be great for Android Central as it is an Android device and those are Android apps by Microsoft but it amounts to an annoyance at best for Windows users as it is not a device that runs Windows and the apps are not for Windows either. Now as before, if this was Microsoft Central, then I'd expect Microsoft news for all platforms but since it is currently branded a Windows site, I expect Windows news for everything running Windows.
I go to Android Central for my Android news and I read articles about the Android powered GS8 there as that is where they should be. I remember a similar thing happening when the site switched from Windows Phone Central to Windows Central which allowed coverage of Windows devices such as PC's, laptops, Xbox and so forth and that made sense. Articles about non Windows devices and apps on a Windows site isn't useful to Windows users BUT useful to Microsoft users. If this is the direction that the site is going to take, it may be time for a renaming of the site to reflect the focus on Microsoft and less focus on Windows and readers can set their expectations accordingly.

You have fair points. I meant to say that this is not Windows Phone Central but Windows Central so it fits. It would be out of place on iMore in my opinion. However I think people are forgetting that we have a lot of people here who use Windows for their PCs but not for their phones. They should count too.

I agree.

For example, how to get a GS8 to work better with Windows is related to Windows and is expected on a Windows site. Installing Microsoft apps on a GS8 isn't related to Windows and various articles about the GS8 that aren't related to Windows should be on Android Central. Those are related to Microsoft and not Windows. Installing iCloud on Windows is related to Windows and is expected on a Windows site.
This article is about an iOS app and is not related to Windows in any way for a Windows user. It is however, related to Microsoft and should either be on iMore or a Microsoft focused site which leads us to the issue of his being named Windows Central, the central place for Windows news, apps, devices and more. That's all some of us are saying. Articles not related to Windows shouldn't be on a Windows site but should be on a Microsoft site or a site for their respective OS. I have zero issue with articles with content that reflects the name of the site. When I visit Android Central, I don't expect to read about Google's iOS apps. I expect to find articles about Google's iOS apps on iMore, as an iOS user, so that I can actually take action on the article.

I don't know how long of a reader you've been on Windows Central (or previously Windows phone central), but I remember an article that came out when they transitioned names and I think they stated they would be covering news related to Microsoft as a whole than just phones. So yes the name is Windows Central but they do cover broader Microsoft news.

Agree, looks like microsoft told windows central to start selling us their services in other platforms...

I like that they post about new MS news on the other platforms.

Kinda sad to see how desperately MS is trying to be friends with apple users. We all know they don't give a crap about ms apps. There is a reason why they are not using windows pc or phone.

There are lots of Windows users who do use an iOS device, specifically an iPhone. While there are indeed many, many people who use Windows, there are very few who used Windows Phone. Therefore, there is an overlap in users, and plenty of people who use a Windows PC also use iOS. And if they enjoy using Microsoft's services, then this is an article that would be useful to them they would find while browsing for news about their PC, Xbox, of whatever else they have.

OT: If I am a Microsoft fan, what platform is better to switch to - iOS, or Android?

Neither....go with blackberry....

Given that Blackberry has been putting out only Android phones recently, so Android....

I went to iOS, largely because of the WordFlow keyboard being available on it. But all the other MS apps work great on the platform.

+1 Agreed, aside from the gimped Cortana.

And nonexistent Xbox Video.

iOS. It is secured and most stable mobile OS. Much faster than W10M. Best apps are on iOS. You have access to Apple, Microsoft, and Google's apps under one store.

If these "features" are truly useful I'd rather see them built into the camera app. No extras apps.

If these "features" are truly useful I'd rather see them built into the camera app. No extras apps.

Microsoft has no control over the iOS camera app.

And also no right to do that.....

I saw Sprinkles demoed at the Bing Insiders Tour last month and thought it was pretty neat. But I want it on my Windows 10 Mobile phone. I thought it was being released for Windows devices first. I guess they're like everyone else and going after market share.

I'm still laughing slightly at the "That's a lot of people! Is this a Bing Insiders event?" caption the app put at the end of the demo.

You were at the one in Irving? I really did like the app. I just wish we could get in on Windows phones.

THANKS for this article, although this news is from another field)
Windows Central Newsletter
Thank you for signing up to Windows Central. You will receive a verification email shortly.
There was a problem. Please refresh the page and try again.