Microsoft's Video store now connects and syncs with Disney Movies Anywhere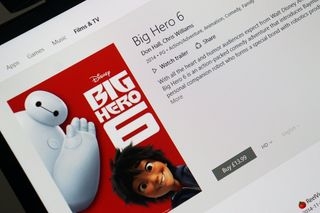 Do you reside in the US and enjoy Disney movies? You're in luck as Microsoft has signed a deal with the massive giant of entertainment to bring Disney Movies Anywhere to Microsoft Movies & TV (opens in new tab). Launching in time for the upcoming holidays, those who use the Microsoft Windows and Xbox One will be able to access the catalogue of entertainment.
All your unlocked content with Disney, including Guardians of the Galaxy, Big Hero 6, will be available on your Windows PC and Xbox One. It's worthwhile to simply link your accounts as Disney will throw in a free copy of Monsters Inc. as a thank you. For those rocking the Xbox 360, you'll be able to take advantage of a new Disney Movies Anywhere app.
All-in-all it's a really neat announcement for anyone who loves Disney movies and rely on Microsoft platforms in their home.
Via: Engadget
Rich Edmonds is Senior Editor of PC hardware at Windows Central, covering everything related to PC components and NAS. He's been involved in technology for more than a decade and knows a thing or two about the magic inside a PC chassis. You can follow him over on Twitter at @RichEdmonds.
Yeah.. no freedom , right :P

Just come on over and join the party!

Will there be any "FREE" Category in "Music" and "Films & TV" section of Store?

I love Microsoft, but as a European I'm beginning to feel a bit neglected. No Cortana, lacklustre Movie Store offering, and now things like this. It's like they're selling Windows to the world on certain premises, but then only care to deliver the icing on the cake to US residents. News flash, most Microsoft users are outside the US.

Guess what? You get an Xbox One tv tuner. And I'm pretty sure the 1TB Xbone was available first in Europe.

The 1tb xbone will be available First in the us

Microsoft sure does love the market (US) that hates 'em

This. Japan is another example.

I certainly wouldn't say the US market "hates" Microsoft. While Window Phone adoption is very low, it's one of the biggest markets for Xbox, WIndows, and their various services like Office 365.

MS is a US company. I don't know what country you're from, but take the largest company that is based there and see what's available from them in the US. Probably not the full product/service portfolio that you get locally I bet. There's a reason for that and it's not because your local company doesn't want to be in the US market.

Nothing to do with Microsoft this time. The Disney Movies Anywhere service just isn't available outside of the US on any platform. Blame Disney.

I am going to Euro Disney to punch Micky Mouse on the nose about being so US centric

Before you place blame on MS much like so many others in every single announcement post, take a moment and think about what it takes to bring this stuff to everywhere else: For example, Cortana may not be available yet because they may not have voice recognition tuned for the various accents in the region, or have not collected enough local data to make her useful. Would you like a half-baked, frustrating voice recognition experience? Then there's the Movie Store/Disney Anywhere issue. Do you know how frustratingly stupid music/movie licensing deals are? MS is only the middle-man in this deal and wouldn't any company love to have every movie from every country available to sell/rent to any country? Of course, but there's this pesky little thing called licensing and they would have negotiate that with each studio or even each movie title. Maybe the fees are way to high in a particular region to make it viable, or maybe there are other restrictions on import that we are not aware of. On the subject of fees, let's just say that movie you wanted would have cost MS $10 in various fees/taxes to bring it to you and to actually make a profit, they need to sell it for $15 while you could buy the disc for $10 locally. Would it make sense for them to even offer it? Anyways, there's a lot more at work to make everything a global marketplace down to a simple app. You and a whole bunch of people including our friends in India need to just think beyond "how come it's not available where I live" in the comments. I mean, every single post there's the same question and blame that Microsoft doesn't care about <your> country. They care and it's not in the touchy-feely sense. They care like any other large company to where they can make a profit or potentially a new market for profit. /rant

THIS! This is so true, and everyone always overlooks these important details. Assistants: Siri & Google Now are globally avaialble, but aren't exactly fine-tuned for each region, language or accent. Cortana, on the other hand, is gradually released to new markets, but only when the voice recognition, actual voice, personality, and regional information is fully supported. This allows Cortana to offer a much more personal and (in my opinion) more appealing expereince. Video/Audio Offerings: Have you ever noticed that Netflix offers certain content only in certain regions? Here's an example: In the US Netflix offers American Dad, Futurama, and Family Guy (all season avaialble for all 3). In Germany, Only Family Guy is offered, and only seasons 5 - 9 (or 10?), with Season 5 - 7 being the "uncensored/uncut" versions (which aren't shown to US subscribers). The reason for these differences is that the Production companies (i.e. DIsney, Pixar, Fox, WB, etc.) only allow their movies to be made digitally available in certain regions. This has nothing to do with the streaming services saying "hey, lets mess with people in region [x], and not make [x, y, z] avaialble". So please, before saying that Microsoft hates the rest of the world. or just doesn't care about non-US users, stop to think about the rationale behind these decisions. Note: I'm fully aware that there are some isntances where things are really regionally locked by Microsofts design (i.e. the Microsoft Band). But, that doesn't mean they intentionally do everything like this. Some things are really hard to rollout globally (all at once), such as Samsung Pay or Apple Pay (Which aren't globably available).

Who cares, apple and google got movies, why Microsoft can't

I thought Cortana was available all over Europe? Certainly in the UK.
I don't think Ms can state where the offers are available as windows phone has the largest take up in Europe and India. Left to MS i think they'd reward the loyalty.

Yea, this deal is almost certainly controlled by Disney. However, I wouldn't say that Microsoft would (nor should) reward Europe or India with "special treatment" solely based on Windows Phone performance in those regions, as this impacts all of Microsofts consumer-focused platforms (PC, Tablet, Console, and Phone), which is a significantly larger group than just Windows Phone.

I'm sorry, link which 2 accounts?....

Big hero 6 , oh god that's the best movie ever !

It's awesome, but I prefer Frozen, Wall•e & the Little Mermaid

Everyone is entitled to their own opinions, but, imho, Frozen is not in the same league as BH6, Wall-E, or the little mermaid. It is a mediocre movie with a catchy soundtrack. Also, I'm pretty sure there is some sort of child hypnosis embedded in the film. Considering as soon as it comes on my 1 yr old son used to just stop whatever he was doing and stare at the tv. Thankfully he grew out of it.

Yes, Frozen is so overrated. It should not have gotten the Oscar for Best Animated Film that year, especially when Monster's University, which was way better, wasn't even nominated. Frozen had a mediocre, predictable story (even for a kids' movie) and a decent but heavily promoted soundtrack. That's it.

Definitely a great movie. It's hard to say which Pixar/Disney movie is best though, because there are so many great ones.

Buy the disc, yours forever.. Rip, burn and stream as much and to where you like.

I buy my disc. I enter code. I am both digital and physical.

That was my dream back in 2005

This. It's even worse if you have family members who don't speak English. Here in Canada, there's really no reason for me to buy a $20 digital movie that only has English audio and only works within Microsoft's video apps: I can get the same movie on Blu-ray with multiple language audio tracks and subtitles for the same price or cheaper. The one advantage digital has over physical is that a series' Season pass lets you watch episodes right after they're released. You don't have to wait up to six months for them to be available on discs. Also, a few rare movies only released in SD on DVD are only available online in HD.

I got all Disney movies on my hdd. Hasle free stuff.

Awesome. Just add vudu please. And it's a one stop shop. Then there's 4k 30p and HDR support.

Making it U.S only just encourages piracy..... Making money on red rape. Idiotic.

Doesn't stop most US prepaid cc US dns thats all thats needed

I'm still trying to grasp the concept. So this deal with microsoft. How will it work? Do you download a plugin? Will microsoft open a second disney anywhere within the Film&TV store? Will microsoft provide a textbox to enter the KeyChest? And what happens to users who already bought a disney movie with the Film&TV? Will they get a return? So many questions?

From Disney Movies Anywhere, select "Connect Accounts". Once there you'll see a bunch of providers, one is Microsoft. Select Microsoft. It will prompt you for your MIcrosoft Login. Enter it, then confirm you want Disney to have access to your account. You're done. Open Movies & TV app on Windows 10. You will see all the prior movies purchased. If you bought from iTunes before, connect the iTunes, and those movies will now show in both iTunes AND Movies & TV. No funding needed. If you bought the identical title in two connected stores, it simply keeps one license.

If you have a disney movies anywhere account the movies show up in movies and tv on windows 10. ITs just a linking of accounts so you can use microsofts apps to play the movies. Thats all.

Umm the movies & tv app still pauses when you minimize it on the desktop and when your phone goes to lock screen or you open another app on the mobile version. I hope they're working on ironing that out while doing all this wheeling and dealing.

I don't think they should "fix" that, for me it's the expected behaviour and I would be annoyed if I had to tap pause before switching to something quickly. For those that want to "watch" a video but only actually listen to the soundtrack, then it would be great to have an option for that, I.e. New feature not a fix.

Microsoft, Just give us the option :3 I do think it's an app malfunction as it only pauses by minimizing it and not when it gets covered by another program.

Awesome for the US but can I just say I love Big Hero 6 so much.

BH6 has changed fist bumping for every kid I know - lol.

Why cant this just be worldwide than the US?!

Agreed. Microsoft is just the middle tier, not the licensor. I would think they can only distribute where Disney allows them.

It's up to Disney where their content is licensed, all Microsoft has done is enable syncing content from the Disney account which is great for users. I'd love to see this for the "Ultra Violet" service I think from Sony can't remember but I have a ton of disks with codes for that but no decent app to use them with, and no way to use it on my phone either.

Sweet now can Microsoft do this with someone to get a online book store

Since I connect my Windows 10 laptop to my large TV, I purchased Disney Short Cut Films for my little daughter, I thought by 2015 digital movies would be catching up DVD's (tech I used from 1998-2010), so you could have Chapters, audio selection, subtitle selection, extras, etc. and what a disaster I encountered, digital movies are just a DRM protected movie file which you can only open with Movies application, does not work with VLC or Windows Media Player. I'm a big Microsoft fan, but this really sucks, this is the last movie I purchase from the Microsoft Movies store. With Samsung just announcing the first UHD Blu-ray player, I hate to say this but I prefer physical discs over digital media. My future movie purchases will always be Blu-ray or UHD Blu-ray.

I purchase the Bluray/DVD/Digital packs. DVD goes in the case in the van for movies on the road, Bluray goes in the movie closet with all my movies for play on the big tv, digital goes with my digital collection that can be accessed on demand from every tv in the house via Roku or Amazon Fire Stick, or from anywhere on my tablets.

Hot damn! This is a momentous day in my family!

I'll connect it for the free digital Monsters Inc, but Vudu has become my go to for digital libraries. I can access it from Roku and Fire Stick, which I have connected to all my tvs. I think Vudu is the only service I've found that pulls in my Amazon, Disney, Ultraviolet, and Google Play collections into one place. Too many places to store digital movies, makes it confusing.

It would be awesome if I could bring the rest of my Ultra Violet collection to MS Video too.

Exactly what I was thinking!!!

Exactly. Heck, the only reason I keep buying digital movies from Vudu is because they support Ultra Violet. If Microsoft supported Ultra Violet I would buy from their store instead.

Why does everyone think because Microsoft launches a service in the US it is their fault? It is pretty clear that most people don't understand licensing contracts, etc. The issue here with Disney Movies Anywhere only being available in the US is because it is a Disney requirement, not Microsoft. This from Disney's website: "*Registration with Disney Movies Anywhere and connection for the first time with any participating provider account required. Offer subject to expiration. Movie subject to change. Void where prohibited. Disney Movies Anywhere is open to U.S. residents ​age 13+. Visit DisneyMoviesAnywhere.com for complete details & terms and conditions."

If people had over to Android Central they'd see Disney did they same deal with Amazon and Android... In fact, Rich used ~99% of the same text in that article. Very Efficient Rich!!! :) Posted via the Windows Central App for Android

If everyone understood a little bit of how licensing works, there'd be fewer comments in the comments.

Hey people, you get a FREE COPY OF MONSTER'S INC when you connect your account. I mean, why wouldn't you want to connect your accounts anyways? Here's the link: https://www.microsoft.com/en-us/movies-and-tv/disney-movies-anywhere

Oh, wish they would work on something with Ultraviolet and Vudu. I realize they aren't the same as Disney. But don't tell me it wouldn't be sweet.

Yo... Go check it out my friend. I look in Connected Accounts on Disney Movie Anywhere and what do I see? VUDU

Like Microsoft close their apps, windowscentral also loves to delete comments.

This is great news! Is something in the works with UltraViolet?
Windows Central Newsletter
Thank you for signing up to Windows Central. You will receive a verification email shortly.
There was a problem. Please refresh the page and try again.