Microsoft's Windows Phone Dev Center app shuts down, new version due in early 2016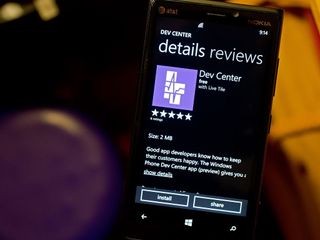 Microsoft has now retired its Dev Center app for Windows Phone, but a new version of the app should be available soon. An in-app message states an updated Dev Center app will be released in early 2016.
Microsoft first launched the Dev Center app in February 2013, allowing developers of those apps quick access to analytical data from the Windows Store. That included features like viewing download and crash trends for each of their apps, a way to read user reviews, and payment information.
With today's changes, the Dev Center app now redirects developers to Microsoft's Windows Dev Center dashboard via a web browser to view their data. The page has been optimized for mobile phone viewing. However, the message added:
Thanks to Jakub and Praveen for the tip!
Windows Central Newsletter
Get the best of Windows Central in in your inbox, every day!
At least we got official definition of soon. Not less than 2 months. No more than ~ 6 months.

This is the new "seems faster".

This was the original "seems faster". It sticks around because Microsoft perpetuates it.

Coming soon seems faster then :)

Yeah but...why take the previous one down if the new one is still In the making? Couldn't they just keep it there for a few more months?

My thoughts exactly... Might as wel leave this one running until the new version is available.

I feel the same but to be honest I don't think many people use it at all, I've used a few times but wasn't much point since if I wanted to check I would be at my desktop anyway and the website is better.

Allways they remove the old before the new one is out....
This is funny

Yeah... Happening a lot with windows 10... Mobile especially...

Satya did a tabula rasa, it s not easy for such a huge company like Mocrosoft.... It has no sense to maintain old and new, at this point wp is dead, long life windows 10 mobile :)

Hai ragione Satya ha proprio fatto tavola rasa...
Soprattutto di utenti e clienti

I think this is bascially it. They have decied the platform is dead. No need to worry about supporting what few users they have. Prsumably the 950 phones are considered "version 1.0" devices of the "New Windows Mobile" push. Sad as it is, this is probably for the best. MS have completely lost their way in mobile, and really do need to come back at it like a startup.

Better buy a finished phone like iphone or samsung

They're finshed? there's not gonna be any new releases or changes?

Few users will be upgraded for free, anyway.

WP is not dead...most of us still have wp8.1...is there even a w10m launch date? I feel like until the moment that it comes out for my phone and my carrier distributes it, It will be a long time

The data had already stopped coming in, like around Nov 6th. So leaving the app in the store as-is was an unacceptable option. I like that they provided some info and a direct link to a working option for the time being.

Never quit a job before you have another one!

New apps weren't being shown in the dev center app anyways. I stopped using it because of that. Hopefully we get a new app sooner rather than later.

The shut down of windows phone division*coming soon*

And new division *coming soon*

Coming soon, then axed like Astoria...

Doh this was really handy for seeing any crash rates and download rates. The web dashboard will be okay if it's got a responsive design

"The page has been optimized for mobile phone viewing." So.. yes, it's responsive.

Not too big of a problem them to be fair. Personally I don't have a problem with web apps. Native apps have their advantages but I don't recall any specific push notifications from this, just the loss of live tile info until the new app is out.

LOL no it isn't, have you even used that? On a phone it just "works", but not very usable...

Who wants to bet that their app "coming soon" is using the Windows Bridge for the Web Project Westminster? lol ;p

Good, I've pestered them on Twitter about this and I'm glad they're working on it. The data I'm getting in the current app is significantly different than the data I get on the website.

My biggest gripe with Microsoft: They have no problem leaving us in the dark after removing functionality while we wait for the new version.

yeah but isn't the fact that they are telling NOT leaving anyone in the dark? lol

well except of that they announce stuff and you dont know if they come or how they come or if they come at all..

actually they make you hope for a new version

LOL yeah why having something ready when it is needed :D This app was useless anyway as it was ...

Coming soon...again. and again. and again.

They have tools in place to update a wp8.1 app to win10mob. Simply doing that and changing some of the data source would be easy enough for Microsoft. What message does it send out to dev? Do they expect devs will rewrite an app from scratch too? As for 8.1 being dead, I still have about 30% of customers downloading on 8.0 platform.

Perpetual 'coming soon'. Would be fine if the users were coming soon too, but we're already here. :-(

MS needs to stop announcing updates or new things. People can't handle it.

What MS needs to do is to announce and deliver on time. And be more clever with the time of announcement and delivery with respect to the market.

When do they ever learn to publish a new app before retiring an old one? never I guess

The app 'Dev Center Essentials' is a perfect alternative! It works with the data of the new unified dashboard already :)

Gaaa! Even Microsoft is abandoning Wndows Phone!

We have released a new device called Lumia 950 with the newest and best Windows yet. F*ck the developers!

Don't let me laugh, nothing is working well, when ?

But will at&t approve it?

So that means that I won't be able to keep my phone on WP8.1 once Win10 ships, because if I'll ever need to restore it it won't be able to install my apps
Windows Central Newsletter
Thank you for signing up to Windows Central. You will receive a verification email shortly.
There was a problem. Please refresh the page and try again.