Microsoft's head for Windows phone imaging leaves for Nokia to work on VR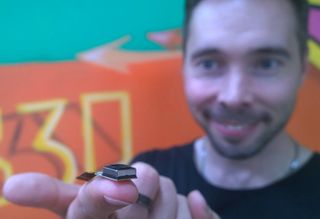 Microsoft is certainly in a long and weary transition state with Windows 10 Mobile, and now one of their chief imaging gurus is going back to Nokia.
Juha Alakarhu, who has been featured many times on Windows Central, was responsible for image oversampling, image stabilization techniques on the Lumia 920, iris scanning on the Lumia 950, and was in charge of the proprietary algorithms behind the PureView camera experience on Lumia cameras.
Alakarhu had been at Nokia since 2004 and became head of Imaging Technologies at the company in 2011. Likely his best work with the Lumias culminated in the super impressive Lumia 1020 with its 41MP camera, improved optical image stabilization, and image oversampling, all of which were firsts at a retail level for a smartphone.
Alakarhu transitioned to Microsoft during the Nokia Mobile acquisition phase and even moved to Redmond in 2015 to work on the Lumia 950 and Lumia 950 XL. His last duties at Microsoft was under the title Director, Lead Program Manager, Phones Imaging (opens in new tab):
Alakarhu announced on Twitter this morning that today was his first day at Nokia. However, he won't be working on mobile, but instead is Head of Imaging on the Ozo team. The Nokia Ozo (opens in new tab) is a "professional virtual reality camera" and costs around $60,000. No doubt there is a lot of exciting and crazy technology in that device and Alakarhu is sure to continue its commercial development.
There is also no doubt that Alakarhu's departure from Microsoft is a big blow to the prospects of Microsoft imaging. It remains to be seen if the Surface will release a phone of their own in 2017 and what camera technologies it will have on board.
The Lumia 950 and Lumia 950 XL are both now receiving new firmware, which includes improved image and video quality and improved Auto-focus performance.
Daniel Rubino is the Executive Editor of Windows Central, head reviewer, podcast co-host, and analyst. He has been covering Microsoft here since 2007, back when this site was called WMExperts (and later Windows Phone Central). His interests include Windows, Microsoft Surface, laptops, next-gen computing, and arguing with people on the internet.
As someone who got to speak with Juha at every Lumia launch, I'll greatly miss his enthusiasm for imaging. He and his team did a lot of great work, and with his departure (as well as others over the last few months), is significant. Nonetheless, I wish him nothing but the best! We all have to follow our own paths.

Daniel, what does this mean with respect to Microsoft's mobile plans? I suppose there are a lot of apps that make sense only on mobile or at the most tablets but not pPCs. With most of the mobiles stuck on 8/8.1 and MS laying off staff and important people like him leaving, where do you see MS going with mobiles in the future. Or shall we hope that Surface team has someone better in house?

The other side of the story, which is hard to get details on, is the team under Panos has been hiring their own people for mobile. As you can imagine, Juha (and some others) are a big loss, however, there is a team of people, not just one person who makes all the magic happen.

Yes and that is what i am pinning my hopes on. Hopefully MS will come with some killer and innovative hardware and add some cool new features to the OS w.r.t mobiles. Thanks for your revert.

Often bringing in new talent brings new ideas but clearly Microsoft has a great design team in-house doing other hardware already. Technically I'm sure they'll be fine, but I'm hoping they don't diminish the importance of the camera. Being able to capture the best photos whereever you is important in a consumer market but less important in business. Users like me appreciate a phone covering both things and I bet quite a few Lumia users are here because of the trend setting cameras.

Exactly! That is my main concern... Terrific camera tech has been a well know part of Lumia... I hope this focus doesn't diminish.

Imaging is equally as important in the business segment as well. I have clients in housing as well as the medical field who bought in to Microsoft (Lumia 950 and 950 XL) for the great imaging experience.

Please, show me one Windows Phone with "great design" since Lumia 830&730. This x50 series is boring. It's available only in white and black. Boring shape that isn't inovative. It looks like smartphone from china. Nebula design was "Great design". It was colorful. It was simple, but unique. It was something completely different. If Microsoft will continue with this boring white/black & aluminium nightmare, Lumia will slowly die. "Not like anybody else." -Nokia 2014

I think Ms made them plain because it assumed people would want to have more customization options and this is why they partnered with mozo from the start.

i wonder if many would buy a phone because of its colour!, as for the shape, it depends one's taste. the shape of lumias are fine for me.

I had read,I believe even here at WC that Microsoft had partnered with Canon. Is that still in play or was that just hearsay?

True and that partnership was formed several years ago.

And will this give any effects on Microsoft's mobile platform? I'm eager to know.

Partnered? I don't think so. If I remember correctly, it was only a licensing deal covering the use of patents.

Yes, it was a cross-licensing patent deal.

❓❓❓ Where did you hear this?

let's be honest, what this means is that Lumia is no longer the king of mobile photography, actually they havent been since the Lumia 1020. What this means is that no 1020 successor, or any Lumia/W10M device that focuses on new innovative imaging tech. We'll see what this new W10M team will bring to the table regarding imaging, but don't have your hopes up. this is sad

Um... Lumia isn't the king of anything. The brand is dead. Posted via the Windows Central App for Android

Actually, he is probably right. No new devices in a year?... And, we have no indication that MS will use the name for it's next devices?... No reason to down vote him.. He could be right.

actually the cameras in the 950's are still top notch and the other flagships around still have a hard time with beating that camera.

I find the 950 Camera to be absolute rubbish, both mine and my wife's take too long to load, take forever to focus, IF they focus at all, and most of the times they focus on the wrong thing anyway, dispite the focus circle being on the object i want in the picture. and taking the picture is so slow, low light conditions? forget about it? I had a 930 and my wife had the 1020, they both blew this camera out of water, hell even our 920s were far better than this piece of junk

The problem is they stopped with the software. I used to have so much pride knowing my Lumia 920 and 1020 had functionality that iPhones and Galaxy phones didn't:superior manual controls. Now I own the LG V10 and the camera UI surpasses Lumia/Microsoft camera UI in every area but the awesome Rich Capture tech. I mean I can shoot 30 second exposures and manually change the white balance and the changes made to ISO and shutter speed show in real time on the screen. Windows Camera is stuck having users basically shoot "blind" since when you change the shutter speed to 4 seconds in broad daylight unless you already know better, you won't know that the shot will be a white image until after the fact. They really are playing catch up now in an area they once lead. Just implementing panorama? Microsoft has work to do. The hardware is still probably number one or two but Microsoft has severely limited what's capable by not continuing to push the boundaries. One picture at a time -- LG V10

The V10s camera is impressive can't wait for the V20 Posted via the Windows Central App for Android (LG V10 or Nexus 5x)

The V10s camera is impressive can't wait for the V20. Posted via the Windows Central App for Android (LG V10 or Nexus 5x)

It really is. Not the best but in the top echelon especially in manual and for video controls it doesn't get any better. The V20 will probably be my next phone if LG continues their trend with the series. One picture at a time -- LG V10

The V10 set out to be a top notch contender in photography. But then when you don't have an app issue you can concentrate on hardware tech. With Microsoft targeting the business sector, I highly doubt a best in class camera is a top concern anymore.

I totally agree with you. Juha Alakarhu was like the Steve Jobs for Nokia Lumia's imaging tech. Let's say Microsoft has a team for the mobile department. But without geniuses like Juha, it will be difficult to create something that will blow our minds away in terms of smartphone photography, like what Pureview did to the previous Lumias. Admit it guys. Even the iPhones transitioned from being a model for mobile phones to being a follower after Steve Job's era was gone. The Lumia line and its Pureview tech will be dead. The next Surface/Microsoft phone will be just like what the current Surface products are - a premium model for other companies to follow, innovate, etc whatever they want to do with it.

It is the lame excuse for consolation

One thing for sure... If there is a Surface Phone, and it is "far" into development, ole boy probably had a ton of influence on It's imaging abilities.. Basically, any new high end device to be released before summer 2017 would have a great camera lead by his expertise. So, the Surface Phone 1 should be safe......
.....
Not, not sure how that would affect a "Surface Phone 2"

I wouldn't count on that. If you observed from past releases of all the leading camera phones, image processing algorithms are typically among the last things to be finalized prior to the phone being launched, and there would be major updates even after launch. I think the 950 is truly the last in the line of great camera phones from Microsoft...

A good IPA is useless if you don't have a great sensor.

There is always someone just as smart/eager to fill a hole. Everyone is replaceable and more time than not it is a good thing.

To be honest microsoft didn't use his team wisely. Camera in 8.1 was way way better than now what we have in windows 10. I have some old snaps from my lumia 640. They are gem.

Lumia 950 XL HDR mode in Windows 10 is great. It takes better picture than my iPhone 6S+

Dear Daniel, this news section is incomplete. This came as the result of announcement of job cuts that belong to the mobile department and most of them belong to the finland region. Microsoft has just sold out the lumia mobile dump of finland to foxconn (approx $250 million not sure) which prompted him to go and others.

Folks caliber of Juha choose where they work. But surely he has been out for some time already considering embargos and such. Btw when is Belfiore coming back, cruise soon over? :)

Lol I haven't seen that guy for a while. Posted via the Windows Central App for Android

Indeed, a big loss for MS and a great re-gain for Nokia! "It remains to be seen if the Surface will release a phone of their own in 2017 and what camera technologies it will have on board." Hmm. Do I detect less confidence than before on the Surface coming out in 2017? ;) [Yes, just trying to see if you have any new info]

I would guess that this pre-surface hp phone decides whether MS calls it quits regarding any new hardware and continuation of W10M development.

if that is the case, might as well say "adios WP/W10M, it was fun while it lasted!". I honestly doubt the HP phone will have any significant sales anytime soon/quick.

If you watched the promotional video, HP made that phone to meet interest from enterprise. Nonetheless, Windows fans who buy HP PCs, will buy the phone as well if they like it

Ues, I know they say that and that they designed some if the features based on that feedback. This is good and increases the chances of the device a little bit. However, interest and desires/feature requests =/ actual sales. Further, we have no indication as to how many companies this feedback was from. Finally, virtually every single company in the world that has a mobile infrastructure in place has already invested in it, and in huge majority of the cases it is either Android or iOS based. So it will take a lot of convincing for them to switch to W10M, even when taking into account their PCs most likely run on Windows. All in all I still fear.the device will not sell in very high numbers. The most important thing would be for it to sell enough for HP to want to make follow up devices. Posted via the Windows Central App for Android

Do you think that Microsoft can still be the king in camera as they were with the 950? I sure hope so. Posted via the Windows Central App for Android

Yeah I wish him all the best :)
GooD Bye our Super Camera Man

Daniel: Do you have any update specifically on the imaging aspects of upcoming 'suface phone'? Which team is leading it, and is this one area where Microsoft aims to really improve upon? OR it being more of an 'enterprise' phone, it may have a similar (or incrementally better) camera capability than the Lumia 950 and 950XL?

Another step away from the Nokia Legacy :/

Anyway nice to see good news for Nokia post Windows

Hey kid ! you don't know what you are saying.

Yes, Nadella should be dumped! He knows nothing about quality!

lol. What are you talking about? He's gonna make windows great again

there's no great windows without great devices (sarcasm)

With great devices comes good market share

This is not a football team where you sack managers at will. This is serious business.

and serious businesses need to keep its best employees

How do you know Microsoft didn't try and keep him? Maybe the project Nokia offered him was his dream project? You can't force employees to stay. They come and go, it's just part of life. Can't blame Microsoft for something they don't really have a say in Posted via the Windows Central App for Android

Yeah, instead of givinig this guy a nice paycheck to keep him and make awesome devices that sell, the dump 26 billion to a **** website with no income potential at all. GREAT BUSINESS PLAN NUTELLA! One CEO to RUIN THEM ALL!....

I'd bet my paycheck this guy made boatloads at MS. Money only goes so far. You have no idea what his reasons are for leaving, and no idea what MS did to try and keep him. Don't go faulting MS when it's impossible for us to know all the details

Have you seen the BILLIONS that football moves? Yeah, football by now is as serious a business as this. Actually, it's worse for a manager to get sacked as they normally earn 10 times more than tech workers (because "reasons") and so the loss of the job has a greater impact (specially on those managers who don't know how to manage finances, which is like 90% of them).

3 managers in 3 season is fun for the owners, nothing serious about it.

3 managers in 3 season is fun for the owners, nothing serious about it.

and in big business, leaders and "sacked" all the time. sports and business are the same. the team is the product. if the product isn't bringing in revenue or drawing interest, then heads will roll. The coach, the team President, the QB...someone pays. ALL pro sports are businesses, that bring in millions, to billions of dollars. they aren't that far off other than the product they offer

Oh shut up! I've had interaction with a few microsoft employees and they all agree to the fact that under Satya, everything improved drastically. There's a world beyond Lumia
#makeMicrosoftGreatAgain

Nope Posted via the Windows Central App for Android

Only phones have declined while all of other divisions of MS brought huge profits... so Nadella should leave??????? I think you personally hate Nadella!!!!

That's the way to retrench!!!! /s

Well, nothing goes forever. Definitely wish him luck at saving the OZONes;-). Ein bisschen Spaß darf sein wa?

I hope we find out who is replacing him. The losses are outweighing gains. It isn't giving me much hope for future devices

I think something people tend to forget when commenting negatively on news like this is that they themselves have probably moved from job to job after a while of being there, even if they had a good experience there. Not everyone, but almost certainly a majority. That said, I'd like to thank him for his contributions to making my phone awesome, and wish him all the best with his future!

Very well said Jessica. This is the perspective we need to have along with if he was that good maybe the next will be veen better. For example. He was great to have and maybe part of why Nokia was acquired but....now MS is looking to something else that maybe he felt he did not fit into.

I will wait for the DJCBS comments about this amazing development for future NOKIA Android devices. Looks like Surface phone will not beat any future Nokia Android in the camera department.... Good luck Windows Phone fanboys but my Nokia Lumia 1520 is never getting that cancer named Windows 10 Mobile.

How about read how he is head of imaging for OZO and not mobile? Sticking to reality and not fantasy is a good start before leaving such a bold and inflammatory comment here. By the way, taking a dig at "Windows Phone fanboys" while going to the other extreme does not make you look like a rational actor, it makes you look like a zealot.

*Insert here comment about this amazing development for future NOKIA Android devices* ;P

A nokia feature phone will be the surface phone because at least you will be able to purchase the feature phone where as the surface phone will ever only be vaporware!

So, what has that Nokia purchase left MS with? The CEO they got is gone. The Lumia name seems to be gone. The Nokia brand is gone. The biggest feather in the cap of the hardware--imaging--has lost its leader. The feature phone business was sent packing. The build quality of devices is out the window. Layoffs from the mobile division have been huge. Really, what is left from Nokia at Microsoft's mobile division? Other than the well-received face of the Surface team, what talent do we put our faith in for future MS devices? Just seems like they bought Nokia's phone division to write off Lumias and hand over severance packages, at this point.

What happened was a change of leadership at Microsoft, who decided to basically undo/write off the Nokia deal. It came out later that Ballmer was nearly alone on his desire to buy the mobile division and many execs were against the idea. Now that Ballmer is gone, the company is dumping the hardware aspect of Mobile. It would be similar if Microsoft bought Lenovo, I suppose. Microsoft has firmly decided to not be in the hardware business save for a few "halo" devices. Surface, HoloLens and even Band are supposed to be platform demonstration devices, not full-range products. Just goes to show that not every decision made by a company is supported by the leaders.

Basically, Ctrl + Z happened

Minus about $7B. No biggie. :-)

"Other than the well-received face of the Surface team, what talent do we put our faith in for future MS devices?" What other Microsoft hardware isn't stellar besides the current Lumia brand? As someone who prefers MS's products, one thing that annoys me is the fans who are so caught up with legacy. Move forward. Create better opportunities. Capitalize. Rinse, wash, repeat. Life's simple, folks!

Xbox is losing, phones lost, Surface is stalling with numerous issues, bands are breaking up, HoloLense is not a commercial product any time soon.. Well perhaps mouses and keyboards are fine.

Damn..the dude is holding a Yellow 1520 like my broken one (cracked screen. too many drops). Hope this Red 1520 holds better.

Sadly, but true. My Lumia 1520's screen was broken, too.

I always wanted the green one...looked so awesome...

It is, I'm swiping this comment on it now ; )

I got my red 1520 fully working as alarmclock and gaming, true masterpiece from Nokia. 1520 is as good as my main 950XL

It is not the Red 1520 that needs to hold better but rather according to your comment, it sounds like you need to hold the Red 1520 better than you held your yellow 1520.

Yellow Lumia didn't have a tempered glass screen protector. Red Lumia does.

Here goes our camera, one feature still keeping some of us here

Possibly. Let's not also forget that Apple, Samsung, and LG have all made huge strides in mobile imaging lately. It is not isolated to a single company any longer, moreover, it is a less distinguishing feature than it was two years ago.

But still, Lumia's camera has got a name for itself in the market. A Lumia takes much better photos than a similarly priced Lumia. My friends are still blown away by the picture quality of the 950XL over the c**p that is iphone 6s.

I routinely call out the iPhone's camera as not being that good, but here's the thing: everyone else thinks it is and they have their messaging/media down to promote it.

I have both the 1020 and iphone 6s. The camera on the 6s is NOT as good as the 1020. simple. However, EVERY OTHER ASPECT of the iphone kills windows. So, Daniel you really think this guy is NOT going to have a hand in the development of the cameras on the new phones? if you think that, I have some nice sunny beachside property to sell you near tuktoyaktuk you might be interested in.

that's true but also because its been 2 yrs since MS bought Nokia's hardware division and stopped bringing phones out with distinguishing features. Maclaren comes to mind, even though it was not ready it would still have given much news time and probably improved later on with updates like its done with windows 10 mobile.
also apple/Samsung/lg only took the innovative features nokia/wp had and built it for ios/android.
Before 920 came in who even heard of OIS for phones? Late 2013 released 1520 still takes hell of a lot better pictures than high end phones till 2015. only now in 2016 released Samsung gs7 and couple other bests 1520. I might be wrong but that's my observation sofar
just my 2 cents

Yeah bro I couldn't agree more that the NOKIA Lumia 1520 got beaten after more than 2 years.
To me it's still the best camera I ever used because of it's HDR "Rich Capture" mode. Unfortunately W10M screwed it

yup i agree about the camera still but I would not say "its screwed" just yet. there are pros and cons to both 8.1 and w10m and so far seems like once w10m is ready it "should" be loads better. it is improving at a steady rate and that's what is needed. so by the time surface phone "surfaces" we should have an amazing OS and the backing UWP platform which neither 8.1 or 7.5 ever managed

once w10m is ready? are you joking? it reached it's first big update in 2nd of august and it's not ready? :)))) how pathetic :))) MS seems to be unable to get things done

That's correct, but MS has to start over with the camera now, I really really doubt anyone from MS knows how to continue the work Juha has done so far. And we all know what quality comes out when MS starts over with something.

That's correct, but let's not forget that we do not know if anyone from MS is technically able to continue the work on what Juha has left there, and there are 90% chances MS will have to start over in camera department. Well, we all know what kind of quality comes out when MS starts over on things.

Marks the end of the era of the Lumia phones, focused on pictures. With the focus on enterprise services, makes all the sense. Good luck for him.

Have you seen Samsung's devices? That era was already gone. Nothing changes for end users of Lumia cameras

Sad news. The camera in my 950 is definitely the best that I ever used in a smartphone. IF there will be a Surface phone in 2017, it will indeed be interesting to see what kind of camera it features.

Nokia always had the better cameras and I came to wp because of this and differences between this and android/ios. there are still other differentiating features
but this is quite bad for future phones. hopefully surface has good optics when released.

End of an Era, yes, I agreed.

Damian Dinning and Alarkuhu Juha were two of the greatest innovators and led the contributions in Imaging at Nokia. I have much respect for both of them and all that they have done to further the progression of smartphone imaging by leaps and bounds. Nokia is getting a jewel with Juha's return. I wish Damian the best of success in his career at Jaguar Land Rover and would love to see some type of flagship imaging device from the old Imaging team at Nokia. Every photo I take with my 42.4MP Sony a7RII with a f1.8 Zeiss lens (not related to Nokia or their imaging guru's just Zeiss and over 41MP and ability to crop/reframe photos) makes me think of the 808 PureView/1020 and the great contributions from what was the best and most innovative imaging team ever assembled for smartphone photography. Juha, thanks for all of your contributions throughout the years and for your part in the latest camera updates for the Lumia 950 and 950XL. Time to power on my Nokia N8, Nokia 808 PureView and Lumia 1020 and snap a few photos for old times sake

My 1020 is homage to you and your teams great work Juha(though I've ruined it by sticking win10m). Thank you for the absolutely mind blowing pics. Wish you all the best for the future. Though this a big loss, I have faith in the work Panos' team have done with the Surface line to expect the tech behind Juha's creations to still be in and evolved in the rumoured surface phone.

I have zero faith in MS to deliver something of quality on their own.

Hmmmm, so I guess the Surface Pro/Book and Hololens are rubbish products? Don't get me wrong losing Juha is a massive loss but don't go as far as to give MS no credit.

i wait to see how good the next lumia phone camera is, if worse than i will get lumia 950/xl

There is no next Lumia. Posted via the Windows Central App for Android

Why do people downvote the guy? There is no more Lumia.

I saw his departure coming some time ago. True shame, he always seemed like the greatest ad for photo quality. Went out this weekend, as usual, the other 5 people all had iPhones. They took a few photos, but every time they had a snapping session, all insisted that I use mine. The 950XL just always caught a better image, possibly some were flukes, but they loved them.

I have the same experience. Everyone is taking pictures, but they always want me to send them mine. The photos just seem to have better clarity.

It is getting harder and harder to be optimistic about the future of Windows Mobile for consumers... And it is a surprising direction change considering that Windows Phone 8 had over 10% market share (and was growing) in Europe.

"However, he won't be working on mobile, but instead is Head of Imaging on the Ozo team. " Not directly. However, the OZO Team is the current responsible for working on imaging technologies at Nokia and the upcoming Nokia phones will obviously use the work of the imaging R&D at Nokia Tech, ie. the OZO Team. And if we consider Nokia's push on VR, it's also likely that they'll want to leverage their work on VR unto their phones too. And I would also expect to see the OZO brand expand within the VR segment. It's not unlikely to see a Nokia smartphone with OZO branding on the camera. After all, let us remember that Microsoft bought the "PureView" branding and so Nokia will likely want to replace it. Besides, it would make no sense for Nokia to have two imaging departments within the same division. As for the future of cameras on Microsoft phones, this would be a good time to remind people that Microsoft was NOT developing mobile imaging themselves but rather using the technology they licensed from Nokia. In that sense, nothing prevents Microsoft from continuing to license Nokia's imaging patents. Will the absence of Juha mean a hit on the quality of the implementation? Probably. But as much as Juha is an awesome guy, he's not irreplaceable. No one is. Microsoft CAN find people equally qualified to implement Nokia's technology into their phones. The only question that remains is: is Microsoft interested at all in continuing with the camera prowess on hypothetical future phones that won't be aimed at consumers but enterprise?

Good to know that DJCBS...will hope for a future phone from MS with significant imaging abilities...
But now am interested in Nokia's android as well...i really hope that they can differentiate themselves with the UX and regular updates...:) Also hoping that if windows takes off one day, Nokia comes back to windows once again...probably years off or never...but here's hoping... :D

Yeah, I hope that too once again

Now it's officially over. RIP Windows phones.

As long as you are here, it's not over...and look, you're still here.

And he's still drunk. Get him home.

Enterprise, enterprise, enterprise no need for camera tech in MS products, Nokia though, good move by Juha, looking forward to Nokia phones with Ozo-team behind.

I'm an IT director and at least in my company camera quality is important and that's why all of my field guys/girls have Lumia phones.

I agree. I use my Lumia as a work phone and everyone on my team needs a high quality camera on their mobile device. Enterprise doesnt mean it shoudlnt have a great camera. I do not know why everyone says that.

There are lot of guys here who are blaming nadella for all this. He is just cleaning what Ballmer left to clean. He broke all the shackles and shown the world that microsoft is not just about windows. There are lot of credentials that should be attached to a tech company like Microsoft not just a OS. You can freely compare 2012 and present, microsoft has more consumer tech products in the market and outer world( other than tech guys) are now aware of the fact microsoft just don't make windows. We have surface pro, book, phone, xbox, band, hub, hololens, UWP apps, apps to the cross platforms and many more. I wonder what would have happened to all this. Apart from this, microsoft has made profit in the last 2 years. It was loss making company before this for 2 years. Board of directors did not took a horrible decisions as the guys here are projecting just being a failure in mobile section ( although not completely).

Xbox is Ballmer Surface is Ballmer Hololens is Ballmer UWP is Ballmer Band is Ballmer Nokia writeoff is Nadella!!!!

But shame, microsoft was still trending negatively in share market..... Lol.

Sadly, no profit and no progress made on those so called things initiated by Ballmer. You have to have a vision how to pursue your work in future which didn't happen and unfortunately he had to go.

And Microsoft is actually back on the map with the rest of the 98% of mobile users thanks to Nadella... Also with exception to the beginnings of xbox and surface, lets not assume that Nadella did not have a hand in how the rest developed...

Don't forget that Nadella worked for Ballmer when Azure was created, so Azure which is on a roll is also Ballmer! As a matter of fact, all cloud services are Ballmer's: Office 365, OneDrive, SharePoint, Skype, etc.

Ballmer said that UWP was a terrible idea and opposed it after he left (http://mspoweruser.com/179829-2/). I don't think you're right that all of those things are Ballmer, at least not UWP. I think the full unification of one Windows 10 everywhere is all Nadella.

Most of the time only indians seems to be defending Nadella. Are you blind guys?? Just because he is of the same ethnicity, it does not mean you have to be so freakin blind on him :))). Nadella is to blame for all the crap quality we get from MS these days!

Hence proved...
All the goodness for consumers was of Nokia and has gone away with Nokia!

Everyone is leaving but Where is Joe Belfiore ??' Using his iPhone.... LOL

Good question. Where he is. ☺ Never heard of him after the sabbatical take.

Good question. Where he is. ☺ Never heard of him after the sabbatical take.

True, he needs to leave too!

Hes busy testing all the apps MS bringing to the iPhone.

I think I will go where Juha goes:) CAMERA is the best thing in phone, it is even much more important than the overrated fark iOS/Android apps

Is it me only or anybody else can see it too that Nokia is coming back big time...

I think they can make themselves a presence in the Android world, but I doubt they will dominate.

Being a Finn, it isn't much surprising. Tho a blow for Microsoft. But then again we know Microsoft's current direction is enterprise oriented and even if Surface phone comes to be true, it won't have a stellar camera (conjecture). Mobile imaging will remain a enthusiast consumer market. I'm still bummed for not having a Lumia 1020 successor with better hardware specs and windows 10.

Nokia will bring true 1020 successor, Surface phone will anyways be enterprise focused + ll have limited availability outside US just like the rest of the surface line.

Everytime when the Surface phone is mentioned it is connected with IF IT WILL RELEASE. I mean everyone one working here must have some info from the inside, can't they just confirm about it. Majority of people have their heart upon something which is not sure. I think it is mostly sure but due to unrelease of McLaren and other things, they just want that we do not raise our hopes too high.

Unless Microsoft has something revolutionary, the Surface Phone won't be released. They know it is a waste of time otherwise. Posted via the Windows Central App for Android

They had Surface Mini's in boxes ready to be shipped and the product still got cancelled! So until Microsoft officially anounces the release of this phone, there's no point in confirming anything.

Thinking logically, I honestly don't know what Microsoft would have to gain from releasing a purported Surface phone. Their focus and growth on mobile enterprise apps is moving up at a fast clip, just having presence on iOS and Android, and given the miniscule Windows 10 Mobile usage stats.....well, you know.

It's all doom and gloom. Same old comments, same old trolls...I've got plenty of lithium and lamotrigine if these depressed trolls need some meds......lol

Sometimes the truth hurts! This time, the Truth is MS has no intentions on releasing a surface phone, or work on mobile.

starting fresh again let see what can they do under this new leadership

My advice to everyone complaining: get yourselves a nice iPhone or an Android phone and after a few days of playing with it you'll soon forget all about Windows 10 Mobile.

I have both and still come back. In fact I use a Lumia 950, iPhone 6, and Galaxy S6 every day. Except apps, the 950 has the most to offer. However; unless Microsoft does something I can definitely see that changing.

I use an Android every day. I just made the full switch it a Nexus 6 and after two weeks came back to my Lumia 830.

This is like cutting down a tree... once you do, you don't notice it was ever there.

"Look guys, here's panorama mode. Ok bye!"

the ole slight of hand trick...Here's panorama mode, now. bye, we are not doing anything else with phones! have fun!

What does it mean for pureview cams? Can we expect the 950 successor to have a mediocre camera now?

Yeah, something like that. Do you honestly see anyone at MS being capable of continuing the work Juha has done? :) I don't, all I see at MS are interns, no experienced people left to work, layoffs and Nadella's obsession of cutting costs.

The 950 successor will have a full sized 35mm sensor, Dslr capabilites, infrared, and night vision. Plus have 5 tb of storage.

I guess the focus will be on the enterprise market from now on. I guess MS thinks that the market is saturated and want to play to their strengths

I like my Lumia 1520. With the Win10 move, the camera app doesn't seem to be as 'smart' as it once was in taking low light fotos. My fotos aren't as good as they once were.. and the camera is definitely slower. Yesterday, I used someone's 1 year old middle of the pack Samsung phone (can't remember the model number) and was blown away by the ease and speed of the camera and the resulting quality of the photos.

You can always go back to 8.1

Thanks for the memories Juha and all the best back at Nokia, and home if you moved!

I'm waiting for the master's return
Looking at you NOKIA
I'm living in "Fantasy" as Daniel Rubino said

This is sad news but not too surprising. Juha and the team are responsible for some great imaging technology and the defining feature of the Lumia brand for many. I wish him the best back at Nokia and its a shame that many people were treated in such a way (didn't Juha move to the US as a result of the acquisition?).

I'm hoping to stick to Windows Mobile for, among many other things, the camera is a huge deal for me. And regardless of how many other devices I have tried, I have come to be comfortable here. Let's hope that doesn't change :) Also, may be a Nokia device on the side wouldn't be ao bad.

I just hope that Microsoft continues to put a priority on image quality in whatever mobile phone offerings they create. I can't do without a cutting edge camera anymore (950 camera it's pretty great), and if the next phone lacks it that would certainly be the final straw. I miss the image quality of my 1020, but not it's pokiness.

1. Xbox is loosing what?
2. Discussed Lumia... which most of MS was against. And why the original post exists. Your point is moot.
3. Surface surged the category and by definition of stalling, it implies moving but slowing but the first step in that is moving at all... which was the objective of the device in the first place. It accomplished the goal it set out to accomplish aka successful.
4. HoloLens agreed. Does not mean that makes it not doing well though in its development, well because... it is. Plus the category defining halo surface goal applies here.
5. Yes, fine.
6. Band. Same as surface. Designed to be halo product, being the platform representative for Ms health, which it is. Design to showcase the plethora of sensors that Ms is licensing out for other products and is does a good job showcasing the tech and its possibilities. Remember the random launching of the product. It wasn't meant to be a consumer hit. The fact that it became one means it was successful.
Added 6 after realizing that I accidentally skipped band. If you're going to be one at all, be a harlot elsewhere , please. Thanks.

If anything Xbox is doing better than WM. Posted via the Windows Central App for Android (LG V10 or Nexus 5x)

how many people still work at windows phone division? did ms just buy nokia to destroy most iconic company from finland? for laughs?

Nokia Mobile was already well on it's way down when Elop was shuffled in . They missed the boat completely in the 2008/2009 years (early android/ios years) and took a large gamble with Maemo/Meego that didn't work. Remember, they still ran Symbian at the time on their top models when it was clear that it did not have a future as a Smartphone OS. As a last ditch resort they sold their soul to Elop & Ballmer but in all honesty Nokia Mobile was already sinking at that point.
You can search for 'Elop burning platform' if you want to read about the industry's state at that point in time.. The smartest thing they did was licensing out the Nokia brand name for a limited time (hence the Microsoft Mobile branded x40 and x50 series) and making Microsoft support the low end Asha series. Remember those?

Not saying I'm switching back to android anytime soon but I can't wait to see the new Nokia flagship phones coming later this year! Probably a true 920/1020 successor coming. Thanks MS!

I hope they bring that 41 megapixel sensor to Android with Snapdragon 821! Please. One picture at a time -- LG V10

Hey Daniel, I remember a few months back (maybe even a year) you telling me that I don't see "behind the scenes" (naturally) and that are great things coming out for MS mobile. Not to be rude, but, I'm not really seeing anything. Bare bones 3rd party support, massive layoffs, a new HP model that's only going to be geared towards business (rumors are the same for any "Surface Phone"), no advertising..... Why can't MS just face up and admit that it only wants to be in the business end of mobile and not the consumer?

Agreed. He's a troll. Forgive him

Another of the Microsoft team moving on to greener pastures. Just goes to show, What I say is the truth...W10M = DEAD!

I'm trying not to read too much into this, as Juha wasn't Lumia's entire camera phone division, just one individual. But of course this leaves their future slightly less guaranteed. With the move to the enterprise market, flagship camera capabilities could take a backseat as there is less priority there. I must admit that the cameras in my 925 and 950XL were a large part of the deciding factor in their purchase. No matter what a future "Surface Phone" may offer, if it simply has an off-the-shelf Sony camera thrown in, I feel this will be a much harder sell for me personally. We have no way of knowing what is currently propagating inside Microsoft's hardware development arm, so there is hope that Microsoft will continue to carry the ultimate camera phone torch in the future. I am blown away by the capabilities of my 950XL, especially after the firmware update last week. I just brought my 12MP Canon handheld with me to take pictures at a car show a week ago, and I snapped a few pics with the 950XL. The Lumia lacks the 12x optical zoom, and super-macro modes, but in all other respects, its photos are clearly superior. I cannot wait to see what the next generation (or the next, next generation) of phones has in store, and I sincerely hope that Microsoft is the one to bring it to us.

Was wondering when he would be back at Nokia.

Panos better be on to something because it was always a pleasure watching Juha talk so passionately in videos about the Lumia line with respect with optics and imaging. Sad to see him go, but wish him the best :)

that's it. Say goodbye to great cameras on Microsoft phones. This is a clear proof that whoever decided to just let this guy leave instead of making everything possible to convince him to remain, is a complete idiot! Nadella, you just nailed the phone business down for good. Have you looked at the sample pictures from HP Elite? they look horrible, lower than mediocre camera quality.
Without Juha it's bye bye pureview and the great quality found in Lumias.

Clearly, Microsoft wants to alienate themselves from "Mobile" hardware. They are doing it very slowly so as to avoid any negative effects on there main business. I think they have already planned who to remove next and what point of time.

Sad news but wish him nothing but the best. He and his team left their mark on WP.
Windows Central Newsletter
Get the best of Windows Central in in your inbox, every day!
Thank you for signing up to Windows Central. You will receive a verification email shortly.
There was a problem. Please refresh the page and try again.