Minecraft: Story Mode Episode 5 out on March 29, three more episodes coming in 2016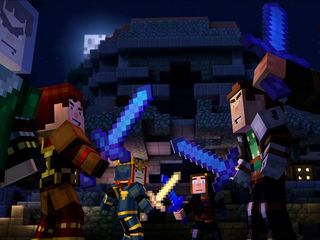 Telltale Games released the first four chapters of Minecraft: Story Mode in rapid succession during the fall of 2015. Now, the developer has announced that the promised fifth chapter in the episodic game, based on the hit Minecraft sandbox game franchise, will finally be released on March 29 for the PC, Xbox One, Xbox 360 and many more platforms.
Telltale says the fifth epsiode is titled "Order Up!":
Telltale also made a surprise announcement that three more episodes will be released for Minecraft: Story Mode later in 2016. Details on these extra chapters are unknown, but they will be considered add-ons to the current game, which means users will have to own at least the first episode to purchase these three extra parts.
If we bought the entire game including all episodes, will these new episodes be included or will we need to pay for these?

If you bought the entire game from the beginning (season pass) then all episodes will be free for you the moment they come out.

Awesome, exactly what I was hoping to hear.

Does this also go for the physical copies too.

Physical copies for Telltale games usually come out when all episodes are released. If they come out earlier, then I'm certain they came with a season pass which means you'll also get the other episodes.

If you bought the season pass, then you get Episodes 1-5. Episodes 6-8 require an additional purchase.

Wait, so they are releasing more episodes? In the same season? With another pass?

Many more platforms as in Windows 10 Mobile?

In bigger Telltale news, they're doing S3 of TWD: http://www.ign.com/articles/2016/03/22/telltales-the-the-walking-dead-season-3-is-coming-in-2016 I wonder what the 'unexpected approach' will be for tying the seasons together...

Nice. This game is fun for parents and kids (If you like Minecraft)
Windows Central Newsletter
Get the best of Windows Central in in your inbox, every day!
Thank you for signing up to Windows Central. You will receive a verification email shortly.
There was a problem. Please refresh the page and try again.