Minecraft: Xbox One Edition gets a retail release on November 18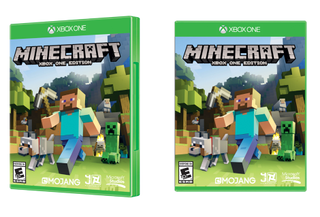 Minecraft fans will be happy to know that the game, which already launched as a downloadable Xbox One title last month (see our detailed review!), will be arriving for in stores on November 18.
Minecraft: Xbox One Edition will cost $19.99 in stores (just like the downloadable version), and users who have played the game on Xbox 360 can easily transfer their creations and most downloadable content to the new Xbox One Edition game. Users who have played the Xbox 360 Edition can also upgrade to the Xbox One Edition for just $4.99.
Are you excited to play Minecraft on your Xbox One? Let us know.
Source: Xbox News (opens in new tab)
Windows Central Newsletter
Get the best of Windows Central in in your inbox, every day!
Chuong's passion for gadgets began with the humble PDA. Since then, he has covered a range of consumer and enterprise devices, raning from smartphones to tablets, laptops to desktops and everything in between for publications like Pocketnow, Digital Trends, Wareable, Paste Magazine, and TechRadar in the past before joining the awesome team at Windows Central. Based in the San Francisco Bay Area, when not working, he likes exploring the diverse and eclectic food scene, taking short jaunts to wine country, soaking in the sun along California's coast, consuming news, and finding new hiking trails.
Seriously. Show some love ova heeurrr

WP and free that would be great

It doesn't need to be free to be good. Why is it so hard to pay a little for good games/content? How do you expect companies to stay in business by giving things away all the time? In order to survive a global economy, companies/people need to make money.

It's was released on 9/5/2014, so why is this story so wrong

I am so confused right now. Glad I am not the only one.
Edit: Is it just digital right now and November is when it hits the stores? Though that doesn't make sense either...

That's what I was wondering..I clicked the article thinking it was going to be an update or something

Right now it is available for download on digital only. The disc version is released in November. This is so that people have options, some people may not be able to or want to download games digitally so they buy the disc physically.

I play for nearly a month now, it's absolutely great! But i miss the newest updates & the possibility to install mods.

Physical copy in stores read first

I read first, but people are right, it is a badly written article, it even asks if we're excited to play it, like it is coming out now.

It says directly in the title

The title says LAND in stores November

We fixed it. Sorry for the mistake.

Ik there will be a windows phone release, but when?

Is there going to be a Windows phone port? It would be nice.

Yes Before end of this year, Phil Spencer announced it weeks ago.

Is that true? I know it was acknowledged on a twitter post, but they didn't confirm it, did they?

On the same day the Mojang deal was done. Tons of Question started for a WPhone version. Since we talk with guys from Team Xbox allot, we got > Microsoft and Mojang is working on a quik pace to poop (yes they said poop) Minecraft out this year for Windowsphone. So that is a sort of confirmation and backing it up on Phil saying yes.

On My birthday, this would be a bad gift :P btw, READ: This is about a Disc version of the game coming in stores. Minecraft > game in box > store ;)

I hope the will be a special edition Minecraft Xbox One.

How is the Xbox one edition different than the downloadable version already available? Should I wait?

You mean different than Xbox 360 or the digital download. If you mean Xbox 360 there a many improvements on FPS, view distance, and some other things. If you mean the digital, there is no difference. They are just releasing the game physically on a disc for those who don't want to download it digitally or are not able to.

It's best to play it on PC.

The conglomerate that is Westeroscraft!

I prefer to play on my sofa, so best way to play for me is on my Xbox One.

But in terms of the version with the most freedom (mods, resource types, open texture packs) the PC version is superior. It's all down to personal taste, though.

I like playing with friends and creating a server on PC that everybody can connect to is a real pain.

That is true but now Minecraft Realms makes it easier...

Two words: carpal tunnel. Some of us unfortunately, can't play PC games. However, an Xbox controller doesn't affect the same nerves a mouse does.

Many PC games support controllers. Minecraft doesn't?

It's definitely a minority number of games that do, Minecraft says it does but I found it very clunky, imprecise, and slow to use a controller. I really enjoy the XboxOne edition but my son shows me all these great youtube videos with texture skins/mods, etc, and I get really jealous ;)

Ah, I feel for you. Pinball FX2 and Kickbeat really hurt my hands after a while, so I might be developing similar problems. Hope it never keeps me from my work as a gaming journalist!

+930 for full version on MS mobile devices!!!!

This article is confusing, please change it so it says disc edition.

Fixed it. Sorry about that.

They didn't waste any time.

What's so special about this Minecraft game ? It looks like a kids game with what appears to be old school graphics! Ms layed off people.....possibly ruined lives.....but had 2.5 billion laying around for this game....really?

Try 55 million copies sold across all platforms?

I'm sure this acquisition will create some jobs... We must try to look at the other, more positive side of those layoffs..
Microsoft saved alot of jobs by taking over Nokia! Nobody seems to write about that... Imagine if the whole Nokia devices division just lost their jobs instead of moving some to MS!
Of course there have been MS workers that have had to leave as well. With MS ending alot of outdated services (unused money pits)... Well.... people are hired to fulfill a duty.. Once that duty is fulfilled, there is no need to keep them.. It's harsh, but a normally occurring reality of our lives that we can't blame anyone for. ;)

They have way more than 2.5 billion laying around.

Been stuck under a rock the past few years? Just sayin!

No i play my Xbox one every day and into most games but I don't see anything special about some block looking game! Wow just seen YouTube videos and omg this looks like an old
A$$ Atari game I played as a kid about 30 years ago! We're are the graphics? I play alot of titanfall and bf so yeah compared to those games it doesn't seem like this Minecraft junk is for real....could believe it when i seen a YouTube video i was like 2.5 billion for this? Why not buy i don't know maybe sweeter looking game than this Minecraft.......well ill take it back......my 2 year old nephew likes the blocks and colors and stuff.......yeah. Looks just like Legos.....so sad..

Pretty sure your old Atari couldn't render infinite worlds in 3D. Anyway, the game is brilliant. Some people don't get it, most do.

Really, you're going to knock a game when you haven't even tried it? Want to talk about immature...

Your comment is uninformed. Read our Minecraft: Xbox One Edition review to get an understanding of why people like the game so much.

Phone and RT??? Don't care how, I want it now!
Sorry about the outburst, saw Veruca Salt (the band) on the weekend, now everything is Veruca.. ;)

I already have this one Xbox one.... Am I missing something?

Nope. This is for the hardcase retail version in stores. Pity the article was poorly headlined.

Confuse but I got that game like 3 weeks ago digital on Xbox one I want for WP and windows 8.1

Now that Microsoft owns it, they should hold it hostage until google gives us our YouTube app back! I mean cut it right off... Disable it, just like google did with the YouTube app. (of course I know Microsoft won't do this because all of the lost revenue they'd have.. everybody knows MS wants to sell their products and services (and games) on all platforms including android and IOS) it's funny to think about though...

They spend a billion and it's still not even given a date for window phone? #fail

The date has been given: before the end of the year. Relax. Porting a game takes time.
Windows Central Newsletter
Thank you for signing up to Windows Central. You will receive a verification email shortly.
There was a problem. Please refresh the page and try again.