Review - Misfit Shine fitness band gets an app for Windows Phone 8.1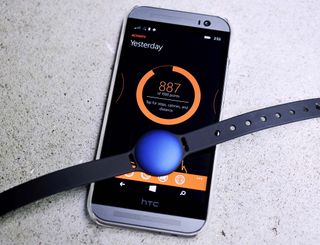 Misfit Shine (misfitwearables.com) is a new and modern smart device used to measure daily activity, like running, walking, sleeping and more. Like Fitbit, your scores are synced to the cloud where your phone acts as a conduit for record keeping, goal setting, and social interaction.
Today, the official Misfit Shine app is available for Windows Phone 8.1, joining iOS and Android. Due to the availability of Bluetooth 4.0 LE and the new APIs for developers, Misfit can get their app on Microsoft's mobile OS.
I have been using both the hardware and software for a few days now and this is all you need to know.
Misfit Shine hardware
Before getting into the app, let us talk about the Shine hardware. At its core, Shine is a metallic, circular device about the size of a small wafer. Shine comes in a variety of colors, including Black, Grey, Champagne, Coca-Cola red, Coral, Storm and Topaz (in photos for this article, I am using Storm).
Shine itself is modular, so that it can pop in an included wrist strap, fitted into a more formal leather strap, worn as a pendant, or clipped to your body. Because of this, Shine is more versatile than a wrist-strapped smart device, as cyclists can clip it to their sock to record their activity while biking.
To reveal your stats you just double tap on the face of the Shine. Subtle LED lights illuminate dots to show you your activity level. After the activity level, Shine goes into a clock mode to show the time, which can be tricky to discern due to no numbers on the face, but it becomes easier with frequent use.
Shine is also waterproof up to 50 meters. You can wear it in the shower; you can use it while swimming.
One other thing: the battery does not need recharging as it takes a replaceable coin Lithium Battery. Although this adds costs in the longrun (the batteries are about $1.50 each), it is easier than losing and buying another Fitbit sync/charge cable ($25). Battery life is hard to discern due to its longevity, but Misfit claims "up to six months" for each battery.
Overall, the hardware of the Misfit Shine is stylish, slimmer, and it requires less maintenance than Fitbit (that needs frequent charging, and some of their products are not waterproof).
Retail price is $90 and it is available on Amazon.com and Best Buy.
Misfit Shine software
The app released today is similar to other sync apps available. Misfit Shine lets you create an account, login, set goals, change units and more.
Likewise, you can sync your Shine to the device to reveal steps, calories burned, distance and your points (out of 1000). A graph reveals your activity throughout the day.
The bottom of the app has sections for Activity, Sleep, Weight, and Social, while the menu reveals Settings, Refresh and Sync options.
Overall, the app design looks great with a minimalist, Modern look and all black background. It contrasts with the iOS version, but runs parallel for function and should keep Windows Phone fashionistas happy.
I have been running Shine for the last few days (I recently dropped a hint on Instagram) and overall, I am impressed with the hardware. The software for Windows Phone though feels a little early for release, as we did have some synchronizing and stability issues using devices with Windows Phone 8.1 Update 1. However, we are told that forthcoming updates are a high priority to get the Misfit Shine app to where it needs to be. Users for now may experience some issues, but look for patches in the next 48 hours.
The takeaway
The Misfit Shine fit band is worth looking at if you are interested in an activity monitor. Shine is more conservative in counted steps when compared to Fitbit although both fall in the same range. More importantly, the convenience of not having to recharge, the ability to use it swimming, or attaching it to your sock makes it intriguing and unique. Likewise, the design is very modern invoking Sci-Fi feelings and response when presenting it to others (the colors are very striking).
We are confident in the app catching up to its iOS and Android counterparts in the very near future, but either way, it is great to see another fitness band coming to Windows Phone in an official capacity.
Windows Central Newsletter
Get the best of Windows Central in in your inbox, every day!
Daniel Rubino is the Editor-in-chief of Windows Central, head reviewer, podcast co-host, and analyst. He has been covering Microsoft since 2007 when this site was called WMExperts (and later Windows Phone Central). His interests include Windows, laptops, next-gen computing, and for some reason, watches. Before all this tech stuff, he worked on a Ph.D. in linguistics, watched people sleep (for medical purposes!), and ran the projectors at movie theaters because it was fun.
How long is the battery meant to last?

"Up to six months". I have added that to the review, thank you.

Bro today is news day or what??? Too much posts :)

Any chance you could do a comparision post between it, Fitbit and Jawbone sometime in the near future? Cheers!

Help please, i want a app that can measure my running speed, distance, (if possible, on map) but i dont have any band !!! Which would be suitable app ???

I use Endomondo and Run+ and you don't need a band with these apps ;-)

Rather impressive! Everyone I know with a Nike Fuel band or Fitbit grumbles about how they feel inaccurate. By being on your leg for cycling and leg/arm for swimming, this seems to have more potential. Thanks for posting this up as I hadn't heard of it.

Although Misfit claim a battery life of up to 6 months, the most we've ever had (using 3 different Shines) has been 3 months. That's not bad - particularly if you dislike Fitbits for needing a charge every week.

Great to see the official app coming to WP! I am looking for wearables for a while now and MisFit looks great. Before I pull the trigger though, I will see what happens on the smartwatch front. One device to do it all would be the ideal but as a pure activity tracker, MisFit is definitely on top of my short list.

I agree! I'm trying to wait it out for a smart watch.

Another official app and hardware support = another good news for WP.

Congrats to the Misfit guys (and Daniel Gary!). Welcome to Windows Phone! :)

This looks great! I have been using Bing Health & Fitness, but I don't always have my phone in my pocket. I'm also waiting for a little while to see if anything leaks on the MS smartwatch front or if fitbit comes out with a new device. But if nothing happens by the holidays, misfit looks like it will be mine.

Fitbit, Misfit, Jawbone committing to a WP app...now we just need a smartwatch.

So, you do or do not have to have your phone on you for this to work?

Well, yeah, you need it to sync if you want that data. You also need it to set it up, so I would consider it essential. Luckily they are on all three platforms now.

But if I were to go out running, spinning, yoga-ing, twerking, reiki-ing, or whatever people do... will I need to have my phone in my pocket or will this thing collect all the data without the phone?

Oh no, not at all! You can go days without syncing or being near your phone. It collects data in the Shine and does it all on its own. You can then sync whenever. The phone is not needed for regular usage. Replace 'phone' with 'data sync cable'; same analogy. You don't need the cable unless you need to sync ;)

Not sure how I feel about the replaceable battery. I feel like it could some how mess with the water resistance/seal. But I do agree that charging the Fitbit is a pain.

watches have been waterproof for decades while still having removable batteries...

I wouldn't go so far as calling it a pain, I only have to charge my Fitbit Flex for about 3 hours every 4 to 5 days. But definitely would like to go months without worrying about it.

Can this be used without creating a login on their servers and just track it on my phone alone? Call me crazy but I don't want my data floating around on the internet.

No, I do not believe so, sorry. FWIW, the data seems to stay local as there is no 'web version'.

Not crazy at all; the main reasons I do not use all these services is the requirement to disclose my data. I use Polar HR and Excel to track everything... Cannot care less for the bloody Cloud.

Love the idea of a replaceable battery that lasts months. I like my Fitbit Flex, but this is definitely making me thinking of getting the Misfit Shine instead....
Daniel, do they allow the data to be downloaded or accessed by the user for more than 7 days? That's the most annoying thing about Fitbit to me, that you need premium for those functions.

Regarding data, no. In fact, I would say Misfit's data access is severely limited compared to Fitbit (there isn't even a web version AFAIK, it's all mobile). They do sync/work with MyFitnessPal and IFITT though, which is nice. Regarding battery, yeah, it's a huge deal imo. So much easier to just 'forget' this is on you at all times. It's super light and a lower profile than the Force. Then again, I like Fitbit's theme/taunts and leaderboards ;)

Aww man sucks I won one last year and also won a up 24 at work and gave them away as it wasn't supported I'll wait for the Microsoft device

is there a battery meter in the app to let you know when you are getting close to needing to replace it?

Not so much a meter, but there is a 'low battery' notification within the app I am told.

It makes me happy to see support for more wearables, but does this bring any more functionality than my 630 already gives me with sensor core?

yes you can stick at in your socks or go swimming with it.

@ibbyj You can record sleep, go swimming and more importantly, do activities without your phone in your pocket at all times.

I suppose that's true, but typically my phone comes along for the ride either way for music. Sleep tracking could be interesting.

Are you sure about sleep. I think they have another thing to track sleep.

With all these official apps I am very tempted to get into the fitness band game. So many options though, but I like the subtleness of this one and not having to charge it.

Too bad you need Cyan to use it. Tmobile STILL hasn't pushed it out.

What happened to up and down votes?

I have to check, but I remember there are some maintenance things we're working on now. No worries, they are not being killed off already ;)

I wanted to upvote this post.

Go for it, they're back! :P

Can I also have my Bluetooth headphones connected simultaneously?

Can anyone tell me how you get that arrow thing show up for the WiFi icon at the top of screen? What does it mean? I've never seen it before and I have the DP 8.1.

The M8 will never get Cyan as it's not a Lumia device. ;) Also, it's not part of Cyan. My Lumia Icon has it. Guess it's just part of the WP8.1 Update or the M8 firmware.

I'm guessing BT4.0 &/OR Cyan. My Lumia 810 with amber is incompatible, so a Lumia device clearly needs Cyan as the app description notes. However, the M8 is shown in this article using it, leading me to believe that devices lacking Lumia Cyan & non-Lumia devices require Bluetooth 4.0.

Updated 920... says not available for my phone. hmm... running 8.1.... guess just does not like the 920... :(


no mine is a 920 in black.... didn't like the funky textures on the colors... I can only guess thats what you meant since I typed I am running 8.1...

Lumia Cyan is a Lumia Firmware update. It brings back Bluetooth 4.0 LE which is required to use the Misfit device.

Says not available for me either, both for my Lumia Icon with Preview for Developers WP8.1 Update and my T-Mobile Lumia 635 with WP8.1. EDIT: oh, it needs Cyan. Well that's disappointing. Guess I'll stick with Fitbit. But the 635 has Cyan already.... hmmm... so that can't be it.

i have a 920 w/ CYAN... still says it is not available for my device...

Yeah, my Lumia 635 has Cyan as well. So it's something else.

...guess just is not available yet because the app is just released..

Everything looks so good when you show it on the M8...

90$... Same as a cheap smartphone... No thanks.

It is priced at or below most activity trackers today. FitBit ranges from $99 to $120 although you can find their older models for less. It's a good product and it has some unique tech in it.

The Shine is $99 according to their website.

Does this integrate with Misfit Beddit as well or is this functionality coming later? This looks really great but I'd really like one that would actually wake me up at the best time (like the Jawbone UP24). I don't believe it has this capability. With the Windows phone ecosystem growing everyday, I'm scared to get a fitness band and then have another company introduce support or a new product (I'm looking at you Microsoft). I guess I'll wait a bit longer.

Not yet, for Beddit, but likely coming.

Can you only sync or also see data in real time?

not available on my Lumia 920 with cyan and WP8.1, anyone know why?

I heard on this release there are some limitations on older hardware, which should be lifted in a few updates.

Thanks daniel, I guess i have to wait then to decide if to buy it , i want this since i can swim with it, but neither fitbit or jawbone can.

How can you not be encouraged when you see the quality and breath of apps coming to the platform? Thanks devs.

Nice. Between this and Jawbone, there's now one fewer category with a substantial app gap.Hopefully runtastic updates their wp app for the orbit. This one actually mentions cycling, unlike competitors. I wonder how the cycling tracking compares to a full blown app like runtastic or strava (sadly not available on wp). Also, it seems like unlike competitors, this one lacks the vibration alarm for sleep cycle wakeup, relying instead on an audible alarm from the app. That might be a disadvantage.

I have been using the Android app and I am glad to see it come to WP. The only problem is I can't get it to sync on my 1020.

Always thought it was cool so just bought one off Amazon now that it supports Windows. It shall be in my hands on Friday. Excited about the Swim Tracking on this.

I like the looks of this device. Seems to be a little more versatile than the Fitbit or Orbit.

It's more versatile in wearing, but not in what it does. My FitBit has an altimeter, always makes me take more stairs than strictly necessary. And their WP app supports food logging/calorie counting.

I was wondering when Jawbone and Misfit were going to give us an app. Too late for me though. I'm well invested in the fitbit camp with my Flex and Aria scale. the Shine does look nice in that you have more options to 'dress it up' when needed, but I've recently designed my own metal pendant casing for the flex, so I can rock my flex with a little bit more style than the rubber wristbands.

I've been watching Misfit for quite a while. I love the look of the Shine! Following last month's announcement of a Fitbit app for WP, I was about to give up on them and get a Fitbit Flex. Now it's time to watch the reviews concerning their WP store apps before I decide which way to go. I'm glad to see more hardware mfgs get on board the WP train. Like me, I think a lot of WP users have been waiting for WP support before investing in any wearable hardware.

Huh? "this app is not available for your phone".. Lumia925 Cyan running 8.1 update 1 DP sigh.

I got it downloaded, but it wouldn't talk to my existing, paired-to-other-devices Shine, even after pairing the Shine in the Bluetooth section of settings. So, after carefully syncing existing data to another phone, I unlinked the Shine and tried to link it again with my HTC One M8. Pairing went fine, but it just won't talk to the device. It's clearly paired, shown as communicating in Bluetooth (with the bluetooth status item on), but the app won't work. Daniel, are you having luck with the M8 in actual use? (There are also a ton of problems with the soft buttons, but those are obvious.)

Does WPCentral have a Wearable Comparison of devices that work on WP8.1?

Funny how I cannot install the app, even though my FitBit One is syncing fine with my stupid little HTC 8S. I would have been tempted to switch to Shine, but for now I guess I can save that money.

The app won't install on my 8X or Lumia 521 (with WIndows 8.1 Dev Preview). Good thing Amazon has a good return policy on the Shine.

My nokia lumia has the most recent updates like windows 8,1 and the cyan-version. But I cannot find the app in my app-store? When i scan the qr-code the app shows, but it says it it not available on my phone. Meaybe it has to do with me not living in the USA? I am from Denmark. Does anyone know if this is the reason and , if yes, when the app then gets avaiable? Because I just ordered a Misfit Shine and I would like to be able to use it!

Hmm...this app does have potential....BUT I have a lumia 1520 and the only feature that works is the tracking of points/steps/weight/etc... The sleep function doesn't work at all! The social component doesn't allow access to the world feed, Also this app is very unstable, crashes often and in need of an update. Is there anyone out there with a Lumia1520 having success using this app?

I have a 1520 and was thinking of getting a misfit flash but if it isn't compatible and has constant issues, then I'll have to skip it

cant seem to install the misfit app on my lumia 920 . Any ideas why?

Funny thing is that I can install it on my kids 520, but not my 920.

Great product to work with Windows phone.

Is the misfit flash compatible with this app?
Windows Central Newsletter
Thank you for signing up to Windows Central. You will receive a verification email shortly.
There was a problem. Please refresh the page and try again.