Fitbit for Windows Phone 8.1 is here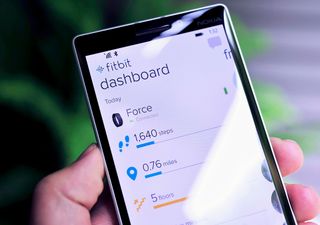 Starting today, Fitbit is announcing the availability of their official app for Windows Phone 8.1. Fitbit is the standard for wearable fitness tracking devices with their One, Flex and Force trackers, in addition to their Aria fitness scale. The new Fitbit app for Windows Phone 8.1 finally lets those who leverage Fitbit technology to sync their data on the go just using their Windows Phone. Fitbit keeps track of the progress of friends, steps taken, distance traveled, floor climbed, weight, calorie intake, and full user history.
Windows Phone Central first reported movement on the Fitbit app for Windows Phone back in December when the company sought to hire a developer for the project. Fast forward six months later and the app is here. From a gorgeous design that embraces the Modern UI to the Live Tile to the speed, the Fitbit app for Windows Phone 8.1 is well worth the wait.
Let's check it out in our video review!
What is Fitbit?
For those who are not familiar, Fitbit (www.fitbit.com (opens in new tab) makes wearable trackers that clip on to your clothes or that you strap to your wrist. The little gizmos get nearly a week of battery life (even more with the Force) and count your steps, activity intensity e.g. running versus walking, sleep quality by tossing and turning, stairs or floors climbed and more. Devices like the Fitbit One and Fitbit Force can present the information right on the display whereas the Flex has a very minimal dot system to report progress. Users set their goals on the website such as 10,000 steps a day, and Fitbit lets you know when you have reached that objective by vibrating and flashing the LED lights.
The reason I prefer Fitbit personally is the let customers use the data with other systems, like the popular MyFitnessPal for calorie tracking. In fact, the two systems can 'talk' to each other by syncing data between the services. For instance, if you log food in MyFitnessPal, the calories can count in Fitbit and vice versa. That is crucial as having a high-activity day can increase your calorie requirements, so you want the adjustment to reflect that for your MyFitnessPal plan. You can see all the services that Fitbit has official partnerships with on their Apps page (www.fitbit.com/apps (opens in new tab)
The Fitbit trackers range in price from $59 for the older Zip to $99 for the colorful Flex and be bought at Microsoft Stores, Best Buy, Amazon and other outlets. There are no reoccurring fees to use the service.
Fitbit for Windows Phone 8.1
The big question in testing the Fitbit app for Windows Phone 8.1 is, does it sync to the tracker? Windows Phone has third-party apps that synchronize to the Fitbit website, but due to previous restrictions on Bluetooth, developers could not access the Bluetooth 4.0 Low Energy APIs. This restriction began to change around Windows Phone 8 Update 3 last year, and with Windows Phone 8.1 and 8.1 Update, the developer tools have greatly improved.
Luckily, this app does sync wirelessly with your tracker.
I should point out that the current release does not sync in the background, meaning you need to open the app and let it sync. However, background synchronizing is coming in a forthcoming update (possibly in this week's planned update that adds more polish to the app). The current issue is related to resource limits and not Bluetooth on Windows Phone, which does in fact support background syncing.
In terms of design, I think Fitbit is fantastic. The app gets the Modern design UI and it looks gorgeous on any Windows Phone. I especially love the Logs section, which features logs for activity, water, sleep, food, and setting an alarm. Each log is a different color and size tile and it fits in with the Windows Phone design aesthetic. For features, the app is no slouch at a version 1.0:
Real-time stats: Automatic and wireless syncing for all Fitbit activity and sleep trackers through Bluetooth 4.0
Fitbit on your Start screen: Pin the Fitbit Live Tile to your Start screen and quickly view your step count
Stay on track: Real-time and historical stats in easy-to-understand graphs, to help track progress and set goals
Log more than activity: Recently enhanced food database of more than 350,000 foods with accurate nutritional data for faster, better food-logging and calorie coaching
Get motivated: Fitbit's motivational social tools like notifications and badges, to help reach target goals
Stay social: Ability to challenge friends and family with leaderboards, direct messages, cheers and taunts
Everything is there for Fitbit fans, and I could not be happier with the initial release. As mentioned above, Fitbit is planning to update the app again later this week; Program Manager Tristan Rice tells me there are "lots of awesome things to come," which as a Fitbit fans leaves me excited.
For now, if you are running Windows Phone 8.1 you can download the official Fitbit app now. Give it a go and let us know what you think in comments! Please note, for Bluetooth synchronizing you need the Lumia Cyan firmware to re-enable Bluetooth 4.0 LE.
The Fitbit app is NOW LIVE as of 5:25 PM ET
Daniel Rubino is the Executive Editor of Windows Central, head reviewer, podcast co-host, and analyst. He has been covering Microsoft here since 2007, back when this site was called WMExperts (and later Windows Phone Central). His interests include Windows, Microsoft Surface, laptops, next-gen computing, and arguing with people on the internet.
Boom goes the dynamite!!!

Im soooooo glad happy excited all of those put together to see more and more devs coming over one after the other!!! Good things await us folks!!!

They must be having some issues publishing this app. Still not live as of 4:27 PM ET

Appears to have just gone live in the store!

Now I can start exercising!!! This was holding me back.

So happy! Glad to see Fitbit join Windows Phone!

So excited for this day. Happy to finally share the app with everyone!

Great work on the app Tristan! Looks and works great.

Same here! Now just convince Target to make their Cartwheel app and my family is "app content" (for now)

i tweeted a few days ago about that and they have no plans

Sam I really assumed you would do this post..
Btw, when're the next iteration of fitbits hitting the market? I hear there are a few and not just one.

Hoping they have a simple heat rate monitor as one of their models. I don't need steps counted or my sleep patterns tracked... Just heart rate.

Can't wait for fitbit to announce their new tracker that's replacing the recalled Force!

I'm still not sure if I should get the Microsoft smartwatch or the fitbit force refresh. I guess I'll have to wait and see.

Ya, the Microsoft smartwatch might be better, I will have to wait and see I guess. Plus, does anyone have any idea for the price of the smartwatch? Even a ballpark guess.

I remember them saying something about the price being similar to the Samsung gear fit?

This is now what I'm faceing. It's very tempting to run out & buy a fitbit now. Knowing that MS is releasing their product and a new fitbit coming out soon is the one two combo I need to keep from wasteing money. I really want to give MS my money. I hope they don't screw it up.

I can't agree more, I'm waiting to see if it's even worth it, as opposed to the Flex or a smartwatch.

And now I can purchase a fitbit.... Support me and I'll support you.

Exactly, I'm on their site now deciding what color i want! :) oh and wondering WhereTF my Cyan update is for 1020.

Thank you, your order has been placed. Will have it tomorrow thanks to Amazon.

I'm waiting to see if weight watchers announces fitbit compatibility. I heard they might start opening up their services for other devices to subscribers. I love ww, but their lack of love for WP is killing me. I feel the same way, support me and I'll support you.

Same for me... I've been hesitating over which tracker to use, and was going to resort to using my gf's android phone *shudder*

Welcome and thanks....congrats To everybody!!

Awesome! Now I need Cyan for the 822......

Does it definitely work on 810? I don't have Cyan (or even Black) but am on 8.1 preview and some of the other Black features appeared via the preview program.

It'll be available within the next hour. That link will take you there once it goes live.

Thank you FitBit! Thank you.

Yeppp! Now lemme charge my fitbit

It doesn't show an app when I click the download link.

Read the end of the article. It may answer your observation.

Sorry, got too excited to finish reading. LOL
Thanks, ;)

Articles? I thought this was only headlines and comments. ;-)

Should put that info at the beginning of the article. Those of us who have a fitbit and have been waiting for the official app stopped reading at 'What is Fitbit?'.

Not live yet. End of text.

Still no Force in the UK unfortunately. Not sure when it's going to be released after the recall/wrist irritation issues.

It wasn't re-released in the US either.

As it stands that's the only model I'd be interested in due to the display. The flex just doesn't show enough data and the Force would have doubled nicely as a simple watch.

i was waiting for the force but decided to pick up a flex when amazon started selling them cheaper! i know what you mean about displaying data but honestly its only a couple of clicks away to get to the app if i need something.... i also have a fitbit app for my pebble so i can see live data if i need it...

I don't have a FitBit, but I am very encouraged by the fact that they are supporting Windows Phone 8.1. The outdated and half-broken apps littering the app-store is really disappointing for this new Windows Phone user (who otherwise just loves the phone itself!)

Not available yet. Counting down to 30 mins...

I can't download. It says item isn't available in the store.

As the article notes, it will be available in 30-60 minutes.

got it! thanks by the way

30-60 mins as of what time? You posted the article at 10 something this morning. :)

Been well over and hour, hour and a half now. Still not available.

which iso better endmondondo or fitbit

Both accounts can be linked. Best of both worlds.

They are totally different applications. Fitbit is more of a motivational tool and tracks your daily movement similar to a pedometer. Endomondo uses GPS to track your workouts. I would recommend Fitbit if you just want to monitor your daily activity. It's a good way to motivate you to be active. However, if you already workout a lot (cycling, running, etc) then you are better served using something like Strava or endomondo. I wear a Fitbit but I use it mainly for the silent alarm. For me personally, I get much more use from Strava but that's based on my own needs.

Thank you Fitbit! A flex is in my near future!

Read the article... Will be available in next 30-60 mins. =)

Do people read before posting?

I think we all know the answer, haha.

Tired of half baked apps when they FINALLY get releases....

I put away my Fitbit in a drawer when its wristband tore apart from natural wear and tear. I think it's time now to buy the Band 3-pack from the Fitbit store. I have used the 3rd party Fitbit app, which is not bad but nothing is complete without a full Bluetooth 4.0 LE interactivity.

30-60 mins is what it says in the article so we will see

It is. I just installed it.

From where? Link or it didn't happen. Nevermind, it *just* came up after a refresh. :)

Can somebody tell me please, does the Fitbit band track when is the best time to wake up? In other words, you know how your body goes through cycles of deep sleep to light, and if you wake up during a light wave, you'd feel better waking up than waking up in the deep wave. (this is true isn't it?) Well, I see that this is a sleep tracker, but I wonder if this thing tracks when is the best time to wake up, closest to when you want to wake up (like 10 minutes before or after, or whatever the wave length). And thus, it will alert you to wake up when it thinks is best based on the tracking. Is this such a feature?

No, it does not do this. It tracks sleep (and really that's just body movement) and you have to manually put it in sleep mode by tapping on it 5 times.

I appreciate your reply. I thought one of these wristbands (Nike, Jawbone, whatever....) did something like wake you up at the best time. These days (I'm old), I fee like when I wake up, I've woken up at the very wrong time and I'm in a daze, even though I think I've gotten enough rest. Either that, or I'm just crazy. =-S

@SEKKDS I believe the Jawbone UP device claims to measure your sleep cycles and ease you out of sleep when waking conditions are ideal. In the reviews I've ready of this device, not many seemed to think that the UP's wake timing made any substantive difference. I'm personally fascinated by the notion, but think the tech might still be overpromising here. The the FitBit FLEX's silent alarm works for my highly scheduled existence.

yup.. jawbone does that.. It has a Today I Will section which gives you mission to accomplish.. like it will analyze that you sleep everyday at 11:30..so try sleeping 30 minutes before that.. try walking 500 more steps..

I only tap mine two times for sleep mode. I'm using the Flex though.


Nope, it does not do this. From my experience, the sleep tracker isn't accurate enough to track sleep cycles. It basically can track whether your arm moves while you are sleeping.

First, We need to wait the cyan update

No we don't. Manual sync isn't the end of the world.

Finally got the application

The same day I send my Force back for the rebate :(

It would be awesome if the app could show steps on the glance screen

This makes me want to exercise lol

Hey Dan or anybody else in the know. Really like the look of this but currently don't own a FitBit band, which one would you recommend?
Not big on exercise so highly unlikely I'll be going to the gym, but like the idea of monitoring my daily activities and sleep patterns. Also comparing my week days (spent sat at a desk) to my weekends (spent chasing around with my kids)
Thanks for any info.

i use a fitbit flex - its the one that goes on a band around your wrist.... i am NOT an exercise junkie! i use it to monitor my daily activity and sleep patterns - and it lets you set a step goal which can motivate you to do just that bit more each day.....

How does it feel on your wrist? I'm kind of interested in one of these but have a small wrist lol. Is the sleep pattern monitoring good?

I love the Force but you can't really buy right now (due to recall), so Flex is next best thing.

How come they've been recalled?

The materials they used in the Force wrist band caused Erythematous, aka skin rash. So they had to drop back and punt.

Wondering the same thing. The Flex looks like it's easiest to use...

Because of skin irritating issue.