Fitbit for Windows Phone 8.1 is here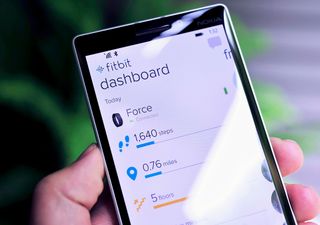 Starting today, Fitbit is announcing the availability of their official app for Windows Phone 8.1. Fitbit is the standard for wearable fitness tracking devices with their One, Flex and Force trackers, in addition to their Aria fitness scale. The new Fitbit app for Windows Phone 8.1 finally lets those who leverage Fitbit technology to sync their data on the go just using their Windows Phone. Fitbit keeps track of the progress of friends, steps taken, distance traveled, floor climbed, weight, calorie intake, and full user history.
Windows Phone Central first reported movement on the Fitbit app for Windows Phone back in December when the company sought to hire a developer for the project. Fast forward six months later and the app is here. From a gorgeous design that embraces the Modern UI to the Live Tile to the speed, the Fitbit app for Windows Phone 8.1 is well worth the wait.
Let's check it out in our video review!
What is Fitbit?
For those who are not familiar, Fitbit (www.fitbit.com (opens in new tab) makes wearable trackers that clip on to your clothes or that you strap to your wrist. The little gizmos get nearly a week of battery life (even more with the Force) and count your steps, activity intensity e.g. running versus walking, sleep quality by tossing and turning, stairs or floors climbed and more. Devices like the Fitbit One and Fitbit Force can present the information right on the display whereas the Flex has a very minimal dot system to report progress. Users set their goals on the website such as 10,000 steps a day, and Fitbit lets you know when you have reached that objective by vibrating and flashing the LED lights.
The reason I prefer Fitbit personally is the let customers use the data with other systems, like the popular MyFitnessPal for calorie tracking. In fact, the two systems can 'talk' to each other by syncing data between the services. For instance, if you log food in MyFitnessPal, the calories can count in Fitbit and vice versa. That is crucial as having a high-activity day can increase your calorie requirements, so you want the adjustment to reflect that for your MyFitnessPal plan. You can see all the services that Fitbit has official partnerships with on their Apps page (www.fitbit.com/apps (opens in new tab)
The Fitbit trackers range in price from $59 for the older Zip to $99 for the colorful Flex and be bought at Microsoft Stores, Best Buy, Amazon and other outlets. There are no reoccurring fees to use the service.
Fitbit for Windows Phone 8.1
The big question in testing the Fitbit app for Windows Phone 8.1 is, does it sync to the tracker? Windows Phone has third-party apps that synchronize to the Fitbit website, but due to previous restrictions on Bluetooth, developers could not access the Bluetooth 4.0 Low Energy APIs. This restriction began to change around Windows Phone 8 Update 3 last year, and with Windows Phone 8.1 and 8.1 Update, the developer tools have greatly improved.
Luckily, this app does sync wirelessly with your tracker.
I should point out that the current release does not sync in the background, meaning you need to open the app and let it sync. However, background synchronizing is coming in a forthcoming update (possibly in this week's planned update that adds more polish to the app). The current issue is related to resource limits and not Bluetooth on Windows Phone, which does in fact support background syncing.
In terms of design, I think Fitbit is fantastic. The app gets the Modern design UI and it looks gorgeous on any Windows Phone. I especially love the Logs section, which features logs for activity, water, sleep, food, and setting an alarm. Each log is a different color and size tile and it fits in with the Windows Phone design aesthetic. For features, the app is no slouch at a version 1.0:
Real-time stats: Automatic and wireless syncing for all Fitbit activity and sleep trackers through Bluetooth 4.0
Fitbit on your Start screen: Pin the Fitbit Live Tile to your Start screen and quickly view your step count
Stay on track: Real-time and historical stats in easy-to-understand graphs, to help track progress and set goals
Log more than activity: Recently enhanced food database of more than 350,000 foods with accurate nutritional data for faster, better food-logging and calorie coaching
Get motivated: Fitbit's motivational social tools like notifications and badges, to help reach target goals
Stay social: Ability to challenge friends and family with leaderboards, direct messages, cheers and taunts
Everything is there for Fitbit fans, and I could not be happier with the initial release. As mentioned above, Fitbit is planning to update the app again later this week; Program Manager Tristan Rice tells me there are "lots of awesome things to come," which as a Fitbit fans leaves me excited.
For now, if you are running Windows Phone 8.1 you can download the official Fitbit app now. Give it a go and let us know what you think in comments! Please note, for Bluetooth synchronizing you need the Lumia Cyan firmware to re-enable Bluetooth 4.0 LE.
The Fitbit app is NOW LIVE as of 5:25 PM ET
Windows Central Newsletter
Get the best of Windows Central in in your inbox, every day!
Daniel Rubino is the Editor-in-chief of Windows Central, head reviewer, podcast co-host, and analyst. He has been covering Microsoft since 2007 when this site was called WMExperts (and later Windows Phone Central). His interests include Windows, laptops, next-gen computing, and for some reason, watches. Before all this tech stuff, he worked on a Ph.D. in linguistics, watched people sleep (for medical purposes!), and ran the projectors at movie theaters because it was fun.
Boom goes the dynamite!!!

Im soooooo glad happy excited all of those put together to see more and more devs coming over one after the other!!! Good things await us folks!!!

They must be having some issues publishing this app. Still not live as of 4:27 PM ET

Appears to have just gone live in the store!

Now I can start exercising!!! This was holding me back.

So happy! Glad to see Fitbit join Windows Phone!

So excited for this day. Happy to finally share the app with everyone!

Great work on the app Tristan! Looks and works great.

Same here! Now just convince Target to make their Cartwheel app and my family is "app content" (for now)

i tweeted a few days ago about that and they have no plans

Sam I really assumed you would do this post..
Btw, when're the next iteration of fitbits hitting the market? I hear there are a few and not just one.

Hoping they have a simple heat rate monitor as one of their models. I don't need steps counted or my sleep patterns tracked... Just heart rate.

Can't wait for fitbit to announce their new tracker that's replacing the recalled Force!

I'm still not sure if I should get the Microsoft smartwatch or the fitbit force refresh. I guess I'll have to wait and see.

Ya, the Microsoft smartwatch might be better, I will have to wait and see I guess. Plus, does anyone have any idea for the price of the smartwatch? Even a ballpark guess.

I remember them saying something about the price being similar to the Samsung gear fit?

This is now what I'm faceing. It's very tempting to run out & buy a fitbit now. Knowing that MS is releasing their product and a new fitbit coming out soon is the one two combo I need to keep from wasteing money. I really want to give MS my money. I hope they don't screw it up.

I can't agree more, I'm waiting to see if it's even worth it, as opposed to the Flex or a smartwatch.

And now I can purchase a fitbit.... Support me and I'll support you.

Exactly, I'm on their site now deciding what color i want! :) oh and wondering WhereTF my Cyan update is for 1020.

Thank you, your order has been placed. Will have it tomorrow thanks to Amazon.

I'm waiting to see if weight watchers announces fitbit compatibility. I heard they might start opening up their services for other devices to subscribers. I love ww, but their lack of love for WP is killing me. I feel the same way, support me and I'll support you.

Same for me... I've been hesitating over which tracker to use, and was going to resort to using my gf's android phone *shudder*

Welcome and thanks....congrats To everybody!!

Awesome! Now I need Cyan for the 822......

Does it definitely work on 810? I don't have Cyan (or even Black) but am on 8.1 preview and some of the other Black features appeared via the preview program.

It'll be available within the next hour. That link will take you there once it goes live.

Thank you FitBit! Thank you.

Yeppp! Now lemme charge my fitbit

It doesn't show an app when I click the download link.

Read the end of the article. It may answer your observation.

Sorry, got too excited to finish reading. LOL
Thanks, ;)

Articles? I thought this was only headlines and comments. ;-)

Should put that info at the beginning of the article. Those of us who have a fitbit and have been waiting for the official app stopped reading at 'What is Fitbit?'.

Not live yet. End of text.

Still no Force in the UK unfortunately. Not sure when it's going to be released after the recall/wrist irritation issues.

It wasn't re-released in the US either.

As it stands that's the only model I'd be interested in due to the display. The flex just doesn't show enough data and the Force would have doubled nicely as a simple watch.

i was waiting for the force but decided to pick up a flex when amazon started selling them cheaper! i know what you mean about displaying data but honestly its only a couple of clicks away to get to the app if i need something.... i also have a fitbit app for my pebble so i can see live data if i need it...

I don't have a FitBit, but I am very encouraged by the fact that they are supporting Windows Phone 8.1. The outdated and half-broken apps littering the app-store is really disappointing for this new Windows Phone user (who otherwise just loves the phone itself!)

Not available yet. Counting down to 30 mins...

I can't download. It says item isn't available in the store.

As the article notes, it will be available in 30-60 minutes.

got it! thanks by the way

30-60 mins as of what time? You posted the article at 10 something this morning. :)

Been well over and hour, hour and a half now. Still not available.

which iso better endmondondo or fitbit

Both accounts can be linked. Best of both worlds.

They are totally different applications. Fitbit is more of a motivational tool and tracks your daily movement similar to a pedometer. Endomondo uses GPS to track your workouts. I would recommend Fitbit if you just want to monitor your daily activity. It's a good way to motivate you to be active. However, if you already workout a lot (cycling, running, etc) then you are better served using something like Strava or endomondo. I wear a Fitbit but I use it mainly for the silent alarm. For me personally, I get much more use from Strava but that's based on my own needs.

Thank you Fitbit! A flex is in my near future!

Read the article... Will be available in next 30-60 mins. =)

Do people read before posting?

I think we all know the answer, haha.

Tired of half baked apps when they FINALLY get releases....

I put away my Fitbit in a drawer when its wristband tore apart from natural wear and tear. I think it's time now to buy the Band 3-pack from the Fitbit store. I have used the 3rd party Fitbit app, which is not bad but nothing is complete without a full Bluetooth 4.0 LE interactivity.

30-60 mins is what it says in the article so we will see

It is. I just installed it.

From where? Link or it didn't happen. Nevermind, it *just* came up after a refresh. :)

Can somebody tell me please, does the Fitbit band track when is the best time to wake up? In other words, you know how your body goes through cycles of deep sleep to light, and if you wake up during a light wave, you'd feel better waking up than waking up in the deep wave. (this is true isn't it?) Well, I see that this is a sleep tracker, but I wonder if this thing tracks when is the best time to wake up, closest to when you want to wake up (like 10 minutes before or after, or whatever the wave length). And thus, it will alert you to wake up when it thinks is best based on the tracking. Is this such a feature?

No, it does not do this. It tracks sleep (and really that's just body movement) and you have to manually put it in sleep mode by tapping on it 5 times.

I appreciate your reply. I thought one of these wristbands (Nike, Jawbone, whatever....) did something like wake you up at the best time. These days (I'm old), I fee like when I wake up, I've woken up at the very wrong time and I'm in a daze, even though I think I've gotten enough rest. Either that, or I'm just crazy. =-S

@SEKKDS I believe the Jawbone UP device claims to measure your sleep cycles and ease you out of sleep when waking conditions are ideal. In the reviews I've ready of this device, not many seemed to think that the UP's wake timing made any substantive difference. I'm personally fascinated by the notion, but think the tech might still be overpromising here. The the FitBit FLEX's silent alarm works for my highly scheduled existence.

yup.. jawbone does that.. It has a Today I Will section which gives you mission to accomplish.. like it will analyze that you sleep everyday at 11:30..so try sleeping 30 minutes before that.. try walking 500 more steps..

I only tap mine two times for sleep mode. I'm using the Flex though.


Nope, it does not do this. From my experience, the sleep tracker isn't accurate enough to track sleep cycles. It basically can track whether your arm moves while you are sleeping.

First, We need to wait the cyan update

No we don't. Manual sync isn't the end of the world.

Finally got the application

The same day I send my Force back for the rebate :(

It would be awesome if the app could show steps on the glance screen

This makes me want to exercise lol

Hey Dan or anybody else in the know. Really like the look of this but currently don't own a FitBit band, which one would you recommend?
Not big on exercise so highly unlikely I'll be going to the gym, but like the idea of monitoring my daily activities and sleep patterns. Also comparing my week days (spent sat at a desk) to my weekends (spent chasing around with my kids)
Thanks for any info.

i use a fitbit flex - its the one that goes on a band around your wrist.... i am NOT an exercise junkie! i use it to monitor my daily activity and sleep patterns - and it lets you set a step goal which can motivate you to do just that bit more each day.....

How does it feel on your wrist? I'm kind of interested in one of these but have a small wrist lol. Is the sleep pattern monitoring good?

I love the Force but you can't really buy right now (due to recall), so Flex is next best thing.

How come they've been recalled?

The materials they used in the Force wrist band caused Erythematous, aka skin rash. So they had to drop back and punt.

Wondering the same thing. The Flex looks like it's easiest to use...

Because of skin irritating issue.

HELZZZZ YEAH!! I am a fitbit rep for the Indiana and Kentucky region and have the windows 8.1 dev preview on my Lumia Icon. Every vendor i visit, whether it be in a AT&T or Verizon store, are impressed by my live tiles and customization. Now i have a proper app that will help me train and inform my clients and also show the IOS and Android users that WP does have the apps they like and use!!!! So freakin Amped right now!!!!!

Do you have any idea when the Force will be available again?

Can I got one from you for discount?

Now I might actually purchase one, but I'll start with a cheap one to see if I have any real usage for it. Awesome thou that the app is here!

Sweet! Had 8.1 DP on my 520, just got the 920 and gonna maybe wait for official release for 8.1...then will get this...

Umm..am I missing something? Am I the only one that has had the Fitbit tracker App installed on my Windows Phone for almost a year now? Or is this something totally different? Because this article seems to imply that it is the first of its kind.

You are missing something. You're using an unofficial app. Congrats! lol

Maybe it is a third party app? They have been available before, as the article mentions.

This Official app will allow you to sync directly with your phone instead of needing the computer dongle.

Time to find my FitBit, oh wait still waiting on offical 8.1 release for my 925, and 521's, and people in the office with 928's.

Why are you waiting? The Preview for Developers has been out for months.

Finally!!! Been using fitbit and my fitness pal for quite awhile. This is great news!!

woo excellent! finally be able to link my flex up to my 920.....

You only need Cyan for background bluetooth syncing. If you don't have it, you just need to launch the app to sync. Easy Peasy.

dont think so... I have WP8.1 DP and the app does not find the flex band at all without cyan.

Agreed, I bought a flex b/c of this article and it won't sync to my 920:(

Same here. 8.1 dp on 920 doesn't find it. Any advice anyone?

nice to get it but i also would like Flipboard..

Flipboard isn't coming to WP any time soon.

How does this compare to fitbit tracker - a part from being an 'official' app?

Direct sync via Bluetooth. Every app in the store now doesn't communicate with device directly. That is a massive, massive difference.

Well, I have DP8.1 on my 920 with ATT - with no Cyan update in sight (yet) that's not a real advantage for me. Once I get the Cyan update I'll be excited about the mobile syncing... until then I just wanted to know the app stacks up against Fitbit Tracker currently (a part from the syncing - which I know is a huge advantage :))

The syncing, it means u dont need a PC in order to update the stats

Me dice que el elemento no esta disponible

It would be great if they allowed integration with Bing Health & Fitness. I really like that app but the exercise tracking is not very nice.

Very-much agreed with you.

Agreed on that. MSFT is just as bad about pushing out half done apps.

I don't think the app is half done, at least not MSFT's. Perhaps the fitbit one falls a little short (I did not try it yet) but it is not a mandatory feature. A centralized management for "health" information will be included in the next iteration of both Android and iOS. I think this is healthy for the the WP environment and will allow more people to shift to it knowing their favorit device is supported. Not in Canada (where I am) anyway... still not a word about the cool new devices...

Microsoft Health Vault can link with Fitbit and Health Vault can link with Bing Health and Fitness. Not sure how often it updates, but my app currently says my average calorie consumption.

Six months later....it feels like you just reported on that last month! Dang how time flies....

it is 2014..fitbit in wp.congratulations..!!!

How accurate are the FitBit statistics? I found that most step counters didn't seem to be very accurate, but it's been several years since I've tried one. Maybe the tech in this is better. Also, I hope FitBit will put a link to the App and mentions of WP compatibility on their website. There's not a word and no link right now. And for lots of products, that seems to stay the case even when they do have a Windows Phone app. I hope FitBit is better in this respect.

Damn Dan, burning 2,000+ calories in a day! That seems like a ton to me.

fitbit counts normal daily calorie burn depending on the time of day, so he probably took the picture in the evening.

I kind of thought that, but that still seems like a lot to me. I know from his posts that he's active, but I'd be hard pressed to think that on a normal day of sitting behind a desk like I do that I'd burn more than 1,500 calories. But seeing that picture actually made me really curious to find out.

Even if you do nothing but lie in bed you'll probably burn about 1700 calories per day if you're an average sized male. Most people who walk a little and do light chores easily burn 2000 calories every day.

Interesting, I had no idea but I really hadn't thought about it before.

Yes. It is your metebolism. The energy your body uses to stay alive, aka pump blood, digest food, keep everything up to temperature, etc. The average person will burn 1500-2000 calories just from doing nothing. That is their metabolism. Increasing metabolism increases the rate of burn, that is why it is so important to weight loss. The skinny people that eat everything and barely work out have fast metabolisms, but the fatties who eat nothing and workout a lot have slow metabolism. There are things you can do to alter your metabolism, but to some extent it is herediatary.

http://1drv.ms/1lOc0Ns Little over 5,000 in one work day. Was very pleased that day.

Alright then, 2,000 doesn't seem like that much anymore! Good for you.

On work days, I average 2600-3400. That 5k was a busy day.

Can it talk to Bing Health and Fitness since both can sync to Healthvault?

Now I just need cyan on my 925.

Is there any news on a followup for the fitbit force? I personally would not wear something that doesn't tell time. LOL

Yeah I hadn't looked into these things before, but Force seems to be the best one. I really want to get a FitBit device but will probably wait until they sell Force again.

I grabbed the Zip because of that reason as well. If things go well with it and they come out with a decent watch like product then I will go for it.

The supposed beta for that was probably the worst app I've ever played with..

Had an old fitbit ultra, just ordered a new fitbit flex as the app has came out. Cant wait to get it now :D

Read the WHOLE article :)

Finally!! Have had my fitbit since may and am loving it. I even asked on twitter when will it be released on Saturday. Maybe my little tweet helped ;-)

Very cool, will look into buying a FitBit now. I've always heard positive things about it. I'm a fitness junkie so thanks for developing this app for the WP community.

Proof-reading correction: "There are no REOCCURRING fees to use the service." - should be RECURRING.

I can't download it, it says not available in the store.

Awesome, this is an app that WP really needed to have.

Fantastic! Huge get for WP!

AWESOME! I have used Fitbit since day one...has been with me on every step of my 155lb weight loss. Stoked that there is now an app for WP. Before and After pic: http://s184.photobucket.com/user/brett_day/media/fattythinny_zpsfde72873...

That's an awesome job Brett! Congrats!

Thanks so much, ncxcstud. I really appreciate it.

Good job! And I see you took all that fat you shed and built a whole new person with it! Impressive.

Ha, yep. That's one of my mini-me's with me in that pic. It is has been an epic 2.5 year journey. I have learned a lot about diet and exercise, and I am now about to take my certification to become a personal trainer. Life is good. Thanks for the kind words.

Congratulations! Very inspirational, thanks for sharing.

yeah that app gap that is getting smaller and smaller each and every day :). Pretty soon iPhone and Android fans will have nothing to whinge about.

Awwww so no bt sync until wr get cyan? Dammit!!

AWESOME! Glad it finally made it. Can't wait to get Cyan to get the full functionality.

Sorry if not mentioned in the article, but I wonder if there are any plans to allow sync of SensorCore data to FitBit's service.

This is what I was wondering. Similar to how it works on the iPhone 5s, using that built in SensorCore data would be awesome.

Yeah! I've been waiting for this for SO long! This makes me happy.

Here's hoping that the Ativ S will actually get firmware updated to Bluetooth 4.0 LE soon! I would love to get a FitBit but 2.1 + EDR is a problem.

Brilliant. Long time Fitbit one, flex and aria user. Been waiting for this for ages. Shop still showing as not found in store (UK)......reeeefresh...

After fitbit, flipboard is the next app in my wishlist.

Looking forward to Fitbit updating their webpages for its mobile app http://www.fitbit.com/iphone http://www.fitbit.com/android #DontForgetYourOwnApp

Yeah, sorry about that. The page update is coming soon. It just didn't make it for launch. I would never forget the WP app. :)

Thanks. Great to hear that! :D

I'm getting an error saying it is not available in the store. Anyone else?

It still isn't live on the store yet.

I've got the One, but kept forgetting to clip it on. Was thinking of upgrading to a Flex, but that doesn't measures stairs climbed. Does the Force measure this? If so, maybe I'll wait to see if that gets re-released and stick with the One for now.

I never clip mine on. Keep it on you wallet. Put it in your pocket. I never forget mine after more than 18 months. Part of what I never leave the house with, like my wallet or wedding ring or house keys.

I had a One, Flex and now am finally setted with the Force. I liked the wrist band element of the flex because clipping it onto my work unifom was impractical. But it quickly became clear I needed some kind of time display rather than just dots. I got a force from ebay instead and took the risk of the FitBit rash. So far so good, I think it;s the best of all fitbits, but is also the most expensive and russian roulette whether you'll get the skin reaction. The force does flights, and and has a good display like the one.

Get error message trying to open that link. Sure hope Fitbit is so moronic with th Windows Phone app as it has been with the Windows 8 app, not publishing world wide. If there is now a nice looking Fitbit app for my phone that should sync, but I cannot download and use it because Fitbit does not list the Netherlands in their web shop, I will be *extremely* pissed...

The app is available world wide in English. :)

And now, it's time to purchase FitBit!

So much for 60 minutes :P

Welcome to the future!!!!


It says the App isn't available in the store. I'm on 1520 Cyan, in Dallas, TX. Is anyone else having this issue? NM, just saw that it's going to be in the store after 60 mins.

Everyone. Still not available period.

Has it been over 60 minutes cause its still giving me an error on my 1520

Is been more than 60 minutes, but it still isn't available yet :/

I'm seeing some people saying they are downloading, is it through the wpcental link and if so what is your carrier/region. I'm in US in ATT still with no luck

Any idea whether a Windows 8 app will also arrive ? :) or is there one already and I just don't know it yet ?

Yes, there is a windows 8 app.

There has been a windows 8 App for over a year

Really? Still says N/A for me.

Ditto! I still can't download.

Yeah, I don't know what nez99 is downloading.

Still not available in uk store

So if I read this correctly, fitbit still wont work until you have cyan?

The syncing part won't work, you can still use the app for logging meals etc.

So essentially its useless until cyan....and god only knows when cyan will hit tmobile 925

Yeah... hoping it'll show up soon on Verizon.

So I have a AT&T HTC 8X, running WP 8.1 developer preview. The Fitbit will not sync with the Fitbit phone app?

It will work now. You have to manually sync it. With the Cyan update it will use BT LE to sync in the background.

I have an HTC 8x running the 8.1DP - will the background sync work for me? Our bluetooth 4.0 wasn't disabled like Lumia's, right?

Not really sure as I have an Ativ S Neo myself. But I'm going to assume both the 8X and my phone will work just fine.

Answering my own question for the benefit of others: My 8x running 8.1DP works perfectly with the Fitbit app. I did have to introduce it as a new tracker in order for the phone to find the tracker, but that took seconds and wasn't a big deal. Happy stepping!

I have an 8x as well & thought we didn't even have bluetooth 4.0 yet. All system information apps i have downloaded state that phone only has bluetooth 3.1 & i'm running the latest version of the windows phone 8.1 dp The HTC website also lists the 8x as only having bluetooth 3.1 & i did read somewhere recently that the 8x had only just got offical bluetooth 4.0 certification, so will need it's windows phone 8.1 firmware update to give it bluetooth 4.0

Glad this is here. Hoping the dev preview gets updated soon so we can upgrade to cyan

Does the fitbit track heart rate as well? I'd like to get one for my old man to keep an eye on his daily heart rate patterns.

Disappointing, isn't the flex worn on the wrist like the nike fuelband? I would think that heart rate during exercise would be important and easy to get when worn on the worst. Surprising that both of them do not track heart rate.

tracking heart rate will cost a lot more in terms of parts and indeed battery life, HRM function is starting to come to these devices but I think it'll be 2015 before we see anthing connected to Win Phone

Heartrate is far from easy to get accurately. It is in fact really tricky. I've used a few different heart monitors, and the wristband ones were in short pretty crappy. The ones that you strap across your chest are better, but even they act up especially when you start sweating and it's hard to get them to fit comfortably. Hoping that someone comes up with a simple and accurate way to track this, but for now there isn't a whole lot out there.

Still showing not available in store

Nice, not sure when I'll find my fitbit charger or get Cyan, but when both of those things happen I'll be all set.

Over 60 minutes and not live. Hope there is no issue! Looking forward to it!

I get an error message saying its not available...

Well, 2 hours later and still not in the store. Wonder what the delay is?

Well pretty much I'm waiting on AT&T for the Cyan update for my 920, and hopefully Microsoft provides an easy way to upgrade from the Developer Preview...

Does the l920 have the Bluetooth 4.0 in Lumia cyan? Or is it a hardware thing it doesn't have?

Yes, the 920 will be getting Bluetooth 4.0 LE with Cyan.

This is exciting news! All I need now is my Nike+ on Windows Phone and I can finally ditch my iPhone. Everyone tweet Nike and let them know Fitbit make the leap, where are they at?

It's been over 60 minutes and it still isn't up.

Coming up on 2 hours soon.

So basically we will have the app...it just won't work until Cyan. Awesome! I can already NOT wirelessly sync to my phone so really nothing has changed.

Still nothing. Been well I've an hour at this point. Is this US only?

Not able to download it on my Lumia icon. Anyone having issues?

Me either, and will Icon have LE?

Now all we need is for the MyFitnessPal app to actually work to sync w Fitbit! I mean come on MFP!

Syncs for me, doesn't sync the actually stats for the day, but it syncs. I have to change my calories burned manually.

The only thing that the MFP app doesn't display correctly is negative calorie adjustments from Fitbit. It otherwise syncs just fine and remaining calories updates when Fitbit does.

Yeah it syncs data when it works. MFP continually crashes and they know it and can't / won't fix it.

Still not available in Australia..

Article posted 2:42pm Eastern time. Currently 120 minutes and counting. I'm sure there are a lot of people counting the minutes. :)

Well, it does me no good yet.... I still have no Lumia Cyan, and I'm on the Developers Preview for 8.1, and we use bitlocker at work, so I'm at Microsoft's mercy (not to mention T-Mobile USA still hasn't rolled out Cyan, which is also annoying). I have a heart rate monitor I bought at the Microsoft Store, but I can't use it either due to lack of Cyan (i.e. BT LE support).

Dear Daniel! i have sensorcore in my 630, so what is the main difference? i can track steps, running steps, my eaten calories and burned calories (calculated) in the onboard bing health and fitness (and other 3rd party sensorcore supported apps) - without fitbit.

Form factor. The fitbit is likely lighter than your phone. Also: app community and support, food database, exercise database, etc

yep, i know its more powerful and handy for active sports and running, but if you compare the extra price.. hmmm.. i dont care about the calories (im a skinny one :D), so the food databases not so important for me. i love the pedometer in the 630 and this is the first time when i thinking about a fitbit. :) the software has tracking modules too (like endomondo or runkeeper?) because i prefer to use one app for these activities and i love to running and canoeing too.

Great! Now waiting for #Garmin to develop Connect app

Think I'll just try again in the morning :)

We've waitied this long for the app, surely we can wait just a little while longer. Patience my fellow WP users. :)

Nope, my patience disappeared when I read the headline. Now I shall spend my afternoon checking the store while doing little else lol The carrot has been dangled, too late for patience!

I second that! Been checking every 20 minutes for the last 2 hours and 47 minutes.

Have they fixed the skin irritation issues with that one model?

No, they just recalled (voluntarily) that model.

Wasn't it recalled last year? I feel like I've been waiting forever for a Force replacement.

Yay! ..... Except it says not available in the store for me right now :/

Another 8.1 app, noooo! I'm impatient enough waiting for my cyan update and now another reason to want it! But great news from fitbit!!

Still waiting for that smartwatch/ fitness band from Nokia/ MS.

Just ordered a fit it flex. Was waiting on an app to come to WP.
120lbs down 30 more to go.

I know Australia is like 3% of the market. But still no app in the store yet

Finally available in the store!

Finally downloading now!!

Lies!!! [EDIT]: Nevermind, finally there. (USA)

Go go go! Its live! At least, for me, hopefully others too!

It's up and I'm downloading!

Finally downloaded, yay me! Won't let me log in, sad me :(

Got it!!!...Can't wait to finally be able to sync with my Fitbit with my phone!!!....THANKS FITBIT!!!!!

I hope ATT releases Cyan for the Lumia 1020 soon, would love to take advantage of this.

I love it. I love it. I love it. One teeny tiny improvement: Transparent live tile. But overall, love it.

I'm so happy! I'm gunna walk around the block watching the step count increase on my beautiful new app!

Not a beta or web wrapper? Wow amazing!

Will wait for the Microsoft smartwatch fitness band before I make any decision.

Very happy about this. But here is something I will have to check. How many of these top dog apps list the availability of WP apps on their sites? Can we maybe get a follow up on whether many bother to list WP along with IOS and Android? Meanwhile away from my PC so won't update for a couple of days. This is one I have been waiting for.

Since yhey bothered to actually make an app for WP, I'm sure they'll advertise its availability on their site, if that's what you mean.

I'm just waiting on the swarm app from foursquare.

Lets be real about this - this app is awesome! This is better than the IOS Fitbit app. The live tile is excellent. This is a huge step forward for Windows Phone. I really wanted this app and it does not disappoint!

Downloaded it. Now just waiting on Cyan for my 920. Hate AT&T.

It won't let me log in! My credentials are good. I can log in directly on their website but the app doesn't seem to recognize me! Anyone else having trouble?

Same here. Can't log in. Credentials are good in Lastpass. Verizon HTC8X with 8.1 dev preview

So you can watch you weight in a scale wirelessly??? Someone?

Brought my laptop on vacation for nothing, I told my wife this would happen.

I installed it, and realized that I don't have any fitbit products yet...

Just wanted to double verify that you need Lumia Cyan in order to sync with the Flex? My Flex is not showing up as a bluetooth device and the FitBit app is reporting "no tracker found" on my Lumia Icon running Dev Preview.

I have the official Cyan update on my Lumia 1520, but the app won't sync with my Flex. Anyone else having this issue? It searches but never finds it. If I open my Bluetooth settings, I do see a new entry in there labeled flex, so I assume the app did find it and put it there, but its just not syncing.

Is there going to be a app for cyan that does the same using the sensorcore thingy in the 1520 ?

Wow, this is awesome. I just did an impulse buy on a Fitbit yesterday... Nice.

I have a Lumina 920 running the Developers Preview and a Fitbit One.....i am unable to get the Fitbit to sync with my phone? Any ideas? Edit: Nevermind, need to wiat for the Cyan update!

I'm using an HTC 8x on Verizon with the 8.1 developer preview and the Bluetooth sync seems to be working with no issues!?? Isn't that supposed to be disabled?

Sync works with my HTC 8x! Bam!

Looks good so far to me. Keep the apps coming.

Awesome! I'll be swapping my Nike fuel band for a fitbit flex :)

1020 at&t dev preview, won't sync. (as expected before cyan, I guess)

Finally. I was really waiting for an app like this...maybe a FitBit Device could be bought now :Q

Better than iOS! Hope that they could add exercise features soon!

Great to see the app finally available on WP8 however a little disappointed that it doesnt utilise the NFC on the Fitbit Flex to launch the app, doesnt utilise the SensorCore and doesnt have the MobileRun feature. Other than that it is a pretty good app.

Come on Microsoft, I've been waiting for this app but can not download it because I'm still waiting for them to release 8.1 for my unbranded 1520

I designed and 3d-printed a pendant for my flex for a fraction of the cost of the Tory Burch one .. Now i just need AT&T to roll out cyan to get this working properly on my1020

Heyyy, I tipped you guys about this two days ago! I was so excited to get a shout out at the bottom of the article for being the super secret tipper.

Anybody know if these bracelets can handle a rough game of soccer (or futbol) game?

I wonder if this app syncs with Microsofts HealthVault... my family uses this alot to keep track of my parents blood pressure and meds we can see this info online, there is a fitbit plugin but I'm assuming that the device syncs with the phone and the phone syncs with the fitbit website and from the website it links with HealthVault. I hope thanks

It works as you guessed -- you sync with FitBit.com (whether through your PC or your phone), and that syncs with HealthVault. Though I don't find that particular link too useful -- I can only find my "steps" recorded on the HealthVault website; it doesn't appear on the phone or tablet apps.

Now Fitbit just needs to rerelease the Fitbit Force or another new device and I'll go out and buy one.

Odd, it was able to find and sync my Fitbit One with my forever-on-Amber Lumia 810.

Can't get the app to sync with my Zip via Bluetooth. I also tried adding it as a new device but it says it can't find it. Have an 822.

Whoa, it works, including syncing, with my HTC 8X out of the box (no firmware update needed). Finally, HTC delivers something before Nokia!

Now I really can't wait for the WP8.1 update! I love fitbit!

They did it. Fitbit devs didn't disappoint with this app. Its got everything but the bluetooth support but once they get there, it'll be complete. Its got everything I've seen on other platforms. But it comes with STYLE! Other platforms don't get there. Thank you Fitbit devs for keeping your word and putting your first tier developers on this one. Good job.

AT&T 1020 running dev preview, and it syncs! SO HAPPY!

Yours syncs?? Mine won't. I wonder what I need to change to get it to work

Mine synced the first time great. It will not sync anymore though. 925 with dev preview.

I was using fitbit flex for quite a while and was very frustrated that I was mot able to sync my data from my phone. I was glad that people created a forum for people requesting an app for windows app. I even sent a message my experience and what I really wanted. The fact that wellograph also offered a nice intuitive wearable, I really wanted fitbit to do the same. I am very glad that fitbit came up with an app for windows phone and while waiting for the cyan release makes me want the use the app more. Lets hope that they can somehow work on the app in desktop and sync together.

Anyone know if this app can leverage sensor core data? While waiting for my fitbit for my birthday

For app developer, would it be possible to sync (later) without Bluetooth 4.0. Sadly my device will never see Lumia Cyan. I am certainly okay if it is a manual sync to phone vs in the background.

I had to search for my fitbit which has been missing for weeks now, and I found it in the couch, I really need to get a band replacement since it broke and thats how I lost it. Live tile doesn't have any data but maybe because I haven't taken any steps!

I don't have a fitbit but tried the app. I really like how it is a true WP8.1 universal app. You can tell by it having 1080p support, and resume from start screen. Very nice. :)

But my Lumia 630 has SensorCore built in. How is it different?

Finally it is available :) Now i only need WP8.1 on my 1020 :D. Since i waited so long i think i can wait a few months more. @those who already use the Aria scale: Is it worth spending the money? Is the Aria waterproof? I have not bought a new scale since my laste one died premature – due to water :D. Cheers, Tom

I think it tracks weight accurately, but I don't trust the body fat percentage it records. I think it's water resitant, but I wouldn't stand on it sopping wet.

Waterproof? No. But splash proof and fairly sturdy - yes. Why would you weigh yourself dripping wet - you'll weigh more and mess up the body fat calculation! Body fat is reliable so long as you follow a pattern - weigh in before breakfast or at the end if the day. I've found even drinking a glass of water changes the body fat reading a lot.

Guys, Can I sync my fitbit ZIP with Lumia 920 via bluetooth?

Great App! Works well with my L930. Thanks allot FitBit :)

Not working in my Lumia 720

Just ordered a blue Flex. Good job FitBit.

Can Fitbit track cycling activity?

You can add it manually in apps or on the website ('I cycled 4 miles in the time from 10:00-10:20') and it'll give you calories and active minutes. The fitbit device won't register cycling accurately. People have tried tying it to their shoe but the data isn't great.

I didn't realise Fitbit also had a food logging system, is this good enough to replace MyFitnessPal? Sadly I'm still carrying my old android phone to allow me to enter meals as the WP app is unusable:(

I used to use Nutrition Hub, a WP app that synced to fitbit. The fitbit app is almost as good as my fitness pal. Something aren't in the system, but most things are and you can always add a new item if not.

Why wont it sync on my 920 running 8.1

Are you on 8.1 dev preview , or you have gotten the cyan update? If you are on 8.1 dev preview, you dont have Bluetooth 4.0 enabled. In the cyan update, the bluetooth will successfully be upgraded to 4. I am not sure why this happened, but I was in the same position try to sync my fitbit flex

Daniel, my Lumia 810 on WP8.1 Preview without Cyan still syncs with my flex perfectly... Glad they made it work before I update my phone:)

Whats the point of this app if cyan is not available yet.Typical Microsoft nonsense.I am done with this crap.I am kicking myself for wasting my time on the WP platform.

Not every windows phone is Lumia you know. I don't have to wait for Lumia, my 4.0 works already.
Windows Central Newsletter
Thank you for signing up to Windows Central. You will receive a verification email shortly.
There was a problem. Please refresh the page and try again.