Fitbit is officially hiring a Product Manager for a Windows Phone app
A new job listing by Fitbit confirms an official app is inbound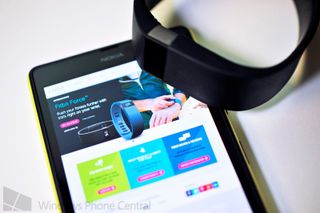 With Bluetooth 4.0 LE now a viable technology for products and Windows Phone, so-called "smart devices" are the next big wave in mobile technology. Windows Phone, up until this point, has been playing on the sidelines due to lacking hardware or drivers for the Bluetooth 4.0 stack. That, however, has changed as Nokia enables 4.0 on their Lumia hardware.
One big player in wearable technology is Fitbit. We're big fans of the wrist-bound pedometer and activity level monitor. In fact, some of us own the One, Flex and Force in addition the Aria scale, making us prime candidates for an official app from the company.
Now, the firm has posted a job request on LinkedIn for a 'Product Manager - Windows Mobile'. Before everyone gets into a tizzy of the usage of 'Mobile' over 'Phone' let it be known that this position is for both Windows Phone 8 and Windows 8.
Currently, there is a decent Fitbit app for Windows 8 on the Store, so the company is not allergic to Microsoft in the least (they are, however, a small company with limited resources). The question has been if and when they would do a Windows Phone app and now we have that answer. From the job description:
We're hiring someone to product manage the Fitbit apps for Windows Phone and Windows 8. In this role you will do such things as:
Manage the development and launch of the Fitbit app for Windows Phone.
Manage the ongoing development of the Windows 8 app, currently available on the Windows Store.
Define, prioritize, and scope user-facing features.
Work closely with design in crafting simple, elegant, impactful experiences.
Collaborate with various teams / groups to guide projects through development and bring high quality products to life.
If there was any doubt about Fitbit bringing an app to Windows Phone, let it be laid to rest now.
Bluetooth 4.0 SDK, MAP, wearable technology and Nokia
There are two reasons why Windows Phone has yet to have any wearable technology that can sync with the device directly: drivers for the Bluetooth 4.0 hardware and APIs for developers.
Starting with Update 2 and Nokia's Amber firmware, low-end hardware began to have their Bluetooth 4.0 hardware enabled. This will continue with Update 3 and Nokia's Lumia Black firmware for high end devices, like the Lumia 92x and Lumia 1020 (see the recent AT&T update). That solves one problem.
The other is the SDK or Software Development Kit. Developers need these tools developed by Microsoft (and Nokia) for using the 4.0 hardware. They use these tools, for lack of better words, to write the directions to sync the data from the Fitbit device to the phone (or any other wearables).
Currently, that SDK exists but it is internal only with very few firms having access (Adidas is one, since they released a heart rate monitor for Windows Phone a few months ago). Once finalized, it will presumably be released for all developers. We can also tell you that the Bluetooth stack is being completely rewritten for Windows Phone 8.1, giving even more power to developers later this spring or early summer.
Finally, Nokia is also embracing the Message Access Profile (MAP) for their apps like Transfer My Data, which can be used to send bi-directional messages to your car for hands-free use, your tablet, or other devices like wearable Bluetooth devices, including Pebble. Apple's iOS 6 received native MAP support and it should be no secret that Windows Phone will follow.
In short, Microsoft and Nokia are putting a renewed focus on Bluetooth 4.0 LE, wearable technology and Windows Phone (recall 'Treasure Tags'). Some of this will be enabled with Windows Phone 8 Update 3 and more will come with Windows Phone 8.1, expected to be revealed at Build 2014 in April.
Besides Fitbit, we have also heard that Jawbone and other firms are exploring official Windows Phone apps to sync with their hardware. More of this will become clearer in the coming months, but we're confident that Windows Phone will eventually have a leg up over the competition in this area. For example, Android still has issues with its Bluetooth stack, which is why the Fitbit app for Android is only available on a few handsets (opens in new tab) and why Nike is so far staying away as well. In this regard, Windows Phone 8 is much more uniform.
At least for now, we can take solace that Fitbit is on board with Windows Phone and an app should be forthcoming in early 2014.
Source: LinkedIn (opens in new tab); Thanks, Art, for the tip!
Windows Central Newsletter
Get the best of Windows Central in in your inbox, every day!
Daniel Rubino is the Editor-in-chief of Windows Central, head reviewer, podcast co-host, and analyst. He has been covering Microsoft since 2007 when this site was called WMExperts (and later Windows Phone Central). His interests include Windows, laptops, next-gen computing, and for some reason, watches. Before all this tech stuff, he worked on a Ph.D. in linguistics, watched people sleep (for medical purposes!), and ran the projectors at movie theaters because it was fun.
I vote Rudy. He'll knock it out before the boss farts.

No, lets save Rudy for the WP team..

Or for actual development, because the job offering is a project management role

My wife to the rescue. She's excellent at project management. ;)


Jeezus... that was almost 2 months ago :P

I'd go for this position, but I'm guessing it's US only

Well looking at the way the wpcentral app works I would like that very much as well. by the way, when will we be able to add emojis to replies from the built in WP keyboard?

Good question, I need to speak to the server guys about that

We need u for wpc pls..:)

Oh I'd definitely vote for you Jay. In this global age, companies can have their employees anywhere in the world. I know for sure that even fitbit has their hardwares manufactured at Batam, Indonesia. For the rest of the guys who think that developer should stay out of managerial role, I have to disagree on that. Good manager mostly come from a good developer/engineer or whatever. Even developer deserves for career progression. So Jay, if you get the job (wishing you the best) & get a better managerial income, you still can take the wpc app project as your side hobby...then give the full version for free. :cheeky smile:

Ha, the app is a side project! Not enough to pay the mortgage I promise you

Hire rudy. He will do faster and better than anyone out there.

He's a developer not a project manager

They are hiring a product manager, Rudy is a developer. The product manager generally oversees the project

Yeah, everyone seems to have missed this is a Product / Project Manager type role :P

Or they didn't know the difference ;)

Awesome! I just got my Fitbit Force yesterday! :)

Yeah, awesome news! I just bought a Fitbit Flex yesterday and would love the phone sync ability :-)

My girlfriend just got a Fitbit for Xmas and now I am thinking about getting one. So this is great news.

If they build it I will buy.

I've been waiting for this!

Runtastic...Fitbit...adidas micoach its all the same.

Was gonna say they should hire Rudy, but I see 3 other people got in before me!

He's a developer not a manager

We get that he's a developer. I'm guessing the project manager will be hiring...developers. They could save a bunch of time and outsource the entire project to Rudy.

>implying u understand the job of a project manager

Word is that the Windows 8 app will sync, with the USB dongle plugged in. Not completely related, but try it on your Surface!

It syncs just fine for me. Windows 8.1

Dongle is plug into PC. So I use my Surface RT to sync with the fit it via WiFi too.

The Flex will not sync with my Surface 2 no matter what I try. I've tried with and without the dongle. The App has the option to automatically sync in the background but it just doesn't. It also doesn't seem to have a button to force a sync. The surface does seem to happily pair with the Flex.

My Zip syncs perfectly with my Surface Pro, the original model. I have to use the USB dongle, but it syncs automatically every time. The app is useless compared to the Web site, so I always use the site.

Hire Rudy. Product Manager, Developer, he does it all.

Not sure he'd want to do product management haha. He seems to clearly like programming.

Yeah, no. Developers like to code, not do vast amounts of paperwork and just get other developers to do the fun stuff. This is coming from someone who does it for a living. I still have to liaise with managers, scope out my projects, delegate out tasks etc but if I didn't get to design & code as well I'd be very unhappy. As far as I'm concerned all the planning and preparation is the 'boring stuff' until you get to actually build it. It's rare that a dev would give all that up just to oversee projects.

Awesome! My girlfriend will love that!

Awh yeah! I got one for Xmas over other brands because of FitBit Tracker on WP8. A first party app would be amazing!

I stopped wearing mime. Maybe I will start up again. I still use aria but she was little off latly but sea.s to be working again.

I still wear my Fitbit Flex most of the time but I don't pay attention to like I used to...I actually use it more for its alarm function for waking up for work and not disturbing my girlfriend...I'm hoping an official Fitbit app will renew my interest in my Flex.

I like how Windows Phone 8.1 estimated release date keeps being pushed further back. It used to be Q4 2013, then early 2014, then early Spring, then late Spring or early Summer. I personally bet on Q4 2014, a good 2 years wait in proper Microsoft fashion.

Depends on what you consider a release: announcement, developer preview, new devices, or upgrades. Each has a different timeline.

I think the best definition of a update release would be when it is first publicly available, not including previews. This could be either through a new phone or through an official update for a previously released phone. An announcement would be an announcement. Dev preview isn't a release, in that it is only available to some. Perhaps RTM is a plausible definition, but it hardly has any direct effect on consumers.

Precisely. Until you can walk into a shop and buy it, it isn't released. Unfortunately, the more 8.1 is mentioned, the further away it seems from actual release.

I'd want to know if there will be a Dev Preview, like with Update 3, which we could all get? And when if it's possible to tell, when?

Did Microsoft actually gave a release date for WP 8.1? Cause I see a lot of guessing around but I am yet to hear a date from Microsoft.

It made me wonder.. They sell these things in the Microsoft store but there is no support for these things on there platform lol

I think there's basic support on Fitbit's Windows 8 app.

I didn't know nice, thinking of getting one regardless

Hope the Bluetooth stack rewriting will bring aptX by default

Meanwhile WPCentral app has recieved another slight makeover...... I got an update just now :)

We announced that one on the 26th of December :)

I think i noticed earlier..... But i thought it was about the previous major update...... Anyway thanks Jay for your reply......keep up the good work bro...... :)

Cool! I like Fitbit, and Windows Phone. This will be a great combination.

This will be great. Then I will know exactly how much calories I burn sitting by my desk all day long. Last time I exercised outside the bedroom was.... ehhhh..... um..... Nevermind. But good news nevertheless.

Rudy needs to stay away from companies so he can make apps without legal troubles.

This is good news! I've got the Force wristband, Aria scale and the Lumia 1520. I took the liberty of mentioning this article in the Fitbit community which hopefully brings over more WP/Fitbit folks to this site. :)

Great news!! I can't wait to get full always-on sync between my flex and 1020!! Of all the wearable fitness technology, Fitbit seemed to me to be the more likely to come to the windows table .. I am glad I went with them.

That's good news. I'm thinking of getting a fitbit force

Some product managers do develop too. The sad thing it that it will take a while to get to market if the hiring is just starting now.

It's about damn time. When the app is finished, I may consider buying a Fitbit device. As far as Nike, I wouldn't hold my breath considering that Apple's CEO, Tim Cook, sits on Nike's board of directors.

So basically still way behind. By the time we get a fitbit or jawbone app there will be a new wave already. Seems its been a pattern for quite a while.

Hopefully Amiigo makes a WP8 app, the Fitbit is garbage.

I enjoyed my Fitbit a lot, but somehow lost it, and I am just hesitant to buy another one.

Good to hear. As the Windows Phone takes more market share and people understand it is a good device you'll see more of these #IoT devices having apps for the Windows Phone. My only critisism of Microsoft is they are slow to change and that's why you see Apple and Android where they are. Still this is a positive news article.

Will Fitbit need to create a product that has the appropriate hardware in it to be able to sync and work with a Windows phone? I'd love to buy a fitbit force NOW and then be able to download the app once everything has been developed, but don't want to get stuck if it ends up not working with an 'older' model.

Hurray, I'll get my Fitbit One soon.
Windows Central Newsletter
Thank you for signing up to Windows Central. You will receive a verification email shortly.
There was a problem. Please refresh the page and try again.