Nokia Lumia exclusive Adidas miCoach launches on Windows Phone 8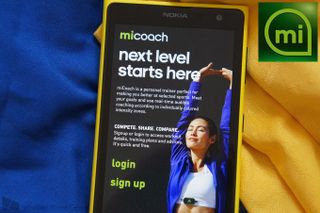 There's already an aray of apps available on Windows Phone to help out with your fitness, but now Adidas is entering the game with its Nokia exclusive miCoach. Launching today, miCoach is an interactive personal training solution that will aid you in keeping fit, while being able to synchronise with Adidas services (micoach.adidas.com) and take advantage of Windows Phone features.
There are numerous features included, as well as some unique additions not found on other platforms. So let's jump straight in and see what all the fuss is about.
When first firing up the app, you'll be prompted to complete a short personal assessment where the app will start you off on a light path before pushing yourself relatively hard. This will then calculate all the magic behind the scenes and you're good to go once finished.
There are a nimber of free workouts available, including: running, cycling, walking, and even cross-country skiing. Certain workouts may require additional equipment to get cracking, so be sure to check everything out before you begin. At the end of each workout, miCoach will display some detailed results that can be saved for later reference (or shared via social networks).
Enjoy heading out on a daily basis with new routes to mix it up? HERE Maps makes it easy for you to follow and see your workout route from start to finish. The app also sports a "GPS Off" mode to guide you through the workout. As with many fitness apps on the store, it's simple enough to get cracking without spending hours wrapped up in menus.
So what about these "Lumia bonuses"? When using the app on your Lumia Windows Phone, special voice packs will be unlocked from leading professional athletes who work with Adidas. Ever felt like having Detroit Lions football player Reggie Bush shouting words of support and encouragement while you work out? Now you can live that fantasy.
That's not all as Nokia Music integration is present, so you can rock out while working out with a personal mix to suit the current exercise. Adidas has also bundled some music mixes into the app, so fear not if you've not used Nokia's Music solution before. Oh, did we mention there are achievements involed? Go out and earn the "Most Calories Burned" to really build up that ego.
When not in the app, Live Tiles can be pinned to the Start screen to display information, including workout objectives and overall progress. Lockscreen integration is also included, just in case you'd like to view workout details at a glance, as well as what music is currently playing. Keeping track of your progress on the miCoach website is handy, especially with the Calendar support for Windows Phone to stay on top of scheduled workouts.
Finally, there's the Bluetooth connectivity for heart rate monitors from Adidas (supports Lumia 520/620/720). Agreed, there's a lot to take in. It's a seriously good looking app that's bursting at the seams with features and functionality. While it's good to see an official app from Adidas, it's even better to see such a well produced solution.
You can download Adidas miCoach from the Nokia Collection on the Windows Phone Store for free (Windows Phone 8 only). It's worth noting that you'll need an Adidas account, which can be set up through the app.
Rich Edmonds is Senior Editor of PC hardware at Windows Central, covering everything related to PC components and NAS. He's been involved in technology for more than a decade and knows a thing or two about the magic inside a PC chassis. You can follow him over on Twitter at @RichEdmonds.
Not Lumia exclusive just downloaded on my 8x

Yeah, not an exclusive. I have it too, on my 8X.

EDIT: No tricks used to get it either.

Its not exclusive but has Lumia bonus voice downloads... That's what the article says anyways...

Hmm, first paragraph, and the title says different. The only time it even suggests anything different could be viewed in two ways, has voice packs that other platform versions of the application (iOS and Android) don't have, or other Windows Phone devices. Since it's stated in title, and first paragraph Nokia exclusive, it's very easy to confuse this article is saying just that. So I don't agree with your "that's what the article says".

Agreed, the first paragraph and title make it sound as though the whole app is Nokia exclusive. Even the last paragraph specifically mentions Nokia Collection as the only place to download it from.

Already downloaded this app. The UI is just gorgeous.
I have checked screenshots of android and iOS versions of this app. They pale in front of WP8 version.

Also, this app is leaked with Nokia tablet long back. May be its coming to Windows 8/RT also.
http://www.nokiapoweruser.com/wp-content/uploads/2013/09/micoach2_9701.png

Finally!!! Its been a long wait, nearly made me miss my S2

It's not available on the 820/920/925/928? WTF?

running it now on my 928...
belay that! was able to start the app and enter sign-up info but unable to go further.

Uninstalling...

Yeah, exactly this. Connectivity or Date/Time error on 820. Was able to log in to website with account created on phone though.

Same here http://smg.beta.photobucket.com/user/FearL0rd/media/temporary_zps9588b2a...

Fixed the issue... Turn your phones date and time setting to NOT set automatically.... :) You're welcome...

Good call. Set to actual time; fail. Set a couple minutes backward; fail. Set a couple minutes in future; lets me in. Thanks!

Myself also. Once I logged onto the website successfully and agreed to the terms, I reinstalled the app on my 928 and was able to login via the app, download the coaching voice, download videos and begin the assessment workout. So, apparently this app works on the 928 but you must complete the login process on the website first.

This is what I did. Also make sure to set your local time zone in your profile online.

Yes it is I just downloaded it on my 920 without any issues
"Oh hang on, same here got the ooops something went wrong" message on the screen!
Please fix this!

Great! I enjoyed using this on my Nokia N8 - glad o see it finally make its way over to Windows Phone.

At this point does it even matter to mention anything being Nokia exclusive?

Finally, been pestering them for this and getting non committal responses for a while.
Just need Strava now and I'll be happy!

These are one of these apps that gets me wishing why it wasn't in the collection a year ago.

Giving me date+time error in my 920. See http://smg.beta.photobucket.com/user/FearL0rd/media/temporary_zps9588b2a...

You might have the wrong login info, log in on web to make sure you credentials are correct.

What is the website address please?

http://micoach.adidas.com

I had this come up, on last screen with height and other options there is a green text saying enter passcode. Do that, and then continue and it should now work.

Re-registered using passcode and got the exact same error as the first time. #lumia820

I guess it's a bug in the application, I entered the passcode and it continued without issue. :/

Im already registered. I can login using the website

i kept getting this too, so i logged in online and it completed my registration (use the email you used to create the account even though you got an error). then it will let you finish there. then you can log into the app on the phone

This app is beautiful, it makes ios and android app look bleh, you have to make playlists though, can't play music out of the box, it integrates with Nokia music however, I bought a broken screen android to use Nike running. So now I'm naturally switching to micoach. Sweet! Stoked! #hashtag

It also integrates with Xbox Music on non Nokia Windows Phones!!

Does anyone know if the Bluetooth heart rate will eventually work with 920 925 1020?

That was my question too...

Yeah man. How can it not work with 920?

Spellcheck. Number? Really? Hehehehe.

adidas makes the best shoes, and now they have an app on the best platform. #teamadidas.

For anyone having trouble logging in on the Lumia devices here is what I did to fix it: Log in to you account online at micoach.adidas.com Go to your profile and update your time zone to your correct time zone I also had to fill out the Activty Profile and About me before it would allow me to save the changes Once your done editing save the changes and try logging in on your mobile again This worked for me, I'm guessing theres a bug if the mobile timezone doesn't match what it is set to online.

hmm... still not working for me, Lumia 928.

I loved this on my Android, missed it on my L920.... goodbye Endomondo, helloo Adidas miCoach! Awesome!

i'm new to this micoach service...after download, and had some app and the website tour, i dont think it is suitable for cycling...because i do cycling...hmm...maybe i will stick to runtastic pro...runtastic is more than enough for me...

by the way, i'm using HTC 8X

Try Caledos Runner; great app.

I still want a Nike plus app. Am I the only one?

Not having the Nike Plus app is what stopped me from switching over a year ago. I finally broke down and switched anyway in May and love my 928 and use Runtastic. Would love to go back to Nike Plus. I have emailed them multiple times......
I would even be happy with FitBit. Really want to use a Fitness Tracker....

I'm a huge fan of Runtastic however what am I supposed to do if im running on the treadmill this Fall and Winter? :-\ I think I might breakdown and buy the Nike plus run band- I still have my old Nike plus sensor/module. I would pay good money for a Nike app...its a shame we only have the Nike Kinect app. It wouldn't have taken any more effort or time. My guess is that Apple is somehow putting the breaks on an app.

Runtastic lets you put in your treadmill work out too. Its the best that I have found.... Yeah its sad Nike won't make the app. Bet it would look great on WP8....

Nike+ running app is in bed with Apple so it's unlikely at this point they will develop a windows version. I have been speaking with their development team who said they need to see the uptake of windows phone to decide if it is worth developing but at this point, no plans. I also use runtastic and tried micoach (no longer installs let alone loads) but I run with a Nike TomTom gps watch to be able to upload the runs to the site. Not ideal but does the job. I'm sure micoach will be a good alternative when the bugs are ironed out so will keep trying them.

It has some bad reviews in the store. Sounds buggy.

Damn, what's the poing if I cannot use my heart rate monitor with my 920. Seriously Nokia?

Soo great to see this on Windows Phone! Loved this app on my BB, but this is waaay better. Thanks Adidas

What's the format for the height supposed to be?

Um so how can u start a new workout without having to do that pre assessment crap?

Two major problems with my experience thus far. 1. It emailed me the confirmation link in French. Everything is French when I use it even though I never choose that option? Now I don't know how to change the settings back to English.
2. Secondly, it won't let me install a voice to use with the app. After making up an account, I have the option of selecting which type of voice I would like. It doesn't matter what I click on, all of them get the same error message "Oops, looks like there's a problem" etc. I'm using an HTC 8X. Anyone have any solutions? I'd be greatly appreciative if you could help me out!

Check your location and time zone settings in your online profile. Mine works perfectly (Lumia 920) and in English.

Wow, beautiful App, created an account via the app using an ATIV S and it works. Adidas rules.

This news double confirm that those phone with MSM8960 are not upgraded to bluetooth 4.0 after Amber update. e.g. Lumia 820, 920, 925, 1020...

That is... Disappointing. No Bluetooth 4 for 920. :-(

Seems like app is buggy and can't compare to runtastic. I have cycle something and am teetering to buy strava. Can I transfer strava to any app that uses it?

Yuss!!!!! WOOHOOOO!!!! :-):-):-):-):-):-):-):-)

I had the date/time issues all day yesterday. I messed with a few settings and it didn't work. After 6-7 hours of not trying, I tried again last night and it worked...

I'm getting something differen on my 920. Right after it downloads the voice coach, I get a message saying "miCoach is having trouble synchronizing. Retry now?" Clicking OK does nothing. Clicking "cancel" drop me back to the download voice coach screen.
I went to their website and logged in. My account is fully there and setup, but I can't complete the setup on my phone.
I guess I'll keep this around for a little while to see if it magically works tomorrow before deleting this. Very sad.

I had the same problem with my Lumia 520. I can't access to the app.

this is the reply of adidas:
Hi all,

thanks for the heads up.

Due to the recent high number of connections to the new miCoach mobile app for Windows 8 phones, our system is currently facing some problems.

In order to keep the system stable, we have temporarily disable the syncing process for all Windows 8 phones. We're working to stabilize the situation as we speak. Bear with us during this time and if you already have a workout on your app, save it to sync it later. We'll keep you informed.

Regards,

MissTennis1
Your miCoach Team

Wow, so they expect windows phone has only a few users?

Store says I can't download them. Have they disabled the downloads? Downloaded it a few days ago on my L925 and now I can't download it back.

Web store says app is no longer published. Pretty rubbish really, was looking forward to getting back at it with this app as it was a favourite on my old iPhone.

How much does the heart rate monitor cost??

I have a 620 and when I want to install the app (still in Store), it tells me my phone is not supported

I was just finally going to install it too to my Lumia 920--same thing. From some of the comments I've seen perhaps it has been pulled temporarily to get some fixes.

Can someone from the Adidas or wpcentral update this post to tell us when the app is back up. Was very excited to get working with this app, but still unable to dL with AT&T NL1020

I was having the login issue, but it resolved itself after having the app for about 6 hours. I emailed tech support the first day the app arrived, and just got this response.
Due to the recent high number of connections to the new miCoach mobile app for Windows 8 phones, our system is facing an unexpected outage.
In order to keep the system stable, we have temporarily disabled syncing for all Windows 8 phones.
We are working with high priority to get the servers up and running for Windows Phone 8 again. Until then, the app has been "unpublished" from the Windows Phone Store to overcome the fact of getting more users with even more interaction.
Please, bear with us during this time and if you already have a workout on your app, save it to sync it later.
We'll keep you informed. Thanks for your cooperation.

Looks like it'll be back in a few days people if this is anything to go by... Hi All,
The team here at miCoach has been working hard to bring you the miCoach mobile app for Windows Phone 8. We're all very excited that so many of you downloaded the app and liked it. It's great to read all of your positive comments. The app has been perceived so well that the number of app downloads outperformed everyone's expectations and our server platform experienced an unmanageable peak load.
We unpublished the app to manage the server performance and prevent you from having an unsatisfying experience during your weekend run.
However, your excitement has fueled us in targeting a fast solution. We've already increased our capacity and made some key tweaks to ensure system stability when we roll out an update to the app within the next days. After this you should be able to upload your workouts to micoach.com again.
Again, we're pleased to see the huge positive response from all of you Windows Phone 8 miCoachers and we thank you for your patience. As always, we'll keep you updated here and on our social channels. So stay tuned.
Regards,
Your miCoach Team

Source http://community-micoach.adidas.com/community/support/en/blog
Windows Central Newsletter
Get the best of Windows Central in in your inbox, every day!
Thank you for signing up to Windows Central. You will receive a verification email shortly.
There was a problem. Please refresh the page and try again.