Nokia partners with Mitsubishi Motors in the US; offering HERE tech in 2014 models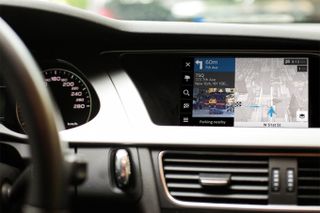 Nokia today announced that Mitsubishi Motors North America will be including HERE Connected Driving technology and services in its line of 2014 models. Working closely with Nokia in a new partnership (think back to when Nokia was reaching out to car makers), the two companies will be providing a unique experience to drivers.
Mitsubishi vehicles with Nokia's technology will reportedly be the first to offer updates (on fuel prices, etc) delivered by the HD Radio broadcasting solution in the US. You're looking at more information at hand while on the road without having to dig out the laptop or tablet. Whether you're looking to avoid traffic jams or difficult conditions due to weather, the solution is literally a life-saver.
Which 2014 models will be offering this new feature? The Lancer, Lancer Evolution, Lancer Sportback, Outlander, and finally Outland Sport.
As we've covered previously, Nokia has developed a solution with a large amount of rich content. This data includes access to 100,000 gas stations in the US, more than 330,000 miles of local roads with real-time traffic information and weather updates that are published every 30 seconds to drivers.
The information will be displayed through Mitsubishi's infotainment system and can be accessed by using controls located in the steering wheel or touch screen, making the experience that much safer and more convenient.
"We were the first company to support the launch of in-car navigation in Mitsubishi's vehicles back in the late 1990s, and now we're offering real-time traffic, weather updates and fuel prices in HD in North America. Mitsubishi car drivers are among the first again to take advantage of the latest technology development," explained Ogi Redzic, Vice President for Connected Driving at HERE. "Our expansion to HD emphasizes our deep commitment to improve the driver experience."
Will you be looking to take full advantage of Nokia's HERE Connected Driving experience?
Rich Edmonds is Senior Editor of PC hardware at Windows Central, covering everything related to PC components and NAS. He's been involved in technology for more than a decade and knows a thing or two about the magic inside a PC chassis. You can follow him over on Twitter at @RichEdmonds.
Nice, Nokia can add this to its lineup. Correct me if I'm wrong, but don't 4/5 cars use Here Maps or Navteq or something?

Navteq, yes. Pretty much every map service except Scroogle maps or crApple maps uses Navteq (Here maps)

Mitsubishi needs to seriously refresh their US lineup... For a company that made some very nice cars in the nineties Mitsubishi is almost an afterthought now.. I would like to see Mitsubishi make a turn around like Hyundai did here in the US.. Maybe this is a sign of new things to come......

Most of the Mitsubishi dealerships around me have closed.I was kind of under the impression that they were pulling out of the US.

I actually thought Mitsubishi, as a whole, had closed before reading this article. Which one am I thinking of?

You were thinking of Suzuki probably. They withdrew from the US market recently. Mitsu still has some clout as opposed to Suzuki's minimal influence. I think Mitsubishi has a long road to recovery, but they just need to keep it cool for now.

They need to pump money into their design studios.. If it looks good, and performance is good, people will buy it... Mitsubishi has always had average quality..

Not yet.. They seriously downsized their lineup,, even killing of their once top sellers the Eclipse, and the Galant.. Dumb move IMO..

Nokia is setting themselves up VERY well for when the deal with MS goes through. They will be a smaller company compared to the past, but they should be profitable and on there way to building back up.

Who buys Mitsubishi in US ?
Like Suzuki, Mitsubihi is already a wash brand. This is a footnote news, not a headline. :-(
Seriously Nokia.

Who buys a windows phone in the USA? Dedicated followings only.

That's not the point, and many other automakers are on board.. Mitsubishi is just the first to offer these services in the US... Don't worry,,, a lot of people buy Mercedes, and BMW's here in the US, and they are both onboard with Nokia...

are you sure BMW is onboard? I know wpc has an article saying Mercedes but it didn't mention BMW. I know BMW uses navteq data but that's not HERE drive.

Hi everyone, this is Pino from the HERE team at Nokia.
We have a long standing relationship with a lot of carmakers, which is why, yes we provide maps for 4 out of 5 cars with in-dash navigation
BMW uses our maps too and in the US some of our business partners are Honda, Acura, Audi, Garmin, Verizon, Bing, Yahoo! and SiriusXM Satellite Radio.
Now, it's important to understand that some carmakers use our maps, other maps + traffic + POI search + more, others again are soon going to get the full user experience of HERE Auto.
We provide a veru versatile solution to our partners and they decide what they need.

Well id personally look at a Mitsubishi or Suzuki before Toyota, Honda, or Hyundai any day. I'd even consider Mazda before those 3.

I'd consider, and then proceed to buy, a Ford before all 6 of those brands ;)

Why does it have to be a Ford❔
Who am I kidding, I'm biased as well.. After owning a Mercedes the build quality, attention to detail, performance, and handling have my standards set higher than before.. I don't think I can drive anything else... Well, that 2014 Shelby GT500 I'd take.. Lol❕

I love my 2011 Lancer Evolution. Too bad mine doesn't have HERE. :(

+1 I have a 550whp evo. I don't care, I love it.

Why the "Seriously Nokia". Mitsubishi want to pay Nokia to put their service in the cars, you take the money. You don't turn down clients because they are not as big as some others.

That's just a picture from when Nokia unveiled Here for automakers.. Its not supposed to be a representation of a actually Mitsubishi car..

The picture is the interior of an Audi A4. Wonder if Audi will sign on in the near future? They've already got Google Earth and Maps for nav so the connected car isn't a big shift for them.

Is BMW officially onboard with HERE maps? I know there's an article saying Mercedes is but not BMW. Common BMW get onboard, it's a beautiful UI, the current iDrive UI is really outdated.

This. I want this on Ford or Chevy - it would make my buying decision so much easier...

Didn't Ford just buy a software company to develop this kind of tech in house? Can't say I blame them. Sync was great when it first appeared in 2008. But the MyFord Touch is a complete POS. Too bad Mitsubishi vehicles are fugly too. Love the 10 yr/100,000 mile warranty

Naa, sign up with Alfa:)))

Or just use your smartphone lol

What a day that will be when drivers can choose from where they get their navigation data...

....now there is a good reason to not buy a Mitsubishi car (let alone all of the other ones). On board navaigation for the second worst application on the market is hardly a selling point. In my experience, Here Drive is only topped by Apple Maps when it comes to embarrassingly bad directions. It never ceases to amaze me how bad the drections are in Phoenx, whether it be assuming that a road blocked by a canal for 20+ years is the fastest way to get someplace; or directing me off a highway in Scottsdale instead of the actual east valley exit 15+ miles away; or telling to bear left/right on a road with no turns; or directing me to proceed a block further than a destination and then make an illegal u-turn to come back to the destination I just passed instead of just saying turn left in the first place; or giving me circular directions through a residential neighborhood to come back to essentially my starting point instead of identifying that my destination was across the street from where I was sitting. If it is an option, I would decline and if turned on by default, I would want a discount for the wasted service built into the cost of the vehicle. It is not as bad as Apple Maps directing people to runways, but is certainly not something I would ever want as a vehicle feature. How they can use the same mapping data as everyone else, yet produce such useless directions in the fifth largest MSA in the United States, is truly impressive but it is not for anything for which I would want exclusivity.

I think we need a navigation system just to understand your comment/story.

Go for mercedes, their system sucks. HOWEVER their nav system offers alternate route, unlike Here Maps...

Looks like Nokia is set to make more money on the partnership with MS to user here maps service and auto manuacturers than it did with Symbian, Meego, and Maemo put together. Their board is making the right decision by selling the phone business to MS. Now Microsoft needs to make the right decision by releasing the surface phone & WP-Blue asap. with PC vendors abandoning RT, this leave to door open for MS to truly become a devices company without technically abandoning OEM's because they chose to drop RT and go full W8. So when RT and W8 merge, MS should truly be a devices & Services company at which point they could stick it to OEM's if they chose to.

Lol I have a dream, where HERE maps will offer alternate routes just like that GPS system in GTA IV. (Sorry, PC gamer here)

That's great! But I was hoping for them to partner with a different car manufacturer :p

I had a 1995 Mitsubishi Eclipse GS-T. I loved that car (chicks digged it) but what a piece of crap. Both door handles broke off. Turbo engine cap blew off. Car left me stranded with a dead batery just under a year of having it (brand new.) Drive belt broke in 4 year. Piece of garbage. I will never buy another Mitshubishi again.

Wow, they really could not have possibly picked a more insigifnicant company in the U.S. at the moment. Go find Subaru or Volvo, Nokia. Their NAV systems are horrible but they still have respectable marketshare in the U.S. - especially Subaru.

Sweet. I'm not sure if my UVO system uses HERE services.

Omgosh!!! I'm giddy like a school girl. Love the Lancer lineup. Now this just make me feel like dancing!

Does the HERE navigation in WP8 have these real-time traffic, weather updates? If it does, how did they show it to us? I can't find them anywhere in the apps


Dgaf until here maps has an app that has a list of directions AND turn by turn
Windows Central Newsletter
Get the best of Windows Central in in your inbox, every day!
Thank you for signing up to Windows Central. You will receive a verification email shortly.
There was a problem. Please refresh the page and try again.