A search on Nokia's website seemingly confirms '2520' for their upcoming tablet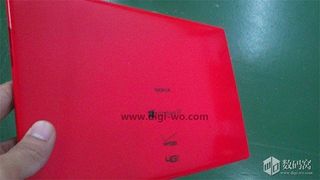 File this one under mildly interesting, but if you head to Nokia's website and type in '2520' the results reveal a new FAQ section entitled 'What is a tablet?'. Clicking the link though doesn't reveal much except a generic placeholder quote stating "The tablet lets you access internet, see movies and listen to music."
Of course, Nokia has had a tablet-like device in the past, namely the Nokia N800. As a result, typing in just 'tablet' will bring up numerous links referencing that device. But it is interesting that something as specific as '2520' will return a result with 'tablet', meaning this isn't a coincidence i.e. typing in a random four-digit combo doesn't bring back the same result.
A search for '2520' on Nokia's website
There's little doubt here that Nokia is getting ready to announce an RT tablet this month in Abu Dhabi. We've reported that it should be landing on AT&T and Verizon in early November with LTE on board and it will presumably launch globally soon thereafter.
The 'Lumia 2520' name was revealed by Twitter leakster evleaks a number of weeks ago and since then there have been a few off-the-record mentions to confirm its authenticity. Featuring Windows RT 8.1 on a 10-inch 1080P display, the tablet is expected to come in various colors and feature a relatively high quality camera with Zeiss optics on the rear.
Patent found by NokiaMob.me may reveal a kickstand feature
Just this morning we saw what is reportedly the backside of the device and Paul Thurrott posted a render of the tablet in red, confirming its overall design aesthetic. Speaking of kickstands, the site NokiaMob.me found an interesting patent photo (seen above) that may match whatever it is we saw earlier this morning.
Nokia's first tablet will also launch with various custom apps, including StoryTeller, which will also come to Nokia's Lumia phones, to offer further product differentiation.
Source: Nokia.com (opens in new tab); Thanks, Padmanabhan K., for the tip
Daniel Rubino is the Executive Editor of Windows Central, head reviewer, podcast co-host, and analyst. He has been covering Microsoft here since 2007, back when this site was called WMExperts (and later Windows Phone Central). His interests include Windows, Microsoft Surface, laptops, next-gen computing, and arguing with people on the internet.
But they had a tablet back in the days, the Nokia N800
If you search for 'Tablet'.

My lord...it's like you didn't even read the article. -1 point for you today

LMAO me no get why people no read words

If only we could do that, and +1 comments too.

I just wanted to know how it felt to be one of those who do not read articles :( Sorry mister Rubino.

But no lol, I missed that part.. Tired, sorry.

Dan I think I have some breaking news - Nokia is likely working on a new tablet. Dont you think you should have mentioned that in this article?

Stop being a dick about it? Thanks.

Lol hey man, just contributing to your 15 minutes of shame. :D

I think he was rushing to be First

The kickstand, if true, does not look clean / slick at all. Nokia devices need to be better. Hopefully this is a very early prototype and they improved it. Paul Thurrott leaked render looked way better.

That image from this morning definitely looks like an early stage proto, I wouldn't put too much emphasis on it for the final product.

Agreed.

Microsoft's Surface tablets (especially gen2) have set the standard for great kickstands. Contrast that with the maybe 2" thingy I've seen in other designs and there is no comparison. The Surface kickstand is hard to beat... with the two-stage kickstands on gen2, using it on your lap is even better. Anything less seems to mean no chance of lap usage.

Link searches for tablet instead of Lumia 2520.
http://www.nokia.com/us-en/search/?action=siteSearch&qt=Lumia+2520

I love Nokia but i just feel like the surface pro 2 would be a better tablet.

If they price it lower than Surface, this will immediately win more fans than Surface.

Especially since this looks more media oriented whereas the Surface is more productivity oriented. Catering to different spectrums of the market is rarely a bad thing, especially since Microsoft will be the owner of Nokia fairly soon anyways. This tablet looks like it will more directly compete with tablets the likes of the iPad, Kindle Fire, Nexus tab, etc., whereas the Surface is vying against ultra books and hybrids.

I agree, I think Microsoft's purchase of Nokia is showing the world that now they are truly ready to compete with the iPad and Samsung.

It probably will cost twice as much too. There's no point in comparing RT devices to Pro devices, really. Honestly, as much as I'd love a Surface Pro, spending $1k on a tablet doesn't make sense. Hardware is old too quickly these days. Unless you just have money to spare... Granted, I haven't personally played with an RT tablet much, but a little reading and watching some YouTube videos, it sounds like alot of the "RT hate" isn't completely justified. I'll be interested to see the specs though.

I have searched in Nokia's website,but it shows "We're sorry"!

"[...]confirmations to confirm its authenticity."
...Really?

whoa, did I make a mistake out of the few thousand words I wrote today? lol. fixed.

Thank you for keeping us up to date with all this info Daniel. I appreciate all your hard work. Now go enjoy 17 cinnamon buns & 26 cannolis at the diner ;)

Surface 2 or Nokia Sirius 2520? Tough call.

I assume these Nokia exclusive tablet applications will eventually trickle down in to the Surface line-up? Microsoft is soon to own Nokia, after all.

I thought they only bought the hardware division and Lumia brand? Their Here suite wouldn't fall under that, would it? Admittedly, I didn't pay much attention to that news...

Pretty much the only part of Nokia staying intact, and not being absorbs by Microsoft, is their mapping suite. Otherwise, Microsoft gets all of Nokia's patents, hardware, Nokia exclusive software, branding, trademarks, etc, etc, etc. I'm fairly sure Microsoft does indeed get the software, and I'm pretty sure Microsoft would want it on their own tablets.

They have an agreement to use the patents for 10 years. MS won't own the patents.

Well that's not really true. Currently 58% of Nokia's revenue generators will remain in Nokia as will 47 000 people.
Nokia Resaerch units, NSN and its R&D, patents and HERE will remain in Nokia's hands. In other words its profitable parts.

Huh, well, the more you know. Thanks.

thats right, but the deal also includes microsoft paying for 2 years of HERE services on their devices. This is not part of the 7.2Bilion $ price so HERE should make some money over the next 2 years. Doubt you're interested in the business details but this agreement was necessary because the biggest customer of the HERE group was the Nokia devices and sevices group so that should change with it becoming Microsoft's devices and services group.

i would totally like to see how nokia went about in designing this tablet. im loving my surface RT and i dont think i would change it out for anything, but still nokia does have that design know-how.

I rather like Nokia uses a name instead of a number for theire tablets. Nokia Lumia 2520 for a tablet, sounds stupid.

+920 (!) However, I HATE the words 'bandit' & 'sirius'

That's not the Nokia way.
gadgets with names imo sounds so forced.

Surface 2 for me, sorry Nokia, but i will be buying the 1520 :)

Telcel (biggest mobile phone carrier in México) is announcing this tablet in one of their web sites. I guess that they received some confirmation from Nokia http://www.holatelcel.com/tecnologia/equipos/este-mes-podremos-conocer-e...

I think that they just covered the news. The renders of the tablet are fake.

This doesn't work anymore. They have taken it offline.
Windows Central Newsletter
Get the best of Windows Central in in your inbox, every day!
Thank you for signing up to Windows Central. You will receive a verification email shortly.
There was a problem. Please refresh the page and try again.