Screenshots of StoryTeller leak, upcoming app for Nokia's tablet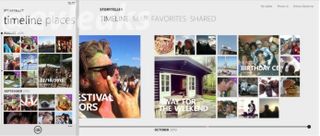 In about three and a half weeks we'll be live from Abu Dhabi where Nokia is expected to release a handful of new devices for Windows Phone and even Windows 8. Of course there will be some Asha devices as well, but you really want to know about the higher-end hardware. Nokia is also known for releasing new software and apps alongside devices. And it looks like an app called StoryTeller is coming for both Windows Phone 8 and Windows 8.
When Nokia announced the Lumia 925 in May, they also announced new software in their lineup like Nokia Smart Cam and Hipstamatic's Oggl. The Lumia 1020 saw Nokia announce Pro Cam and other third party apps.
Later in October Nokia is expected to release two high-end Windows Phone devices. The Lumia 929 is a Verizon variant of the AT&T destined Lumia 1520 (codename "Bandit"). Both are larger than normal handsets, the ones that approach mini-tablet territory. They're both expected to come with quad-core processors, 1080p displays, and a camera with a 20MP sensor.
Nokia is also looking to release a tablet running Windows RT. It's been codenamed "Sirius", but could be known as the Lumia 2520. That tablet might be destined for both AT&T, Verizon, and T-Mobile here in the United States according to a recent visit to the FCC.
So that's the hardware picture for Nokia, but as always they have some new tricks on the software side. One app might span both Windows Phone and Windows 8. You can see the screenshot above of an app called "StoryTeller". It looks to be way to organize and showcase your photos across your various Windows devices. There's a timeline view, map view, favorites view, and shared view. In the screenshot for the Windows version you'll see a way to maybe sort photos by whether they're on your tablet, phone, or on SkyDrive.
Sound off with your predictions for what this app will do for you and your photos below. We will of course be there on October 22th in Abu Dhabi to bring you the news.
Source: @evleaks
I love Nokia the best of software and hardware together

Cool story bro. Teller again?

I think that will be Apple, IMO.

That's your opinion. He's entitled to his.

It looks like it will group photos together that show a certain event that you captured. I wonder if you can make a slideshow like you can with HTC Zoe. That would be really nice :)

Looks terrific..... Hope it integrate well with SkyDrive, because today I organize all my photos by month-folders, let's hope for the better

Photo-Apps and games.
Is that all WP has to offer? It's getting boring tbh.

Yeah.. . We need more fart apps.

What about T-mobile? No phablet variant? Good to hear they'll be getting the tablet too though ☺

The tablet is speculation at this point but does carry the necessary bands to work on tmobiles network.

Right now I'm not sweating the "No Phablet for T-Mobile" since JUMP won't kick in until Feb 2014. Hopefully a 6in variant will become available on T-Mobile (since they love variants).

Yes I hope so too!! I wish they would get a 1020 Variant though rather than a phablet to be honest

A 1020 variant with the higher-end stats = win

I will buy this. I hope they make a 1020-like 41 MP device for each generation though.

I actually might buy a tablet now, crazy

I know it's unlikely, but I'm still hopping that the L2520 is the 6" and the L1520 is the 5" device to which the L929 is a variant. And that the tablet has a completely different name.
Just because the L929 looks so much better than the L1520. And I'm not really keen on having to go around to get Verizon to unlock one and have it sent from the US...=| As for the App...meh. Doesn't sound like anything that would interest me. I'm hopping they announce other more interesting apps.

What I don't understand is why you keep saying the Lumia 929 is a "variant" of the Lumia 1520? If one is 5-inch and the other is 6-inch (rumored of course), that really makes them different devices.
A "variant" from previous models (e.g. the Lumia 920 vs 925/928, or Lumia 820 vs 810/822) means the specifications are largely the same, but appearance may be different (or maybe different bands or add/subtract some storage space).

Are they Lumia 925 and 928 variants of the Lumia 920? Yes. Do they look similiar? Nope. Plus specs are expected to be the same so far, minus screen physical screen size. They're the same device inside.

Thats what I said! A "variant" can look different, but specs are the same (or very similar). But the 929 is a whole inch smaller than the 1520, that is NOT AT ALL similar. All we know at this stage about the 929 other than screen size is a 20MP camera, so you can't say because this is the same as the 1520 that they're "the same device inside". There's dozens of Nokia phones with 8MP camera, but doesn't mean they're all variants of each other!

Although I like that idea of Microsoft buying Nokia which will guarantee that we have phones coming at the same time. But I hope it does not kill Nokia team spirit to go beyond than just what Microsoft is offering. The true is there are lot of extra that we wouldn't gotten like camera pro app if it was for Microsoft. What you get with the OS is what they believe is good enough.

Even better, they can work closer with the WP8 is people, so even more incredible devices quicker. It was stated that Microsoft was having a hard time with Nokia because they would make new hardware first before telling Microsoft what's going on, so stuff like the 1020 and 520 couldn't come out sooner because Microsoft had to work on the OS to get the drivers working, when they could have done it at the same time. I think this deal will bring MORE phones to the table, faster.

Windows as a OS is too slow at development and it was Nokia that was going at a supersonic speed and often criticized MS for not being serious and gave a hint to move to android and that's what prompted MS to buy Nokia.Whatever happens,happens for good.......,wishing so... This is a company loved by all, a brand that evokes joy and comfort, a brand that is identified with starting the entiremobile phone revolution. It's starting to improve market share, it's starting to sell more Lumia phones than ever before. The only hope is that it continues on this journey and does well. The world needs aNokia–

No, MS bought Nokia because they wanted Elop to replace Ballmer.

Can't kill Finnish sisu :)

This makes me want an iPad with Android on it.

I just puked in my mouth a little..

IPad Android has an app for that.

I fart in your general direction.

You made me piss my pants, Ha ha

I know this has nothing to do with the article, but has anyone heard anything about wireless charging on the 1520? I know it won't be built in

Can't wait I hope the price is right

Just as I suspected. A tablet from Nokia would have that edge no other tablet would have. I wouldn't doubt it won't launch with Flipboard as an exclusive Nokia app. I expect it to be pricey though. Probably outside my price range for sure.

Flipboard would be awesome! Hopefully part of the Windows 8 application

It supposed to be coming soon but we are still waiting for WPC to announce it. I suspect they are sitting on the news.

As expected... Nokia will bring the good stuff to Windows 8. Surface 2 is very tempting, but if Nokia bring the apps, its a no-brainer for me.

I really hope that the Nokia exclusive tablet apps also become available for Surface when the deal is finished.

Bye bye to exclusive apps when Microsoft buys Nokia.
Windows Central Newsletter
Thank you for signing up to Windows Central. You will receive a verification email shortly.
There was a problem. Please refresh the page and try again.