Nokia tablet sails through FCC, with support for AT&T and Verizon LTE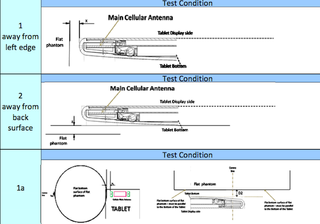 Nokia has a strong following who still look forward to a Windows tablet. Speculation and rumours have been in the spotlight since the company started making Windows Phones and Microsoft released Windows 8 to the world. Currently being purchased by Microsoft, should the deal go through, we'll see future handsets be released by Redmond, but that doesn't stop Nokia from innovating and launching new hardware in the mean time.
The FCC has now approved a mysterious device, the RX-114. Require some proof that this is indeed a Nokia tablet? Feast your eyes on the above image pulled from the documentation, courtesy of Engadget. While the details are rather pixelated, it's clear to see exactly what we're looking at with multiple references to "tablet" alone. This could well be the tablet we've been covering the past months.
So what else is included in the documentation along with the diagrams at slate references? We're also able to confirm that the tablet will support LTE with bands 2, 4, 5, 13 and 17, as well as HSPA+ and GSM / EDGE, as one would expect. This means the tablet will technically support Verizon, AT&T and T-Mobile in the US.
There are currently no details pointing to exactly which mobile operators would carry such a device from Nokia, though there have been multiple hints in the past with both AT&T and Verizon mentioned. Paul Thurrott has shared specifications and renders, while we were informed the tablet would be part of a limited-exclusive deal with AT&T (released in "early November") and then head to Verizon. This matches the technical specifications and support detailed in this FCC ruling.
We could well catch more details and possibly event a sighting of the tablet at the upcoming Nokia World event in Abu Dhabi next month. Stay tuned.
Source: FCC, via: Engadget; thanks, houtex2380, for the tip!
Windows Central Newsletter
Get the best of Windows Central in in your inbox, every day!
Rich Edmonds was formerly a Senior Editor of PC hardware at Windows Central, covering everything related to PC components and NAS. He's been involved in technology for more than a decade and knows a thing or two about the magic inside a PC chassis. You can follow him on Twitter at @RichEdmonds.
TMobile sucks get over it....

Not in the UK it doesn't.

I don't agree, T-Mobile doesn't double-charge you for your phone like AT&T and Verizon do, and they actually support unilited data plans, while Verizon is trying to get rid of their's and AT&T has never had one.

Im not tying to defend ATT but get your facts straight. ATT also had unlimited data plans, but like Verizon, they no longer offer it to new customers. On ATT I am still allowed to upgrade my phone and keep my unlimited data. With Verizon, if you want to keep unlimited you have to buy the phones off contract.

The only thing that bugs me about at&t is their lack of update support ie. Amber/GDR2

Amen. One day left before Nokia's promise to make att follow through on releasing gdr2. Not happening.

How great would it be for Nokia to announce that there will not be an ATT exclusive and the new tablet will go to Verizon first instead because ATT failed to deliver updates on previous products in a timely maner.
Ok, I can dream...

My options are limited in Puerto Rico cause where I live if you want high rate dropped called or no service weekends you go to T-mobile or Claro. if you receive 30 calls a day and are annoyed by that go to Open mobile and your guaranteed to receive less then 10. Sprint is very slow and unreliable. I've been with At&t since 2005 and I can't complain I got 4 lines and pay 226 a month on a family plan and my line has unlimited data no throttling, we all have LTE and over 25 Mb download 17upload. I prefer to pay more for excellent service.

Man you suck get over that!

Did you not read the article...

Did you not take a di#$ to the face.

Seems it gets through but the 920 Amber update for whatever reason, cannot.

Wow that escalated quickly.

As does every damn article the could write an article about the Smurfs and there would be folks talking about the amber update for att

Its funny how all those people hate att yet they pay more get less and never switch

As I said earlier, such a loving community.

*The action you are trying to perform is currently unavailable, please try again never*

Lol all of you people name-calling are dicks

I was making a joke relax. I thought you were some genius?? :P

Exact words your daddy used when he sired your momma and had you.

I still dont think an rt tablet can force me to spend$499

Yeah. MS design with surface is just as good as Nokia can do but using RT was just a bad idea. I would have recommended it almost instantly if we had seen, compared with the $350 Asus t100, 1080p (+$50), bay trail (MAYBE +$20) and a battery in the dock (+50) for $500. If Asus can do it, Nokia can too.

Makes me slightly rethink my surface 2 preorder, but I think I'll stick with the surface. Don't really want another data plan anyway.

I was waiting for a Nokia tablet but all the extra stuff Microsoft is throwing in with the surface I can't really justify myself getting a Nokia tbh.

What extra stuff and at what price??

Unlimited Skype call minutes, full office, and 200gb of skydrive

Every RT device gets full Office.

ehmmm what about free calling to landlines and unlimited Skype Wifi for one year and 200gb of skydrive for 2 years?
also it has touch keyboard, type keyboard, power cover, car charger, wireless adapter... touch cover and type cover have backlit, and also the mixer music surface kit thing. what does this tablet have? Im sure nothing compared with surface 2. the only apparent thing missing would be LTE, but its supposed to come next year.

With Ms buying Nokia they might extend those offers to Nokia tablets too

Any article that has "ATT" somehow pisses me off. I dont know why. Maybe its because i have 920.

That's because AT&T sucks, but to be honest, so do all mobile operators.

You and a lot of other people. Just sell unbranded devices and get away from the current marketing scheme. AT&T gives no support for Windows devices.
Lumia 900, Titan, Titan II, Focus S Update provided to AT&T but not passed on to users. What a partner.
Lumia 920 on AT&T, waiting, not patiently.

I'd be content with WiFI only.

Another sheep to the (updates)-slaughter house.
yep. another one that att will forget about soon and wont release updates for and have , yet again , crummy support. i'm having a hard time coping with the fact I got an at&t unlocked phone and not an unbranded one.
ugh.

Not sure if the updates will be held back by the operators on this one. It's different than with Windows Phone.

I love Nokia phones and am happy with their ideas; but I think I'll prefer a Surface 2 than this.

I could use one with W8.1

This is literally the Engadget article verbatim

That's why it states"via Engadget" at the bottom.

Um. Correct, check the source at the bottom.

By now I think everyone knows that I take Nokia over Microsoft any day. HOWEVER I have to say, I'm not thrilled with what transpires from the above plans, with regards to the design. It seems they're going for a curved back, like an oversized Lumia 920. Honestly, on a tablet, I don't like it. I don't think it works.
So I'll have to think well about this. I don't intend to buy a new Surface (unless MS takes by old one in exchange for a discount on a new one) but now I'm not sure I'll want to buy the Nokia one either...

Seems flat with tapered edges to me. Makes it easier to grab fron flat surfaces.

Anyway, this will be a beautiful tablet to show off to my Apple-fanboy pals ;-)

Until AT&T shows some real support for Windows 8 devices pull them out of the loop and sell unbranded devices for use on their network.


I bet that happens once and if the acquisition goes through, unbranded through Microsoft stores and online? Sweet.

Pretty sure the tablets are unbranded, but will support connections to each network. You will get updates through Windows Update from Microsoft and Nokia like a regular computer

So if I'm reading this correctly. I won't be able to purchase without going through a carrier? I would really like a WiFi only version.

Yeah, I'd seriously consider picking up a WiFi version.

Thats the only way Id buy one. I can turn my 928 in to a hotspot so why would I want another data plan. If they dont have a WiFi only one I can buy when released I guess ill go with the surface 2.

I'll wait until its released and tested before making a decision.. By then we'll all be speculating the next big thing that's going to improve our productive lives.. Lol!

AT&T last day of September is tomorrow! Where in the world is the Amber update!

You'll finally get it one day and 15 minutes later you'll realize it didn't offer anything major. You're getting angry over an update that's not worth getting high blood pressure.

Update might be crappy but to run smart cam and pro cam which are great you need the update.

That's exactly why I want it.

AT&T EXCLUSIVE ?

= exclusively delayed update

I'll be disappointed if they don't make a WiFi only version. I'll never pay for a data Tablet when I got tether option.

I want one!! Go VZW and Nokia! If this serves true, no question I WILL add a line for this tablet. ;)

If the Nokia tablet is not operator free, Nokia can keep it. Having a phone locked to a damn operator is one thing, but I am not interested in an operator crippled tablet.


If Nokia intends to offer a 64 GB version of this tablet they should be "leaking" that information now along with all of the other stage-mamaged leaks on this tablet. Othewise those that don't care about anything but wifi connectivity have no reason to wait on ordering the microsoft RT if they want an RT tablet with adequate memory. Any Nokia proprietary apps should be available to Surface owners soon after the microsoft deal closes early next year on the current schedule. I am not the only one who has no interest in a memory crippled device if I go the RT route. The fact that this product involves negotiation with carriers who seem to like products with limited memory means that the crickets we are hearing when it comes to a 64 GB version of the 2520 do NOT bode well. If I decide to get an RT tablet soon I will probably not wait for the Nokia announcement since I think we would have already heard if a 64 GB device was in the works.

If it isn't a small screen version, I would be very interested in it with built-in LTE. I see the coming months are going to be an enthusiast's dream with all of the Windows 8.1 tech being released.

You americans sure love your carriers, everything is about whether your carrier will stock it or sell it. The rest of the world just buys stuff from shops :P

So? What's your point? I can name probably 100 things we have it here better then you, but what is th fricking point?

C'mon leave him alone he is probably 30+ years old and asks his mom / dad crying every 6 months that he needs a new phone and they go running to buy him he's new phone cause he won't stop crying until he gets it.

C'mon America is not the center of the world. And nowadays one can buy anything from anywhere so that claim "better" doesn't hold true anymore. Something may be cheaper, yet something will ask you to cash out more.
And name-calling is bad, very bad.

For you peoples that want an lte version of a tablet, what's faster WiFi speeds or lte/4g? And does it really make that much sense to have an additional contract with shared data? Other than getting the tablet for cheap or free what are the benefits of having it contract based versus using hotspot on your phone? Serious question. Thanks for any thoughts.

DO WANT. Don't care if its rt gimme

I hope the price is right

I hope the price is wrong. Why is everyone stuck on $599? If Nokia really wanted to make waves they should price at 250 to 350. If it is a RT device it would a better price.
Windows Central Newsletter
Thank you for signing up to Windows Central. You will receive a verification email shortly.
There was a problem. Please refresh the page and try again.