World of Red Bull and NFC Writer receive small updates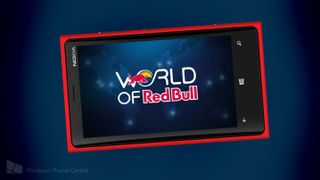 Red Bull is one of those companies constantly kicking ass and doing crazy things. Between dropping a man from the edge of space, Flugtag, and winning Formula One events there isn't much they don't have their hands in. They also have a handful of apps in the Windows Phone Store. One of them, World of Red Bull, is part of the Nokia Collection and allows fans to stay up to date with everything Red Bull does. Speaking of the Nokia Collection, another app was recently updated. NFC Writer allows for users to modify and edit NFC tags and was just updated. Let's check out both apps.
World of Red Bull has always been one of our favorite apps. It's a great place to catch the latest from Red Bull. Videos, articles, and more will keep you entertained no matter where you are. It's also great to use the map feature to find any Red Bull events near you. Never been to Flugtag or Soapbox from Red Bull? You're missing out on a fun, whacky event and should check it out next time it's near you.
So what's new in the update for the World of Red Bull app? We're not seeing any obvious new features. We've reached out to the Red Bull development team to see if they can share what's new. We're going to guess mostly bug fixes and general improvements. But it's nice to see them still updating their apps on Windows Phone.
How about NFC Writer? What's new with the app that lets you create your own NFC tags? Unfortunately we're not seeing any new features. The last update for this app came in late June and fixed the ability to purchase NFC tags within the app. We're thinking today's update is just general bug fixes and improvements. We've also reached out to the devs behind this app and will update you if we learn of anything.
Notice anything new in the above apps we missed? Sound off below.
Both apps are in the Nokia Collection, so you'll need a Lumia device to get in on the action. World of Red Bull is a free app for both Windows Phone 7.x and 8 owners. Grab it in the Windows Phone Store. NFC Writer on the other hand, is only on Windows Phone 8 and you'll need a phone with NFC. Get it in the Windows Phone Store as well. QR codes are listed below for both apps.
Red Bull Racer has my friend's son addicted to my phone.
I wish they had updated it, but the way he acts, I'm not sure it could be improved.

That is a really awesome game.

Thanks for this heads up Sam, two very significant updates that have enabled much more content and options and completely redesigned UI's. Cheers Sam

At the time it seems that there are better NFC apps on the market than what Nokia is offering which is kinda dissapointing since Nokia apps usually hold high standards but this one just looks ugly and can't do all that much.

Test this one instead: http://www.windowsphone.com/sv-se/store/app/nfc-launchit/c7010644-ace4-4df0-b08a-7f95a83d80a8

http://www.windowsphone.com/en-us/store/app/nfc-launchit/c7010644-ace4-4df0-b08a-7f95a83d80a8
For US users.

I think they fix the bug that plays video through browser.

Yep. I even emailed WPC about the update stating it fixed exactly this. It used to just open IE to a blank page.

I think the term "winning formula one events" is a bit of an understatement at this time, they are dominating ... again :(

Vettel, as much as it pains me to admit it, is the best driver, with the best car, in formula 1 at this time. Anyone who can't or won't admit to this is letting bias and arrogance cloud their view. It's not that Red Bull has some magic trick or secret ability, everyone who is inside the sport can see that they have worked extremely hard to get where they are now, and deserve every bit of success they have. At least it still feels like other F1 teams can still find ways to compete, and perhaps dethrone them eventually. When Ferrari was this dominant, it felt impossible then, and the sport ultimately suffered for it. Nobody wants to see the same driver winning every race.

As long as Microsoft keeps the NFC functionality on WP so gimped, I cannot think of a great reason to use any NFC app and associated tags. I was so excited to start using them and it's almost pointless with the dumb dialog that WP pops up. Anyone know if this will be fixed in the next WP update?

You're 100% right. Having to 'ok' every task is redundant. Give us a first-time question like "Do you want to allow this action?" and a check box that says "Never ask me again" and THEN NFC becomes useful. My son and his Android phone mock me regularly for this nonsense.

Fixed ability to launch "top apps" under compose/apps.
Windows Central Newsletter
Thank you for signing up to Windows Central. You will receive a verification email shortly.
There was a problem. Please refresh the page and try again.