Innovation Reinvented: Nokia in Abu Dhabi October 22nd to reveal new devices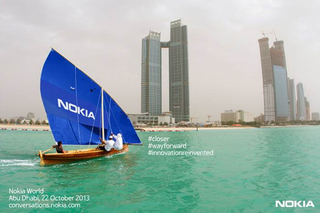 This morning, Nokia has sent out press invites and announced on their Facebook page their October 22nd event, now dubbed Nokia World. While we knew previously that the event was to take place on that date, after being postponed from late September, we did not know the location.
Nokia will reportedly unveil the 6-inch Lumia 1520 and the Windows 8.1 RT tablet, the Lumia 2520, in Abu Dhabi, located in the United Arab Emirates. The location is certainly unusual for them as traditionally Nokia has announced new devices in New York or London.
The invite simply reads "At Nokia, we believe in technology that brings people closer together. Please join us in Abu Dhabi as we write a new chapter in reinventing innovation." with the hashtags #closer #wayforward and #innovationreinvented used in the image.
Of course Windows Phone Central will be at the event to cover the all-day announcement, bringing you the latest and greatest news on Windows Phone.
Daniel Rubino is the Executive Editor of Windows Central, head reviewer, podcast co-host, and analyst. He has been covering Microsoft here since 2007, back when this site was called WMExperts (and later Windows Phone Central). His interests include Windows, Microsoft Surface, laptops, next-gen computing, and arguing with people on the internet.
All i hope is that they surprise us.. Literally all is known.. They might as well start selling directly

For real! The way devices get leaked nowadays its not even interesting anymore. Hopefully we get a surprise

Goddammit i was about reserve a 1020!!! Guess im waiting for the next new nokia

I am in the same boat. GDR 3, HD screen are quite tempting on the 1520. But the camera and the size of the 1020 are more attractive.

Yeah went ahead and got the 1020 as soon as I heard the screen size of the 1520. Way to big for me but I hope its a hit.

Trouble is, you'll *always* be waiting for the next Nokia, they're coming that thick and fast at the moment.

True that... 920, 925, 1020, now 1520, then probably comes 1020 equivalent with GDR3 features

You will always be waiting then. How many times have you said "I'll get that next" only to hear "the next big thing is coming" and put it off. The next big thing is always coming. Camera wise nothing will beat the 1020 for a year, they may bring out other sizes and better res screens, but photography wise they won't be the 1020 redundant for a long while. So unless screen size/res is an issue for you, get the 1020 now, enjoy it, and then enjoy it more when it gets GDR3 late Nov. That will give you 3 full months of enjoying the best Windows Phone to date and taking amazing photos, instead of more waiting for "the next big thing".

Your right i been ready to switch from my 900 since the 920 came out, i eventually picked up a 520 dirt cheap but swithed back to my 900 but i really want a bigger phone a 1020 would be awesome but i think that monster of a phone 1520 might be just what the doctor ordered

This is probably one of the last new Nokia devices.

Don't waste time mate. 1020 is amazing device. Those things that will be announced at 22 oct, will be also good. But they will be in different device categories. If you want top tier windows PHONE with superior CAMERA, there are no other choices than 1020. Not this year nor early next year.

I wish it was in Dubai, I would've went

I believe they're private invites anyway

Its a one our drive! How lazy are you?

Well nice sunny location, enjoy the trip WP team. Now I want a job as a tech blogger.

Can we only expect those announcments? Hoped for a replacement of my 920 this year

I really don't understand where people come at with this "replacement" for a 920 talk. The phone isn't even a year old. I've had one since November and im going to replace it this week with....... You guessed it, another 920. Because the phone is so awesome!

Come to Middle East my friend. These rich Arabs replace phones every week or say every Month, sweet Lord.

Because it is time for a replacement. Newer Hardware is available so i want it - easy is that. Larger Screen, Longer Battery, faster CPU, higher resolution, better camera, more ram, more storage. the 1520 could be it but 6" will not fit in my pocket or the middle console of my car.4,7 - 5" is a common ground for todays flagships

The 920 is going to be a year old by november... and the 925 is unfortunalety not a replacement, with its non-expandable 16GB memory.
I do hope that this Verizon "929" 5-inch phone gets an international version, because I think the 1520 won't suit everyone

Every other phone line properly updates (read: not just a shell makeover) at least once a year, and GDR3 brings new hardware support. What are you on about?

You guys are so damn lucky to travel around the world and get paid.
(stuck here in my apartment to get screwed due to shit engineering exams.)

Why do most Indians study engineering?

Uh...Most typical Indian parents love to force their kids to persue Engineering which I for the love of God have'nt got the slightest idea Why.

A. They don't
B. Engineering is popular in India because it's profitable, which is a bigger deal than in the U.S. where Mommy and Daddy will let kids live at home until 30 because they can't get a job with their Art History degree that they were encouraged to get because it's what they wanted to do.

While I agree partially with your second point, what's the issue with getting whatever degree you want and parents encouraging you? That sounds more like a generalization.

Isn't engineering partially art?

I have no idea if its considered art but i know here in canada engineering will get you a nice cushy office job approving blueprints and shit..also if ya dont got the cash to pay for the schooling join the army give them a year they give you a pay check then pay for your school. My cousin is an engineer thats how he went about it and im considering the same route

In India you can live with your parents until they are gone. That has been the social norm since forever. The situation in the US is only recent because of the Great Recession. Prior, you were expected to leave the home at 18.

Yea Bob! And America sucks! Oh wait no it doesn't. Battle one generalization with another, brilliant.

http://i.imgur.com/CIbUkCV.gif

There's even a movie to it, 3idiots.. Ironically written by an engineer.

Nice, Nokia World is back again!
Hopefully Nokia makes it big on their last time hosting it, if they don't decide to do nokia World with their half of the company in the coming years.

I'm thrilled to see Nokia doing a Global Announcement of presumably the 6inch Phablet. It can only mean no 6mth exclusivity for AT&T. YES!!!!
Fingers crossed that I can get a T-Mobile variant with 4G LTE.

Guts of 1520 are fantastic, I just hope the thing physically will fit in my pockets comfortably!!!

Yep, I need it as a 930. Same specs give or take, but with a smaller 4.5 to 5 inch screen. To me that'd be the perfect device and something that'd more easily directly compete with the Galaxy S4.

Guys check this out.. https://twitter.com/qxerro/status/382281090259378176

1820? Very interesting if they launch a 15, 18, and 2520! Hope they can pull off RT so the world gets a full Windows tablet. A smaller tablet would be great or is that the 1520?

I gues the 1820 would be the very first microsoft-nokia phone. It would be called Lumia Phone. At least it sounds reasonable. By the looks of it, its very nice. And if this is true, might as well wait for next year before i make my move.. :)

Agreed it is a nice phone, but if the 1820 is higher in number than the 1520, shouldn't the specs be higher as well? Do you have more information about this being the first microsoft-Nokia phone? They are still separate companies, which means they must have worked on this jointly over the last year.

Wow, Abu dhabi, such a rough life the wpcentral team has to endure. What a terrible job! And I'm jealous.

Really looking forward to this. When will we see the next generation Lumia 9xx though?

Great place to have an event, it will be interesting to see what is shown.

Wow, you guys going to Abu Dhabi...please also do a story on the location, sites and he local nightlife or whatever. Not the focus, I know but who goes to Abu Dhabi. While you're there may as well give us who never been your take on it...please? =D

Maybe a dual sim Lumia ALSO

I live near to Abu Dhabi. Is there any possible way I can attend?? Would be a dream come true :(

you need invite from Daniel Rubino.

I can see why they wouldn't announce the 929 on this stage since it looks like a VZW exclusive. But any thoughts on where/when they will?

Skiing on sand dunes ... it's all making sense now B-)

Availability in the Middle East first this time?! Wishful thinking.

1020+integrated Qi and I'm sold.

That would have sold me also. Those shells are BS.

Welcome to the Arab world :)
That means first availability in the Middle East :))) Finally....

I just want Nokia/Microsoft to STOP Global Exclusives. WHY does the worst Windows Phone Marketshare country get 3 month exclusives. STUPID. They all need to be released globally from day one.
I'd like to see Wireless charging squeezed in all the upper end devices please. without the bulk of the 920 (which I have and love)

Here is another picture regarding announcement:
https://pbs.twimg.com/media/BU7jtKzCEAE9CCV.png

There goes the WPC travel budget! ;)

Something tells me they will be flying coach.

Daniel... You making the trip?

I Really hope they announce a slew of new model types within the 4-4.5" screen size area...a Surface/Lumia Hybrid would be AWESOME. Glad i purchased a L920 and held off to see whats in store end of the year on WP8.1

If the tablet is WinRT, I'm going surface pro 2.

I want a live stream for this...

I really want an 8" nokia tablet. Are they really trying to make 10" happen with RT? 8" is the answer.

Yes, an 8" Nokia tablet would be awesome. Eager to hear more details about the rumored Surface Mini. WPCentral, any new rumors about when Microsoft will officially announce it?

The Lumia 1520 will probably be the last Nokia flagship before the Nokia brand disappears.

maybe Nokia and Jolla (the boat in the picture) will announce something about their cooperation ;)

Interesting that this Nokia event is on the same day the new Surface tablets are launched.

This is ironic, but must be the plan. Here in the UAE I hardly see any windows phones. ever. UAE gives little attention to it. I guess Nokia chose this place because: They think people are rich here, but the country is mainly Middle/low class Indians and Pakistanis. But then, the rich are the local Arabs and probably the westerns. OR They want to show that they aren't neglecting the ME. here we only have 5,6,7,8 and 920. That's it. No 1020 or 925, though I think we got the 625. OR Abu Dhabi just looks good. Take a stop to Ferrari world, it's awesome :D

@anonymouse72 lolss!! where you been hiding? I know, that Samsung and iPhone are most common here and Blackberry, but people especially Emiratis do use Nokias. While you are right that majority of populations are Indians and Pakistanis, I do not agree with you that you generalized them as middle/low class. BTW, Nokia is number 1 in sales of feauture phones in the ME, so this is a great chance for Nokia to showcase their smartphone where a lot of people know the brand. One more thing, there is also Lumia 925 in UAE and 1020 is coming soon at Gitex Shoppers in October 5.

Nokia product codenames: Bandit, Lanai, Orion, Pegasus, Rivendell, Shorty, Siruis
HMM.
Windows Central Newsletter
Get the best of Windows Central in in your inbox, every day!
Thank you for signing up to Windows Central. You will receive a verification email shortly.
There was a problem. Please refresh the page and try again.