Nokia adding Bluetooth support for the Message Access Profile (MAP) in future update to Transfer My Data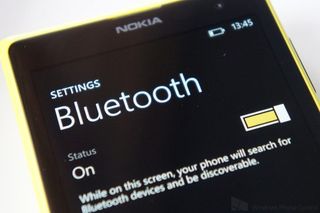 We're a few weeks away from Nokia World in Abu Dhabi. We expect to see a handful of new smartphones running Windows Phone and even a tablet running Windows RT. We'll have a pair of boots on the ground bringing you the latest from the event, but it's always fun to see news trickle out ahead of the event.
We suspect we'll be seeing a lot of devices taking advantage of some Bluetooth magic, like the Nokia Treasure Tag. But the Bluetooth fun doesn't stop there with Nokia, read on to learn about some changes coming to the platform.
Nokia's Transfer My Data app allows users to copy contacts from nearly any phone (iOS, Android, BlackBerry, etc.) to their new Windows Phone device. It's also about to receive a new update according to a recent filing on the Bluetooth SIG Certification website.
What's the update bringing? The new version of Transfer My Data will support transferring data through the Message Access Profile (MAP). Basically, MAP is a way to exchange messages between devices using Bluetooth.
MAP really shines by sending messages to your other devices besides smartphones. For example, MAP can be used to send messages to your car for hands-free use, your laptop or "tablet", or other devices like wearable Bluetooth devices.
We don't know of any Nokia plans to build a car, but they are working on a tablet (the Lumia 2520) and apparently a Nokia smartwatch as well. Supporting MAP would allow your messages to be sent to those devices when in proximity of your Windows Phone. We've always dreamed of a world where we can reply to SMS messages via our computers without having to go for our phone. Could Nokia's tablet allow you to do that if you have their device? Maybe.
What are your thoughts on your next Lumia device supporting MAP? Limited to just transferring old messages to your new smartphone? Or bigger implications for the future of messaging? Sound off below.
Source: Bluetooth SIG, Via: Windows Phone Daily
Get the Windows Central Newsletter
All the latest news, reviews, and guides for Windows and Xbox diehards.