Nokia confirms Bluetooth 4.0 LE coming to 'full WP8 Lumia range' with Black update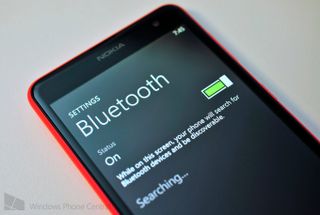 For Bluetooth and accessory fans, one big hole in the Windows Phone platform has been the lack of Bluetooth 4.0 Low Energy (LE) support (although Android lags here too). The Bluetooth LE standard allows newer hardware to connect using less energy for transmission, saving battery and allowing continuous background syncing. The most common example today is for Fitbit, which can sync to the iPhone constantly, keeping users abreast of their fitness status.
Recently, Nokia updated the 520, 620, 625, and 720 with the 'Amber' update and that firmware brought with it support for Bluetooth 4.0—so not all is lost. That update allowed the Adidas miCoach app to work with their heart rate monitor accessory. However, for those with the more premium 82x, 92x and 1020 devices, the question was when would we get the update?
The logical answer was with 'Lumia Black', Nokia's forthcoming firmware update that comes with the soon to be launched Lumia 1520. That firmware, which will improve aspects of the camera, enable some advanced new software and add new features to the Glance screen, will roll out to current Lumias later this year or early next (depending on carriers).
Now, Nokia seems to be confirming that 'Lumia Black' will also add 4.0 support. The news comes via their support section of their website and looking up "Bluetooth Low Energy":
The crucial sentence there is the last one, where it appears that all Nokia Lumia devices with Windows Phone 8 will be able to enable this feature. That's good news for those yearning for more health-related accessories, as those types of wearable technology (including smart watches) are in our opinion, the next big thing.
Daniel Rubino is the Executive Editor of Windows Central, head reviewer, podcast co-host, and analyst. He has been covering Microsoft here since 2007, back when this site was called WMExperts (and later Windows Phone Central). His interests include Windows, Microsoft Surface, laptops, next-gen computing, and arguing with people on the internet.
Black will probably look gray (fade out) by the time AT&T releases GDR3 which needs to installed prior to this. (Unless I'm remembering wrong).

You do. For everyon,e beside the ones who use the developer-preview, Nokia Black and GDR3 will apear as one Update (just like Amber).

I thoguht the dev preview was only for MS updates, not device or carrier ones.

Lol!!! I CAN FINALLY USE MY PURITY PROs without killing my battery

I thought all phones were getting this in GDR3.

Where did that info come from? It's firmware enabled, although the OS must support it at some level. The OS though can't configure individual chipsets, so it's up to the OEM.

I must've read that GDR3 allows Bluetooth 4.0 support, then. Chill man haha :-P

Yeah and he was asking where you heard that (false) info from

Its not completely false cause first it there were gonna activate bt for lumias 720 and 2 others with amber and then said it was coming to all lumias until Telstra I think it was said it was gonna give bt to lumias in amber and then everyone forgot about it.

I'm running GDR3 with Amber and can now see Bluetooth 4.0 devices I couldn't see with GDR2. I just can't see BT4.0LE devices.

Daniel, do you know if fitbit app plans to add proper syncing once we have 4.0 LE?

sorry double post - small issue when I choose email notify on replies

Now all we need is those darn tags to come out

The updates to Nokia products is just superb. HTC Couldn't manage half the updates on my last phone.

I get what you are saying but still... My colleagues with HTC X8 always get the updates a month or two ahead of us with Lumias. I guess they don't get anything extra tho.

I think he's reffering to an Android HTC phone.

Does android not support 4.0?

It's not so much the OS as the firmware enabled/supported by OEMs e.g. 'Nike+ FuelBand Android snub blamed on lack of Bluetooth LE support'.

Since they apparently want an OEM to cater to them, and Nokia is supposedly talking to then, it would be awesome if we got it before android.

Keyboard support, pretty please?

Thats the one thing holding me back from upgrading my windows 7.5 phone, the LG optimus with a built in keyboard.

Yeah. I'm still waiting for keyboard support since WP7.

What about the WP7 devices? -someone else in the comments in dire need of an upgrade.

It's time to upgrade to WP8. WP7 devices will be extinct in a year's time.

Some people are on contract until March/April 2014.

You go right to Bluetooth 5.0 Super Energy Support.

So much of an improvement, Bluetooth charges YOUR phone. Engineered in Russia

When will windows phone 7 owners realize they are getting the XP treatment and actually accept that fact? All windows phone 7 owners need to assume you are not getting the app or update or feature unless it is specifically mentioned that your are.

Whine or complain about AT&T on every post and no one bats an eye. Inquire if apps or updates are also coming to WP7 and everyone loses their minds.

Lumia Black is nokias release of gdr3

No, it's Nokia's firmware when they release gdr3. I have gdr3, but still have amber.

Waiting for it to hit Verizon.

What does 4.0 offer if you only use BT for casual streaming to a Stereo? Added efficiency still?

Would that mean that the 1520 already has it?

If it launches with GDR3/Nokia Black then yes.

It might, but i tried to sync my fitbit flex with the microsoft store's 1520. the bluetooth found a couple keyboards, but wouldnt find my fitbit flex. it could be that it doesn't have the latest firmware update, but I'm still skepticle about whether this will work with the current line of heartrate monitors and other wearable accesories. hopeful, but skepticle. it also takes the app maker to implement the bluetooth code. I truly hope the blackupdate will comeout soon...

If you already have your device it should be early next year. The 1520 should ship with it.

This is great, but we still don't have Fitbit developing on WP. And if I am not mistaken they don't open up sync capabilities to 3rd party apps.

I said this about a month ago.
http://twitter.com/Nawzil8/status/392022956555370496

Hurry up with the updates :)

Smart watches IMO as well are the next big thing...one of the biggest reasons I still have an Android is because of my Martian. It has become a part of my regular digital life.

agree, though android bluetooth suck too...i have nexus5 and iphone 5, iphone has the BEST bluetooth implementation

No one of sound mind could ever believe Nokia would NOT bring this to their high end devices. No one.

Ha I remember ppl on here saying that 9xx will not be getting bt4, gotta love know it alls

In fairness, Nokia Australia said exactly that (they're later recanted). Between the wonky FM radio support (or lack thereof e.g. NL928), it's not too hard to believe it might not come to some devices.

I have a guess, does anyone remember the glance screen with pedometers? I think that's fitbit, and I actually wish it is, because if we have that in black, then by that rate Windows phone 8.1 will actually overtake IOs and android. ::wishful thinking::

That's what I'm hoping for too..

Our phones have accelerometers...that what most pedometers use.

Actually, many of them just use a tube with a ball bearing and a spring in it ...

Not these new wearable fitness tracking devices lol. Yeah I have a pedometer that I got from mcdonalds that uses the ball bearing because I can hear it rattle.

Will this enable other BT profiles as well? HID and SPP. Please!!!!!

Will they add aptx? This is must have!

Nokia rules. Whens black coming anyway?

nokia update system is great. now they just need to speed up the time between announcing and shipping and it's going to be awesome! ;)

Nokia rules? Based on the sales pitch: "Get a cheaper device and you'll get early feature updates, pay more for a high-end one and you'll wait an eternity" I don't see that as a good thing..

yep... still no tethering or apt-x support in sight

Hey Daniel. I can't buy apps. I'm getting the error c101a006. It's been like that for daays

The new Bluetooth 4.0LE is great
I want one feature and that is to be able to turn off the text read out over Bluetooth. When you use your phone for music this is a very annoying feature that you can't turn off.

I believe you can to just over headset(wired), none at all in the speech settings

Many promise, I'm a fan but hey...
Look how slim is a gnote3, or a nexus 5....I want that...please release this things faster...
Totally off topic, but I'm frustrated today...LOL

Good news, as the Geek Pulse DAC, which I just ordered, utilizes Bluetooth 4.0. Daniel,
speaking of firmware and updates, can you tell us why the Lumias can't do digital audio out thru the microUSB? Is this chip-related, firmware, WP8 functionality, or just requires an app to program it? I am disappointed that I still can't use a portable DAC with my 920. Neither Nokia, Microsoft or WP has been willing to answer my question. Thanks.

What ever happened to the Nokia treasure tag? Does anyone have any idea? The treasure tag was supposed to use the LE ability of the BT4.0.

Seriously would love this feature on my 928. Recently was on vacation in Vegas where you walk to & from everywhere. No device to sync to except my computer at home. Will be a perk once I upgrade my fibit flex to a force but will wait until black is released. Great Job Nokia!

Given that GDR3 didn't come with an SDK update and BTLE has no support in WP8, it would not surprise me if there is a GDR4 with black. Or I guess an SDK update later would be possible.

Can someone fill me in on whether BT 4.0 is just a major software update for Bluetooth, or does it require specific hardware? I am completely ignorant of the details of this technology but use it everyday.

When is the Nokia Update? i hope they will do the same way Microsoft did for us with UNBRANDED Lumias (GDR3), i.e bypassing carriers. Here in Zimbabwe, all carriers nor the Government have nothing to do with our handsets, there isn't any control there, but we are forced to wait for the whole '(re)testing period' by the carrier in e.g. London just because i imported my phone there, it doesn't make any sense!

Does this mean the BT4.0 chip was already in the phones but not activated? Correct me if I'm wrong because a software push to enable BT4.0 means it was integrated all along.

Great news! I only JUST bought a fitbit!

I certainly hope this update will finally get WP8 into the 21st century by including an HID Bluetooth interface that will allow the use of Bluetooth keyboards.

I have no interest in Bluetooth. Permanently problematic. Will Nokia Black give me access to the 1020 etc camera app upgrade? The camera on my Lumia 820 intrigues. It excells in good lighting conditions. The camera upgrade would complete the picture for my phone making it a perfect multi-function device. Or will I need to upgrade to a 925/929? That's the only question I have, having no desire for a bulging 41mp camera or a 6" slab.

aptX support coming to all Windows Phone 8 - Lumia devices with the Lumia denim update which is expected to release next month - November, 2014. Source:
www (dot) microsoft (dot) com/en-us/mobile/support/faq/?action=singleTopic&topic=FA143077
Windows Central Newsletter
Get the best of Windows Central in in your inbox, every day!
Thank you for signing up to Windows Central. You will receive a verification email shortly.
There was a problem. Please refresh the page and try again.